Abstract

It has been argued in the literature that logics for reasoning about strategic abilities, and in particular coalition logic (CL), are well-suited for verification of properties of smart contracts on a blockchain. Smart contracts, however, can be upgraded by providing a new version of a contract on a new block. In this paper, we extend one of the recent formalisms for reasoning about updating CL models with a temporal modality connecting a newer version of a model to the previous one. In such a way, we make a step towards verification of properties of smart contracts with upgrades. We also discuss some properties of the resulting logic and the complexity of its model checking problem.
Keywords
Coalition logic

Smart contracts

Blockchain

Model checking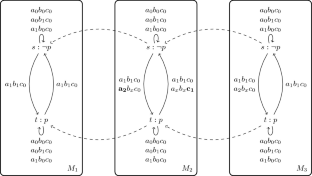 Notes
1.

We will sometime use U to denote both positive and negative updates.

2.

\(\pi _1\) and \(\pi _2\) are left and right projections of an ordered pair.
References
Solidity programming language. https://soliditylang.org, Accessed 20 Jan 2022

Alur, R., Henzinger, T.A., Kupferman, O.: Alternating-time temporal logic. J. ACM 49, 672–713 (2002). https://doi.org/10.1145/585265.585270

Antonopoulos, A.M., Wood, G.: Mastering Ethereum. O'Reilly, Newton (2018)

Brünnler, K., Flumini, D., Studer, T.: A logic of blockchain updates. J. Logic Comput. 30(8), 1469–1485 (2020). https://doi.org/10.1093/logcom/exaa045

Clarke, E.M., Emerson, E.A.: Design and synthesis of synchronization skeletons using branching time temporal logic. In: Kozen, D. (ed.) Logic of Programs 1981. LNCS, vol. 131, pp. 52–71. Springer, Heidelberg (1982). https://doi.org/10.1007/BFb0025774

van Ditmarsch, H., van der Hoek, W., Kooi, B.: Dynamic Epistemic Logic, Synthese Library, vol. 337. Springer, Heidelberg (2008). https://doi.org/10.1007/978-1-4020-5839-4

Galimullin, R., Ågotnes, T.: Dynamic coalition logic: granting and revoking dictatorial powers. In: Ghosh, S., Icard, T. (eds.) LORI 2021. LNCS, vol. 13039, pp. 88–101. Springer, Cham (2021). https://doi.org/10.1007/978-3-030-88708-7_7

Galimullin, R., Ågotnes, T.: Action models for coalition logic. In: Proceedings of the 4th DaLí (2022). (to appear)

Galimullin, R., Ågotnes, T.: Dictatorial dynamic coalition logic. Manuscript. Submitted to a journal (2022). https://rgalimullin.gitlab.io/DDCL/ddcldraft.pdf

Gammie, P., van der Meyden, R.: MCK: model checking the logic of knowledge. In: Alur, R., Peled, D.A. (eds.) CAV 2004. LNCS, vol. 3114, pp. 479–483. Springer, Heidelberg (2004). https://doi.org/10.1007/978-3-540-27813-9_41

Halpern, J.Y., Pass, R.: A knowledge-based analysis of the blockchain protocol. In: Lang, J. (ed.) Proceedings of the 16th TARK. EPTCS, vol. 251, pp. 324–335 (2017). https://doi.org/10.4204/EPTCS.251.22

Herlihy, M., Moir, M.: Blockchains and the logic of accountability: keynote address. In: Grohe, M., Koskinen, E., Shankar, N. (eds.) Proceedings of the 31st LICS, pp. 27–30. ACM (2016). https://doi.org/10.1145/2933575.2934579

Lomuscio, A., Qu, H., Raimondi, F.: MCMAS: an open-source model checker for the verification of multi-agent systems. Int. J. Softw. Tools Technol. Transfer 19(1), 9–30 (2015). https://doi.org/10.1007/s10009-015-0378-x

Marinkovic, B., Glavan, P., Ognjanovic, Z., Studer, T.: A temporal epistemic logic with a non-rigid set of agents for analyzing the blockchain protocol. J. Logic Comput. 29(5), 803–830 (2019). https://doi.org/10.1093/logcom/exz007

van der Meyden, R.: On the specification and verification of atomic swap smart contracts. CoRR abs/1811.06099 (2018). http://arxiv.org/abs/1811.06099

van der Meyden, R.: On the specification and verification of atomic swap smart contracts (extended abstract). In: Proceedings of the 1st ICBC, pp. 176–179. IEEE (2019). https://doi.org/10.1109/BLOC.2019.8751250

Nakamoto, S.: Bitcoin: a peer-to-peer electronic cash system (2008). https://bitcoin.org/bitcoin.pdf

Pauly, M.: A modal logic for coalitional power in games. J. Logic Comput. 12(1), 149–166 (2002). https://doi.org/10.1093/logcom/12.1.149

Tolmach, P., Li, Y., Lin, S., Liu, Y., Li, Z.: A survey of smart contract formal specification and verification. ACM Comput. Surv. 54(7), 148:1–148:38 (2022). https://doi.org/10.1145/3464421

Wood, G.: Ethereum: a secure decentralised generalised transaction ledger. Ethereum Project (2014). https://ethereum.github.io/yellowpaper/paper.pdf
Copyright information

© 2023 The Author(s), under exclusive license to Springer Nature Switzerland AG
About this paper
Cite this paper
Galimullin, R., Ågotnes, T. (2023). Coalition Logic for Specification and Verification of Smart Contract Upgrades. In: Aydoğan, R., Criado, N., Lang, J., Sanchez-Anguix, V., Serramia, M. (eds) PRIMA 2022: Principles and Practice of Multi-Agent Systems. PRIMA 2022. Lecture Notes in Computer Science(), vol 13753. Springer, Cham. https://doi.org/10.1007/978-3-031-21203-1_34
DOI: https://doi.org/10.1007/978-3-031-21203-1_34

Published:

Publisher Name: Springer, Cham

Print ISBN: 978-3-031-21202-4

Online ISBN: 978-3-031-21203-1

eBook Packages: Computer ScienceComputer Science (R0)