Abstract

The purpose of this paper is to present an example of good practice in comprehensive and theoretically and professionally grounded planning and implementation of further development of online learning at DOBA Business School. We decided for the OOFAT model as the starting point. Based on the gap between the achieved and target (desired) levels of subcategories of flexibility and openness of the OOFAT model and taking into account the trends in e-learning and institutional and legal formal constraints, we have prepared five sets of concrete activities to advance the online learning model by 2025. These are: mobile learning, learning analytics, multimedia and interactive learning materials, open education, including open educational resources, and recognition (accreditation). The revised model of online learning will represent a shift towards the third (semantic) generation of e-learning, which will place DOBA Business School close to the leading educational institutions in the field of technology-enhanced education at the global level.
Keywords
Online learning

OOFAT model

Openness

Flexibility

Higher education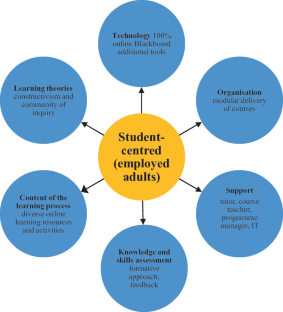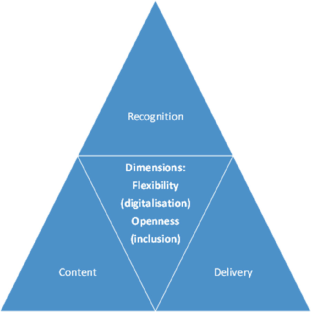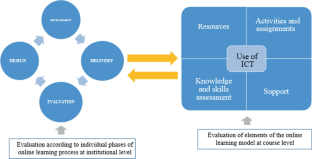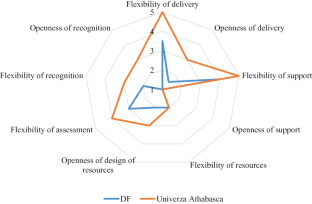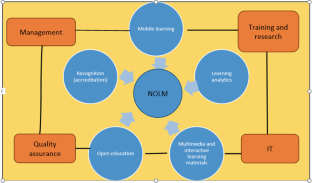 Notes
1.

2.

The UNIQUe (European Universities Quality in e-Learning) international quality certification for outstanding use of ICT in learning and teaching is awarded by the European Foundation for Quality in e-Learning (EFQUEL). The EOCCS (Online Course Certification System) certification for the quality of online business courses is awarded by the EFMD (European Foundation for Management Development). DOBA Business School received the UNIQUe certification in 2013 and the EOCCS certification twice, i.e. in 2018 and 2021.

3.

More on this in Bregar et al. 2020, 111–197.

4.

5.

In the first half of 2019, i.e. at the time that we studied the applicability of online learning models for the advancement of online learning at DBS (including the recently published OOFAT model), papers on these surveys had not yet been published.

6.

Information from the following evaluation reports was used:

DOBA Business School. (2019). Self-Evaluation Report on Educational and Research Activities for the 2018/2019 Academic Year and for 2018.

DOBA Business School. (2018). Self-Evaluation Report on Educational and Research Activities for the 2016/2017 Academic Year.

EFMD Global Network. (2018). EOCCS Certified, Online Course Certification System. Review Panel Report.

7.

The list of educational institutions that are classified in organizational flexibility models is available in the ICDE survey (Orr et al., pp. 50–52), and a full description of each of them can be found at https://oofat.oerhub.net/OOFAT/collection-of-cases/.

8.

9.

The 'openness of assessment' component was not included in the ICDE survey. For reasons of comparability, it has also been excluded from Fig. 4.
References
Amič Ravnik, I., Bregar, L., Divjak, M., Klobučar, T., Letonja, M.: Okvirni načrt za nadaljnji razvoj online študija na DF za obdobje 2020–2025. SMART Program. Projektno poročilo. Doba Fakulteta: Maribor (2019)

Bates, A.T.: Teaching in a Digital Age: Guidelines for Designing Teaching and Learning. Tony Bates Associates Ltd Vancouver BC (2016). https://opentextbc.ca/teachinginadigitalage. Accessed 15 Jan 2022

Bregar, L., Radovan, M., Zagmajster, M: E-izobraževanje za digitalno družbo. Andragoški center Slovenije, Slovenija (2020). https://www.acs.si/digitalna-bralnica/e-izobrazevanje-za-digitalno-druzbo/. Accessed 01 Feb 2022

Costelloe, L., Nerantzi, C., O'Brien, E., Reale, J., O'Sullivan, I.: Development of a shared vision for flexible inter-institutional professional development using the OOFAT model. Int. J. Manage. Appl. Res. 7(3), 240–256 (2020). https://doi.org/10.18646/2056.73.20-017

Cervantes-Perez, F., Vadillo, G., Bucio, J., Herrera, A.: Characterizing UNAM's Open Education System Using the OOFAT Model. Int. Rev. Res. Open Distrib. Learn. 20(4) (2019). http://www.irrodl.org/index.php/irrodl/article/view/4108/5164

DOBA Fakulteta.: Strategija od 2020 do 2025 (2022). https://www.fakulteta.doba.si/o-fakulteti/kdo-smo/strategija-2025-2. Accessed 20 Feb 2022

EADTU: Quality Assessment for E-learning: A Benchmarking Approach. Excellence. 3rd Edition (2016). http://e-xcellencelabel.eadtu.eu/images/E-xcellence_manual_2016_third_edition.pdf. Accessed 05 Jan 2022

Ehlers, U.-D., Kellermann, S.A.: Future skills – the future of learning and higher education. Results of the International Future Skills Delphi Survey. Karlsruhe (2019). https://nextskills.files.wordpress.com/2019/05/2019-05-17-report-vs.15.pdf. Accessed 17 Jan 2022

Garrison, D.R., Anderson, T., Archer, W.: Critical inquiry in a text-based environment: computer conferencing in higher education. Internet Higher Educ. 2(2–3), 87–105 (2000). https://doi.org/10.1016/S1096-7516(00)00016-6

Geder, M.: Dodana vrednost online študija. SMART Program. Projektno poročilo. Doba Fakulteta: Maribor (2021)

Hassan, M., Abdullahi, H.: Academic scholars perception of online education initiatives in Somalia. In: Proceedings of the 13th International Conference on Computer Supported Education (CSEDU 2021), vol. 2, pp. 143–147. Science and Technology Publications, Lda (2021). https://www.scitepress.org/Papers/2021/103664/103664.pdf. Accessed 22 Jan 2022

Huertas, E., et al.: Considerations for quality assurance of e-learning provision. Report from the ENQA Working Group VIII on quality assurance and e-learning. Occasional Papers 26 (2018). https://www.enqa.eu/wp-content/uploads/Considerations-for-QA-of-e-learning-provision.pdf. Accessed 10 Mar 2022

Khan, B.: The people–process–product continuum in e-learning: the e-learning P3 model. Issue Educ. Technol. 44(5), 33–40 (2004)

Moore, J.L., Dickson-Deane, C., Galyen, K.: e-Learning, online learning, and distance learning environments: are they the same? Internet Higher Educ. 14(2), 129–135 (2011). https://doi.org/10.1016/j.iheduc.2010.10.001

Orr, D., Weller, M., Farrow, R.: Models for online, open, flexible and technology-enhanced higher education across the globe – a comparative analysis. International Council for Open and Distance Education (ICDE). Oslo, Norway (2018). https://oofat.oerhub.net/OOFAT/. Accessed 17 Jan 2022

Orr, D., Weller, M., Farrow, R.: How is Digitalisation Affecting the flexibility and openness of higher education provision? Results of a global survey using a new conceptual model. J. Interact. Media Educ. 1(5) (2019). https://doi.org/10.5334/jime.523

Picciano, A.G.: Theories and frameworks for online education: seeking an integrated model. Online Learning 21(3), 166–190 (2017). http://dx.doi.org/10.24059/olj.v21i3.1225

Singh, V., Thurman, A.: How many ways can we define online learning? A systematic literature review of definitions of online learning (1988–2018). Am. J. Distan. Educ. 4(33), 289–306 (2019). https://doi.org/10.1080/08923647.2019.1663082

United Nations: Transforming our world: the 2030 Agenda for Sustainable Development (n. d.). https://sdgs.un.org/2030agenda. Accessed 23 Mar 2022
Copyright information

© 2022 The Author(s), under exclusive license to Springer Nature Switzerland AG
About this paper
Cite this paper
Bregar, L., Dominko Baloh, J., Divjak, M. (2022). Advancement of Online Learning at DOBA Business School on the Basis of the OOFAT Model. In: Väljataga, T., Laanpere, M. (eds) Shaping the Digital Transformation of the Education Ecosystem in Europe. EDEN 2022. Communications in Computer and Information Science, vol 1639. Springer, Cham. https://doi.org/10.1007/978-3-031-20518-7_3
DOI: https://doi.org/10.1007/978-3-031-20518-7_3

Published:

Publisher Name: Springer, Cham

Print ISBN: 978-3-031-20517-0

Online ISBN: 978-3-031-20518-7

eBook Packages: Computer ScienceComputer Science (R0)