Abstract

The recent spread of coronavirus (COVID-19) has meant that online conference presentations are becoming more and more frequent at national and international level. We believe that these online presentations will remain an option even after the pandemic has subsided. One of the challenges of online conference presentations is that it is difficult to convey nonverbal information such as gestures and the facial expressions of the presenter. In this paper, we propose the "Stage-like Presentation Method", which involves projecting the whole body, and investigates how the presence or absence of nonverbal information from the presenter affects the audience. A comparison of the proposed method with two other presentation methods confirmed that the audience considered it the most effective. The method was used by seven people in actual conference presentations, and it was found that the audience's impressions changed according to the details of the setting. This research confirmed that the Stage-like Presentation Method left the audience at online conferences with a good impression of presentations. It also suggests that audiences find visual nonverbal information useful.
Keywords
Presentation

Nonverbal communication

Online conference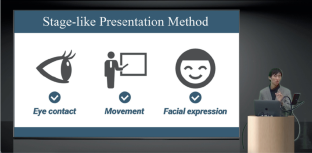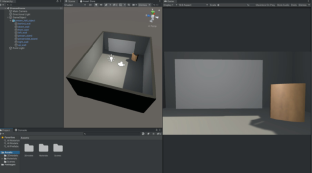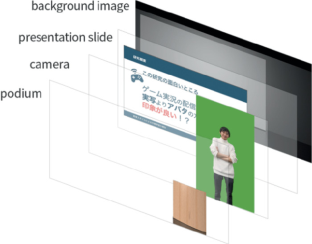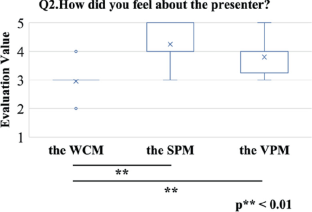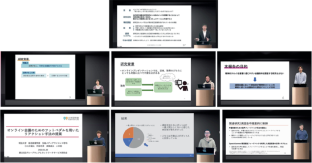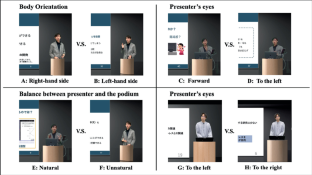 References
Reynolds, G.: Presentation Zen: Simple Ideas on Presentation and Delivery. 3rd edn. New Riders (2019)

Anderson, C.: TED Talks: The Official TED Guide to Public Speaking: Tips and Tricks for Giving Unforgettable Speeches and Presentations. Nicholas Brealey Publishing (2016)

Zoom: https://zoom.us/. Accessed 12 June 2022

Webex by Cisco: https://www.webex.com/. Accessed 12 June 2022

Microsoft Teams: https://www.microsoft.com/en-us/microsoft-teams/group-chat-software. Accessed 12 June 2022

Google Meet: https://apps.google.com/intl/en/meet/. Accessed 12 June 2022

Mehrabian, A.: Silent Messages: Implicit Communication of Emotions and Attitudes. Wadsworth (1981)

Kurihara, K., Goto, M., Ogata, J., Matsusaka, Y., Igarashi, T.: Presentation Sensei: a presentation training system using speech and image processing. In: ICMI 2007: Proceedings of the 9th International Conference on Multimodal Interfaces, pp. 358–365 (2007)

Chen, L., Feng, G., Joe, J., Leong, W.C., Kichen, C., Lee, M.C.: Towards automated assessment of public speaking skills using multimodal cues. In: ICMI 2014: Proceedings of the 16th International Conference on Multimodal Interaction, pp. 200–203 (2014)

Ishio, T., Goto, M., Kashihara, A.: A robot for reconstructing presentation behavior in lecture. In: HAI 2018: Proceedings of the 6th International Conference on Human Agent Interaction, pp. 67–75 (2018)

OBS Studio: https://obsproject.com/. Accessed 12 June 2022

Cinema 4D Homepage: https://www.maxon.net/en/cinema-4d. Accessed 12 June 2022

Unity: https://unity.com/. Accessed 12 June 2022

Image set for use in Stage-like Presenation Method (author's webpage). Accessed 12 June 2022

Microsoft PowerPoint Slide Presentation Software: https://www.microsoft.com/en-us/microsoft-365/powerpoint. Accessed 12 June 2022

Lu, Z., Shen, C., Li, J., Shen, H., Wigdor, D.: More kawaii than a real-person live streamer: understanding how the otaku community engages with and perceives virtual YouTubers. In: CHI 2021: Proceedings of the SIGCHI Conference on Human Factors in Computing Systems, No. 137, pp. 1–14 (2021)

Li, F.L., et al.: AliMe Avatar: multi-modal content production and presentation for live-streaming E-commerce. In: SIGIR 2021: Proceedings of the 44th International ACM SIGIR Conference on Research and Development in Information Retrieval, pp. 2635–2636 (2021)

Luo, L., Weng, D., Guo, S., Hao, J., Tu, Z.: Avatar interpreter: improving classroom experiences for deaf and hard-of-hearing people based on augmented reality. In: CHI EA 2022: CHI Conference on Human Factors in Computing Systems Extended Abstracts, No. 318, pp. 1–5 (2022)

CLIP STUDIO PAINT: https://www.clipstudio.net/en/. Accessed 12 June 2022

Live 2D: https://www.live2d.com/en/. Accessed 12 June 2022
Acknowledgments

This work was supported by JSPS KAKENHI Grant Number JP18K11410.
Copyright information

© 2022 The Author(s), under exclusive license to Springer Nature Switzerland AG
About this paper
Cite this paper
Echigo, H., Abe, K., Igarashi, Y., Kobayashi, M. (2022). Presentation Method for Conveying Nonverbal Information in Online Conference Presentations with a Virtual Stage. In: Wong, LH., Hayashi, Y., Collazos, C.A., Alvarez, C., Zurita, G., Baloian, N. (eds) Collaboration Technologies and Social Computing. CollabTech 2022. Lecture Notes in Computer Science, vol 13632. Springer, Cham. https://doi.org/10.1007/978-3-031-20218-6_7
DOI: https://doi.org/10.1007/978-3-031-20218-6_7

Published:

Publisher Name: Springer, Cham

Print ISBN: 978-3-031-20217-9

Online ISBN: 978-3-031-20218-6

eBook Packages: Computer ScienceComputer Science (R0)