Abstract

Educational environments have been affected by the COVID-19 pandemic and have evolved to support classes, which involve in some cases synchronous hybrid learning environments. These environments enable students attend classes online and on-site simultaneously. Synchronous hybrid environments provide a greater flexibility for students but, in contrast, are likely to increase teachers' orchestration load and decrease interactions between students, especially between those online and those on-site. This study proposes a scenario to explore the factors affecting the orchestration load and the student interactions in collaborative and synchronous hybrid learning environments. The scenario involves the use of a collaborative learning flow pattern (jigsaw) and the technologies that will enable the data collection to understand such factors affecting to orchestration load and interaction. The outcomes from the implementation of this scenario will provide useful insights to further understand the benefits and limitations of synchronous hybrid learning environments.
Keywords
Hybrid learning

Collaborative learning

Teacher orchestration

Scenario design

Teacher agency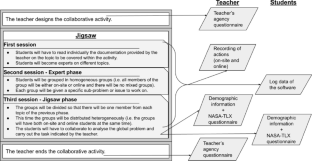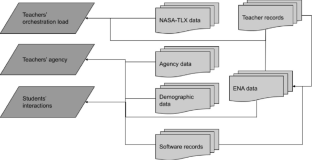 References
Cahapay, M.B.: Rethinking education in the new normal post-COVID-19 era: a curriculum studies perspective. Aquademia 4(2), ep20018 (2020)

Raes, A., et al.: A systematic literature review on synchronous hybrid learning: gaps identified. Learn. Environ. Res. 23(3), 269–290 (2020)

UNESCO Education in a post-COVID world: nine ideas for public actions (2020). https://en.unesco.org/sites/default/files/education_in_a_post-covid_world-nine_ideas_for_public_action.pdf

Prieto, L.P., et al.: Orchestration load indicators and patterns: in-the-wild studies using mobile eye-tracking. IEEE TLT 11(2), 216–229 (2018)

Bülow, M.W.: Designing synchronous hybrid learning spaces: challenges and opportunities. Hybrid Learn. Spaces, 135–163 (2022). https://doi.org/10.1007/978-3-030-88520-5_9

Hernández-Leo, D., et al.: COLLAGE: a collaborative learning design editor based on patterns. ET &S 9(1), 58–71 (2006)

Flynn-Wilson, L., Reynolds, K.E.: Student responses to virtual synchronous, hybrid, and face-to-face teaching/learning. IJTE 4(1), 46–56 (2021)

Prieto, L.P., et al.: Supporting orchestration of CSCL scenarios in web-based distributed learning environments. Comput. Educ. 73, 9–25 (2014)

Wang, P., et al.: Chao: a framework for the development of orchestration technologies for technology-enhanced learning activities using tablets in classrooms. IJTEL 10(1/2), 1–21 (2018)

Sammons, P., et al.: Exploring variations in teachers' work, lives and their effects on pupils: key findings and implications from a longitudinal mixed-method study. BERJ 33(5), 681–701 (2007)

Kayi-Aydar, H.: Teacher agency, positioning, and English language learners: Voices of pre-service classroom teachers. TATE 45, 94–103 (2015)

Manathunga, K., Hernández-Leo, D.: Has research on collaborative learning technologies addressed massiveness? A literature review. ET &S 18(4), 357–370 (2015)

Hull, M.M., et al.: Validation of a survey to measure pre-service teachers' sense of agency. In: Journal of Physics: Conference Series, vol. 1929, no. 1, p. 012085. IOP Publishing (2021)

Hart, S.G., Staveland, L.E. Development of NASA-TLX (Task Load Index): results of empirical and theoretical research. In: Advances in Psychology, vol. 52, pp. 139–183. North-Holland (1988)

Leppink, J., van den Heuvel, A.: The evolution of cognitive load theory and its application to medical education. Perspect. Med. Educ. 4(3), 119–127 (2015). https://doi.org/10.1007/s40037-015-0192-x

Shaffer, D.W., et al.: A tutorial on epistemic network analysis: analyzing the structure of connections in cognitive, social, and interaction data. JLA 3(3), 9–45 (2016)

Emerson, L., MacKay, B.: A comparison between paper-based and online learning in higher education. BJET 42(5), 727–735 (2011)

Amarasinghe, I., et al.: Deconstructing orchestration load: comparing teacher support through mirroring and guiding. IJCSCL 16(3), 307–338 (2021). https://doi.org/10.1007/s11412-021-09351-9

Csanadi, A., et al.: When coding-and-counting is not enough: using epistemic network analysis (ENA) to analyze verbal data in CSCL research. IJCSCL 13(4), 419–438 (2018). https://doi.org/10.1007/s11412-018-9292-z

Zhang, L., et al.: Examining different types of collaborative learning in a complex computer-based environment: a cognitive load approach. CHB 27(1), 94–98 (2011)
Acknowledgements

This work was supported in part by grant PID2020-112584RB-C31, PID2020-112584RB-C32 and PID2020-112584RB-C33 funded by MCIN/ AEI /10.13039/501100011033, and in part by the Madrid Regional Government through the e-Madrid-CM Project under Grant S2018/TCS-4307 and under the Multiannual Agreement with UC3M in the line of Excellence of University Professors (EPUC3M21), and in the context of the V PRICIT (Regional Programme of Research and Technological Innovation), a project which is co-funded by the European Structural Funds (FSE and FEDER). Partial support has also been received from the European Commission through Erasmus+ Capacity Building in the Field of Higher Education projects, more specifically through projects InnovaT and PROF-XXI (598758-EPP-1-2018-1-AT-EPPKA2-CBHE-JP), (609767-EPP-1-2019-1-ES-EPPKA2-CBHE-JP). This publication reflects the views only of the authors and funders cannot be held responsible for any use which may be made of the information contained therein.
Copyright information

© 2022 The Author(s), under exclusive license to Springer Nature Switzerland AG
About this paper
Cite this paper
Carruana Martín, A., Ortega-Arranz, A., Alario-Hoyos, C., Amarasinghe, I., Hernández-Leo, D., Delgado Kloos, C. (2022). Scenario for Analysing Student Interactions and Orchestration Load in Collaborative and Hybrid Learning Environments. In: Wong, LH., Hayashi, Y., Collazos, C.A., Alvarez, C., Zurita, G., Baloian, N. (eds) Collaboration Technologies and Social Computing. CollabTech 2022. Lecture Notes in Computer Science, vol 13632. Springer, Cham. https://doi.org/10.1007/978-3-031-20218-6_21
DOI: https://doi.org/10.1007/978-3-031-20218-6_21

Published:

Publisher Name: Springer, Cham

Print ISBN: 978-3-031-20217-9

Online ISBN: 978-3-031-20218-6

eBook Packages: Computer ScienceComputer Science (R0)