Abstract

With the development of Artificial intelligence, the connected objects are extended with the predictive capabilities and the character of things can change to "things that predict". If a connected device is able to embrace a predictive system that not only profiles for scripted behavior but could also use the knowledge co-created by all the other similar devices and their users that encounter similar situations, the predictions can be generated based on that. In this case, a new type of interplay between humans and things called "predictive relation" is created. However, before this future takes place, it is required to find out appropriate patterns to address challenges such as the transparency and users' acceptance of predictive behaviors of connected products. The research in this article takes a vacuum robot as a reference product for the study. The research starts by collecting users' daily practice with vacuum robots through 4-day diary booklets. And then the booklets serve as sensitizing tools to envision the possible predictive capabilities and lead the discussion on the acceptance and transparency of general predicting things. From the creative sessions we propose 1) design qualities for the acceptance of the predicting things, and 2) a model of generating predictive behavior that enhances the transparency. Eventually, we also propose the idea of "Designers as the facilitators of the human-robot collaboration".
Keywords
Internet of Things

Artificial intelligence

Human-robot interaction

Transparency

Acceptance

Robot autonomy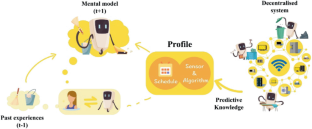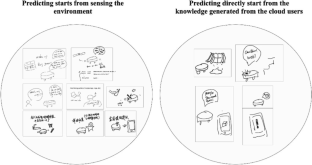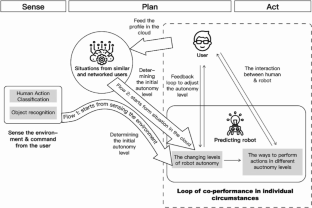 References
Rowland, C., Goodman, E., Charlier, M., Light, A., Lui, A.: Designing Connected Products: UX for the Consumer Internet of Things. O'Reilly Media, Inc. (2015)

Smit, I.: Designing predictive relations in more-than-human partnerships – Cities of Things. Cities of Things (2021). https://cityofthings.nl/2021/01/05/designing-predictive-relations-in-more-than-human-partnerships/

Davis, F.D.: Perceived usefulness, perceived ease of use, and user acceptance of information technology. MIS Q. 13(3), 319 (1989). https://doi.org/10.2307/249008

Wachter, S., Mittelstadt, B., Floridi, L.: Why a right to explanation of automated decision-making does not exist in the general data protection regulation. Int Data Privacy Law 7(2), 76–99 (2017)

Floridi, L., et al.: AI4People—an ethical framework for a good AI society: opportunities, risks, principles, and recommendations. Mind Mach 28(4), 689–707 (2018)

Beer, J.M., Fisk, A.D., Rogers, W.A.: Toward a framework for levels of robot autonomy in human-robot interaction. J. Human-Robot Interaction 3(2), 74 (2014). https://doi.org/10.5898/jhri.3.2.beer

Franklin, S., Graesser, A.: Is it an agent, or just a program? a taxonomy for autonomous agents. In: Proceedings of the Third International Workshop on Agent Theories, Architectures, and Languages, Intelligent Agents, 21–35. Budapest Hungary (1996). https://doi.org/10.1007/BFb0013570

Murphy, R.: Introduction to AI Robotics, pp. 1–40. The MIT Press, Cambridge, MA (2000)

Thrun, S.: Toward a framework for human-robot interaction. Human-Computer Interaction 19(1–2), 9–24 (2004)

Huang, H.M.: Autonomy levels for unmanned systems (ALFUS) framework volume I: Terminology version 1.1. In: Proceedings of the National Institute of Standards and Technology (NISTSP), Gaithersburg, MD (2004)

Sanders, E.B.: Virtuosos of the experience domain. In: Proceedings of the 2001 IDSA Education Conference (2001)

Søraa, R.A., Nyvoll, P., Tøndel, G., Fosch-Villaronga, E., Serrano, J.A.: The social dimension of domesticating technology: Interactions between older adults, caregivers, and robots in the home. Technol. Forecast Soc. 167, 120678 (2021)

Berker, T., Hartmann, M., Punie, Y.: Domestication of Media and Technology. McGraw-Hill Education (UK) (2005)

Lie, M., Sørensen, K.H. (Eds.): Making Technology Our Own?: Domesticating Technology into Everyday Life. Scandinavian University Press (1996)

Forlizzi, J., DiSalvo, C.: Service robots in the domestic environment. In: Proceeding of the 1st ACM SIGCHI/SIGART Conference on Human-Robot Interaction - HRI '06 (2006). https://doi.org/10.1145/1121241.1121286

Amershi, S., et al.: Guidelines for human-AI interaction. In: Proceedings of the 2019 CHI Conference on Human Factors in Computing Systems. Published (2019). https://doi.org/10.1145/3290605.3300233

Kuijer, L., Giaccardi, E.: Co-performance. In: Proceedings of the 2018 CHI Conference on Human Factors in Computing Systems (2018). https://doi.org/10.1145/3173574.3173699

Frey, T.: Google Cloud AI Explanations to increase fairness, responsibility, and trust (2019). https://cloud.google.com/blog/products/ai-machine-learning/google-cloud-ai-explanations-to-increase-fairness-responsibility-and-trust
Acknowledgements

We would like to thank Nazli Cila for her contribution in the earlier stages of the research. Thanks to Yahong Li and Xuejing Feng for their comments and suggestions during the research and writing, as well as to all the participants for their fruitful insights in the creative session. The research was commissioned by the Cities of Things Delft Design Lab.
Copyright information

© 2022 The Author(s), under exclusive license to Springer Nature Switzerland AG
About this paper
Cite this paper
Guo, P., Smit, I. (2022). Towards an Active Predictive Relation by Reconceptualizing a Vacuum Robot: Research on the Transparency and Acceptance of the Predictive Behaviors. In: , et al. HCI International 2022 - Late Breaking Papers. Multimodality in Advanced Interaction Environments. HCII 2022. Lecture Notes in Computer Science, vol 13519. Springer, Cham. https://doi.org/10.1007/978-3-031-17618-0_18
DOI: https://doi.org/10.1007/978-3-031-17618-0_18

Published:

Publisher Name: Springer, Cham

Print ISBN: 978-3-031-17617-3

Online ISBN: 978-3-031-17618-0

eBook Packages: Computer ScienceComputer Science (R0)