Zusammenfassung

Arbeitskonzepte, -stile und -verhalten befinden sich seit einigen Jahren in einem grundlegenden und strukturellen Wandel. New Work ist das Ergebnis dieser Transformation und des kulturellen Wandels (Bergmann, 2019). Die Auslöser für diese Entwicklung von New Work sind vielfältig. Digitalisierung, Konnektivität und Globalisierung sowie der demografische Wandel zählen zu den Faktoren, die zum Wandel der Arbeitswelt beitragen. Die Frage, wie Unternehmen und Gesellschaften mit dem Megatrend New Work umgehen, gewinnt zunehmend an Bedeutung (Bergmann, 2019). Die Kernwerte des New-Work-Konzepts sind Unabhängigkeit, Freiheit und Teilhabe an der Gemeinschaft, wie sie der Wissenschaftler Bergmann bereits in den 1980er-Jahren skizzierte. Neben Freiheit und Teilhabe integriert New Work auch Elemente wie Freiheit oder Selbstwertgefühl, einen zielgerichteten Beruf, Entwicklung und soziale Verantwortung, wie in Abb. 1.1 dargestellt.
New Work bedeutet, dass man die Arbeit ganz anders erleben und empfinden kann als bisher und dass man sich unter auf diesen Unterschied einstellen muss.

Frithjof Bergmann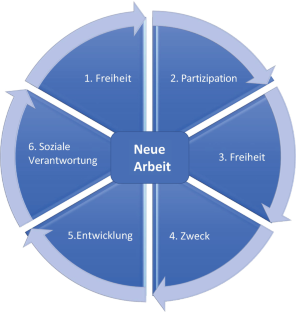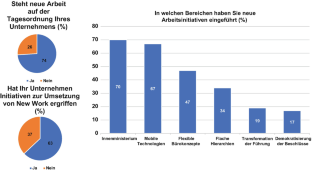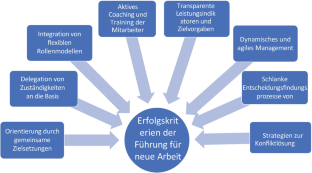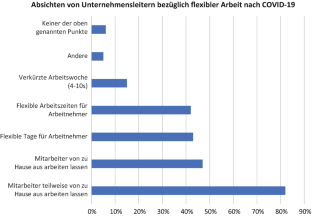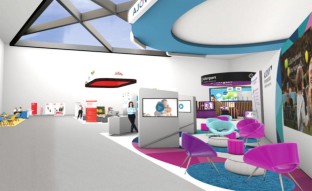 Literatur
Baker, M. (2020a, June 8). 9 future of work trends post-COVID-19. Human resources. Gartner Online. https://www.gartner.com/smarterwithgartner/9-future-of-work-trends-post-covid-19/. Zugegriffen am 15.08.2020.

Baker, M. (2020b). Gartner survey reveals 82 % of company leaders plan to allow employees to work remotely some of the time. Now organizations must manage a More Complex, Hybrid Workforce. https://www.gartner.com/en/newsroom/press-releases/2020-07-14-gartner-survey-reveals-82-percent-of-company-leaders-plan-to-allow-employees-to-work-remotely-some-of-the-time. Zugegriffen am 25.11.2022.

Bergmann, F. (2019). New work new culture. Work we want and culture that strengthens us. Zero Books.

Brommer, D., Hockling, S., & Leopold, A. (2019). Faszination New Work: 50 Impulse für die New Workswelt. Springer.

Deutsche Telekom. (2020). Article from Lisa Maching. Bessere Aussichten für Messen und Events in Krisenzeiten. https://www.telekom.com/de/konzern/details/gute-aussichten-fuer-messen-und-events-in-krisenzeiten-604048. Zugegriffen am 27.07.2020.

Hackl, B., Wagner, M., Attmer, L., & Baumann, D. (2017). New Work: Auf dem Weg zur neuen Arbeitswelt. Management-Impulse, Praxisbeispiele, Studien. Springer.

Hanschke, I. (2017). Agile in der Unternehmenspraxis. Fallstricke erkennen und vermeiden, Potenziale heben. Springer.

Helmold, M. (2020). Lean management and kaizen. Fundamentals from cases and examples in operations and supply chain management. Springer.

Helmold, M., & Samara, W. (2019). Progress in performance management. Industry insights and case studies on principles, application tools, and practice. Springer.

Hermeier, B., Heupel, T., & Fichtner-Rosada, S. (2019). Arbeitswelten der Zukunft. Wie die Digitalisierung unsere Arbeitsplätze und Arbeitsweisen verändert (FOM Hrsg.). Springer.

Kienbaum, F. (2017). Wo stehen die Unternehmen in Sachen New Work? New Work Pulse Check 2017. Kienbaum Pulse Check. https://www.kienbaum.com/de/blog/new-work-pulse-check/. Zugegriffen am 25.07.2020.

Lauer, T. (2020). Change management. Fundamentals and success factors. Springer.

Moran, A. (2015). Managing agile. Strategy, implementation, organisation and people. Springer.

Sterchi, A. (2018). Brennpunkt. Unsere Arbeitswelt auf den Kopf gestellt. In F. H. S. S. Gallen (Hrsg.), Interview mit Sibylle Olbert-Bock. Prof. Dr. rer. pol. Sibylle Olbert-Bock leitet das Kompetenzzentrums Leadership. https://substanz.fhsg.ch/substanz-01-2018/brennpunkt/unsere-arbeitswelt-auf-den-kopf-gestellt/. Zugegriffen am 24.07.2020.

Väth, M. (2019). Beraterdämmerung. Wie Unternehmen sich selbst helfen können. Springer.

Väth, M., & Vollmoeller, T. (2016). Arbeit – die schönste Nebensache der Welt: Wie New Work unsere Arbeitswelt revolutioniert (Dein Business). Gabal.

Wörwag, S., & Cloots, A. (2020). Zukunft der Arbeit – Perspektive Mensch. In Aktuelle Forschungserkenntnisse und Good Practices. Springer.
Copyright information

© 2022 Der/die Autor(en), exklusiv lizenziert an Springer Nature Switzerland AG
About this chapter
Cite this chapter
Helmold, M. (2022). Einführung in New Work. In: New Work, transformatorische und virtuelle Führung. Springer Gabler, Cham. https://doi.org/10.1007/978-3-031-16516-0_1
DOI: https://doi.org/10.1007/978-3-031-16516-0_1

Published:

Publisher Name: Springer Gabler, Cham

Print ISBN: 978-3-031-16515-3

Online ISBN: 978-3-031-16516-0

eBook Packages: Business and Economics (German Language)