Abstract

Spiculations/lobulations, sharp/curved spikes on the surface of lung nodules, are good predictors of lung cancer malignancy and hence, are routinely assessed and reported by radiologists as part of the standardized Lung-RADS clinical scoring criteria. Given the 3D geometry of the nodule and 2D slice-by-slice assessment by radiologists, manual spiculation/lobulation annotation is a tedious task and thus no public datasets exist to date for probing the importance of these clinically-reported features in the SOTA malignancy prediction algorithms. As part of this paper, we release a large-scale Clinically-Interpretable Radiomics Dataset, CIRDataset, containing 956 radiologist QA/QC'ed spiculation/lobulation annotations on segmented lung nodules from two public datasets, LIDC-IDRI (N = 883) and LUNGx (N = 73). We also present an end-to-end deep learning model based on multi-class Voxel2Mesh extension to segment nodules (while preserving spikes), classify spikes (sharp/spiculation and curved/lobulation), and perform malignancy prediction. Previous methods have performed malignancy prediction for LIDC and LUNGx datasets but without robust attribution to any clinically reported/actionable features (due to known hyperparameter sensitivity issues with general attribution schemes). With the release of this comprehensively-annotated CIRDataset and end-to-end deep learning baseline, we hope that malignancy prediction methods can validate their explanations, benchmark against our baseline, and provide clinically-actionable insights. Dataset, code, pretrained models, and docker containers are available at https://github.com/nadeemlab/CIR.
Keywords
Lung nodule

Spiculation

Malignancy prediction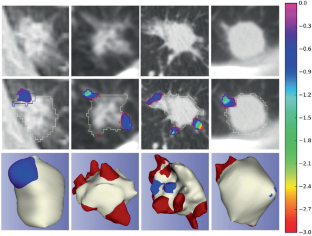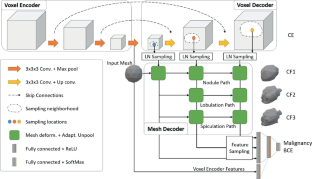 References
Armato, S.G., McLennan, G., Bidaut, L., McNitt-Gray, M.F., Meyer, C.R., et al.: The lung image database consortium (LIDC) and image database resource initiative (IDRI): a completed reference database of lung nodules on CT scans. Med. Phys. 38(2), 915–931 (2011). https://doi.org/10.1118/1.3528204

Armato, S.G., McLennan, G., Bidaut, L., McNitt-Gray, M.F., Meyer, C.R., et al.: Data from LIDC-IDRI. Cancer Imaging Arch. (2015). https://doi.org/10.7937/K9/TCIA.2015.LO9QL9SX

Arun, N., et al.: Assessing the trustworthiness of saliency maps for localizing abnormalities in medical imaging. Radiol. Artif. Intell. 3(6), e200267 (2021)

Bansal, N., Agarwal, C., Nguyen, A.: SAM: he sensitivity of attribution methods to hyperparameters. In: Proceedings of the IEEE/CVF Conference on Computer Vision and Pattern Recognition, pp. 8673–8683 (2020)

Buty, M., Xu, Z., Gao, M., Bagci, U., Wu, A., Mollura, D.J.: Characterization of lung nodule malignancy using hybrid shape and appearance features. In: Ourselin, S., Joskowicz, L., Sabuncu, M.R., Unal, G., Wells, W. (eds.) MICCAI 2016. LNCS, vol. 9900, pp. 662–670. Springer, Cham (2016). https://doi.org/10.1007/978-3-319-46720-7_77

Causey, J.L., et al.: Highly accurate model for prediction of lung nodule malignancy with CT scans. Sci. Rep. 8(1), 1–12 (2018)

Chelala, L., Hossain, R., Kazerooni, E.A., Christensen, J.D., Dyer, D.S., White, C.S.: Lung-RADS version 1.1: challenges and a look ahead, from the AJR special series on radiology reporting and data systems. Am. J. Roentgenol. 216(6), 1411–1422 (2021). https://doi.org/10.2214/AJR.20.24807. pMID: 33470834

Choi, W., Nadeem, S., Alam, S.R., Deasy, J.O., Tannenbaum, A., Lu, W.: Reproducible and interpretable spiculation quantification for lung cancer screening. Comput. Methods Programs Biomed. 200, 105839 (2021). https://doi.org/10.1016/j.cmpb.2020.105839. https://www.sciencedirect.com/science/article/pii/S0169260720316722

Choi, W., et al.: Radiomics analysis of pulmonary nodules in low-dose CT for early detection of lung cancer. Med. Phys. (2018). https://doi.org/10.1002/mp.12820

Dhara, A.K., Mukhopadhyay, S., Saha, P., Garg, M., Khandelwal, N.: Differential geometry-based techniques for characterization of boundary roughness of pulmonary nodules in CT images. Int. J. Comput. Assist. Radiolo. Surg. 11(3), 337–349 (2016)

Hawkins, S., et al.: Predicting malignant nodules from screening CT scans. J. Thorac. Oncol. 11(12), 2120–2128 (2016)

Meyer, M., et al.: Reproducibility of CT radiomic features within the same patient: influence of radiation dose and CT reconstruction settings. Radiology 293(3), 583–591 (2019)

Niehaus, R., Raicu, D.S., Furst, J., Armato, S.: Toward understanding the size dependence of shape features for predicting spiculation in lung nodules for computer-aided diagnosis. J. Digit. Imaging 28(6), 704–717 (2015)

Siegel, R.L., Miller, K.D., Jemal, A.: Cancer statistics, 2019. CA Cancer J. Clin. 69(1), 7–34 (2019). https://doi.org/10.3322/caac.21551. https://acsjournals.onlinelibrary.wiley.com/doi/abs/10.3322/caac.21551

Snoeckx, A., et al.: Evaluation of the solitary pulmonary nodule: size matters, but do not ignore the power of morphology. Insights Imaging 9, 73–86 (2017)

Wickramasinghe, U., Remelli, E., Knott, G., Fua, P.: Voxel2Mesh: 3D mesh model generation from volumetric data. In: Martel, A.L., Abolmaesumi, P., Stoyanov, D., Mateus, D., Zuluaga, M.A., Zhou, S.K., Racoceanu, D., Joskowicz, L. (eds.) MICCAI 2020. LNCS, vol. 12264, pp. 299–308. Springer, Cham (2020). https://doi.org/10.1007/978-3-030-59719-1_30

Xie, Y., et al.: Knowledge-based collaborative deep learning for benign-malignant lung nodule classification on chest CT. IEEE Trans. Med. Imaging 38(4), 991–1004 (2018)
Acknowledgements

This project was supported by MSK Cancer Center Support Grant/Core Grant (P30 CA008748) and by the Sidney Kimmel Cancer Center Support Grant (P30 CA056036).
Copyright information

© 2022 The Author(s), under exclusive license to Springer Nature Switzerland AG
About this paper
Cite this paper
Choi, W., Dahiya, N., Nadeem, S. (2022). CIRDataset: A Large-Scale Dataset for Clinically-Interpretable Lung Nodule Radiomics and Malignancy Prediction. In: Wang, L., Dou, Q., Fletcher, P.T., Speidel, S., Li, S. (eds) Medical Image Computing and Computer Assisted Intervention – MICCAI 2022. MICCAI 2022. Lecture Notes in Computer Science, vol 13435. Springer, Cham. https://doi.org/10.1007/978-3-031-16443-9_2
DOI: https://doi.org/10.1007/978-3-031-16443-9_2

Published:

Publisher Name: Springer, Cham

Print ISBN: 978-3-031-16442-2

Online ISBN: 978-3-031-16443-9

eBook Packages: Computer ScienceComputer Science (R0)