Abstract

This study compared two iterations of the same course where students had the same assignments. In the first iteration, the students had to use the typical discussion forums offered by the popular Moodle learning management system. In the second iteration, students had to use Discord, the popular gaming chat application. Students' interactions were retrieved from both platforms and cleaned. Two social networks were constructed using the same methods to evaluate the differences in patterns of interaction between the two platforms, the group interactivity, the reciprocity, and the quality of interactions. The aim is to study how far an instant messenger facilitates or otherwise constrains collaboration. We use temporal network methods to further understand the pace, rhythm, and temporality of interactions.
Keywords
Social network analysis

Temporal network analysis

CSCL

Learning analytics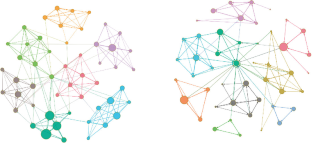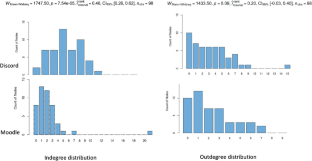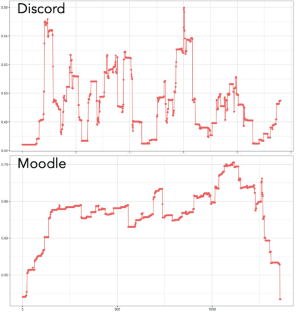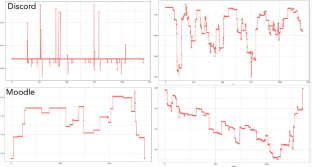 References
Siemens, G.: Learning analytics: the emergence of a discipline. Am. Behav. Sci. 57, 1380–1400 (2013)

Wong, B.T.M.: Learning analytics in higher education: an analysis of case studies. Asian Assoc. Open Univ. J. 12, 21–40 (2017)

Malmberg, J., Saqr, M., Järvenoja, H., Järvelä, S.: How the monitoring events of individual students are associated with phases of regulation. J. Learn. Anal. 9, 77–92 (2022)

Törmänen, T., Järvenoja, H., Saqr, M., Malmberg, J.: A person-centered approach to study students' socio-emotional interaction profiles and regulation of collaborative learning. Front. Educ. (2022)

Saqr, M., Peeters, W.: Temporal networks in collaborative learning: a case study. Br. J. Educ. Technol. (2022). https://doi.org/10.1111/bjet.13187

Vu, D., Pattison, P., Robins, G.: Relational event models for social learning in MOOCs. Soc. Netw. 43, 121–135 (2015)

Saqr, M., Nouri, J.: High resolution temporal network analysis to understand and improve collaborative learning. In: Proceedings of the Tenth International Conference on Learning Analytics and Knowledge, pp. 314–319. Association for Computing Machinery, New York (2020)

Saqr, M., Poquet, O., Lopez-Pernas, S.: Networks in education: a travelogue through five decades. IEEE Access 10, 32361–32380 (2022)

Saqr, M., López-Pernas, S.: The curious case of centrality measures: a large-scale empirical investigation. J. Learn. Anal. 9, 13–31 (2022)

Holme, P., Saramäki, J.: Temporal networks as a modeling framework. In: Holme, P., Saramäki, J. (eds.) Temporal Networks, pp. 1–14. Springer, Heidelberg (2013). https://doi.org/10.1007/978-3-642-36461-7_1

Conde, M.Á., Rodríguez-Sedano, F.J., Hernández-García, Á., Gutiérrez-Fernández, A., Guerrero-Higueras, Á.M.: Your teammate just sent you a new message! The effects of using telegram on individual acquisition of teamwork competence. Int. J. Interact. Multimedia 6, 225 (2021)

Lents, N.H., Cifuentes, O.E.: Increasing student-teacher interactions at an urban commuter campus through instant messaging and online office hours (2010)

Fox, A.B., Rosen, J., Crawford, M.: Distractions, distractions: does instant messaging affect college students' performance on a concurrent reading comprehension task? Cyberpsychol. Behav. 12, 51–53 (2009)
Acknowledgement

This study is partially funded by the Erasmus+ program of the European Union within the project ENVISION_2027 (grant number 2020-1-FI01-KA226-HE-092653), and by the Academy of Finland (grant number 350560).
Copyright information

© 2022 The Author(s), under exclusive license to Springer Nature Switzerland AG
About this paper
Cite this paper
Saqr, M., López-Pernas, S. (2022). Instant or Distant: A Temporal Network Tale of Two Interaction Platforms and Their Influence on Collaboration. In: Hilliger, I., Muñoz-Merino, P.J., De Laet, T., Ortega-Arranz, A., Farrell, T. (eds) Educating for a New Future: Making Sense of Technology-Enhanced Learning Adoption. EC-TEL 2022. Lecture Notes in Computer Science, vol 13450. Springer, Cham. https://doi.org/10.1007/978-3-031-16290-9_55
DOI: https://doi.org/10.1007/978-3-031-16290-9_55

Published:

Publisher Name: Springer, Cham

Print ISBN: 978-3-031-16289-3

Online ISBN: 978-3-031-16290-9

eBook Packages: Computer ScienceComputer Science (R0)