Summary

This chapter focuses on the problem of psychological mechanisms of solving problematic situations with a high degree of uncertainty. We wanted to emphasize the value of this subject area, which is linked to the significant achievements in the development of artificial intelligence (AI) technologies. Due to the latter, people are actually forced to revise their identity and search for something which only human being is capable of, in comparison to a robot. This chapter describes in detail the dialectical mental actions. Dialectical thinking, being creative (not algorithm-driven), is an indisputable advantage for humanity. It allows the development of innovative economics, education, arts, humanitarian practices, and the application of new solutions. Intellectual mechanisms will be thoroughly illustrated with examples from the engineering area, painting, and literature. Moreover, this chapter describes the author's custom toolkit for the diagnostics of intellectual mechanisms required for solving problematic situations with a high degree of uncertainty. This toolkit can be used for such tasks as the diagnostics of different transformation strategies by adolescents and adults, as well as in the context of research of various aspects of creative thinking when selecting a member of project and development teams in any professional area.
Graphical Abstract/Art Performance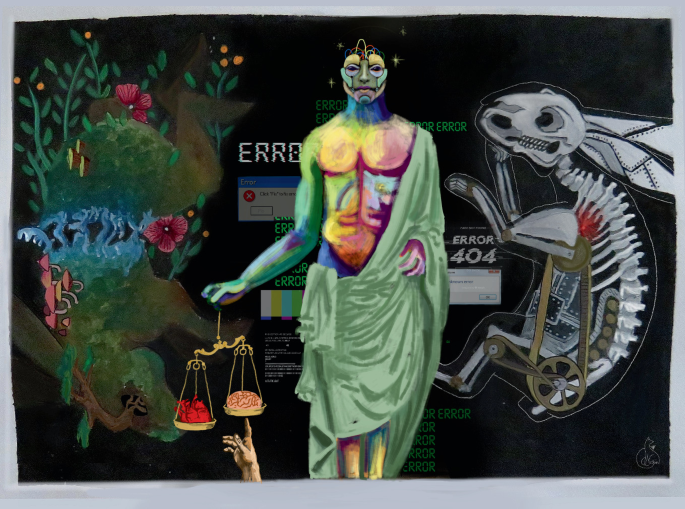 Intellectual mechanisms of solving problematic situations with a high degree of uncertainty.
In the dazzling world of artificial intelligence, humanity relies on rigid algorithms; however, dilemmas are ubiquitous. And when robots fail to solve the problem, a human should take the leap of faith and make a novel yet less logical decision with the hope of improvement.
(Adapted with permission from the Association of Science and Art (ASA), Universal Scientific Education and Research Network (USERN); Made by Negin Dougaheh).
Keywords
Creativity

Dialectical mental actions

Problem-solving

Problematic situation

Uncertainty
The test of a first-rate intelligence is the ability to hold two opposed ideas in mind at the same time and still retain the ability to function.

F. Scott Fitzgerald
Notes
1.

See K. F. Riegel, D. Kramer, V. S. Khofman, M. Basseches, P. Arlin, R. Nisbett, E. Marchand, and others' works.
References
Reitman WR (1965) Cognition and thought: an information processing approach

Dorner D (1997) The logic of failure: Recognizing and avoiding error in complex situations. Basic Books

Ackoff RL (1978) The art of problem solving accompanied by Ackoff's Fables

Veraksa NE (2010) Structural approach to dialectic cognition. Psychol Russia State Art 3:227–239

Veraksa NE (2019) Dialectical thinking: logics and psychology. Cultural-Hist Psychol 15(3):4–12

Veraksa NE, Belolutskaya AK, Vorobyeva II, Krasheninnikov EE, Rachkova EV, Shiyan IB et al (2013) Structural dialectical approach in psychology: problems and research results. Psychol Russia State Art 6(2):65–77

Bayanova L (2019) Dialectical thinking of children at different levels of cultural congruence, pp 1093–1093

Bayanova LF, Chulyukin KS (2018) The impact of cultural congruence on the creative thinking of primary school children. Psychol Russia State Art 11(1):61–70

Belolutskaya AK (2013) Structural flexibility of thinking in the context of dialectical approach in psychology. Procedia Soc Behav Sci 86:312–317

Belolutskaya AK (2014) The concept of oppositions as a determining factor for development of dialectical mental actions in the thinking of a pre-school child. Procedia Soc Behav Sci 146:99–104

Belolutskaya AK (2015) Multidimensionality of thinking in the context of creativity studies. Psychol Russia 8(1):43

Shiyan OA, Shiyan IB, Bochkina EV (2016) Development of cyclic representations of senior preschoolers. Procedia Soc Behav Sci 233:274–279

G.S. At (1986) Najti ideyu

I. B (2019) Odesskie rasskazi
Acknowledgements

The author would sincerely appreciate Anastasia Krivoshanova for assistance with the translation from Russian into English.
Copyright information

© 2023 The Author(s), under exclusive license to Springer Nature Switzerland AG
About this chapter
Cite this chapter
Belolutskaya, A.K. (2023). Intellectual Mechanisms of Solving of Problematic Situations with a High Degree of Uncertainty. In: Rezaei, N. (eds) Brain, Decision Making and Mental Health. Integrated Science, vol 12. Springer, Cham. https://doi.org/10.1007/978-3-031-15959-6_30
DOI: https://doi.org/10.1007/978-3-031-15959-6_30

Published:

Publisher Name: Springer, Cham

Print ISBN: 978-3-031-15958-9

Online ISBN: 978-3-031-15959-6