Abstract

The paper aims to design a simulation of a butt weld made of stainless steel and copper by a laser beam. The concept of the problem solution is based on a non-experimental method of thermomechanical and stress-strain analysis of the laser welding process of dissimilar materials, which can largely predict suitable welding parameters for real experiments and thus effectively reduce welding defects. All simulation steps were performed using ANSYS simulation software. A Gaussian volumetric heat source was used for the simulation. The physical and mechanical properties of the materials are temperature dependent and must be defined in the simulation software. The ANSYS SpaceClaim module was used to create the geometric model. The geometric model is dimensionally identical to the sample used in the real experiment. The initial conditions in the numerical simulation were determined based on the initial state of the experimental sample. Real samples were welded using a disk laser; parameters were set based on simulation. The results of the thermal analysis are used to examine the temperature fields created in the welding process. They are used to optimize welding parameters. According to experimental and simulation results, there is a different maximum temperature in the weld metal on the copper side as well as on the steel side due to a higher coefficient of thermal conductivity of copper. The results of the stress-strain analysis consist of two parts. The first part examines the effect of clamping on the stresses arising in the welding process, and the second part is focused on the overall deformation. Due to the small differences in the values of the coefficient of thermal expansion of the metals used and the small dimensions of the test specimens, the residual stresses and strains are negligible.
Keywords
Laser welding

Numerical simulation

Dissimilar butt joint

Eletro tough pitch copper

Stainless steel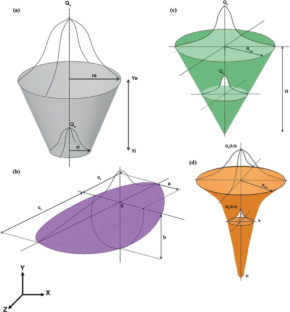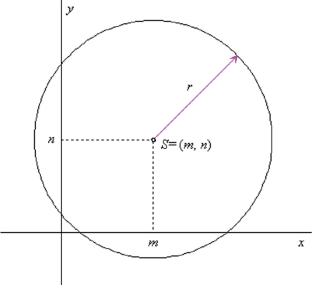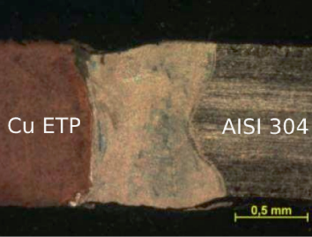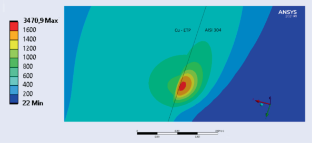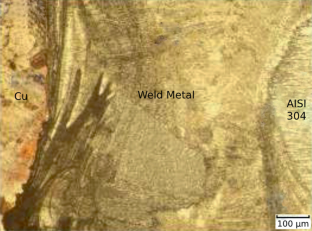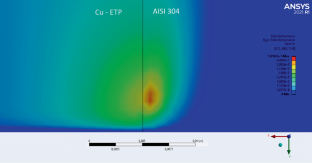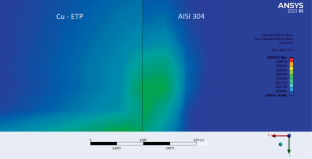 References
Zhang, X., Pan, T., Flood, A., Chen, Y., Zhang, Y., Liou F.: Investigation of copper/stainless steel multi-metallic materials fabricated by laser metal deposition. Mater. Sci. Eng. A 811 (2021). https://doi.org/10.1016/j.msea.2021.141071

Sadeghian, A., Iqbal, N.: A review on dissimilar laser welding of steel-copper, steel-aluminum, aluminum-copper, and steel-nickel for electric vehicle battery manufacturing. Opti. Laser Technol. 146 (2022). https://doi.org/10.1016/j.optlastec.2021.107595

Incropera, F., DeWitt, D., Bergman, T., Lavine, A.: Fundamentals of Heat and Mass Transfer, vol. 112, 6th edn. Wiley, New York (2005)

Chandelkar, V., Pradhan, S.K.: Numerical simulation of temperature distribution and experimentation in laser beam welding of SS317L alloy. Mater. Today Proc. 27 (2019). https://doi.org/10.1016/j.matpr.2019.11.331

Akella, S., Harinadh, V, Krishna, Y., Buddu, R.K.: A welding simulation of dissimilar materials SS304 and copper. Procedia Mater. Sci. 5 (2014). https://doi.org/10.1016/j.mspro.2014.07.490

Antony, K., Rakeshnath, T.R.: Dissimilar laser welding of commercially pure copper and stainless steel 316L. Mater. Today Proc. 26 (2019). https://doi.org/10.1016/j.matpr.2019.12.043

Chen, H.C., Bi, G., Nai, M.L.S., Wei, J.: Enhanced welding efficiency in laser welding of highly reflective pure copper. J. Mater. Process. Technol. 216 (2015). https://doi.org/10.1016/j.jmatprotec.2014.09.020

Kuryntsev, S.V., Morushkin, A.E., Gilmutdinov, A.K.: Fiber laser welding of austenitic steel and commercially pure copper butt joint. Opt. Lasers Eng. 90 (2017). https://doi.org/10.1016/j.optlaseng.2016.10.008

Meng, Y., Li, X., Gao, M., Zeng, X.: Microstructures and mechanical properties of laser-arc hybrid welded dissimilar pure copper to stainless steel. Opt. Laser Technol. 111 (2019). https://doi.org/10.1016/j.optlastec.2018.09.050

Mannucci, A., Tomashchuk, I., Vignal, V., Sallamand, P., Duband, M.: Parametric study of laser welding of copper to austenitic stainless steel. Procedia CIRP 74 (2018). https://doi.org/10.1016/j.procir.2018.08.160

Aghaee Attar, M., Ghoreishi, M., Malekshahi Beiranvand, Z.: Prediction of weld geometry, temperature contour and strain distribution in disk laser welding of dissimilar joining between copper & 304 stainless steel. Optik (Stuttg) 219 (2020). https://doi.org/10.1016/j.ijleo.2020.165288

Vemanaboina, H., Akella, S., Buddu, R.K.: Welding process simulation model for temperature and residual stress analysis. Procedia Mater. Sci. 6 (2014). https://doi.org/10.1016/j.mspro.2014.07.135

Chen, S., Huang, J., Xia, J., Zhang, H., Zhao, X.: Microstructural characteristics of a stainless steel/copper dissimilar joint made by laser welding. Metall. Mater. Trans. A Phys. Metall. Mater. Sci. 44(8) (2013). https://doi.org/10.1007/s11661-013-1693-z

Agrawal, H., Sharma, P., Tiwari, P., Taiwade R.V., Dayal R.K.: Evaluation of self-healing behaviour of AISI 304 stainless steel. Trans. Indian Inst. Metals 68(4) (2015). https://doi.org/10.1007/s12666-014-0467-7

Mascaraque-Ramirez, C., Franco, P.: Experimental study of surface finish during electro-discharge machining of stainless steel. Procedia Eng. 132 (2015). https://doi.org/10.1016/j.proeng.2015.12.547

Khobragade, N.N., Khan, M.I., Patil, A.P.: Corrosion behaviour of chrome–manganese austenitic stainless steels and AISI 304 stainless steel in chloride environment. Trans. Indian Inst. Met. 67(2) (2013). https://doi.org/10.1007/s12666-013-0345-8

Balusamy, T., Kumar, S., Sankara Narayanan, T.S.N.: Electrochemical behaviour of surface modified AISI 304 grade stainless steel in Ringer's solution. Trans. Indian Inst. Metals 64(4–5) (2011). https://doi.org/10.1007/s12666-011-0076-7

Chandrasekar, G., Kailasanathan, C., Verma, D.K., Nandagopal, K.: Optimization of welding parameters, influence of activating flux and investigation on the mechanical and metallurgical properties of activated TIG weldments of AISI 316 L stainless steel. Trans. Indian Inst. Met. 70(3) 2017). https://doi.org/10.1007/s12666-017-1046-5

European Copper Institute: Properties of Cu-ETP. Last adr

Knych, T.A., Smyrak, B., Walkowicz, M.: Selected aspects of evolution properties of oxygen free copper for high-advanced electrotechnical application. https://www.researchgate.net/publication/267411152_Selected_aspects_of_evolution_properties_of_oxygen_free_copper_for_high-advanced_electrotechnical_application. Accessed 2011

Freudenberger, J., Warlimont, H.: Copper and copper alloys. In: Warlimont, H., Martienssen, W. (eds.) Springer Handbook of Materials Data. SH, pp. 297–305. Springer, Cham (2018). https://doi.org/10.1007/978-3-319-69743-7_12

Segl'a, P., Miklos, D., Melnik, M.: Structures, Physico-Chemical Properties and Biological Activities of Copper (II) Pyridinecarboxylates (2010)

Unni, A.K., Vasudevan, M.: Determination of heat source model for simulating full penetration laser welding of 316 LN stainless steel by computational fluid dynamics. Mater. Today Proc. 45 (2021). https://doi.org/10.1016/j.matpr.2020.12.842

Nothdurft, S., Springer, A., Kaierle, S.: Influencing the weld pool during laser welding. Adv. Laser Mater. Process. (2018). https://doi.org/10.1016/b978-0-08-101252-9.00010-8

Engineering ToolBox. Materials - Light Reflecting Factors. https://www.engineeringtoolbox.com/light-material-reflecting-factor-d_1842.html
Acknowledgement

This contribution was supported by the Agency for the Promotion of Research and Development under contract no. APVV-18-0116. The experiment was also solved within the diploma theses, which are part of the project outputs and by the Vedecká grantová agentúra VEGA grant agency of the Ministry of Education, Science, Research and Sport of the Slovak Republic, project No. 1/0499/21.
Copyright information

© 2023 The Author(s), under exclusive license to Springer Nature Switzerland AG
About this paper
Cite this paper
Hnilica, M., Hodúlová, E., Sahul, M., Kovačócy, P., Šimeková, B., Kovaříková, I. (2023). Numerical Simulation of Laser Beam Welding of Stainless Steel and Copper Butt Joint. In: Jármai, K., Cservenák, Á. (eds) Vehicle and Automotive Engineering 4. VAE 2022. Lecture Notes in Mechanical Engineering. Springer, Cham. https://doi.org/10.1007/978-3-031-15211-5_78
DOI: https://doi.org/10.1007/978-3-031-15211-5_78

Published:

Publisher Name: Springer, Cham

Print ISBN: 978-3-031-15210-8

Online ISBN: 978-3-031-15211-5

eBook Packages: EngineeringEngineering (R0)