Abstract

This chapter provides an overview of major international treaties, conventions, and guidelines relating to the protection of refugees and other groups of displaced populations. The chapter discusses the heterogeneity and normative challenges of refugee definitions and the processes to obtain refugee status. It introduces the refugee rights cube – a 3 × 3 matrix for refugee rights, which plots pertinent legal instruments according to the source of rights, the target group, and the hardness of the law. Drawing on short case studies in the European Union, Turkey, and India, the chapter discusses different refugee conceptualizations, legal statuses, processes, and rights. It equally provides an overview of international law standards for internally displaced and stateless people. The chapter concludes by framing legal instruments as discursive advocacy tools to close protection gaps for forcibly displaced populations.
Keywords
Refugees

Displacement

IDPs

International law

Human rights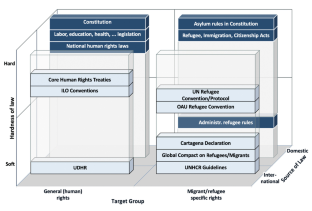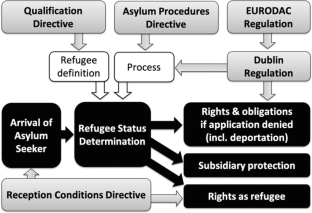 Notes
1.

2.

A first country of asylum is the first country in which refugees have been recognized as refugees or otherwise enjoy sufficient protection, including benefiting from the principle of non-refoulement.

3.

Chapter 7 provides an in-depth discussion on resettlement and durable solutions.

4.

Irregular migrants, also referred to as undocumented migrants, do not fulfil the requirements established by the country of destination to enter, stay, or exercise an economic activity.

5.

See European Court of Justice (ECtHR) – Hirsi Jamaa and Others v Italy [GC], Application No. 27765/09.

6.

See Human Rights Committee general comment No. 31 (2004), para 12, comment No. 36 (2018) on Article 6 of the Covenant on the right to life (CCPR/C/GC/36), para. 30; 2019 Teitiota decision, CCPR/C/127/D/2728/2016.

7.

See Hathaway (2021) for the mechanisms of norm enforcement and international compliance with international law.

8.

Betts (2009) shows how persuasion by UNHCR and other actors can influence state behavior beyond legal obligation.

9.

See Hathaway (2021), Orchard (2014), and Chap. 2 of this book for an overview of the historical development of the refugee definition. While the gendered language ("himself") is not seen as challenge for the equal application to all people (Kelley, 2001), we discuss the gendered nature of the process and the legal standards below.

10.

I will briefly discuss the declaratory character of states' determination below.

11.

Through ratification of the 1967 protocol, states become automatically party to the 1951 Refugee Convention (Article 1 of the Protocol). Only Madagascar and St Kitts & Nevis are parties to the1951 Convention but not its Protocol.

12.

See Goodwin-Gill and McAdam (2007, Ch.2) for a longer discussion on legal refugee definitions.

13.

As per Art 1.D of the 1951 Convention.

14.

The Organization of African Unity was the predecessor of the African Union that was in place from 1963 to 2002. The convention is open to ratification by all OAU member states (Art. X).

15.

However, in 1985, the General Assembly of the Organization of American States approved the declaration.

16.

Where countries are parties to a regional refugee instrument and the UN Refugee Convention, both are applicable in parallel. However, the UN Refugee Convention grants a more substantive set of rights.

17.

In addition, many states have made reservations and declarations that limit their obligations.

18.

Though they are often an expression of the non-refoulement obligation.

19.

The International Mobility Commission – composed of academic and policy experts—debated and developed a model framework on mobility that establishes a framework of minimum rights afforded to all people who cross state borders as visitors and the special rights afforded to tourists, students, labor and economic migrants, family members, forced migrants, refugees, migrants caught in countries in crisis, and migrant victims of trafficking as a consequence of their status (Doyle, 2018, p. 221).

20.

See Art. 125 of the MIMC.

21.

See Chap. 7 for details on RSD processes.

22.

The 1951 Convention and the 1967 Protocol are silent on RSD procedures (UNHCR, 1977, para 11). Article 1.6 of the OAU Convention simply stipulates that "the Contracting State of Asylum shall determine whether an applicant is a refugee."

23.

While each country's rules on the evidence needed to show a well-founded fear of persecution or other grounds for refugee status differ, UNHCR highlights that RSD should not ask for proof in the strict sense but rather conduct credibility assessments (UNHCR, 2013).

24.

See Chap. 7 for a discussion on resettlement.

25.

Intercepting refugees at sea and transporting them back to their countries of origin without providing a meaningful opportunity to apply for asylum is highly problematic. Most refugee law scholars would argue that the practice violates non-refoulement obligations and the spirit of the UN Refugee Convention. However, in 1993, in its notorious Sale v. Haitian Centers Council decision (509 U.S. 155), the US Supreme Court did not find that such returns violate the UN Refugee Convention or domestic law. On the other hand, in 2012 the European Court of Human Rights found in Hirsi Jamaa and Others v. Italy that this practice can constitute refoulement and violate the prohibition of torture and of collective expulsion of aliens in Articles 3 and 4 of the European Convention on Human Rights. For a discussion of the lawfulness of interdiction at sea, see Martin et al. (2013, pp. 775–789 and pp. 804–814).

26.

A person's asylum petition can be considered inadmissible or manifestly unfounded if said person has transitioned through a country that has officially been designated as safe, or if the person hails from a country that has been declared safe.

27.

See Chap. 19 for a detailed discussion on sexual and gender-based violence (SGBV) in the context of forcible migration.

28.

29.

UNRWA's definition of a Palestinian refugee under its mandate does not include these grounds for cessation. However, persons moving out of UNRWA's territorial jurisdiction are not considered as such anymore.

30.

This echoes arguments by political philosophers that, over time, social membership grants refugees strong claims to long-term statuses and political participation in their countries of asylum; see Carens (2013).

31.

EU regulations are immediately applicable and enforceable by law in all EU Member States, whereas directives require national authorities to create or adapt their legislation to meet the directive's aims.

32.

Author's calculations based on data from Eurostat Asylum statistics.

33.

Turkish lawmakers invented the term "conditional refugee status" as a category with fewer rights than full refugee status. In addition, the Law on Foreigners and International Protection introduces a "subsidiary protection status" that is modeled after the status in the EU with the same name (Ineli-Ciger, 2017, fn. 72).

34.

Until September 2018, UNHCR registered and made referrals of foreigners wishing to apply for international protection in Turkey.

35.

Dhavan (2004, pp. 43–44) traces the legislative history from the Foreigners Act, 1864, via the Foreigners Ordinance, 1939, the Enemy Foreigners Order and the temporary Foreigners Order, 1940, to the final Foreigners Act, 1946. See also the "Statement of Objects and Reasons" of the 1946 Act itself.

36.

37.

WP(CRL) No.1884/2015, Kham and Mang vs. Union of India, 21.12.2015.

38.

The Internal Displacement Monitoring Centre (2021) estimates that at the end of 2020, there were 55 million IDPs in the world.

39.

The AU's Kampala Convention defines IDPs as "persons or groups of persons who have been forced or obliged to flee or to leave their homes or places of habitual residence, in particular as a result of or in order to avoid the effects of armed conflict, situations of generalized violence, violations of human rights or natural or human-made disasters, and who have not crossed an internationally recognized State border" (Article 1 lit. k).

40.

The UNHCR (2014) Handbook on the Protection of Stateless Persons explains the definition and procedural considerations. Persons who fall under this definition are de iure stateless, whereas persons lacking an effective nationality may be considered de facto stateless. Massey (2010) discusses the definition of de facto stateless persons and the role of UNHCR.

41.

British Overseas Citizenship was adopted to avoid that certain populations in the far-flung corners of the former British empire would become stateless. But as a status that had virtually no rights associated with it, it created de facto statelessness where affected persons did not have access to another citizenship (Naujoks, 2020).
References
Akar, S., & Mustafa Erdoğdu, M. (2018). Syrian refugees in Turkey and integration problem ahead. Journal of International Migration and Integration. https://doi.org/10.1007/s12134-018-0639-0

Aleinikoff, T. A. (2018). The unfinished work of the global compact on refugees. International Journal of Refugee Law, 30(4), 611–617.

Aleinikoff, T. A., & Zamore, L. (2019). The arc of protection: Reforming the international refugee regime. Stanford University Press.

Bakewell, O. (2011). Conceptualising displacement and migration: Processes, conditions, and categories. In K. Koser & S. Martin (Eds.), The migration-displacement nexus: Patterns, processes, and policies (pp. 14–28). Berghahn Books.

Belton, K. A. (2017). Statelessness in the Caribbean. The paradox of belonging in a postnational world. University of Pennsylvania Press.

Betts, A. (2009). Protection by persuasion: International cooperation in the refugee regime. Cornell University Press.

Betts, A. (2013). Survival migration: Failed governance and the crisis of displacement. Cornell University Press.

Bhattacharjee, S. (2008). India needs a refugee law. Economic and Political Weekly, 43(9), 71–75.

Blizzard, B., & Batalova, J. (2019). Refugees and asylees in the United States. Migration Policy Institute. https://www.migrationpolicy.org/article/refugees-and-asylees-united-states. Accessed 15 July 2020.

Bloom, T., Tonkiss, K., & Cole, P. (Eds.). (2017). Understanding statelessness. Routledge.

Carens, J. (2013). The ethics of immigration. Oxford University Press.

Carling, J. (2019). The meaning of migrants. https://meaningofmigrants.org. Accessed 10 July 2020.

Çelik, Ç., & İçduygu, A. (2019). Schools and refugee children: The case of Syrians in Turkey. International Migration, 57(2), 253–267.

Chetail, V. (2014). Are refugee rights human rights? An unorthodox questioning of the relations between refugee law and human rights law. In R. Rubio-Marín (Ed.), Human rights and immigration (pp. 19–72). Oxford University Press.

Cohen, R., & Deng, F. M. (1998). Masses in flight: The global crisis of internal displacement. Brooking Institution Press.

Crawley, H. (2000). Gender, persecution and the concept of politics in the asylum determination process. Forced Migration Review, 9, 17–20.

Dhavan, R. (2004). Refugee law and policy in India. Public Interest and Legal Support and Research Centre.

Doyle, M. W. (2018). The model international mobility convention. Columbia Journal of Transnational Law, 56(2), 219–237.

Erdoğan, M. M., Kirişci, K., & Uysal, G. (2021). Improving Syrian Refugee Inclusion in the Turkish Economy. How Can the International Community Help? Ottawa: World Refugee & Migration Council.

Erdal, M. B., & Oeppen, C. (2018). Forced to leave? The discursive and analytical significance of describing migration as forced and voluntary. Journal of Ethnic and Migration Studies, 44(6), 981–998.

Eurostat. (n.d.). Glossary: Asylum decision. https://ec.europa.eu/eurostat/statistics-explained/index.php/Glossary:Asylum_decision. Accessed 9 July 2020.

FitzGerald, D. (2019). Refuge beyond reach. How rich democracies repel asylum seekers. Oxford University Press.

Gammeltoft-Hansen, T. (2014). International refugee law and refugee policy: The case of deterrence policies. Journal of Refugee Studies, 27(4), 574–595.

Goodwin-Gill, G. S., & McAdam, J. (2007). The refugee in international law (3rd ed.). Oxford University Press.

Hamlin, R. (2012). International law and administrative insulation: A comparison of refugee status determination regimes in the United States, Canada, and Australia. Law & Social Inquiry, 37(4), 933–968.

Hamlin, R. (2021). Crossing: How we label and react to people on the move. Stanford University Press.

Hathaway, J. (2021). The rights of refugees under international law (2nd ed.). Cambridge University Press.

İçduygu, A., & Diker, E. (2017). Labor market integration of Syrian refugees in Turkey: From refugees to settlers. Göç Araştirmalari Dergisi (Journal of Migration Studies), 3(1), 12–35.

Ineli-Ciger, M. (2017). Protecting Syrians in Turkey: A legal analysis. International Journal of Refugee Law, 29(4), 555–579.

Internal Displacement Monitoring Centre. (2021). Global report on internal displacement 2021.

International Committee of the Red Cross. (2020). The Kampala Convention: Key recommendations ten years on.

International Law Commission. (2019). Fourth report on peremptory norms of general international law (jus cogens) by D. Tladi, Special Rapporteur, A/CN.4/727.

Kälin, W. (2014). Internal displacement. In E. Fiddian-Qasmiyeh, G. Loescher, K. Long, & N. Sigona (Eds.), The Oxford handbook of refugee and forced migration studies (pp. 163–175). Oxford University Press.

Kelley, N. (2001). The convention refugee definition and gender-based persecution: A decade's progress. International Journal of Refugee Law, 13(4), 559–568.

Mardin, F. D. (2017). Right to health and access to health services for Syrian refugees in Turkey (MiReKoc Policy Brief 2017/01). Migration Research Center at Koç University (MiReKoc).

Martin, D. A., Aleinikoff, T. A., Motomura, H., & Fullerton, M. (2013). Forced migration: Law and policy (2nd ed.). West.

Massey, H. (2010). UNHCR and De Facto statelessness. UNHCR Legal and Protection Policy Research Series.

Micinski, N. R. (2021). UN Global Compacts Governing Migrants and Refugees. London: Routledge.

Model International Mobility Convention (MIMC). (2017). International convention on the rights and duties of all persons moving from one state to another and of the states they leave, transit or enter. http://globalpolicy.columbia.edu/sites/default/files/mimc_document.pdf; https://perma.cc/F3Q3-6G88

Nair, A. (2007). National refugee law for India: Benefits and roadblocks (IPCS Research Paper 11). Institute of Peace and Conflict Studies.

Naujoks, D. (2009). Emigration, immigration, and diaspora relations in India. Migration Policy Institute.

Naujoks, D. (2018). Immigration and refugee governance in India. Paper presented at the workshop on 'The politics of migration policies: Towards an empirically grounded, comparative political theory of migration politics', Paris, 17 December 2018.

Naujoks, D. (2020). Atypical citizenship regimes: Comparing legal and political conceptualizations. Comparative Migration Studies, 8(1). https://doi.org/10.1186/s40878-019-0156-0

Naujoks, D. (2021). Refugee camps and refugee rights: A simulation of the response to large refugee influxes. Journal of Political Science Education, 17(1), 2–19. https://doi.org/10.1080/15512169.2018.1559066

Naujoks, D. (2022). Trends, drivers and dynamics of flight and migration. In D. Messner, C. Beier, & H.-J. Preuß (Eds.), Forced displacement and migration. Approaches and programmes of international cooperation, 19-40. Springer.

Orchard, P. (2014). A right to flee. Refugees, states, and the construction of international cooperation. Cambridge University Press.

Orchard, P. (2019). Protecting the internally displaced. Rhetoric and reality. Routledge.

Patel, B. N. (2016). The state practice of India and the development of international law. Brill.

Samarsinghe, N. (2018). Human rights: Norms and machinery. In T. G. Weiss & S. Daws (Eds.), The Oxford handbook on the United Nations (2nd ed.). Oxford University Press.

Shaffer, G. C., & Pollack, M. A. (2010). Hard vs. soft law: Alternatives, complements, and antagonists in international governance. Minnesota Law Review, 94(3), 706–799.

Stavropoulou, M. (2016). Refugee protection in Europe: Time for a major overhaul? Forced Migration Review, 51.

Thouez, C. (2020). Cities as emergent international actors in the field of migration. Evidence from the lead-up and adoption of the UN global compacts on migration and refugees. Global Governance, 26(4), 650–672.

UNHCR. (1977). Note on determination of refugee status under international instruments, EC/SCP/5.

UNHCR. (1981). UNHCR Executive Committee Conclusions No. 22, protection of asylum-seekers in situations of large-scale influx.

UNHCR. (1992). UNHCR Executive Committee Conclusion No. 69, cessation of status.

UNHCR. (2002a). UNHCR Executive Committee Conclusions No. 93, reception of asylum-seekers in the context of individual asylum systems.

UNHCR. (2002b). UNHCR guidelines on gender-related persecution.

UNHCR. (2011). Working with lesbian, gay, bisexual, transgender & intersex persons in forced displacement, Geneva.

UNHCR. (2012a). Guidelines on statelessness no. 1: The definition of "stateless person" in Article 1(1) of the 1954 convention relating to the status of stateless persons, HCR/GS/12/01.

UNHCR. (2012b). Guidelines on international protection no. 9: Claims to refugee status based on sexual orientation and/or gender identity within the context of Article 1A(2) of the 1951 convention and/or its 1967 protocol relating to the status of refugees.

UNHCR. (2013). Beyond proof. Credibility assessment in EU asylum systems.

UNHCR. (2014). UNHCR handbook on the protection of stateless persons.

UNHCR. (2015a). Guidelines on international protection No. 11: Prima facie recognition of refugee status.

UNHCR. (2015b). UNHCR's mandate for refugees, stateless persons and IDPs. In UNHCR emergency handbook (4th ed.).

UNHCR. (2016). Procedural standards for RSD under UNHCR's mandate.

UNHCR. (2019a). Complementary pathways for admission of refugees to third countries: Key considerations.

UNHCR. (2019b). Handbook and guidelines on procedures and criteria for determining refugee status under the 1951 convention and the 1967 protocol relating to the status of refugees.

UNHCR. (2019c). Policy on UNHCR's engagement in situations of internal displacement. UNHCR/HCP/2019/1.

UNHCR. (2020). Global trends. Forced displacement in 2019.

UNHCR. (2021). Global trends. Forced displacement in 2020.

UNHCR. (n.d.). Refugee status determination. https://www.unhcr.org/en-us/refugee-status-determination.html. Accessed 10 July 2020.

United Nations. (1998). Guiding principles on internal displacement. E.CN.4/1998/53/Add.2.

United Nations. (2018). Global compact on refugees. UN Doc. A/73/12 (Part II).

United Nations. (2019). UN General Assembly resolution 74/160: Protection of and assistance to internally displaced persons. A/RES/74/160.

Velluti, S. (2014). Reforming the common European asylum system – Legislative developments and judicial activism of the European courts. Springer.

Zetter, R., & Ruaudel, H. (2016). Refugees' right to work and access to labor markets – An assessment. Global Knowledge Partnership on Migration and Development (KNOMAD). World Bank.
Acknowledgments

I am grateful for insightful comments and suggestions by Michael W. Doyle, Alexander Aleinikoff and Mashura Akilova.
Copyright information

© 2023 The Author(s), under exclusive license to Springer Nature Switzerland AG
About this chapter
Cite this chapter
Naujoks, D. (2023). International Treaties, Conventions, and Laws on Forced Displacement. In: Murakami, N.J., Akilova, M. (eds) Integrative Social Work Practice with Refugees, Asylum Seekers, and Other Forcibly Displaced Persons. Essential Clinical Social Work Series. Springer, Cham. https://doi.org/10.1007/978-3-031-12600-0_3
DOI: https://doi.org/10.1007/978-3-031-12600-0_3

Published:

Publisher Name: Springer, Cham

Print ISBN: 978-3-031-12599-7

Online ISBN: 978-3-031-12600-0