Abstract

Push-notifications are a communication tool leveraged by many apps to disseminate information, engage with their user base and provide a means of encouraging users to take particular actions. The nuanced intent behind a push is not always distinguishable to the end-user at moments of delivery. This work explores the text content of notifications pushed by a number of prominent apps in the marketplace over the period of 463 days. We present a new ontology that defines notification Call-to-action (CTA) labels in use today. This facilitates greater understanding behind a push and is a step towards standardisation for marketing teams. Subsequently, we then present results of a notification dataset annotated with our CTA labels and propose and evaluate a CTA text classification task, which could facilitate improved solutions for both users subscribed to, and marketers creating, push-notifications.
Keywords
Push-notification

Call-to-action

Ontology engineering

Multi-label classification

Marketing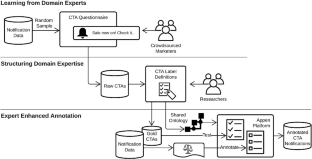 Notes
1.

2.

3.

4.

5.

6.

7.

8.

9.

10.

11.

12.

13.
References
Avraham Bahir, R., Parmet, Y., Tractinsky, N.: Effects of visual enhancements and delivery time on receptivity of mobile push notifications. In: Extended Abstracts of CHI 2019, pp. 1–6 (2019)

Chávez-Feria, S., García-Castro, R., Poveda-Villalón, M.: Converting UML-based ontology conceptualizations to OWL with Chowlk. In: Verborgh, R., et al. (eds.) ESWC 2021. LNCS, vol. 12739, pp. 44–48. Springer, Cham (2021). https://doi.org/10.1007/978-3-030-80418-3_8

Elhai, J.D., Levine, J.C., Dvorak, R.D., Hall, B.J.: Fear of missing out, need for touch, anxiety and depression are related to problematic smartphone use. Comput. Hum. Behav. 63, 509–516 (2016)

Exler, A., Günes, Z., Beigl, M.: Preferred notification modalities depending on the location and the location-based activity. In: UbiComp/ISWC 2019 Adjunct Proceedings, pp. 1064–1069 (2019)

Fraser, K., Conlan, O.: Enticing notification text & the impact on engagement. In: UbiComp/ISWC 2020 Adjunct Proceedings, pp. 444–449 (2020)

Fraser, K., Yousuf, B., Conlan, O.: Scrutable and persuasive push-notifications. In: Oinas-Kukkonen, H., Win, K.T., Karapanos, E., Karppinen, P., Kyza, E. (eds.) PERSUASIVE 2019. LNCS, vol. 11433, pp. 67–73. Springer, Cham (2019). https://doi.org/10.1007/978-3-030-17287-9_6

Goodman, L.A., Kruskal, W.H.: Measures of association for cross classifications. In: Measures of Association for Cross Classifications. Springer Series in Statistics, pp. 2–34. Springer, New York (1979). https://doi.org/10.1007/978-1-4612-9995-0_1

Ho, B.J., Balaji, B., Koseoglu, M., Srivastava, M.: Nurture: notifying users at the right time using reinforcement learning. In: UbiComp/ISWC 2018 Adjunct Proceedings, pp. 1194–1201 (2018)

Komninos, A., Simou, I., Frengkou, E., Garofalakis, J.: Discovering user location semantics using mobile notification handling behaviour. In: Chatzigiannakis, I., De Ruyter, B., Mavrommati, I. (eds.) AmI 2019. LNCS, vol. 11912, pp. 219–234. Springer, Cham (2019). https://doi.org/10.1007/978-3-030-34255-5_15

Lee, Y.K., Chang, C.T., Lin, Y., Cheng, Z.H.: The dark side of smartphone usage: psychological traits, compulsive behavior and technostress. Comput. Hum. Behav. 31, 373–383 (2014)

Li, Y., Yang, Z., Guo, Y., Chen, X., Agarwal, Y., Hong, J.I.: Automated extraction of personal knowledge from smartphone push notifications. In: 2018 IEEE International Conference on Big Data (Big Data), pp. 733–742 (2018)

Liu, T., Wang, H., Li, L., Bai, G., Guo, Y., Xu, G.: DaPanda: detecting aggressive push notifications in android apps. In: 2019 34th IEEE/ACM International Conference on Automated Software Engineering (ASE), pp. 66–78 (2019)

Mehrotra, A., Hendley, R., Musolesi, M.: PrefMiner: mining user's preferences for intelligent mobile notification management. In: UbiComp 2016 Proceedings, pp. 1223–1234 (2016)

Mehrotra, A., Musolesi, M., Hendley, R., Pejovic, V.: Designing content-driven intelligent notification mechanisms for mobile applications. In: UbiComp 2015 Proceedings, pp. 813–824 (2015)

Middleton, C.A., Cukier, W.: Is mobile email functional or dysfunctional? Two perspectives on mobile email usage. EJIS 15(3), 252–260 (2006)

Morrison, L.G., et al.: The effect of timing and frequency of push notifications on usage of a smartphone-based stress management intervention: an exploratory trial. PloS ONE 12(1), e0169162 (2017)

Nouwens, M., Liccardi, I., Veale, M., Karger, D., Kagal, L.: Dark patterns after the GDPR: scraping consent pop-ups and demonstrating their influence. In: 2020 CHI Conference Proceedings, pp. 1–13 (2020)

Reimers, N., Gurevych, I.: Sentence-BERT: sentence embeddings using Siamese BERT-networks. In: EMNLP-IJCNLP 2019 Proceedings (2019)

Suárez-Figueroa, M.C., Gómez-Pérez, A., Villazón-Terrazas, B.: How to write and use the ontology requirements specification document. In: Meersman, R., Dillon, T., Herrero, P. (eds.) OTM 2009. LNCS, vol. 5871, pp. 966–982. Springer, Heidelberg (2009). https://doi.org/10.1007/978-3-642-05151-7_16

Tauch, C., Kanjo, E.: The roles of emojis in mobile phone notifications. In: UbiComp/ISWC 2016 Adjunct Proceedings, pp. 1560–1565 (2016)

Weber, D., Voit, A., Kollotzek, G., Henze, N.: Annotif: a system for annotating mobile notifications in user studies. In: Proceedings of the 18th International Conference on Mobile and Ubiquitous Multimedia, pp. 1–12 (2019)
Funding Acknowledgements

This research has been supported by the European Union's Horizon 2020 research and innovation programme under the Marie Skłodowska-Curie grant agreement No 813497 (PROTECT) as well as with the financial support of Enterprise Ireland, the European Regional Development Fund (ERDF) under Ireland's European Structural and Investment Funds Programme 2014–2020 and Science Foundation Ireland under Grant Agreement No. 13/RC/2106_P2 at the ADAPT SFI Research Centre at Trinity College Dublin.
Copyright information

© 2022 The Author(s), under exclusive license to Springer Nature Switzerland AG
About this paper
Cite this paper
Esteves, B., Fraser, K., Kulkarni, S., Conlan, O., Rodríguez-Doncel, V. (2022). Extracting and Understanding Call-to-actions of Push-Notifications. In: Rosso, P., Basile, V., Martínez, R., Métais, E., Meziane, F. (eds) Natural Language Processing and Information Systems. NLDB 2022. Lecture Notes in Computer Science, vol 13286. Springer, Cham. https://doi.org/10.1007/978-3-031-08473-7_14
DOI: https://doi.org/10.1007/978-3-031-08473-7_14

Published:

Publisher Name: Springer, Cham

Print ISBN: 978-3-031-08472-0

Online ISBN: 978-3-031-08473-7

eBook Packages: Computer ScienceComputer Science (R0)