Abstract

Process mining analysts need to work with event data to discover (business) processes, interpret results and report meaningful conclusions. Although process mining tools are constantly enhanced and advanced techniques are developed to enrich the functional scope in the field, little is known about the individual needs of analysts and the issues they face while conducting process mining projects. This paper aims to close this gap by uncovering perceived challenges occurring in practice. Based on an interview study with 41 participants, we identify and describe 23 challenges, spanning different project phases and directly affecting the work of process mining analysts. We discuss whether methods and techniques exist that can help to overcome these challenges and where further research is needed to devise new solutions and integrate existing ones better into process mining practice.
Keywords
Process mining

Challenges

Interview study

Process analysis

Work practices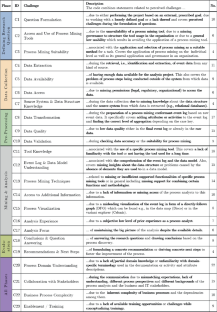 References
Andrews, R., et al.: Leveraging data quality to better prepare for process mining: an approach illustrated through analysing road trauma pre-hospital retrieval and transport processes in Queensland. Int. J. Environ. Res. Public. Health. 16(7), 1138 (2019)

vom Brocke, J., Jans, M., Mendling, J., Reijers, H.A.: A five-level framework for research on process mining. Bus. Inf. Syst. Eng. 63(5), 483–490 (2021). https://doi.org/10.1007/s12599-021-00718-8

De Leoni, M., Mannhardt, F.: Road Traffic Fine Management Process. Eindhoven University of Technology, Dataset (2015)

Diba, K., Batoulis, K., Weidlich, M., Weske, M.: Extraction, correlation, and abstraction of event data for process mining. WIREs Data Mining Knowl. Discov. 10(3), e1346 (2020)

Emamjome, F., Andrews, R., ter Hofstede, A.H.M.: A case study lens on process mining in practice. In: Panetto, H., Debruyne, C., Hepp, M., Lewis, D., Ardagna, C.A., Meersman, R. (eds.) OTM 2019. LNCS, vol. 11877, pp. 127–145. Springer, Cham (2019). https://doi.org/10.1007/978-3-030-33246-4_8

Goodman, L.A.: Snowball sampling. Ann. math. stat. 148–170 (1961)

Grisold, T., Mendling, J., Otto, M., vom Brocke, J.: Adoption, use and management of process mining in practice. Bus. Process Manag. J. (2020)

Kandel, S., Paepcke, A., Hellerstein, J.M., Heer, J.: Enterprise data analysis and visualization: an interview study. IEEE Trans. Vis. Comput. Graph. 18(12), 2917–2926 (2012)

Kerremans, M., Searle, S., Srivastava, T., Iijima, K.: Market Guide For Process Mining. Gartner Inc. (2020)

Klinkmüller, C., Müller, R., Weber, I.: Mining process mining practices: an exploratory characterization of information needs in process analytics. In: Hildebrandt, T., van Dongen, B.F., Röglinger, M., Mendling, J. (eds.) BPM 2019. LNCS, vol. 11675, pp. 322–337. Springer, Cham (2019). https://doi.org/10.1007/978-3-030-26619-6_21

Martin, N., et al.: Opportunities and challenges for process mining in organisations: results of a Delphi study. Bus. Inf. Syst. Eng. 63, 1–7 (2021)

Munoz-Gama, J., et al.: Process mining for healthcare: characteristics and challenges. J. Biomed. Inform. 127, 103994 (2022)

R'Bigui, H., Cho, C.: The state-of-the-art of business process mining challenges. Int. J. Bus. Process. Integr. Manag. 8(4), 285–303 (2017)

Saldaña, J.: The Coding Manual For Qualitative Researchers. Sage, Thousand Oaks (2015)

Suriadi, S., Andrews, R., ter Hofstede, A.H., Wynn, M.T.: Event log imperfection patterns for process mining: towards a systematic approach to cleaning event logs. Inf. Syst. 64, 132–150 (2017)

Syed, R., Leemans, S.J.J., Eden, R., Buijs, J.A.C.M.: Process mining adoption. In: Fahland, D., Ghidini, C., Becker, J., Dumas, M. (eds.) BPM 2020. LNBIP, vol. 392, pp. 229–245. Springer, Cham (2020). https://doi.org/10.1007/978-3-030-58638-6_14

Taherdoost, H.: A review of technology acceptance and adoption models and theories. Proc. Manuf. 22, 960–967 (2018)

van der Aalst, W., et al.: Process mining manifesto. In: Daniel, F., Barkaoui, K., Dustdar, S. (eds.) BPM 2011. LNBIP, vol. 99, pp. 169–194. Springer, Heidelberg (2012). https://doi.org/10.1007/978-3-642-28108-2_19

Venkatesh, V., Thong, J.Y., Xu, X.: Unified theory of acceptance and use of technology: a synthesis and the road ahead. J. Assoc. Inf. Syst. 17(5), 328–376 (2016)

Wongsuphasawat, K., Liu, Y., Heer, J.: Goals, Process, and Challenges of Exploratory Data Analysis: An Interview Study. arXiv:1911.00568 (2019)

Zerbato, F., Soffer, P., Weber, B.: Initial insights into exploratory process mining practices. In: Polyvyanyy, A., Wynn, M.T., Van Looy, A., Reichert, M. (eds.) BPM 2021. LNBIP, vol. 427, pp. 145–161. Springer, Cham (2021). https://doi.org/10.1007/978-3-030-85440-9_9
Acknowledgment

We thank participants for taking time to participate in the study and for sharing their experience. Funding. This work is part of the ProMiSE project, funded by the Swiss National Science Foundation under Grant No.: 200021_197032.
Copyright information

© 2022 Springer Nature Switzerland AG
About this paper
Cite this paper
Zimmermann, L., Zerbato, F., Weber, B. (2022). Process Mining Challenges Perceived by Analysts: An Interview Study. In: Augusto, A., Gill, A., Bork, D., Nurcan, S., Reinhartz-Berger, I., Schmidt, R. (eds) Enterprise, Business-Process and Information Systems Modeling. BPMDS EMMSAD 2022 2022. Lecture Notes in Business Information Processing, vol 450. Springer, Cham. https://doi.org/10.1007/978-3-031-07475-2_1
DOI: https://doi.org/10.1007/978-3-031-07475-2_1

Published:

Publisher Name: Springer, Cham

Print ISBN: 978-3-031-07474-5

Online ISBN: 978-3-031-07475-2

eBook Packages: Computer ScienceComputer Science (R0)