Abstract

Artificial Intelligence (AI) and robots impact creative jobs such as art-making. There have been many AI tools assisting average users in imitating the styles of renowned painters from the past. The Convolutional neural network (CNN) and generative adversarial network (GAN) emergence as a method to "hallucinate" and create expressions of styled drawings. This paper discussed an experiment to study how AI, Automation, and Robots (AAR) will interact with humans and form a unique symbiotic relationship in art-making. Our project, called "robot painter," established a co-creation in calligraphy-style painting with the following steps: (1) Use CNN tools to translate a raster image into a calligraphy-style image. (2) Develop an algorithm in Grasshopper and Rhino program for the Kuka robot. This generative tool allowed the artist to translate the image into a parametrically controlled 3D toolpath for a robotic arm. (3) A KUKA robot executed the art-making by holding a paintbrush and completing the painting with customized stoke, force, and angle on a canvas.

In conclusion, the paper discussed that AAR makes human intervention and co-creation possible. The ability of A. I and robots to mimic artists' expressions have undoubtedly achieved a convincing level and will affect art-making in the years to come.
Keywords
Artificial intelligence

Robot

Art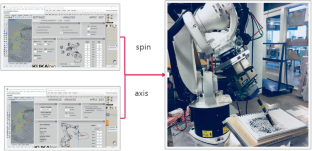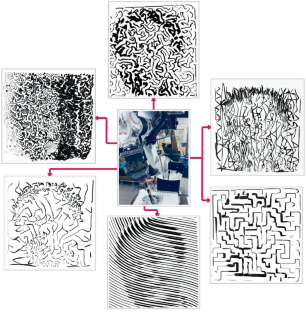 Notes
1.

KUKA prc builds upon the accessible visual programming system Grasshopper, which is a part of the CAD software Rhinoceros 3D. It provides the robotic building blocks to directly integrate a KUKA robot into a parametric environment. Instead of writing code, simple function-blocks are connected with each other and the results immediately visualized. https://www.robotsinarchitecture.org/kuka-prc.
References
Frey, C.B., Osborne, M.A.: The future of employment: how susceptible are jobs to computerisation? Technol. Forecast. Soc. Chang. 114(Jan), 254–280 (2017). https://doi.org/10.1016/j.techfore.2016.08.019

Huang, J., Johanes, M., Kim, F.C., Doumpioti, C., Holz, G.-C.: On GANs, NLP and architecture: combining human and machine intelligences for the generation and evaluation of meaningful designs. Technology|Architecture Des. 5(2), 207–224 (2021). https://doi.org/10.1080/24751448.2021.1967060

Gatys, L.A., Ecker, A.S., Bethge, M.: Image style transfer using convolutional neural networks. In: 2016 IEEE Conference on Computer Vision and Pattern Recognition (CVPR), Las Vegas, NV, USA, pp. 2414–2423. IEEE (2016). https://doi.org/10.1109/CVPR.2016.265

Johnson, J., Alahi, A., Fei-Fei, L.: Perceptual losses for real-time style transfer and super-resolution. In: Leibe, B., Matas, J., Sebe, N., Welling, M. (eds.) ECCV 2016. LNCS, vol. 9906, pp. 694–711. Springer, Cham (2016). https://doi.org/10.1007/978-3-319-46475-6_43

Isola, P., Zhu, J.Y., Zhou, T., Efros, A.A.: Image-to-Image Translation with Conditional Adversarial Networks. arXiv:1611.07004 [Cs], November (2016)

Muehlbauer, M., Song, A., Burry, J.: Towards intelligent control in generative design. In: Çagdas, G., Özkar, M., Gül, L.F., Gürer, E. (eds.) Future Trajectories of Computation in Design [17th International Conference, CAAD Futures 2017, Proceedings, Istanbul, Turkey, 12–14 July 2017, pp. 630–647 (2017). ISBN 978-975-561-482-3

creative.ai. Creative AI: On the Democratisation & Escalation of Creativity. Medium (blog). March 7, 2016 (2016). https://medium.com/@creativeai/creativeai-9d4b2346faf3#.pcv6u86zv

Luo, D.: Robotic automatic generation of performance model for non-uniform linear material via deep learning. In: Fukuda, T., Huang, W., Janssen, P., Crolla, K., Alhadidi, S. (eds.) Learning, Adapting and Prototyping - Proceedings of the 23rd CAADRIA Conference - Volume 1, Tsinghua University, Beijing, China, 17–19 May 2018, pp. 39–48 (2018)

Wit, A.J., et al.: Artificial intelligence and robotics in architecture: autonomy, agency, and indeterminacy. Int. J. Archit. Comput. 16(4), 245–247 (2018). https://doi.org/10.1177/1478077118807266
Copyright information

© 2022 The Author(s), under exclusive license to Springer Nature Switzerland AG
About this paper
Cite this paper
Tang, M. (2022). Human and Machine Symbiosis - An Experiment of Human and Robot Co-creation of Calligraphy-Style Drawing. In: Stephanidis, C., Antona, M., Ntoa, S. (eds) HCI International 2022 Posters. HCII 2022. Communications in Computer and Information Science, vol 1580. Springer, Cham. https://doi.org/10.1007/978-3-031-06417-3_62
DOI: https://doi.org/10.1007/978-3-031-06417-3_62

Published:

Publisher Name: Springer, Cham

Print ISBN: 978-3-031-06416-6

Online ISBN: 978-3-031-06417-3

eBook Packages: Computer ScienceComputer Science (R0)