Abstract

Businesses and service consumers should take advantage of social media's ability to adapt their marketing campaigns to achieve a long-term strategic advantage. Setting quantitative and attainable expectations is critical to the progress of every marketing or business endeavour. The development of tools for analytics and cognition (TAC) is essential for customers and providers to increase productivity and inject intelligent insights into operational and mission-critical social media businesses through driven analytics. In this paper, the developed tools provide guided analytics software for intelligent aggregation, cognition and interactive visualization with a monitoring dashboard for concrete crowd journalism use cases. The provider receives an approach to a guided analytic dashboard filled with meaningful business visualization predictions. Among the other things, he can inspect the quantitative metrics for a sharing economy and estimate stakeholders' channel monetization as a new innovative quantified value by engaging users with trusted content. TAC uses this principle of engagement rate measurements and provides visualization insights for stakeholders to choose the right track for boosting their business.
Keywords
Social media

Guided analytics

Sharing economy

Engagement rate

Crowd journalism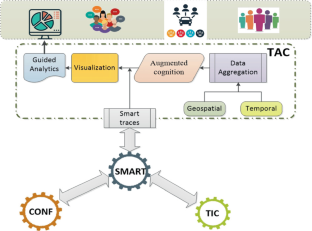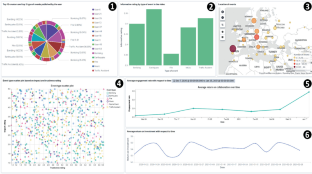 References
Prodan, R., et al.: ARTICONF: towards a smart social media ecosystem in a blockchain federated environment. In: Schwardmann, U., et al. (eds.) Euro-Par 2019. LNCS, vol. 11997, pp. 417–428. Springer, Cham (2020). https://doi.org/10.1007/978-3-030-48340-1_32

Karadimce, A., Paunkoska (Dimoska), N., Capeska Bogatinoska, D., Marina, N., Nandal, A.: Guided analytics software for smart aggregation, cognition, and interactive visualisation. In: Sharma, M.K., Dhaka, V.S., Perumal, T., Dey, N., Tavares, J.M.R.S. (eds.) Innovations in Computational Intelligence and Computer Vision. AISC, vol. 1189, pp. 521–528. Springer, Singapore (2021). https://doi.org/10.1007/978-981-15-6067-5_59

BitYoga: Blockchain for social media - Blockchain as a Service (BaaS). ARTICONF Blog, 30 March 2021. https://articonf.eu/blockchain-for-social-media/

Shi, Z., Zhou, H., Hu, Y., Koulouzis, S., Rubia, C., Zhao, Z.: Co-located and orchestrated network fabric (CONF): an automated cloud virtual infrastructure for social network applications. Presented at the Large Scale Distributed Virtual Environments, EuroPar 2019, August 2019. https://doi.org/10.5281/ZENODO.3679385

Saurabh, N., et al.: The ARTICONF approach to decentralized car-sharing. Blockchain: Res. Appl. 1(1–2), 100013 (2021). https://doi.org/10.1016/j.bcra.2021.100013. ISSN 2096-7209

Waters, J., Lester, L.: The Everything Guide to Social Media: All You Need to Know About Participating in Today's Most Popular Online Communities. Karen Cooper (2010)

Harrin, H.: Social media for project managers. Project Management Institute (2010)

Herbreteau, V., Salem, G., Souris, M., Hugot, J.-P., Gonzalez, J.-P.: Thirty years of use and improvement of remote sensing, applied to epidemiology: from early promises to lasting frustration. Health Place 13(2), 400–403 (2007). https://doi.org/10.1016/j.healthplace.2006.03.003

Boulil, K., Bimonte, S., Pinet, F.: Conceptual model for spatial data cubes: a UML profile and its automatic implementation. Comput. Stand. Interfaces 38, 113–132 (2015). https://doi.org/10.1016/j.csi.2014.06.004

Sarwat, M.: Interactive and scalable exploration of big spatial data - a data management perspective. In: 2015 16th IEEE International Conference on Mobile Data Management, Pittsburgh, PA, USA, pp. 263–270 (2015). https://doi.org/10.1109/MDM.2015.67

Brandusescu, A., Sieber, R.E., Jochems, S.: Confronting the hype: the use of crisis mapping for community development. Converg.: Int. J. Res. New Media Technol. 22(6), 616–632 (2016). https://doi.org/10.1177/1354856515584320

Heipke, C.: Crowdsourcing geospatial data. ISPRS J. Photogramm. Remote. Sens. 65(6), 550–557 (2010). https://doi.org/10.1016/j.isprsjprs.2010.06.005

Ahn, J., Taieb-Maimon, M., Sopan, A., Plaisant, C., Shneiderman, B.: Temporal visualization of social network dynamics: prototypes for nation of neighbors. In: Salerno, J., Yang, S.J., Nau, D., Chai, S.-K. (eds.) SBP 2011. LNCS, vol. 6589, pp. 309–316. Springer, Heidelberg (2011). https://doi.org/10.1007/978-3-642-19656-0_43

Zaslavsky, A., Jayaraman, P.P., Krishnaswamy, S.: ShareLikesCrowd: mobile analytics for participatory sensing and crowd-sourcing applications. In: 2013 IEEE 29th International Conference on Data Engineering Workshops (ICDEW), pp. 128–135 (2013). https://doi.org/10.1109/ICDEW.2013.6547440

Millen, D.R., Patterson, J.F.: Stimulating social engagement in a community network. In: Proceedings of the 2002 ACM Conference on Computer Supported Cooperative Work, New York, NY, USA, pp. 306–313 (2002). https://doi.org/10.1145/587078.587121

Fedak, V.: Top 4 popular big data visualization tools. Towards Data Science (2018). https://towardsdatascience.com/top-4-popular-big-data-visualization-tools-4ee945fe207d. Accessed 11 Apr 2019

Akshaya, H.L., Nisarga, J.S., Vidya, J., Veena, K.: A basic introduction to DevOps tools. Int. J. Comput. Sci. Inf. Technol. 6(3), 2349–2353 (2015)

Iyer, R., Agrawal, P.: Social return on investment - measuring the impact. Int. Res. J. Bus. Manage. VIII(10) (2015)

Salverda, M.: Social Return on Investment (2016). https://www.betterevaluation.org/approach/SROI

Nicholls, J., Lawlor, E., Neitzert, E., Goodspeed, T: A guide to social return on investment (revised). The SROI Network (UK) (2012). https://www.socialvalueuk.org/resources/sroi-guide/

Teixeira, L., Amorim, I., Ulisses Silva, A., Correia Lopes, J., Filipe, V.: A new approach to crowd journalism using a blockchain-based infrastructure. In: Proceedings of the 18th International Conference on Advances in Mobile Computing & Multimedia (MoMM 2020), pp. 170–178. Association for Computing Machinery, New York (2020). https://doi.org/10.1145/3428690.3429159
Acknowledgement

This research is part of a project that has received funding from the European Union's Horizon 2020 research and innovation programme under grant agreement No. 825134, the ARTICONF Project (https://articonf.eu/).
Copyright information

© 2022 ICST Institute for Computer Sciences, Social Informatics and Telecommunications Engineering
About this paper
Cite this paper
Paunkoska, N., Hristov, A., Karadimce, A., Marina, N., Sefidanoski, M. (2022). Tools for Analytics and Cognition for Crowd Journalism Application. In: Sheikh, Y.H., Rai, I.A., Bakar, A.D. (eds) e-Infrastructure and e-Services for Developing Countries. AFRICOMM 2021. Lecture Notes of the Institute for Computer Sciences, Social Informatics and Telecommunications Engineering, vol 443. Springer, Cham. https://doi.org/10.1007/978-3-031-06374-9_16
DOI: https://doi.org/10.1007/978-3-031-06374-9_16

Published:

Publisher Name: Springer, Cham

Print ISBN: 978-3-031-06373-2

Online ISBN: 978-3-031-06374-9

eBook Packages: Computer ScienceComputer Science (R0)