Abstract

The in situ production of concrete building components with Additive Manufacturing (AM) provides new possibilities in design and function. Current deployable solutions are often stationary gantry systems, which need to increase in size with the constructed object. This research aims to address this issue by using mobile robotic systems for in situ AM instead, which can manufacture structures that exceed their static work range. However, where stationary AM systems inherently exhibit a high level of accuracy, mobile AM systems must be context-aware through onboard sensing and therefore pose a significant research challenge in their deployment and operation. A case study is performed with a mobile AM system using a print-drive-print approach for the sequential fabrication of a 1:1 scale clay formwork of a bespoke, reinforced, and lightweight-concrete column, on which this paper presents first results. A two-tiered system is applied and validated, with initial global localization through 2D SLAM, and a second refinement relative to the work piece through a 2D scanner fitted at the end-effector.
Keywords
Additive manufacturing

Extrusion 3D printing

Clay formwork

Mobile robotics

Architecture and digital fabrication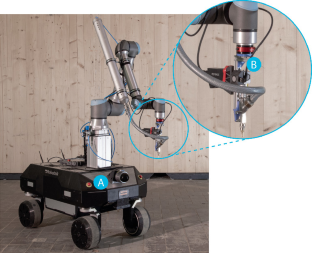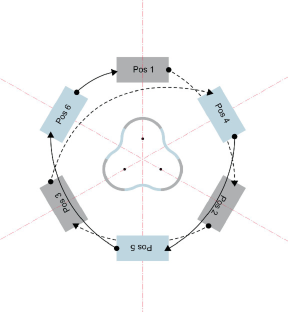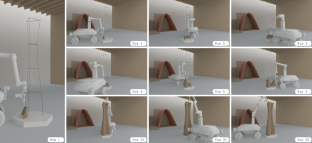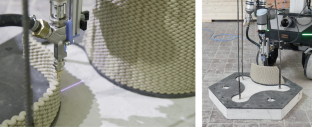 References
"Minibuilders." http://robots.iaac.net/ Accessed 2 Aug 2017

Keating, S.J., Leland, J.C., Cai, L., Oxman, N.: Toward site-specific and self-sufficient robotic fabrication on architectural scales. Sci. Robot. 2(5), 15 (2017). https://doi.org/10.1126/scirobotics.aam8986

Sustarevas, J., Benjamin Tan, K.X., Gerber, D., Stuart-Smith, R., Pawar, V.M.: YouWasps: Towards Autonomous Multi-Robot Mobile Deposition for Construction. In: IEEE International Conference Intelligent Robots Systems, pp. 2320–2327 (2019) https://doi.org/10.1109/IROS40897.2019.8967766

Zhang, X., et al.: Large-scale 3D printing by a team of mobile robots. Autom. Constr. 95(August), 98–106 (2018). https://doi.org/10.1016/j.autcon.2018.08.004

Anton, A., et al.: Concrete choreography. Fabr. 2020, 286–293 (2020). https://doi.org/10.2307/J.CTV13XPSVW.41

Burger, J., et al.: Design and fabrication of a non-standard, structural concrete column using eggshell: ultra-thin, 3D printed formwork. In: Bos, F.P., Lucas, S.S., Wolfs, R.J.M., Salet, T.A.M. (eds.) DC 2020. RB, vol. 28, pp. 1104–1115. Springer, Cham (2020). https://doi.org/10.1007/978-3-030-49916-7_105

Wang, S., Conti, Z.X., Raspall, F.: Optimization of Clay Mould for Concrete Casting Using Design of Experiments (2019)

Bruce, M., Clune, G., Xie, R., Mozaffari, S., Adel, A.: Cocoon-3D Printed Clay Formwork for Concrete Casting (forthcoming) (2022)

Szabo, A., Reiter, L., Lloret-Fritschi, E., Gramazio, F., Kohler, M., Flatt, R.J.: Processing of set on demand solutions for digital fabrication in architecture. In: Mechtcherine, V., Khayat, K., Secrieru, E. (eds.) RheoCon/SCC -2019. RB, vol. 23, pp. 440–447. Springer, Cham (2020). https://doi.org/10.1007/978-3-030-22566-7_51

Lloret-Fritschi, E., et al. Challenges of real-scale production with smart dynamic casting. In: Challenges of Real-Scale Production with Smart Dynamic Casting, pp. 299–310 (2019)
Acknowledgments

This work has been executed within projects A03, B04, and B05 of the collaborative research center TRR277 – Additive Manufacturing in Construction (AMC) as funded by the German Research Foundation (DFG) - Project number 414265976 - TRR 277.
Copyright information

© 2022 The Author(s), under exclusive license to Springer Nature Switzerland AG
About this paper
Cite this paper
Dielemans, G. et al. (2022). Mobile Additive Manufacturing: A Case Study of Clay Formwork for Bespoke in Situ Concrete Construction. In: Buswell, R., Blanco, A., Cavalaro, S., Kinnell, P. (eds) Third RILEM International Conference on Concrete and Digital Fabrication. DC 2022. RILEM Bookseries, vol 37. Springer, Cham. https://doi.org/10.1007/978-3-031-06116-5_3
DOI: https://doi.org/10.1007/978-3-031-06116-5_3

Published:

Publisher Name: Springer, Cham

Print ISBN: 978-3-031-06115-8

Online ISBN: 978-3-031-06116-5

eBook Packages: EngineeringEngineering (R0)