Abstract

The trend towards remote teaching is steadily increasing and intensified by the current situation of the global pandemic. This is a particular challenge for subjects with a high practical relevance, such as mining engineering education, as practical experiences and on-site excursions are an integral part of the curriculum. In face-to-face teaching settings, mixed reality technologies are already considered a promising medium for the implementation of e.g., virtual field trips. Based on this, the current study addresses the question to what extent the integration of mixed reality technologies is suitable for remote teaching and which strengths and challenges are perceived by students and teachers. For this purpose, two 60-min remote lectures in the field of mining engineering were conducted, in which the use of mixed reality was tested on the basis of shared 360° experiences and 3D models and evaluated by students and teachers. Results reveal that the use of mixed reality in remote teaching was perceived as useful, enabled a realistic experience and improved students' understanding of presented theory compared to traditional teaching methods. In this paper, we discuss possible potentials and risks of using mixed reality in remote teaching and derive directions for further research.
Keywords
Remote teaching

Mixed reality

Virtual excursions

Mining engineering

Education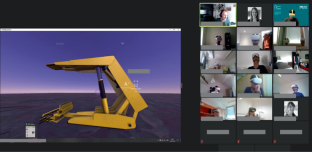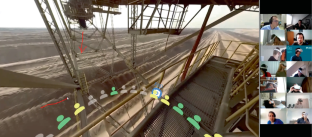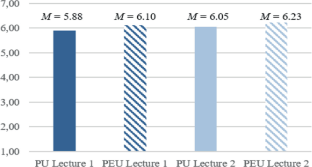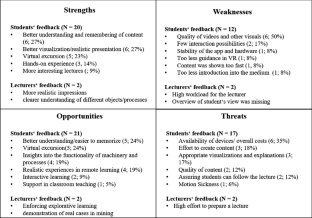 References
Dede, C. J., Jacobson, J., Richards, J.: Introduction: virtual, augmented, and mixed realities in education. In: Liu, D., Dede, C., Huang, R. et al. (eds.) Virtual, Augmented, and Mixed Realities in Education, vol. 59, pp 1–16. Springer, Singapore (2017). https://doi.org/10.1007/978-981-10-5490-7_1

Hughes, M.C., Henry, B.W., Kushnick, M.R.: Teaching during the pandemic? An opportunity to enhance curriculum. Pedagogy Health Promot. 6(4), 235–238 (2020)

Scoble, M., Laurence, D.: Future mining engineers – educational development strategy. In: Proceedings of the First International Future Mining Conference, pp. 237–242. Sydney (2008)

Daling, L., Eck, C., Abdelrazeq, A., Hees, F.: Potentials and challenges of using mixed reality in mining education: a Europe-wide interview study. In: Lloret Mauri, J., Saplacan, D., Çarçani, K., Ardiansyah Prima, O.D., Vasilache, S. (eds.) Thirteenth International Conference on Advances in Computer-Human Interactions, ACHI 2020, pp. 229–235. IARIA (2020)

Bertignoll, H., Ortega, M.L., Feiel, S.: MiReBooks – mixed reality Lehrbücher für das Bergbau-Studium (MiReBooks—mixed reality handbooks for mining education). Berg Huettenmaenn Monatshefte 164(4), 178–182 (2019)

Daling, L., Kommetter, C., Abdelrazeq, A., Ebner, M., Ebner, M.: Mixed reality books: applying augmented and virtual reality in mining engineering education. In: Geroimenko, V. (ed.) Augmented reality in education, Springer Series on Cultural Computing, pp. 185–195. Springer, Cham (2020). https://doi.org/10.1007/978-3-030-42156-4_10

International Organization for Standardization: ISO 9241–11:2018 Ergonomics of human-system interaction — Part 11: Usability: Definitions and concepts. International Organization for Standardization (2018)

Brooke, J.: SUS-A Quick and Dirty Usability Scale. Usability Evaluation in Industry. CRC Press, Boca Raton (1996)

Lewis, J.R.: Comparison of four TAM item formats: effect of response option labels and order. J. Usability Stud. 14(4), 224–236 (2019)

Kalkofen, D., et al.: Tools for teaching mining students in virtual reality based on 360° video experiences. In: 2020 IEEE Conference on Virtual Reality and 3D User Interfaces Abstracts and Workshops (VRW), pp. 455–459. IEEE (2020)

Zoom Video Communications Inc: Zoom. https://zoom.us/

Cisco Webex: Cisco Webex. https://www.webex.com/

Microsoft Corporation: Microsoft Teams. https://www.microsoft.com/

Kuckartz, U.: Qualitative Inhaltsanalyse: Methoden, Praxis, Computerunterstützung (Qualitative content analysis: methods, practice, computer support). 3rd. edn. Beltz, Weinheim Basel (2016)
Acknowledgements

This work is part of the project "Mixed Reality Books (MiReBooks)" and was funded by the EIT RAW Materials. The author is responsible for the contents of this publication.
Copyright information

© 2022 The Author(s), under exclusive license to Springer Nature Switzerland AG
About this paper
Cite this paper
Daling, L.M. et al. (2022). Evaluation of Mixed Reality Technologies in Remote Teaching. In: Zaphiris, P., Ioannou, A. (eds) Learning and Collaboration Technologies. Novel Technological Environments. HCII 2022. Lecture Notes in Computer Science, vol 13329. Springer, Cham. https://doi.org/10.1007/978-3-031-05675-8_3
DOI: https://doi.org/10.1007/978-3-031-05675-8_3

Published:

Publisher Name: Springer, Cham

Print ISBN: 978-3-031-05674-1

Online ISBN: 978-3-031-05675-8

eBook Packages: Computer ScienceComputer Science (R0)