Abstract

Advances in the development of AI and its application in many areas of society have given rise to an ever-increasing need for society's members to understand at least to a certain degree how these technologies work. Where users are concerned, most approaches in Explainable Artificial Intelligence (XAI) assume a rather narrow view on the social process of explaining and show an undifferentiated assessment of explainees' understanding, which mostly are considered passive recipients of information. The actual knowledge, motives, needs and challenges of (lay)users in algorithmic environments remain mostly missing. We argue for the consideration of explanation as a social practice in which explainer and explainee co-construct understanding jointly. Therefore, we seek to enable lay users to document, evaluate, and reflect on distinct AI interactions and correspondingly on how explainable AI actually is in their daily lives. With this contribution we want to discuss our methodological approach that enhances the documentary method by the implementation of 'digital diaries' via the mobile instant messaging app WhatsApp – the most used instant messaging service worldwide. Furthermore, from a theoretical stance, we examine the socio-cultural patterns of orientation that guide users' interactions with AI and their imaginaries of the technologies – a sphere that is mostly obscured and hard to access for researchers. Finally, we complete our paper with empirical insights by referring to previous studies that point out the relevance of perspectives on explaining and understanding as a co-constructive social practice.
Keywords
XAI

Social practice

Co-construction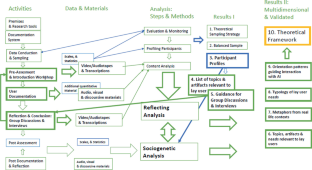 Notes
1.

With reference to WhatsApp [39] it currently holds more than two billion users in 180 countries.

2.

More recent results regarding the suitability of our method as well as first insights into the diaries conducted will be provided during the HCI conference in June 2022.

3.

In consequence, the following might be legally required only for researches located in the EU as we are. However, research ethics suggest that the steps detailed here would be apt also for other researchers. See also [23].

4.

The user names are anonymized below for data protection reasons.

5.

The background is a wave of cease-and-desist letters circulating in 2018 with regard to influencers, which was instigated by the Verband Sozialer Wettbewerb (German Association of Social Competition) and initially culminated in a highly controversial preliminary injunction issued by the Berlin Regional Court against the popular influencer Vreni Frost in June 2018.

6.

HypeAuditor is a software tool that has been available since 2018 and is mainly used by companies in the field of influencer marketing. It was originally intended for the precise analysis of accounts and, in particular, their reach. It is intended to enable companies to identify accounts with purchased reach (i.e., primarily purchased followers and/or likes) without much effort. It also serves companies in ongoing campaign analysis with influencers. See also: https://hypeauditor.com/.
References
Aguado, J.M., Martinez, I.J.: The message is the medium. Mobile instant messaging apps in the mobile communication ecosystem. In: Ling, R., Fortunati L., Goggin G, Lim, S.S., Li, Y. (eds.) Oxford Handbook of Mobile Communication and Society, pp. 439–454. Oxford University Press (2020)

Anjomshoae, S., Najjar, A., Calvares, D., Främling, K.: Explainable agents and robots. Results from a systematic literature review. Robotics track. In: International Foundation for Autonomous Agents and MultiAgent (eds.) Proceedings of the 18th International Conference on Autonomous Agents and MultiAgent Systems, AAMAS 19, Montreal, Canada, 13–17 May 2019, pp. 1078–1088. IFAAMAS (2019)

Bohnsack, R.: Rekonstruktive Sozialforschung. Einführung in qualitative Methoden, 9th edn. Budrich, Opladen (2014)

Bucher, T.: Want to be on the top? Algorithmic power and the threat of invisibility on Facebook. New Media Soc. 14(7), 1164–1180 (2012)

Bucher, T.: The algorithmic imaginary: exploring the ordinary affects of Facebook algorithms. Inf. Commun. Soc. 20(1), 30–44 (2017)

Church, K., de Oliveira, R.: What's up with WhatsApp? Comparing instant messaging behaviors with traditional SMS. In: Proceedings of the 15th International Conference on Human-Computer-Interaction with Mobile Devices and Services, Mobile HCI 2013, pp. 352–366 (2013)

Colom, A.: Using WhatsApp for focus group discussions: ecological validity, inclusion and deliberation. Qual. Res., 1–16 (2021)

Constine, J.: Instagram is switching its feed from chronological to best posts first. https://techcrunch.com/2016/03/15/filteredgram/. Accessed 24 Feb 2022

Constine, J.: How Instagram's algorithm works. https://techcrunch.com/2018/06/01/how-instagram-feed-works. Accessed 24 Feb 2022

Crook, J.: Instagram's algorithmic feed is the worst thing to happen to me all summer. https://techcrunch.com/2016/07/13/instagrams-algorithmic-feed-is-the-worst-thing-to-happen-to-me-all-summer/. Accessed 24 Feb 2022

Data Protection Commission of Ireland. Data Protection Commission announces decision in WhatsApp inquiry. https://www.dataprotection.ie/en/news-media/press-releases/data-protection-commission-announces-decision-whatsapp-inquiry. Accessed 24 Feb 2022

Ernst, W., Horwath, I. (eds.): Gender in Science and Technology: Interdisciplinary Approaches. transcript Verlag, Bielefeld (2014)

Gibson, K.: Bridging the digital divide: reflections on using WhatsApp instant messenger interviews in youth research. Qual. Res. Psychol., 1–21 (2020)

Holl, H.J., Horwath, I., Cojocaru, E.C., Hehenberger, P., Ernst, W.: Integration of gender in the design process of mechatronic products: an interdisciplinary approach. Mater. Today Proc. 5(13), 26673–26679 (2019)

Hooley T., Marriott J., Wellens J.: Online interviews and focus groups. In: What Is Online Research? Using the Internet for Social Science Research, pp. 53–72. Bloomsbury Collections, London (2012)

Gevinson, T.: Who Would I Be Without Instagram? An Investigation. https://www.thecut.com/2019/09/who-would-tavi-gevinson-be-without-instagram.html. Accessed 24 Feb 2022

Kaufmann, K., Peil, C.: The mobile instant messaging interview (MIMI): using WhatsApp to enhance self-reporting and explore media usage in situ. Mob. Media Commun. 8(2), 229–246 (2020)

Kaufmann, K., Peil, C., Bork-Hüffer, T.: Producing in situ data from a distance with mobile instant messaging interviews (MIMIs): examples from the COVID-19 pandemic. Int. J. Qual. Meth. 20, 1–14 (2021)

Kozinets, R.V.: Netnography: Doing Ethnographic Research Online. Sage, London (2009)

Kozinets, R.V.: Netnography: The Essential Guide to Qualitative Social Media Research. Sage, London (2020)

Matzner, T.: Beyond data as representation: the performativity of big data in surveillance. Surveill. Soc. 14(2), 197–210 (2016)

Matzner, T.: Opening black boxes is not enough: data-based surveillance in discipline and punish and today. Foucault Stud. 32, 27–45 (2017)

Matzner, T., Ochs, C.: Sorting things out ethically: privacy as a research issue beyond the individual. In: Zimmer, M., Kinder-Kurlanda, K. (eds.): Internet Research Ethics for the Social Age. Peter Lang, New York (2017)

Marres, N.: Digital Sociology: The Reinvention of Social Research. Polity. Wiley, Cambridge (2017)

Miller, T.: Explanation in Artificial Intelligence: Insights from the Social Sciences. Preprint (2017)

Mol, A., Law, J.: Complexities: Social Studies of Knowledge Practices. Duke University Press, Durham (2002)

Mosseri, A.: Shedding More Light on How Instagram Works. https://about.instagram.com/blog/announcements/shedding-more-light-on-how-instagram-works. Accessed 24 Feb 2022

Petre, C., Duffy, B.E., Hund, E.: "Gaming the system": platform paternalism and the politics of algorithmic visibility. Soc. Media + Soc. 5(4), 1–12 (2019)

Preece, A., Harborne, D., Braines, D., Tomsett, R., Chakraborty, S.: Stakeholders in explainable AI. arXiv (2018)

Ras, G., van Gerven, M., Haselager, P.: Explanation methods in deep learning: users, values, concerns and challenges. In: Escalante, H.J., et al. (eds.) Explainable and Interpretable Models in Computer Vision and Machine Learning. TSSCML, pp. 19–36. Springer, Cham (2018). https://doi.org/10.1007/978-3-319-98131-4_2

Rogers, R.: Digital Methods. MIT Press, Cambridge (2013)

Rogers, R.: Doing Digital Methods. Sage, London (2019)

Rohlfing, K.J., et al.: Explanation as a social practice: toward a conceptual framework for the social design of AI systems. IEEE Trans. Cogn. Dev. Syst. 13(3), 717–728 (2021)

Schulz, C., Matzner, T.: Feed the interface. Social-media-feeds als schwellen. In: Navigationen – Zeitschrift für Medien- und Kulturwissenschaften, vol. 2, pp. 147–164 (2020)

Schulz, C.: In Likes We Trust oder die unmögliche Möglichkeit vom Like als Gabe zu sprechen. In: Koch, G., Rottgeri, A. (eds.) Populäre Artikulationen – Artikulationen des Populären. transcript, Bielefeld (2022, forthcoming)

Schulz, C.: (Re-)Konzeptualisierung eines algorithmisch Imaginären. Zeitschrift für Kulturwissenschaften. Radikale Imagination. Kulturen der Zukunft mit Castoriadis. transcript, Bielefeld (2022, forthcoming)

Singer, B., Walsh, C.M., Gondwe, L., Reynolds, K., Lawrence, E., Kasiya, A.: WhatsApp as a medium to collect qualitative data among adolescents: lessons learned and considerations for future use. Gates Open Res. 4(130), 1–11 (2020)

Star, S.L.: The ethnography of infrastructure. Am. Behav. Sci. 43(3), 377–391 (1999)

Suchman, L.: Human–Machine Reconfigurations: Plans and Situated Actions. Cambridge University Press, Cambridge (2006). https://doi.org/10.1017/CBO9780511808418

WhatsApp: About WhatsApp (2022). https://www.whatsapp.com/about/. Accessed 24 Feb 2022
Funding

The author(s) disclosed receipt of the following financial support for the research, authorship, and/or publication of this article: Research for this article was funded by the collaborative research centre ''Constructing Explainability" (DFG TRR 318/1 2021 – 438445824) at Paderborn University and Bielefeld University.
Copyright information

© 2022 The Author(s), under exclusive license to Springer Nature Switzerland AG
About this paper
Cite this paper
Finke, J., Horwath, I., Matzner, T., Schulz, C. (2022). (De)Coding Social Practice in the Field of XAI: Towards a Co-constructive Framework of Explanations and Understanding Between Lay Users and Algorithmic Systems. In: Degen, H., Ntoa, S. (eds) Artificial Intelligence in HCI. HCII 2022. Lecture Notes in Computer Science(), vol 13336. Springer, Cham. https://doi.org/10.1007/978-3-031-05643-7_10
DOI: https://doi.org/10.1007/978-3-031-05643-7_10

Published:

Publisher Name: Springer, Cham

Print ISBN: 978-3-031-05642-0

Online ISBN: 978-3-031-05643-7

eBook Packages: Computer ScienceComputer Science (R0)