Abstract

The q Gaussian intensity distribution is very interesting as in the limit \( q \rightarrow \infty \), it reduces to the Gaussian intensity profile. Naturally, the freedom of exploring the q exponent enables us to study a wide range of propagation dynamics. The quantum plasma offers wide possibilities of its existence right from astrophysical situations to laboratory plasmas. Keeping in mind the wide applicability domain of cold quantum plasma, we have theoretically investigated the propagation behavior of q Gaussian laser beam in cold quantum plasma. The ordinary nonlinear differential equation is set up by following Akhmanov's parabolic equation approach under WKB and paraxial approximations. The effect of the q parameter on the critical curve is explored graphically. The variation in the beam width parameter f over normalized distance \(\zeta \) due to variation in the q-parameter is graphically depicted and discussed at the end. It is observed that the supercritical region and self focusing length are affected by the q parameter significantly.
Keywords
q-Gaussian

Cold quantum plasma

Critical beam radius

Self focusing
Supported by DST-SERB, New Delhi, the Special Assistance Program (SAP), Department of Physics, Shivaji University, Kolhapur.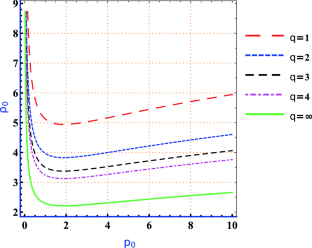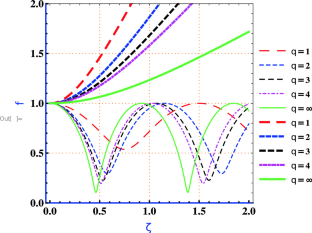 Copyright information

© 2022 The Author(s), under exclusive license to Springer Nature Switzerland AG
About this paper
Cite this paper
Takale, P.T. et al. (2022). Effect of q Parameter and Critical Beam Radius on Propagation Dynamics of q Gaussian Beam in Cold Quantum Plasma. In: Banerjee, S., Saha, A. (eds) Nonlinear Dynamics and Applications. Springer Proceedings in Complexity. Springer, Cham. https://doi.org/10.1007/978-3-030-99792-2_5