Abstract

The dust-ion-acoustic waves (DIAWs) in a six-component plasma constituting of ion-pair, negatively charged fluid dusts, superthermal light hydrogen ion, solar electrons and cometary tail electrons are studied. Employing the technique of reductive perturbation, the Korteweg-de Vries (KdV) equation is formulated and the corresponding phase plane is analyzed. The analytical wave solutions and electric field under the effect of plasma parameters are examined. The findings of the present work can be useful to understand nonlinear wave features in the region of the cometary tail where plasma particles are superthermal in nature.
Keywords
Superthermal plasma

Electric field

Solitary wave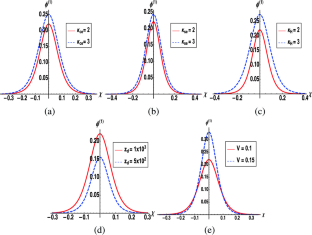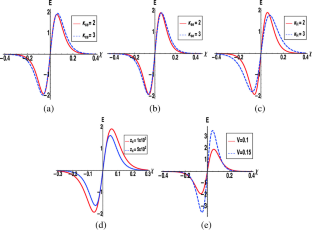 References
Rao, N.N., Shukla, P.K., Yu, M.Y.: Dust-acoustic waves in dusty plasmas. Planet. Space Sci. 38, 543–546 (1990)

Shukla, P.K., Silin, V.P.: Dust ion-acoustic wave. Phys. Scripta 45, 508 (1992)

Melandso, F.: Lattice waves in dust plasma crystals. Phys. Plasmas 3, 3890–3901 (1996)

Abulwafa, E.M., AtallaElhanbaly, A.A.M., Bedeir, A.M.: Linear and nonlinear study of six-component dusty cometary plasma. In: Proceedings of the 11th Conference on Nuclear and Particle Physics, vol. 20, p. 23 (2019)

Bedeir, A.M., Abulwafa, E.M., Elhanbaly, A.M., Mahmoud, A.A.: A fully nonlinear solitary wave in six-component dusty cometary plasma. Phys. Scripta 96(9), 095603 (2021)

Venugopal, C., Neethu, T.W.: Dust acoustic shock waves in a six component charge varying cometary plasma. J. Phys. Adv. App. 1(1), 1–12 (2020)

Rubin, M., Hansen, K.C., Gombosi, T.I., Combi, M.R., Altwegg, K., Balsiger, H.: Ion composition and chemistry in the coma of Comet 1P/Halley-A comparison between Giotto's ion mass spectrometer and our ion-chemical network. Icarus 199, 505–519 (2009)

Brinca, A.L., Tsurutani, B.T.: Unusual characteristics of electromagnetic waves excited by cometary newborn ions with large perpendicular energies. Astron. Astrophys. 187, 311–319 (1987)

Chaizy, P., Reme, H., Sauvaud, J.A., d'Uston, C., Lin, R.P., Larson, D.E., Mitchell, D.L., Anderson, K.A., Carlson, C.W., Korth, A., Mendis, D.A.: Negative ions in the coma of comet Halley. Nature 349, 393–396 (1991)

Madanian, H., Cravens, T.E., Rahmati, A., Goldstein, R., Burch, J.: Suprathermal electrons near the nucleus of comet 67P/Churyumov-Gerasimenko at 3 AU: model comparison with Rosetta data. J. Geophys. Res. Space Phys. 121, 5815 (2016)

Willington, N.T., Varghese, A., Saritha, A.C., Philip, N.S., Venugopal, C.: Ion acoustic shock waves with drifting ions in a five component cometary plasma. Adv. Space Res. 68, 4292–4302 (2021)

Saini, N.S., Kourakis, I., Hellberg, M.A.: Arbitrary amplitude ion-acoustic solitary excitations in the presence of excess superthermal electrons. Phys. Plasmas 16, 62903 (2009)

Sarkar, J., Chandra, S., Goswami, J., Ghosh, B.: Formation of solitary structures and envelope solitons in electron acoustic wave in inner magnetosphere plasma with suprathermal ions. Contrib. Plasma Phys. 60(7), e201900202 (2020)

Goswami, J., Sarkar, J., Chandra, S., Ghosh, B.: Amplitude-modulated electron-acoustic waves with bipolar ions and kappa-distributed positrons and warm electrons. Pramana J. Phys. 95, 54 (2021)

Samanta, U.K., Saha, A., Chatterjee, P.: Bifurcations of dust ion acoustic travelling waves in a magnetized dusty plasma with a q-nonextensive electron velocity distribution. Phys. Plasmas 20, 022111 (2013)

Selim, M.M., El-Depsy, A., El-Shamy, E.F.: Bifurcations of nonlinear ion-acoustic travelling waves in a multicomponent magnetoplasma with superthermal electrons. Astrophys. Space Sci. 360, 66 (2015)

El-Monier, S.Y., Atteya, A.: Bifurcation analysis for dust-acoustic waves in a four-component plasma including warm ions. IEEE Trans. Plasma Sci. 46, 815–824 (2018)

Rahim, Z., Adnan, M., Qamar, A., Saha, A.: Nonplanar dust-acoustic waves and chaotic motions in Thomas Fermi dusty plasmas. Phys. Plasmas 25, 083706 (2018)

Tamang, J., Saha, A.: Bifurcations of small-amplitude supernonlinear waves of the mKdV and modified Gardner equations in a three-component electron-ion plasma. Phys. Plasmas 27(1), 012105 (2020)

Prasad P.K., Saha A.: Dynamical behavior of ion-acoustic periodic and solitary structures in magnetized solar wind plasma. In: Giri, D., Buyya, R., Ponnusamy, S., De D., Adamatzky, A., Abawajy, J.H. (eds.) Proceedings of the Sixth International Conference on Mathematics and Computing. Advances in Intelligent Systems and Computing, vol. 1262, pp. 419–428. Springer, Singapore (2021). https://doi.org/10.1007/978-981-15-8061-1_33

Atteya, A., El-Borie, M., Roston, G., El-Helbawy, A., Prasad, P., Saha, A.: Ion-acoustic stable oscillations, solitary, periodic and shock waves in a quantum magnetized electron-positron-ion plasma. Zeitschrift für Naturforschung A 76(9), 757–768 (2021)

Michael, M., Willington, N.T., Jayakumar, N., Sebastian, S., Sreekala, G., Venugopal, C.: Korteweg-deVries-Burgers (KdVB) equation in a five component cometary plasma with kappa described electrons and ions. J. Theor. Appl. Phys. 10, 289–296 (2016)

Neethu, T.W., Shilpa, S., Saritha, A.C., Philip, N.S., Venugopal, C.: Dust acoustic solitary waves in a five component cometary plasma with dust charge variation. Radiat. Effects Defects Solids 176, 284–299 (2021)

Guckenheimer, J., Holmes, P.J.: Nonlinear Oscillations Dynamical Systems and Bifurcations of Vector Fields. Springer, New York (1983)

Chow, S.N., Hale, J.K.: Methods of Bifurcation Theory. Springer, New York (1981)

Dubinov, A.E., Kolotkov, D.Y., Sazonkin, M.A.: Nonlinear theory of ion-sound waves in a dusty electron-positron-ion plasma. Tech. Phys. 57, 585–593 (2012)

Strogatz, S.H.: Nonlinear dynamics and chaos: with applications to physics, biology, chemistry, and engineering, 1st Indian edn. CRC Press (2007)
Acknowledgements

The first author is obliged to the Sikkim Manipal Institute of Technology and Sikkim Manipal University for providing research fellowship under TMA Pai University Research Fund (Ref. No. 118/SMU/REG/ UOO/104/2019).
Copyright information

© 2022 The Author(s), under exclusive license to Springer Nature Switzerland AG
About this paper
Cite this paper
Prasad, P.K., Tamang, J., Fataf, N.A.B.A. (2022). Nonlinear Wave Structures in Six-Component Cometary Ion-Pair Dusty Plasma. In: Banerjee, S., Saha, A. (eds) Nonlinear Dynamics and Applications. Springer Proceedings in Complexity. Springer, Cham. https://doi.org/10.1007/978-3-030-99792-2_10