Abstract

Archaeological records are a central part of this discipline research. It is essential that the records include the relationship between its parts to allow better understanding among man and machine. Here we present the challenges of applying NLP and Information Extraction to Archaeological data with a case study: Megalithism.
Keywords
Information Extraction

Natural Language Processing

Archaeology

Megalithism
This work is funded by national funds through the Foundation for Science and Technology, under the project UIDB/00057/2020.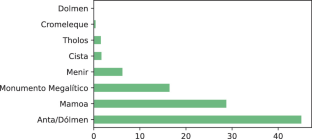 References
Billen, N., Auer, M., Zipf, A., Richards-Rissetto, H., Reindel, M., von Schwerin, J.: Development of a 4D-webgis for archeological research. In: Proceedings of the AGILE (2013)

Brandsen, A., Verberne, S., Lambers, K., Wansleeben, M.: Can BERT Dig It? – named entity recognition for information retrieval in the archaeology domain. J. Comput. Cult. Herit. (2021). https://doi.org/10.1145/3497842

di Buono, M.P.: Information extraction for ontology population tasks. An application to the Italian archaeological domain. Int. J. Comput. Sci. Theor. Appl. 3(2), 40–50 (2015)

Byrne, K., Klein, E.: Automatic extraction of archaeological events from text. In: Proceedings of Computer Applications and Quantitative Methods in Archaeology. Archaeopress, Oxford (2010)

Cripps, P.J.: Places, people, events and stuff; building blocks for archaeological information systems. In: CAA 2012 (2011)

De Kleijn, M., et al.: Towards a user-centric SDI framework for historical and heritage European landscape research. Int. J. Spatial Data Infrastruct. Res. 9, 1–35 (2014)

de Kleijn, M., de Hond, R., Martinez-Rubi, O.: A 3D spatial data infrastructure for mapping the Via Appia. Digit. Appl. Archaeol. Cult. Herit. 3(2), 23–32 (2016)

Fiedukowicz, A., et al.: Map portal as a tool to share information on cultural heritage illustrated by the National Heritage Board Geoportal. In: Ioannides, M., Martins, J., Žarnić, R., Lim, V. (eds.) Advances in Digital Cultural Heritage. LNCS, vol. 10754, pp. 48–64. Springer, Cham (2018). https://doi.org/10.1007/978-3-319-75789-6_4

Jeffrey, S., et al.: The archaeotools project: faceted classification and natural language processing in an archaeological context. Philos. Trans. Roy. Soc. A Math. Phys. Eng. Sci. 367(1897), 2507–2519 (2009)

McKeague, P., Corns, A., Shaw, R.: Developing a spatial data infrastructure for archaeological and built heritage. Int. J. Spatial Data Infrastruct. Res. 7, 38–65 (2012)

Migliorini, S., et al.: An interoperable spatio-temporal model for archaeological data based on ISO standard 19100. J. Comput. Cult. Heritage 11(1), 1–28 (2017)

Naranjo, J.M., Parrilla, Á., de Sanjosé, J.J.: Geometric characterization and interactive 3D visualization of historical and cultural heritage in the province of Cáceres (Spain). Virt. Archaeol. Rev. 9(18), 1–11 (2018)

Noor, S., et al.: Knowledge retrieval of historic concepts using semantic web. Clust. Comput. 22(3), 7321–7332 (2019)

Paijmans, H., Brandsen, A.: What is in a name: recognizing monument names from free-text monument descriptions. In: Proceedings of the 18th Annual Belgian-Dutch Conference on Machine Learning (Benelearn), pp. 2–6. Citeseer (2009)

Paijmans, J., Brandsen, A.: Searching in archaeological texts: problems and solutions using an artificial intelligence approach. PalArch's J. Archaeol. Egypt/Egyptol. 7, 1–6 (2010)

Richards, J., et al.: The archaeology data service and the archaeotools project: faceted classification and natural language processing. Archaeology 2, 31–56 (2011)

Santos, I. de J.F. dos: Um atlas digital para o megalitismo: uma infraestrutura de dados espaciais (sudoeste da Península Ibérica). Universidade de Évora (2018)

Souza, F., et al.: BERTimbau: pretrained BERT models for Brazilian Portuguese. In: 9th Brazilian Conference on Intelligent Systems, BRACIS, Rio Grande do Sul, Brazil, 20–23 October (to appear). (2020)

Tchienehom, P.: ModRef project: from creation to exploitation of CIDOC-CRM triplestores. In: The Fifth International Conference on Building and Exploring Web Based Environments (WEB 2017) (2017)

Vlachidis, A., Tudhope, D.: A knowledge-based approach to information extraction for semantic interoperability in the archaeology domain. J. Assoc. Inf. Sci. Technol. 67, 1138–1152 (2016)

Portal do Arqueólogo. https://arqueologia.patrimoniocultural.pt
Copyright information

© 2022 Springer Nature Switzerland AG
About this paper
Cite this paper
Santos, I., Vieira, R. (2022). Semantic Information Extraction in Archaeology: Challenges in the Construction of a Portuguese Corpus of Megalithism. In: Garoufallou, E., Ovalle-Perandones, MA., Vlachidis, A. (eds) Metadata and Semantic Research. MTSR 2021. Communications in Computer and Information Science, vol 1537. Springer, Cham. https://doi.org/10.1007/978-3-030-98876-0_21
DOI: https://doi.org/10.1007/978-3-030-98876-0_21

Published:

Publisher Name: Springer, Cham

Print ISBN: 978-3-030-98875-3

Online ISBN: 978-3-030-98876-0

eBook Packages: Computer ScienceComputer Science (R0)