Abstract

This chapter focuses on the role and value of not knowing for creativity, learning and development. More specifically, it proposes a typology of states that are conducive, in different ways, for creative learning, including certain knowing, uncertain not knowing, uncertain knowing, and certain not knowing. They are discussed, in turn, in relation to four associated experiences: trust, anxiety, curiosity and wonder, respectively. Towards the end, two models are proposed that specify how and when these experiences contribute to the process of creative learning. The first is focused on macro stages, the second on micro processes. While the former starts from uncertain not knowing, goes through the interplay between uncertain knowing and certain not knowing, and ends in certain knowledge, the processual model reveals the intricate relations between these experiences in each and every instance of creative learning. The developmental and educational implications of revaluing not knowing as a generate state are discussed in the end.
Keywords
Uncertainty

Knowledge

Anxiety

Trust

Curiosity

Wonder

Creative learning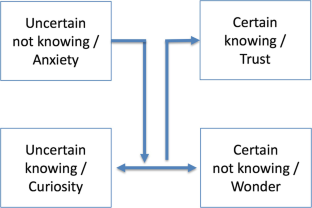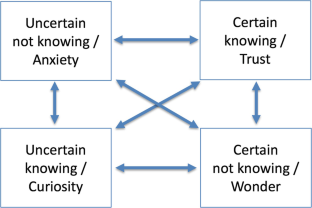 References
Anderson Blea, W., & Welsh, T. (2020). The art of not knowing: a mastering of anxiety and depression. ReSEARCH Dialogues Conference proceedings. Available from: https://scholar.utc.edu/research-dialogues/2020/day2_presentations/48.

Bakhtin, M. M. (2010). The dialogic imagination: Four essays. Austin, TX: University of Texas Press.

Beghetto, R. A. (2016). Creative learning: A fresh look. Journal of Cognitive Education and Psychology, 15(1), 6–23.

Beghetto, R. A. (2017a). Inviting uncertainty into the classroom. Educational Leadership, 75(2), 20–25.

Beghetto, R. A. (2017b). Lesson unplanning: toward transforming routine tasks into non-routine problems. ZDM, 49(7), 987–993.

Beghetto, R. A. (2020). Uncertainty: A gateway to the possible. In V. P. Glaveanu (ed.) The Palgrave encyclopedia of the possible. Palgrave: Cham.

Berlyne, D. E. (1954). A theory of human curiosity. British Journal of Psychology, 45(3), 180–191.

Bidault, F., & Castello, A. (2009). Trust and creativity: understanding the role of trust in creativity-oriented joint developments. R&D Management, 39(3), 259–270.

Boies, K., Fiset, J., & Gill, H. (2015). Communication and trust are key: Unlocking the relationship between leadership and team performance and creativity. The Leadership Quarterly, 26(6), 1080–1094.

Breggin, P. R. (1964). The psychophysiology of anxiety. Journal of Nervous and Mental Disease, 139(6), 558–568.

Burke, E. (1958). A philosophical enquiry into the origin of our ideas of the sublime and beautiful. London: Routledge & Kegan Paul.

Carleton, R. N., Norton, M. P. J., & Asmundson, G. J. (2007). Fearing the unknown: A short version of the Intolerance of Uncertainty Scale. Journal of Anxiety Disorders, 21(1), 105–117.

Collins, R. A., & Cruickshank, R. H. (2014). Known knowns, known unknowns, unknown unknowns and unknown knowns in DNA barcoding: a comment on Dowton et al. Systematic Biology, 63(6), 1005–1009.

Cremin, T. (2006). Creativity, uncertainty and discomfort: Teachers as writers. Cambridge Journal of Education, 36(3), 415–433.

Csikszentmihalyi, M., & Getzels, J. W. (1971). Discovery-oriented behavior and the originality of creative products: A study with artists. Journal of Personality and Social Psychology, 19(1), 47–52.

de Vries, H. B., & Lubart, T. I. (2019). Scientific creativity: divergent and convergent thinking and the impact of culture. The Journal of Creative Behavior, 53(2), 145–155.

Descartes, R. (1968). Discourse on method and the meditations. Harmondsworth: Penguin. (Original work published 1637)

Dönmez, D., & Grote, G. (2013). The practice of not knowing for sure: How agile teams manage uncertainties. In H. Baumeister & B. Weber (eds.), Agile processes in software engineering and extreme programming (pp. 61–75). Berlin: Springer.

Duckworth, E. (1975). The virtues of not knowing. National Elementary Principal, 54(4), 63–66.

Engel, S. (2011). Children's need to know: Curiosity in schools. Harvard Educational Review, 81(4), 625–645.

Freire, P. (1968). Pedagogy of the oppressed. New York, NY: Seabury.

Frost, T., Stimpson, D. V., & Maughan, M. R. (1978). Some correlates of trust. Journal of Psychology, 99(1), 103–108.

Gall, M. D. (1970). The use of questions in teaching. Review of Educational Research, 40(5), 707–721.

Gallagher, J., & Reid, K. (1981). The learning theory of Piaget and lnhelder. Austin, TX: PRO-ED.

Gallagher, M. W., & Lopez, S. J. (2007). Curiosity and well-being. The Journal of Positive Psychology, 2(4), 236–248.

Gerard, H. B. (1963). Emotional uncertainty and social comparison. The Journal of Abnormal and Social Psychology, 66(6), 568–573.

Glăveanu, V. P. (2014). The psychology of creativity: A critical reading. Creativity: Theories–Research–Applications, 1(1), 10–32.

Glăveanu, V. P. (2015). Creativity as a sociocultural act. Journal of Creative Behavior, 49(3), 165–180.

Glăveanu, V. P. (2020a). The possible: A sociocultural theory. New York, NY: Oxford University Press.

Glăveanu, V. P. (2020b). Wonder: The extraordinary power of an ordinary experience. London: Bloomsbury Press.

Glăveanu, V. P., & Beghetto, R. A. (2020). Creative experience: A non-standard definition of creativity. Creativity Research Journal, early view.

Glăveanu, V. P., Johanne Ness, I., Wasson, B., & Lubart, T. (2019). Sociocultural perspectives on creativity, learning, and technology. In C. A. Mullen (Ed.), Creativity under duress in education? Resistive theories, practices, and actions (pp. 63–82). New York, NY: Springer.

Govier, T. (1993). Self-trust, autonomy, and self-esteem. Hypatia, 8(1), 99–120.

Grenier, S., Barrette, A. M., & Ladouceur, R. (2005). Intolerance of uncertainty and intolerance of ambiguity: Similarities and differences. Personality and Individual Differences, 39(3), 593–600.

Gruber, H. E., & Barrett, P. H. (1974). Darwin on man: A psychological study of scientific creativity. New York: EP Dutton.

Heidegger, M. (1994). Basic questions of philosophy. Translated by R Rojcewicz & A. Schuwer. Bloomington: Indiana University Press.

Heidegger, M. (2010). Being and time (J. Stambaugh, Trans, revised by D. J. Schmidt). Albany, NY: State University of New York Press. (Originally published in 1927)

Hirsh, J. B., Mar, R. A., & Peterson, J. B. (2012). Psychological entropy: A framework for understanding uncertainty-related anxiety. Psychological Review, 119(2), 304–320.

Jones, R. (2018). Messy creativity. Language Sciences, 65, 82–86.

Jones, R. (2013). On the value of not knowing: Wonder, beginning again and letting be. In E. Fisher & R. Fortnum (eds.), On Not Knowing: How Artists Think (pp. 6–31). London: Black Dog Publishing.

Karwowski, M. (2012). Did curiosity kill the cat? Relationship between trait curiosity, creative self-efficacy and creative personal identity. Europe's Journal of Psychology, 8(4), 547–558.

Koestler, A. (1964). The act of creation. New York, NY: Penguin Books.

Koriat, A. (2012). The subjective confidence in one's knowledge and judgments: some metatheoretical considerations. In M. Beran, J. L. Brandl, J. Perner, & J. Proust (Eds.), The foundations of metacognition (pp. 213–233). Oxford: Oxford University Press.

Ladouceur, R., Gosselin, P., & Dugas, M. J. (2000). Experimental manipulation of intolerance of uncertainty: A study of a theoretical model of worry. Behaviour Research and Therapy, 38(9), 933–941.

Landi, A. (2014). When Is an Artwork Finished? ARTnews, February, 79–83.

Lindholm, M. (2018). Promoting Curiosity? Science & Education, 27(9–10), 987–1002.

Loewenstein, G. (1994). The psychology of curiosity: A review and reinterpretation. Psychological Bulletin, 116(1), 75–98.

Lubart, T. I. (2001). Models of the creative process: Past, present and future. Creativity Research Journal, 13(3–4), 295–308.

Markova, I., & Gillespie, A. (2008). Trust and distrust: Sociocultural perspectives. Charlotte, NC: Information Age Publishing.

Martin, M. G. (2004). The limits of self-awareness. Philosophical Studies: An International Journal for Philosophy in the Analytic Tradition, 120(1/3), 37–89.

Ness, I. J., & Søreide, G. E. (2014). The room of opportunity: understanding phases of creative knowledge processes in innovation. Journal of Workplace Learning, 26(8), 545–560

Nolan, A., & Molla, T. (2017). Teacher confidence and professional capital. Teaching and Teacher Education, 62, 10–18.

Parks, A. N. (2008). Messy learning: Preservice teachers' lesson-study conversations about mathematics and students. Teaching and Teacher Education, 24(5), 1200–1216.

Perna, G. (2013). Understanding anxiety disorders: the psychology and the psychopathology of defence mechanisms against threats. Rivista di Psichiatria, 48(1), 73–75.

Piaget, J. (1972). The psychology of intelligence. Totowa, NJ: Littlefield Adams.

Plato (1903). Theaetetus. In Platonis Opera, Edited by John Burnet. Oxford University Press. Perseus Digital Library.

Poce, A., Amenduni, F., & Medio, C. De. (2019). From tinkering to thinkering. Tinkering as critical and creative thinking enhancer. Journal of E-Learning and Knowledge Society, 15(2), 101–112.

Puente-Díaz, R. (2016). Creative self-efficacy: An exploration of its antecedents, consequences, and applied implications. The Journal of Psychology, 150(2), 175–195.

Robberecht, R. (2007). Interactive Nonlinear Learning Environments. Electronic Journal of e-learning, 5(1), 59–68.

Schommer, M. (1990). Effects of beliefs about the nature of knowledge on comprehension. Journal of Educational Psychology, 82(3), 498–504.

Seeskin, K. (1987). Dialogue and discovery: A study in Socratic method. New York, NY: SUNY Press.

Shaw, I. (1996). Unbroken voices: Children, young people and qualitative methods. In I. Butler & I. Shaw (eds.), A case of neglect? Children's experiences and the sociology of childhood (pp. 19–36). Aldershot: Avebury.

Simonton, D. K. (1998). Donald Campbell's model of the creative process: Creativity as blind variation and selective retention. The Journal of Creative Behavior, 32(3), 153–158.

Smith, S. M., Ward, T. B., & Finke, R. A. (eds.). (1995). The creative cognition approach. Cambridge, MA: MIT Press.

Sternberg, R. J. (2012). What is the purpose of schooling? In D. Ambrose & R. J. Sternberg (Eds.), How dogmatic beliefs harm creativity and higher level thinking (pp. 207–219). London: Routledge.

Swain, K. (2018). Wonder-full: Curiosity Cabinets and imagination in education. The Lancet Child & Adolescent Health, 2(12), 852–862.

Torrance, E. P. (1988). The nature of creativity as manifest in its testing. In R. J. Sternberg (ed.), The nature of creativity: Contemporary psychological perspectives (pp. 43–75). Cambridge, England: Cambridge University Press.

Van den Bos, K. (2009). Making sense of life: The existential self trying to deal with personal uncertainty. Psychological Inquiry, 20(4), 197–217.

Wallas, G. (1926). The art of thought. London: Jonathan Cape.

Weisburg, R. W. (1999). Creativity and knowledge: a challenge to theories. In R. J. Sternberg (Ed.), Handbook of creativity (pp. 226–259). Cambridge: Cambridge University Press.

Winnicott, D. (1971). Playing and reality. London: Routledge

Woozley, A. D. (1952, January). Knowing and not knowing. In Proceedings of the Aristotelian Society (Vol. 53, pp. 151–172). Aristotelian Society, Wiley.

Zelinski, E. J. (1994). The joy of not knowing it all: Profiting from creativity at work or play. Chicago: VIP Books.
Copyright information

© 2022 Springer Nature Switzerland AG
About this chapter
Cite this chapter
Glăveanu, V.P. (2022). Not Knowing. In: Beghetto, R.A., Jaeger, G.J. (eds) Uncertainty: A Catalyst for Creativity, Learning and Development . Creativity Theory and Action in Education, vol 6. Springer, Cham. https://doi.org/10.1007/978-3-030-98729-9_2
DOI: https://doi.org/10.1007/978-3-030-98729-9_2

Published:

Publisher Name: Springer, Cham

Print ISBN: 978-3-030-98728-2

Online ISBN: 978-3-030-98729-9

eBook Packages: EducationEducation (R0)