Abstract

Letters, diaries, postcards, photo albums, home videos, and lifelogs! These are artefacts of our personal history, they represent how we cherish and preserve memories, re-engage with our past and share our experiences with others. In this demonstration paper, we explore an Virtual Reality (VR) approach to help people reminisce about the past through lifelogs. Our user study found that most participants enjoyed the experience, although for some, the VR environment was overwhelming.
Keywords
Lifelogging

Virtual Reality

Multimedia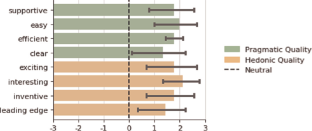 References
Aizawa, K., Maruyama, Y., Li, H., Morikawa, C.: Food balance estimation by using personal dietary tendencies in a multimedia food log. IEEE Trans. Multimedia 15(8), 2176–2185 (2013)

Bush, V., et al.: As we may think. Atlantic Mon. 176(1), 101–108 (1945)

Duane, A., Gurrin, C., Huerst, W.: Virtual reality lifelog explorer: lifelog search challenge at ACM ICMR 2018. In: Proceedings of the 2018 ACM Workshop on The Lifelog Search Challenge, pp. 20–23 (2018)

D'Cunha, N.M., et al.: A mini-review of virtual reality-based interventions to promote well-being for people living with dementia and mild cognitive impairment. Gerontology 65(4), 430–440 (2019)

Gelonch, O., et al.: Acceptability of a lifelogging wearable camera in older adults with mild cognitive impairment: a mixed-method study. BMC Geriatr. 19(1), 110 (2019)

Gemmell, J., Bell, C., Lueder, R.: Mylifebits: a personal database for everything. Commun. ACM 49, 89–95 (2006)

Haight, B.: Sharing life stories: acts of intimacy. Generations 25(2), 90–92 (2001)

Schrepp, M., Hinderks, A., Thomaschewski, J.: Design and evaluation of a short version of the user experience questionnaire (UEQ-S). Int. J. Interact. Multimedia Artif. Intell. 4, 103 (2017)

Sellen, A.J., Whittaker, S.: Beyond total capture: a constructive critique of lifelogging. Commun. ACM 53(5), 70–77 (2010)

Signal, L., et al.: Kids'Cam: an objective methodology to study the world in which children live. Am. J. Prev. Med. 53(3), e89–e95 (2017)

Spiess, F., et al.: Exploring intuitive lifelog retrieval and interaction modes in virtual reality with VITRIVR-VR. In: Proceedings of the 4th Annual on Lifelog Search Challenge, LSC 2021, pp. 17–22. Association for Computing Machinery, New York (2021)

Tsao, Y.C., Shu, C.C., Lan, T.S.: Development of a reminiscence therapy system for the elderly using the integration of virtual reality and augmented reality. Sustainability 11(17), 4792 (2019)
Acknowledgements

This work was conducted with the financial support of the Science Foundation Ireland Centre for Research Training in Digitally-Enhanced Reality (d-real) under Grant No. 18/CRT/6224. For the purpose of Open Access, the author has applied a CC BY public copyright licence to any Author Accepted Manuscript version arising from this submission.
Copyright information

© 2022 Springer Nature Switzerland AG
About this paper
Cite this paper
Tran, LD., Kennedy, D., Zhou, L., Nguyen, B., Gurrin, C. (2022). A Virtual Reality Reminiscence Interface for Personal Lifelogs. In: , et al. MultiMedia Modeling. MMM 2022. Lecture Notes in Computer Science, vol 13142. Springer, Cham. https://doi.org/10.1007/978-3-030-98355-0_42
DOI: https://doi.org/10.1007/978-3-030-98355-0_42

Published:

Publisher Name: Springer, Cham

Print ISBN: 978-3-030-98354-3

Online ISBN: 978-3-030-98355-0

eBook Packages: Computer ScienceComputer Science (R0)