Abstract

To provide care that leaves no one behind during a disaster, it is important to address the diversity of people living in society, and inclusion are important. This chapter describes the phenomenon of disaster nursing and existing theories of community care. It proposes a meta-knowledge of disaster nursing called "care for DRR" regarding human protection. Nursing is an integration of "care" and "cure." Care in disaster is different from everyday nursing, and nurses have special needs with unpaid care and domestic work during a disaster in a nonhospital setting. The essence of the SDGs is that the 17 goals are interrelated. The Sendai Framework for Disaster Reduction, which is a global agenda for disaster reduction, provided an opportunity to address fundamental issues in an interdisciplinary discussion and to grasp the overall picture of issues and challenges occurring in the world related to the SDGs and the direction in which the world is moving in the future. It is the most appropriate way to provide equitable nontherapeutic care to disaster survivors in the affected areas, including integrated health education and promotion as community resilience. It also includes regular water, sanitation, food, and shelter monitoring. It is also essential to identify high-risk and vulnerable populations and address sensitive issues such as aberrant sexual behavior and violence. It is required to generate credible information, including gender issues, culture, lifestyle, and local people's perceptions; systems and communicating risks in the face of changing technologies are among the challenges.

It can connect the importance of UHC as a preventive service, and it's the challenge of "SDG5, Target 5.4 value unpaid care" and other goals seemingly irrelevant. Since the Sustainable Development Goals aim to address these multifaceted factors, achieving these goals will also reduce the vulnerability of at-risk populations during human security in disasters.
Keywords
Care for disaster risk reduction

Human security

Primary health care

Regular monitoring

Risk communication

Empowerment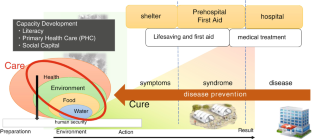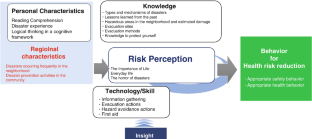 References
Aitsi-Selmi A, Murray V (2015) The Sendai framework: disaster risk reduction through a health lens. https://doi.org/10.2471/BLT.15.157362

Committee on Economic, Social, Cultural Rights (CESCR) (2000) General comment no. 14: the right to the highest attainable standard of health (art. 12) adopted at the twenty-second session of the committee on economic, social and cultural rights, on 11 August 2000 (contained in document E/C.12/2000/4). https://www.refworld.org/pdfid/4538838d0.pdf. Accessed 3 Oct 2021

Ebi KL, Lewis ND, Corvalan C (2006) Climate variability and change and their potential health effects in small island state information for adaptation planning in the health sector. Environ Health Perspect 114(12):1957–1963

Fernandez, Lauren S, Byard D, Lin C-C, Benson S, Barbera JA (2002) Frail elderly as disaster survivors: emergency management strategies. Prehospital Disaster Med 17(2):67–74

Gaillard JC, Mercer J (2013) From knowledge to action: bridging gaps in disaster risk reduction. Progr Human Geogr 37(1):93–114

Harrison JP, Harrison RA, Smith M (2008) Role of information technology in disaster medical response. Health Care Manager 27(4):307–313

Henderson V (1960a) Basic principles of nursing care. International Council of Nurses (ICN), London, p 3

Henderson V (1960b) Basic principles of nursing care (Reprinted, 1961)

Iezzoni LI (2011) Eliminating health and health care disparities among the growing population of people with disabilities. Health Affairs 30(10):1947–1954

Kanbara S, Yamada S, et al. (2013) Thinking about disaster nursing for the great east Japan earthquake from the articles published in Japan Society of Disaster Nursing March 2011–August 2013

Kanbara S, Ozawa W, Ishimine Y, Ngatu RN, Nakayama Y, Nojima S (2016) Operational definition of disaster risk-reduction literacy. Health Emerg Disaster Nurs 3(1):1–8

Nutbeam D, Kickbusch I (1998) Health promotion glossary. Health Promotion Int 13(4):349–364

Schumacher EF (1973) Small is beautiful: a study of economics as if people mattered. Random House

Sen A (2000) A decade of human development. J Human Dev 1(1):17–23

Sher A N A, Akhtar A (2018). Clinical application of nightingale's theory. J Clin Res Bioeth 9(4):1–3

United Nations Development Programme (2009) Human development 2009. Overcoming barriers: human mobility and development. http://hdr.undp.org/sites/default/files/reports/269/hdr_2009_en_complete.pdf

United Nations International Strategy for Disaster Reduction (UNISDR) (2015) Disaster risk reduction tools and methods for climate change adaptation. http://www.unisdr.org/files/5654_DRRtoolsCCAUNFCC.pdf

Winslow (1920). Winslow CE. The untilled fields of public health. Science. 1920;51(1306):23–33. https://doi.org/10.1126/science.51.1306.23. PMID: 17838891

World Health Organization (WHO) (1998) Health promotion glossary. https://www.who.int/healthpromotion/about/HPR%20Glossary%201998.pdf

World Health Organization (WHO) (2013). Global action plan for the prevention and control of noncommunicable diseases 2013–2020. https://www.who.int/publications/i/item/9789241506236

World Health Organization (WHO) (2017) Culture matters: using a cultural context of health approach to enhance policy-making. https://www.euro.who.int/en/health-topics/health-determinants/behavioural-and-cultural-insights-for-health/publications/2017/culture-matters-using-a-cultural-contexts-of-health-approach-to-enhance-policy-making-2017

World Vision (n.d.). https://www.worldvision.ca/stories/child-sponsorship/what-is-poverty. Accessed 3 Oct 2021.
Copyright information

© 2022 The Author(s), under exclusive license to Springer Nature Switzerland AG
About this chapter
Cite this chapter
Kanbara, S., Joshi, A.S., Miyagawa, S., Miyazaki, H. (2022). Care for Disaster Risk Reduction. In: Kanbara, S., Miyagawa, S., Miyazaki, H. (eds) Disaster Nursing, Primary Health Care and Communication in Uncertainty. Sustainable Development Goals Series. Springer, Cham. https://doi.org/10.1007/978-3-030-98297-3_4
DOI: https://doi.org/10.1007/978-3-030-98297-3_4

Published:

Publisher Name: Springer, Cham

Print ISBN: 978-3-030-98296-6

Online ISBN: 978-3-030-98297-3

eBook Packages: MedicineMedicine (R0)