Abstract
What is a model? Today, this question can only be answered either with a high degree of abstraction or generality, or with the most specific and precise contextualization, since the concept of the model and the practice of modeling are ubiquitous—in all the sciences and arts, in engineering and design.
I. Models at the End of the Nineteenth Century: Between Maxwell's 'Fictitious Substances' and Boltzmann's 'Tangible Representation'
When talking about mathematical models at the end of the nineteenth century, it is important to be clear which objects are being referred to. This concerns not only particular examples of models but also the history of the term 'model' within the field of mathematics. In nineteenth-century mathematics, 'model' clearly referred to material, three-dimensional objects, that is, to objects that one could pick up in one's hands—which is somewhat different from our current use of the term.
The nineteenth century understanding of the term 'model' is historically documented—for example, in Ludwig Boltzmann's article "Models" published in 1902 in the Encyclopædia Britannica.Footnote 11 In his article, Boltzmann, an Austrian physicist known for his discoveries in thermodynamics and the founding of statistical mechanics, provides a paradigmatic summary of the term 'model' as it was understood in his time. He starts with a general definition that attaches particular importance to the concrete, material execution: "The term model denotes a tangible representation, whether the size be equal, or greater, or smaller, of an object which is either in actual existence, or has to be constructed in fact or in thought."Footnote 12
For Boltzmann, a model is a physical entity with definite spatial relations. Following on from this definition, he first distinguishes generally between stationary and moving models, before looking more closely at speculative 'kinematic' models (James Clerk Maxwell's models of the purely hypothetical particle motion of matter) and the more concrete categories of working models (showing the functioning of machines) and experimental models (for technical inventions). Finally, he looks briefly at the instrumental-mathematical and in no way trivial models found in the context of physics. These models facilitate complex calculations and (via a 'physical analogy'Footnote 13) make such calculations possible in the first place.Footnote 14 In his examples and classifications, however, Boltzmann concentrates on the models in physics and mathematics, to which he attaches particular importance.Footnote 15 He describes mathematical models as follows: "In pure mathematics, especially geometry, models constructed of papier-mâché and plaster are chiefly employed to present to the senses the precise form of geometrical figures, surfaces, and curves."Footnote 16
Here, it is important to note how restrictively Boltzmann describes the appearance of mathematical models: these are three-dimensional (i.e. haptic-concrete and material) models, which he understands as "precise" presentations of geometric figures. The function of these models was as an aid in teaching and research, whereby the modeling principally involved surfaces of second and third degree, and in the case of third order surfaces the model becomes a "complicated, not to say hazardous, construction" (see Fig. 3).Footnote 17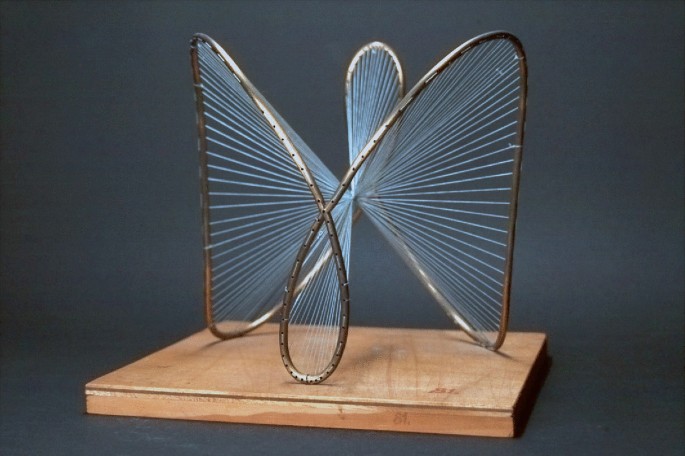 In Germany beginning in the 1870s, three-dimensional mathematical models of this kind were produced in large series and sold through catalogues such as the Catalog mathematischer Modelle distributed from 1881 onward by the publishing house of Ludwig Brill.Footnote 18 These catalogues contained models designed by, among others, the mathematicians Alexander Brill (Ludwig Brill's brother) and Felix Klein (see Fig. 4). Nevertheless, such models could (and can) also be seen in the scientific collections in the mathematical departments of universities. Mathematical models were also presented outside of the universities, however, particularly in exhibitions of scientific instruments, models, and apparatuses, such as the Special Loan Exhibition of Scientific Apparatus in South Kensington, London, in 1876, and an exhibition organized by Walther Dyck in Munich in 1893, accompanied by the publication Katalog mathematischer und mathematisch-physikalischer Modelle, Apparate und Instrumente.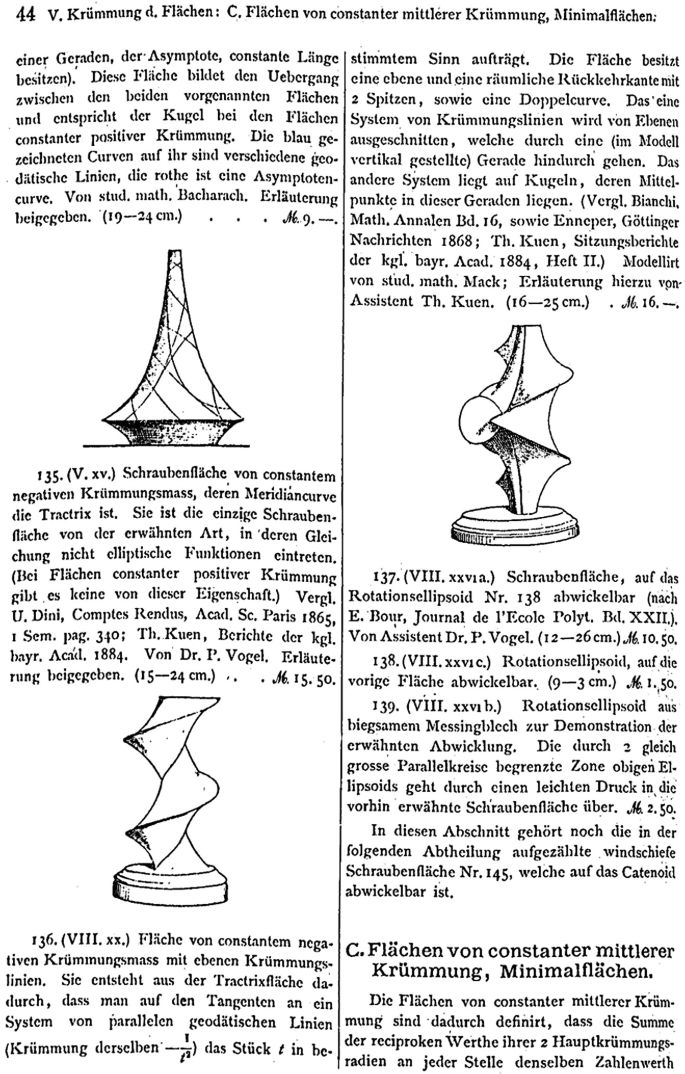 Boltzmann, however, speaks not only about three-dimensional models of surfaces in mathematics but also about models of surfaces in physics, above all in thermodynamics, where they mathematically represented the behavior of gases and fluids:
In thermodynamics, […] models serve, among other purposes, for the representation of the surfaces which exhibits the relation between the three thermodynamic variables of a body, e.g., between its temperature, pressure and volume. A glance at the model of such a thermodynamic surface enables the behaviour of a particular substance under the most varied conditions to be immediately realized.Footnote 19
Here, while Boltzmann does not explicitly mention which models and which model builders he is referring to, one may well be reminded of Maxwell's clay model of a thermodynamic surface from 1874.Footnote 20 Maxwell (1831–1879), one of the most important physicists of the nineteenth century, dedicated himself to the study of electromagnetism and the kinetic theory of gases. His clay model represents a substance with water-like properties by reproducing the latter's energy-entropy-volume coordinates, thus allowing the different possible states (gaseous, liquid, solid) to be read. This modeling of thermodynamic phenomena is based on a diagrammatic and geometric precedent—the 'graphical method' of the American mathematical physicist Josiah Willard Gibbs, who proposed this in 1873 for the combined representation of the properties of volume, pressure, temperature, energy, and entropy of a given body in any state (see Fig. 5a, b).Footnote 21 On his own three-dimensional realization of Gibb's geometric method of representation, Maxwell writes:
[Regarding] Prof. J. Willard Gibbs's […] graphical methods in thermodynamics[:] […] I made several attempts to model the surface, which he suggests, in which the three coordinates are volume, entropy and energy. The numerical data about entropy can only be obtained by integration from data which are for most bodies very insufficient, and besides it would require a very unwieldy model to get all the features, say of CO2, well represented, so I made no attempt at accuracy, but modelled a fictitious substance […].Footnote 22
From Maxwell's description one can infer the instrumental and productive character of his geometric model, which allows mathematical calculations, and thus also observations, about the development of the modeled object that are not possible with the real object. More important for our context, however, is Maxwell's statement about what he has modeled here: in part this is "a fictitious substance." The above quotation thus points to a fundamental question: how was the relation of a geometric-physical model of this kind to the reality investigated understood in the second half of the nineteenth century? Maxwell's formulation makes clear that, in the question of the model, he distances himself from an ontological commitment. The geometric-physical model refers to empirical relations—that is, it is not an arbitrary representation and not a product of the imagination. But since the theoretical knowledge about the physical objects is unreliable or insufficient, or the available data is incomplete or the calculation too complex, the model stands in for a well-reasoned but speculative, and in this sense 'fictitious,' content. Notable is also the difference that can be observed at this point between the models of physics and those of pure mathematics. At the time, both disciplines were facing a problem of representation (physics with respect to electromagnetism, and mathematics with respect to, for example, continuous but nowhere differentiable curves or complex curves and surfaces of increasing complexity and, among other things, their singular points (see section III. below), but they reacted very differently: mathematics strove for exactness in the three-dimensional representation of curves and surfaces, whereas the physics of the 1870s suspended somewhat the faithfulness to reality of the representation in order to obtain the latitude needed to allow for further approaches to the object of study.
For Maxwell, the model (especially the kinematic model of the purely hypothetical particle motion of matter) is a continuation of thought by other means—this was Boltzmann's conclusion in 1902. In the nineteenth century, physical theory could no longer be understood as the clear and final determination of the structure of matter, but was "merely a mental construction of mechanical models."Footnote 23 And the functioning of these mechanical models must have just enough to do with the real phenomena to help the understanding of these phenomena, and thus have a heuristic effect on the formation of the physical theory. The radicality of Boltzmann's and Maxwell's position can be appreciated by recalling Pierre Duhem's conception of physics published in 1906 under the title La théorie physique: son objet, sa structure. For Duhem, physical theory was an achievement of abstraction, and indeed as a system of well-founded hypotheses and logical deductions—he explicitly excludes the material models of thermodynamics from knowledge.Footnote 24
Already at the beginning of Boltzmann's article, such a broad function is attributed to all scientific and technical models. The mode of representation of models is compared here with the mode of functioning of thought. Thus, in order to form a mental representation of the world, thought has to link the things of the real world with concepts. For Boltzmann, therefore, the relation of similarity between mental representations and the things of the world necessarily remains incomplete and unverifiable—but without such a link between concept and thing, knowledge of the world becomes impossible. Boltzmann describes the act of mental representation as follows: "The essence of the process is the attachment of one concept having a definite content to each thing, but without implying complete similarity between thing and thought."Footnote 25 For Boltzmann, the absence of a "complete similarity" between mental representation and real thing belongs to what he calls "symbolization"Footnote 26—for which he cites language and writing as examples. If we transfer Boltzmann's considerations to the scientific model, then we can conclude that the model expands the space of thought and action, and this, one imagines, is because it can (and must) be a well-founded, but not a complete, representation of a physical or a geometric object.Footnote 27
If Boltzmann ascribes such importance to the scientific model, then that is due not least to the model practice and theoretical considerations of a physicist whom Boltzmann mentions repeatedly in his article: Maxwell. In the next section, we must therefore turn our attention to Maxwell's understanding of model and analogy.
II. 1850s/1870s: 'Analogy' and 'Model' in Maxwell
How is 'analogy' defined in Boltzmann's article? 'Analogy' is first employed with respect to scientific quantities. If longitude, mileage, temperature, or other physical quantities are expressed by numbers, Boltzmann's term for these numbers is "arithmetical analogies," never 'models.'Footnote 28 According to Boltzmann, however, also the "tangible models" of mathematics and physics belong to the category of analogy: they create a "concrete spatial analogy in three dimensions."Footnote 29 The term 'analogy,' therefore, is broader and can include any representation of mathematical figures or scientific variables. The model, then, is a special class in the category of analogy insofar as it is extended in length, width, and height.
This power of analogy is founded in the changed claim of physics as represented by Maxwell. Maxwell is convinced that the structure of matter can be grasped neither by physical theory alone (i.e., a logical-deductive procedure) nor by a purely mathematical-analytic approach. And what is more, even the derivation of axioms from the experimental event—the procedure clearly favored by Maxwell—is not possible in the case of the structure of matter.Footnote 30 For the investigation of elastic solids, the motion of gas molecules, or electromagnetic fields, and thus for domains for which no satisfactory theory was yet available and for which the conclusions from experiments were not sufficient, Maxwell recommended another procedure: the method of physical analogies.Footnote 31 Boltzmann is referring to this implicitly when he states: "The question no longer being one of ascertaining the actual internal structure of matter, many mechanical analogies or dynamical illustrations became available […]."Footnote 32
Maxwell's method of analogy rests on the fact that different physical phenomena can have surprisingly similar mathematical formulas describing them. For Maxwell, this formal mathematical similarity becomes a motor for further calculations, new hypotheses, and theoretical inferences. Thus, in his 1856 article "On Faraday's Lines of Force," Maxwell uses the mechanical analogy of the motion of a fluid to investigate the geometry of electromagnetic 'lines of force' (for an example of these lines of force as they were drawn by Maxwell, see Fig. 6 from Maxwell's 1873 book A Treatise on Electricity and Magnetism).
The lines of force are a conjecture on Michael Faraday's part and not a certain, calculable finding. Maxwell assumes that these lines of force permeate space even when there are no objects on which such a force can act. Maxwell insists that electromagnetic phenomena are "not even a hypothetical fluid" and therefore appear in his considerations merely as a kind of imaginary substance.Footnote 33 The analogy to the motion of a fluid is nevertheless helpful and productive: it serves Maxwell to suggest to the understanding in a manageable form those mathematical ideas that are necessary for the study of the still largely unknown electricity.Footnote 34 In this case, according to Maxwell, neither a purely mathematical nor a purely hypothetical approach can help:
In the first case [of a purely mathematical approach] we entirely lose sight of the phenomena to be explained; [...]. [In the second case of a theoretical approach], we see the phenomena only through a medium, and are liable to that blindness to facts and rashness in assumption which a partial explanation encourages.Footnote 35
To compensate for the limitations of the mathematical formula and of the theoretical hypothesis, Maxwell employs the physical analogy (in this instance, the comparison between electromagnetic phenomena and the behavior of fluids) to allow mathematical descriptions and predictions even for the non-calculable and largely unknown domain. Maxwell defines this physical analogy as follows: "By a physical analogy I mean that partial similarity between the laws of one science and those of another which makes each of them illustrate the other."Footnote 36
Ernst Mach, who in 1902 declared Maxwell's method of analogy to be one of the most important methods of research, and considered physical analogy to be as central to scientific research as the experiment, aptly characterized physical analogy as an "abstract similarity."Footnote 37 Hence, analogy here is explicitly an abstract representation. It might be objected, however, that this abstractness still allows a proximity to the empiricism of the physical phenomenon.Footnote 38 According to Maxwell, this is precisely the advantage of analogy over mathematical description and physical theory. In Maxwell's work, analogy is thus distinguished by multiple and even partially contradictory properties: (1) it remains connected to empirical evidence and is therefore concrete; (2) it gives rise to a speculative but not at all arbitrary illustration, thus enabling the further examination of previously unknown domains; (3) it succeeds in this productive visualization by means of a mode of abstraction: precisely that abstract similarity of the actually different physical phenomena which is guaranteed in the identical mathematical formulas.
Yet Maxwell does not propagate analogy as the only method of research. In his research practice this method is combined with other representational practices, such as the diagram, the three-dimensional model, and mathematical calculation. The distinction found in Boltzmann's article between models as tangible representations and other forms of representation or symbolization (such as arithmetical analogies, and thus with numbers) appears to be less rigorous in Maxwell's case. When mentioning the drawings that help him to determine the lines of force of an electric field, Maxwell speaks explicitly of a "geometrical model of the physical phenomena."Footnote 39 For Maxwell, these geometric representations are valid representations of the physical laws at work in the electrical phenomenon—and the transition between the geometric drawing of a space traversed by lines of force and the three-dimensional model resulting from this seems fluid. Two-dimensional drawing and three-dimensional model allow an approach to the physical object that the object itself may not permit. In Maxwell's writings there is therefore a double extension of scientific representation: on the one hand, the model moves into the immediate vicinity of drawing (i.e., the difference between the two-dimensional and the three-dimensional visualization appears secondary); on the other, with the physical analogy, the methodological range of physics is expanded—this is done via a procedure that, as is expressly stated, is based on an incomplete, abstract similarity, and it is from this that it derives its heuristic force.Footnote 40 Nevertheless, for Maxwell as well as for Boltzmann, model and analogy do not coincide.Footnote 41 A partial overlapping (not a coincidence) of model and Maxwell's method of physical analogy is found only at the end of Boltzmann's encyclopedia article:
It often happens that a series of natural processes […] may be expressed by the same differential equations; and it is frequently possible to follow by means of measurements one of the processes in question […]. If then there be shown in a model a particular case of [the first process] in which the same conditions at the boundary hold as in [the second process], we are able by measuring […] in the model to determine at once the numerical data which [we may] obtain for the analogous case […].Footnote 42
As we have already seen, according to Maxwell, two different physical phenomena are formally analogous when both can be described mathematically by one and the same formula. Analogy, then, allows the transfer from the known (or better known) domain to the unknown domain. In Boltzmann's description the model now assumes a decisive position insofar as one domain of the analogy is not constituted by the physical object but already appears as a model of this object. This model allows the developments of the physical object to be read, and these findings can then be transferred to the other side of the analogy, which is to say, they can lead to a further analysis of that domain which, taken by itself, would not be accessible to measurement. In this case, via the access to the model, the physical analogy is made fruitful for further research. The model can therefore become part of the physical analogy and also support the latter's function as a motor of scientific knowledge.
At this point, however, the valorization of the model refers in Boltzmann's case to a hybrid: the geometric-physical model whose similarity to the real physical phenomenon need not be complete to be scientifically productive. In the course of the nineteenth century, one would invoke other concepts and descriptions to determine the use of these purely mathematical models in pedagogical and epistemic contexts. These were above all the concepts of Anschauung (intuition) and Bild (image), which are the subject of the next section.
III. 1880–1900: 'Anschauung' and 'Bild' (Klein and Brill)
Boltzmann's 1902 article "Models" gathers together the knowledge about models of the second half of the nineteenth century and in doing so discusses a variety of specific models: not only the traditional models of architecture and engineering, but also and in particular those of the natural sciences and mathematics. Here, not only the various functions of the models become visible, but also uncertainties about the definition and evaluation of in particular mathematical models. If one looks at the correspondence between Boltzmann and the man who requested the encyclopedia article from Boltzmann, Joseph Larmor (a professor of natural philosophy at Queen's College in Galway until 1885, then first a lecturer at St John's College, Cambridge, and from 1903 a professor of mathematics at Trinity College, Cambridge), then Boltzmann's discomfort becomes palpable. On January 7, 1900, in response to Larmor's request, Boltzmann writes:
I have now hurriedly looked around for information about models. […] I also went to the Vienna Polytechnicum in order to look at models of house, roof, and bridge construction as well as an endless variety of machines but came away persuaded that what we have on hand in Vienna is obsolete and miserable. How much better the article could be written were one exactly familiar with models in London and America!Footnote 43
Boltzmann's first thought is about the use of models in architecture and engineering, which while being in use in technical universities were—this is the objection he raises—far more frequent in English-speaking countries than in Vienna, where Boltzmann was a professor of theoretical physics. These models had a clear instrumental or pedagogical function insofar as they were intended for the explanation of technical constructions—showing these constructions in a scaled-down form that often could be taken in the hands and occasionally even dismantled. Yet Boltzmann's misgivings were not only related to the dearth of good examples, but concerned, above all, the broad, hardly summarizable variety of models, whereby it was particularly with the mathematical models that he felt the most uncertainty. In the same letter he writes:
I am also in the dark about how mathematical models should be handled. I don't even understand particularly much about algebraic surfaces of pure geometrical models. […] If I dare to write about every kind of model, I am very much afraid that in spite of all of my efforts that I will fail to come up to the Encyclopaedia Britannica's standards. I simply don't know the material well enough. For this reason it would be my dearest preference if it would not cause any great difficulties to take the preparation of the article away from me […].Footnote 44
We should not be too quick to interpret Boltzmann's doubts about his competence as a personal shortcoming; these doubts were rather the expression of an objective overload with respect to the diversity of models found in polytechnic university collections in the second half of the nineteenth century. With respect to the mathematical models, another factor plays a role: their construction and active distribution began only in the nineteenth century (first in France at the beginning of the nineteenth century; then, in the second half of the century, also in England and Germany), and their function was less straightforward than that of the technical models. The importance of mathematical models was undoubtedly in teaching, since they were employed in university education for the teaching of mathematics, particularly at the technical universities. Their function was thus the visualization of complex mathematical objects. Yet they did act as a blueprint for the calculated construction of technical constructions—as was the case, for instance, with models of bridges. Rather, they were purely mathematical objects that the haptic model should make graspable—and Boltzmann doubted precisely whether his knowledge of these abstract mathematical objects (he explicitly mentions algebraic surfaces) was sufficient. He had no doubts, however, regarding the function of the mathematical models: their importance lay in their Anschaulichkeit (their capacity to make certain phenomena available to the senses), and this is based on their no longer being merely abstract objects of reason but concrete objects of sensory perception. This position can be gathered from Boltzmann's article "Über die Methoden der theoretischen Physik," which Dyck, the editor of the Katalog mathematischer und mathematisch-physikalischer Modelle, Apparate und Instrumente, requested in 1892. In this article Boltzmann writes that the material mathematical models serve "to make the results of a calculation intuitable [anschaulich], and indeed not merely for the imagination, but also visible to the eye, graspable by the hand, with plaster and card."Footnote 45 The material realization of the mathematical surfaces and curves translated into three dimensions addresses visual and haptic perception (eye and hand), and thus generates sensory evidence for the mathematical contents. According to Boltzmann, the great advantage of mathematical models lies in the quicker understanding of the contents. That is why these models are more than mere illustrations of the results of the 'proper'—that is, the mathematical—procedure (the analysis); rather, they are equivalent to geometric construction:
In mathematics and geometry it was at first undoubtedly the need to save labor that led from purely analytic methods back to the constructive methods as well as to the visualization by models. […] What an abundance of shapes, singularities, forms developing from one another the geometer of today has to commit to memory […].Footnote 46
Mathematical models are suited to come to grips with the vastly increased set of objects of geometry. Their Anschaulichkeit aims at the economy of the acquisition of knowledge and the organization of knowledge. In this economy models represent, according to Boltzmann's hope, a way of saving of labor. And while he does not formulate this explicitly, it can be supposed that via models and geometric construction, the economy of the mathematically trained engineer can also benefit from such a saving of labor. For in the second half of the nineteenth century, the relation between mathematics and empiricism—and that means also the application of mathematics in other sciences and in engineering—was no longer self-evident. In the discussions of mathematicians on the foundation of their discipline, the reference to empiricism was now either asserted as a necessity and a virtue or dismissed in favor of formalization and logicalization. Boltzmann's formulation in his 1902 encyclopedia article that models "present to the senses" the form of geometric figures should therefore be taken seriously as a positioning.Footnote 47 Mathematical models stand for a mode of concretion that in the course of the development toward 'mathematical modernity' would be increasingly excluded. In this sense, these models were elements of a 'counter-modernity,' but this counter-modernity, as Herbert Mehrtens has pointed out, was an important accompaniment to the development toward modernity and not its reactionary adversary.Footnote 48 Mehrtens argument can perhaps be slightly reformulated: mathematical models played a key role insofar as they cushioned the development toward mathematical modernity. They could do this due to their dual nature, since while their contents was a purely mathematical object, the latter was lent Anschaulichkeit qua material modeling. Abstraction and concretion thus met in these models without this having to serve a purpose outside mathematics.Footnote 49
It was indeed the case that arguments of modernization and arguments of counter-modernity went hand in hand in the writings of the proponents of model building. This applies in particular to Alexander Brill and Felix Klein, both of whom were advanced mathematicians. In nineteenth century Germany, Brill and Klein were among the driving forces behind the construction and acquisition of models. They advanced a reform in the education of future engineers and mathematicians, where the use of models was necessary to exemplify the new concepts and the abstract objects being used in class.Footnote 50 Klein's statements reflect the state of upheaval mathematics was undergoing at the time, and its search for its own foundations of knowledge. Thus, his influential Erlangen program, which he first set out in 1872, attempts a naming and unification of various geometries (parabolic, hyperbolic, and elliptic, as well as projective geometry). For this unification he suggested the use of an abstract, group-theoretical approach in order to investigate different spaces and manifolds, focusing on their groups of transformations. This new 'motion geometry' (Bewegungsgeometrie, as Hans Wussing termed it) positioned the concept of the group at the transition between geometry and analysis.Footnote 51 In this way, Klein initially distances himself from a sensory-empirical approach to space and spatial figures, as can be inferred from the beginning of the text in which he set out his Erlangen program:
We peel off the mathematically inessential sensory image [sinnliche Bild], and regard space only as a manifold of several dimensions, that is to say, if we hold to the usual idea of the point as spatial, three-dimensional element. By analogy with the transformations of space, we speak of transformations of the manifoldness; they also form groups.Footnote 52
In order to talk about groups as a mathematical structure that characterizes manifolds, Klein had to remark that the sensory image was inessential, and hence the concreteness of the sensory impression has to be 'peeled off' in favor of the mathematical abstraction. Here, Klein undertakes a hard confrontation between abstraction (understood as a concept or as formal mathematics) and concretion (understood as a sensory impression or as a physical fact), one that will appear repeatedly in the development toward mathematical modernity.Footnote 53 On the other hand, however—and in a way similar to Maxwell's critique that one should avoid working only with a theoretical hypothesis or only with an abstract formula—Klein also distances himself from a complete, absolute abstraction of the research of space. Geometry aims at a "figurative reality" ("gestaltliche Wirklichkeit") of the spatial figures, and that means that the transformation groups stand for 'real' movements, and the groups are therefore attributed Anschaulichkeit.Footnote 54 For this faithfulness to reality of geometry claimed by Klein, mathematical models play a particular role:
For geometry, a model—be it realized and observed or only vividly imagined—is not a means to an end but the thing itself [die Sache selbst].Footnote 55
Which is to say that Klein pointed out that three-dimensional models—despite being concrete, tangible objects, and therefore imposing concrete sensory images on the viewer—can serve not only as a means of visualization but also as "the thing itself." The reality of the mathematical objects can be grasped in the model, and indeed without this mathematical object being identified with a physical fact or a sensory impression. The plaster model of an algebraic surface does not merely illustrate the abstract mathematical object but presents a conceptually correct representation and, in this sense, the Anschauung (intuition) of a geometric reality.Footnote 56
If one consults Klein's 1873 lecture "Über den allgemeinen Functionsbegriff und dessen Darstellung durch eine willkürliche Curve," with the distinction found there between a curve jotted arbitrarily on paper, a curve drawn on paper according to a specific law or formula, and a merely imagined curve as an aid, then three-dimensional mathematical models correspond to the curve drawn according to a specific law or formula on paper.Footnote 57 The latter is an empirical object of perception (unlike a mental image) and at the same time an idealization, since the conceptually conveyed law allows the representation to become mathematically precise in a way that is impossible for the merely approximate precision of the jotted curve. Even if the Anschauung of the built, drawn, or merely imagined models in Klein's sense does not yield a "precision mathematics," ["Präzisionsmathematik"] one can still infer that in a scientific respect the models operate in an orientating and even epistemic-heuristic way, and thus while not founding knowledge, are still able to guide it and give rise to new knowledge.Footnote 58 This is also suggested by Brill's statements in his lecture from November 7, 1886:
The maker of a model was free to write a paper on this, the publication of which […] played no small part in encouraging one to carry out the often-arduous calculations and drawings at the basis of the practical execution. Conversely, the model often prompted subsequent investigations into the specific features of the represented structure.Footnote 59
Thus, according to Brill, mathematical models in the nineteenth century did not merely serve to visualize lengthy calculations; they were not simply a scientific tool. If one also considers the design stage, then they were also an object of research. The constructors of these models made use of solid theoretical knowledge and the methods connected with this (particularly calculation and geometric construction), but they needed to proceed innovatively and exploratively in order to understand a scarcely graspable—since abstract and possibly even speculative—object. The mathematical model is—at least in the design stage—an object of questioning, which qua construction should be transformed into an object that is both familiar and useful for the production of further knowledge. In this respect, the models served a process of intellectual appropriation and mathematical habitualization, however not as the passive learning of something already given, but as the active exploration of something at least partially unknown, and that means as the driving factor of present (linked to the object) and future scientific and application-oriented knowledge—what Klein calls "inventions and new mental connections."Footnote 60 It was this that gave the mathematical models of the nineteenth century their experimental and thus epistemic function.
If one wants to classify the role played by these models in the process of Anschauung more precisely, then, on the one hand, one has to recall what the history of science and the history of mathematics of the last decades has already brought to light. Particularly in German-speaking countries, the power of Anschauung has been acknowledged as the prerequisite and achievement of knowledge since Immanuel Kant, but this ennoblement of the concept-led, so-called pure Anschauung (the nonempirical but sensory manifestation of a truth given qua reason) lost its persuasiveness in the course of the nineteenth century. Particularly the attempt to secure a pure Anschauung in an immutable, single 'a priori' of space and time was discredited with the rise of non-Euclidean geometries and could no longer be considered as the self-evident foundation of mathematical knowledge.Footnote 61 Moreover, the potential of sensory perception for deception was thoroughly explored by nineteenth century experimental physiology and psychology, for instance in relation to the blind spot of the eye or the misperception of continuous movement when looking at moving images (e.g., through a phenakistiscope). Visual perception was converted into an image production with its own dynamics.Footnote 62 Hence, the understanding of Anschauung underwent significant changes in the nineteenth century: on the one hand, the concept could no longer refer to a reliable a priori endowment; on the other, it was no longer related to visual perception and mental images alone, but was interpreted particularly by Charles Sander Peirce as an intuition of signs, and thus linked with the field of semiotics. For the mathematicians of the nineteenth century, however, this latter expansion was evidently not a well-known or convincing argument.Footnote 63
In Klein's work, alongside Anschauung, one frequently finds also the concept of Bild (image), both in an empirical-concrete sense (visible drawing or haptic model) and, above all, in a sense related qua Anschauung to the imagination (mental image). Exemplary for this is an article from 1874, in which Klein discusses the Bilder (images) of mathematical functions and asks about their completeness. While explaining how to visualize a complex curve \(y = f(x)\), he notes that the sketch of the real part of the function is incomplete. A second method concerns the representation of a surface whose coordinates are \((Re(x), Im(x), Re(f(x)))\), but although, according to Klein, this yields "a complete image,"Footnote 64 it does not allow a sufficient visualization of complex singularities. He formulates the problem as follows:
In the investigation of the algebraic functions y of a variable x, one is accustomed to use two different intuition-related aids [anschauungsmäßiger Hilfsmittel]. One represents, namely, either y und x consistently as coordinates of a point of the plane—whereby the real values of these alone come into evidence and the image of the algebraic function becomes the algebraic curve—or one spreads the complex values of one variable x over a plane and designates the functional relation between y and x by the Riemann surface constructed over the plane. In many relations, it must be desirable to possess a transition between these two intuition-based images [Anschauungsbildern].Footnote 65
Here, the meaning of the term 'image' (Bild) goes beyond an empirical-concrete visualization on paper (a drawn algebraic curve as an image of the algebraic function) and designates in addition a three-dimensional model (Riemann surface). Moreover, it should be noted that Klein invokes several "intuition-based images" ("Anschauungsbilder") (algebraic curve and Riemann surface) and searches for a "transition" between them. If Anschauung should serve the "investigation" of mathematical objects and productively advance this, then it must draw on several images. And to search for the transition between these images would then be—one must assume—the task of the understanding and the imagination. Klein's solution to the problem formulated in the above quotation is in any case to investigate, together with the given curve, a further curve: the dual curve in the projective complex plane.Footnote 66
Most of Klein's drawings do not have the visualization of singularities for a theme but follow Julius Plücker's investigation on the relations between the invariants of algebraic curves and the corresponding invariants of their dual curves; specifically, Klein aims at a "Veranschaulichung" ("visualization")Footnote 67 of these relations. At the end of his contribution from 1874 there is a sketch of what a branch point of a singular curve of degree three looks like (see Fig. 7): "one [confers] to the surface an […] outgoing branching […], as it is visualized, for instance, in a symmetrical way by the included drawing."Footnote 68
If one considers this example, and above all how Klein refers to the different 'images' of a complex curve, then one notices in the first quotation that while the first 'image' is a two-dimensional drawing (the algebraic curve as an image of the algebraic function), the second is a three-dimensional model (or even two models; see Fig. 8). Consequently, the term 'image' (Bild) functions in Klein as an umbrella term that, first, allows one to think together sensory-concrete three-dimensional models and two-dimensional representations, and, second, starting from this empirical level, points to a transition to be sought between the representations that has not yet been drawn or built, and in this respect should probably be conceived as an action of understanding and imagination. Klein's remarks suggest that he understands the two-dimensional drawing and the three-dimensional model as different but equally valid interpretations of the same mathematical object, whereby only their interaction does justice to the fact that there are several ways of exploring the mathematical properties of the object in question. That these two empirical methods of visualization—three-dimensional models and two-dimensional drawings—are thought together in order to revive and advance mathematical research is also clear in Ludwig Brill's introduction to the third edition of his catalogue of mathematical models in 1885: "[…] it will continue to be the publishing house's aim to serve those scientific circles that see the use of models and drawings as an aid and a strong support for the promotion and stimulation of mathematical studies."Footnote 69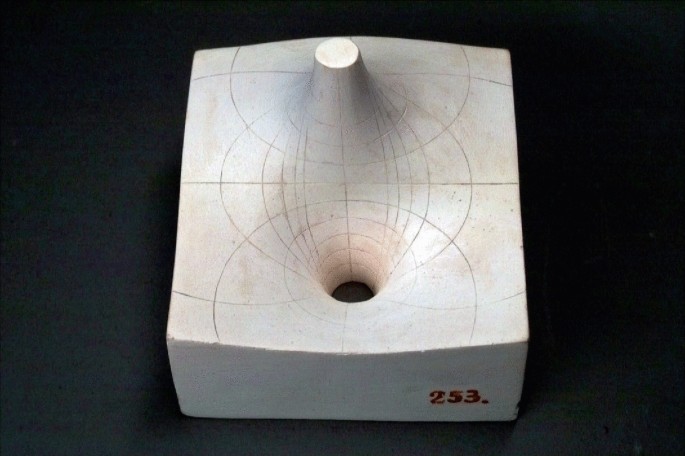 According to Klein, the ideal approach to mathematical objects lies in a 'transition' between different 'images.' This transition, however, appears to go beyond the visualization on paper and/or in plaster or with threads and is probably reserved for mental Anschauung, which qua combination of images can drive the investigation further. This combinatorics of the representations that aims, in the sum, to arrive at a better—since more precise and, in an epistemic respect, productive—image is stated more explicitly by Dyck in 1892. In connection with his construction of models for the real and imaginary part of complex functions, he notes:
The present series of models was made following an introductory lecture on function theory. […] In order to visualize the course of a function of a complex variable in the vicinity of certain singular points […] by a spatial representation, both the real and the imaginary part of the function values are plotted in the familiar way over the plane of the complex argument as ordinates. Thus, each function of a complex argument is made sensible [versinnlicht] through two surfaces designated R and I, whose simultaneous observation provides an image of the function's course.Footnote 70
Only the simultaneity—and that means the combination of the sensory-concrete representations of mathematical objects—can deliver the 'image' (Bild) as such, which is the image of a process and basically a 'movement image' that arises in the imagination. As a result, the image concept is distanced in mathematics from a simple representational function (Abbild) and is to some extent abstracted as well as, and above all, made mental. The change in meaning of the image extends beyond mathematics and can be seen particularly clearly in the arts of the outgoing nineteenth and early twentieth centuries, for instance when in Impressionism the focus was on the (physiological) reality of the eye, or, in the programs of abstract painting, the autonomy of art became a theme, as in Wassily Kandinsky's book Über das Geistige in der Kunst (Concerning the Spiritual in Art), first published in 1912.Footnote 71 Yet while the fine arts programmatically expanded their understanding of the image, the image in mathematics was forced to take a back seat behind the word and language. When in a lecture given in 1886 Brill summarized the model movement as a successful one, he also noted a growing tendency toward or limitation to what he called 'the word,' that is, to a more formal language or to a more language-oriented conception of mathematics, embodied in synthetic geometry. This tendency led to an "underestimation" of the model in particular and of the image in general: "[…] this limitation to the word, which the synthetic geometers fondly favored for a time, could not fail to lead to an underestimation of the image and the technical skills required to produce it."Footnote 72 If one follows Brill here, one may think that it is the growing abstraction in mathematics at the turn of the nineteenth to the twentieth century that slowly brought the model tradition to its decline.
Indeed, for Brill and Klein, the word—that is, the abstract approach (represented here by synthetic geometry)—should and could not function as that which unifies two phenomena or two images as if to reconcile between them, since, to quote from Klein's 1893 lecture in Chicago, "mathematical models and courses in drawing are calculated to disarm […] the hostility directed against the excessive abstractness of the university instruction [of mathematics]."Footnote 73 Less than ten years later, Boltzmann, in his article from 1902, suggested a rather different approach, pointing to a shift in how the term 'model' was considered: models in mathematics had been reduced to material models of surfaces and curves, only "elucidating […] singularities,"Footnote 74 and the goal of mathematical modeling had shifted toward another scientific activity in which this modeling could be understood as 'reconciling' between two physical phenomena via a completely symbolic, abstract practice: the finding of an equation.Footnote 75
IV. 1900s–1930s: From Material Analogies and 'Geometric Models' to Formal Analogies and Language-Oriented Models
Boltzmann's view that the aim of mathematical modeling was the finding of a unifying equation exemplifies how the understanding of the term 'model' changed in the first decades of the twentieth century from a material to a symbolic, language-based concept. We would like to examine two examples of this shift: to sketch the rise of the term 'model' as an instantiation of a mathematical system of axioms; and to examine the biological 'paper and pencil' models.
(1) 1891/1899/1936: Mathematics and the New Definition of 'Model'
One of the challenges for mathematicians in the second half of the nineteenth century consisted in finding a visualization for hyperbolic geometries. In the 1860s the Italian mathematician Eugenio Beltrami built material models that should do just that. He described this realization in the concrete model as an "interpretation" ("interpretazione") of hyperbolic geometry.Footnote 76 Later, one constructed also for other surfaces (or parts of surfaces) of non-Euclidean geometries equivalents in three-dimensional Euclidean space that can be understood as interpretations. In his paper "Les Géométries non Euclidiennes" from 1891, the French mathematician Henri Poincaré discusses possible 'interpretations' of non-Euclidean geometries, and uses for this also the concept of the dictionary:Footnote 77
[…] let us construct a kind of dictionary by making a double series of terms written in two columns, and corresponding each to each, just as in ordinary dictionaries, the words in two languages which have the same signification correspond to one another […]. [We can obtain theorems from one interpretation within the second one] as we would translate a German text with the aid of a German–French dictionary.Footnote 78
The metaphor of the dictionary can be read as a sign that, already at the turn of the nineteenth to the twentieth century, mathematicians understood Beltrami's concept of interpretation with respect to mathematics as a language, although Beltrami himself probably hardly meant it that way. Poincaré's use of a metaphor borrowed from the realm of language did not remain without echo, however. In his book Non-Euclidean Geometry, published in 1906, Roberto Bonola points out that the model for non-Euclidean geometry was a material model, and he includes a photo showing one of Beltrami's paper models. Bonola emphasizes this analogical relation and describes it as a translation: "There is an analogy between the geometry on a surface of constant curvature […] and that of a portion of a plane, both taken within suitable boundaries. We can make this analogy clear by translating the fundamental definitions and properties of the one into those of the other."Footnote 79 A few years later Hermann Weyl writes about "euclidian model" ("euklidisches Modell") of non-Euclidean geometry and understands this again as a translation with the help of a dictionary: "We now take up a dictionary with which the concepts of Euclidean geometry are translated into a foreign language, a 'non-Euclidean' one."Footnote 80 These examples already indicate that in the early twentieth century there was a shift in meaning that detached the mathematical model from its characterization qua visual Anschaulichkeit and concrete, material appearance and initiated a language-based understanding of the model. This shift becomes explicit in the formal-logical concept of the model that became widespread following Alfred Tarski's writings of the 1930s. For Tarski, a Polish-American logician, the model should be defined as a correspondence between certain logical formulas and a certain mathematical structure. More precisely, the model was an instantiation—that is, a "realization"—of a formal axiom system, as in the following formulation from 1936:
Let L be an arbitrary class of propositions. We replace all extra-logical constants occurring in the propositions of the class L by corresponding variables. […] An arbitrary sequence of objects satisfying each propositional function of the class L' will be called a model or realization of the propositional class L (in just this sense one usually speaks about the model of the axiom system of a deductive theory).Footnote 81
Tarski's approach does not come from nowhere, but is prepared for by Weyl, among others, who had already undertaken a dematerialization of the concept of model and understood this as the instantiation of an axiom system. Another influence was probably the writings of the mathematician David Hilbert. In his book Grundlagen der Geometrie, published in 1899, Hilbert discusses various axiom systems and presents a number of different geometries that satisfy these axioms. Here, Hilbert does not use the term 'model,' however, but speaks of a "system."Footnote 82 He is also familiar with Maxwell's research. In a letter to Gottlob Frege from December 29, 1899, shortly after the publication of Grundlagen der Geometrie, Hilbert mentions not only the mathematical theory of duality but also Maxwell's theory of electricity, and understands both as examples of a kind of abstract-analogical "transformation": "Any theory can always be applied to an infinite number of systems of basic elements. One only needs to apply […] a transformation."Footnote 83 And this statement comes immediately after the famous sentence: "If among my points I think of some system of things, for example, the system love, law, chimney sweep…, and then assume all my axioms as relations between these things, then my propositions, for example, the Pythagoras, are also valid for these things."Footnote 84
At this point it is essential to mention another protagonist who is important for the development of an abstract model concept, between Hilbert and Tarski: Hausdorff, in whose writings one can observe such a change in the use of the model concept already in 1903/4—thus even earlier than in Weyl. Hausdorff was among the early readers of Grundlagen der Geometrie.Footnote 85 Hilbert's axiomatic method attracted Hausdorff's attention and inspired him to undertake his own studies, that is, to find his own examples and counterexamples as well as single axioms and axiom groups of geometry. At first, however, he did not call these examples models of the systems of axioms. This happened only in 1903 in the context of his discussion on the consistency of non-Euclidean geometries—here, he already anticipates the later formal-abstract meaning of the term.
In a manuscript titled "Nichteuklidische Geometrie," probably written in 1901 or 1902,Footnote 86 Hausdorff declares Abbilden (the image of a mathematical mapping) to be a general strategy of a step-by-step proof of the consistency of an axiomatic system. Also the "Beltrami-Cayley'sche Bild" ("Beltrami–Cayley image") or generally a "euklidisches Bild" ("Euclidean image"),Footnote 87 as Hausdorff now formulates it, is given this new role as an instrument of a proof of consistency. Yet in Hausdorff's manuscript the term 'model' does not appear. This is no longer the case, however, in Hausdorff's later texts on the problem of space.Footnote 88 Thus, in "Das Raumproblem," which was his inaugural lecture at Leipzig University, he presents an axiomatic method that introduces a variety of different geometric systems that are limited solely by the criterion of consistency. Here, a terminological shift can be observed when Hausdorff writes: "The absence of a contradiction has been directly demonstrated by appropriate mappings [Abbildungen] of non-Euclidean geometries onto Euclidean models and of Euclidean geometries onto pure arithmetic."Footnote 89 What Hausdorff had previously still designated as a "Euclidean image" now becomes a "Euclidean model," by which he does not mean material models but Euclidean geometry. As Moritz Epple has pointed out, this is one of the earliest occurrences of an abstract model concept.Footnote 90 At the same time, however, Hausdorff continues to use the term 'model' in its earlier mathematical sense (as a material model). This is the case, for example, in his inaugural lecture.Footnote 91
One finds the new use of the term 'model' in an even more explicit form in the lecture "Zeit und Raum," which he gave during the winter semester 1903/04. Here, Hausdorff argues that, between two different "systems" of geometric objects that satisfy the same axioms, one can find a "translation" (thus drawing on the metaphor that had already been used by Poincaré in 1891): "One can visualize this principle of mapping [Abbildungsprincip] as a kind of translation from one language of geometry into another on the basis of a dictionary."Footnote 92 Here, it is a matter of the validity of Euclidean geometry, which is demonstrated by the mapping of geometric concepts onto their arithmetical counterparts.Footnote 93 For these images of mathematical mapping ((Ab-)Bilder), Hausdorff uses—as in his inaugural lecture—the term 'model,' but only with the image of a geometric system of objects of Euclidean geometry. For instance, he selects spherical geometry as the first example for the discussion of the consistency of a non-Euclidean geometry,
because a Euclidean model can be immediately located for it. Instead of constructing a non-Euclidean geometry directly from the corresponding axioms (as Bolyai and Lobachevsky […] have done), we want to search for Euclidean images of non-Euclidean relations, that is, to use our transformation principle or to conceive of a dictionary by means of which Euclidean propositions can be translated into non-Euclidean ones.Footnote 94
In his introduction to the abovementioned texts by Hausdorff, Epple argues convincingly that the above quotation as well as the corresponding brief passages in "Das Raumproblem" are among the earliest occurrences of the abstract model concept in Hausdorff's work, and in this respect they open up a path that leads beyond the author: "they simultaneously provide very early proof of a usage that points in the direction of later mathematical model theory."Footnote 95
Thus, already at the beginning of the twentieth century, in Hausdorff's work, the model concept appears in an abstract usage. This does not occur consistently, however, but parallel to the earlier material meaning of the term. Hausdorff's significance for the development of abstract discourse is therefore difficult to determine. Rudolf Carnap and Kurt Gödel use the term 'model' explicitly in the 1920s in the sense of Hilbert's 'system.'Footnote 96 Carnap speaks of models of an axiomatic system in 1928,Footnote 97 and Gödel uses a similar terminologyFootnote 98—despite both coming from different logic traditions. These mathematicians are representative of the environment from which mathematical model theory emerged. This environment can be seen with Tarski's statement that a model is a realization of a class of propositions if one can verify that the theorems have been satisfied. The investigation of the differences between Carnap, Tarski, and Gödel, and the answer to the question of how the modern conception of the model emerged from these different approaches is beyond the scope of this introduction. The previous remarks will have to suffice to make clear that it was irrelevant for the mathematicians mentioned above whether a tangible model existed on which or with which the theorems could be located or demonstrated. What was relevant was now only the language-based reality of mathematics.
(2) 1931/1925–6: The 'Pencil and Paper Models' of Biology and the Precursors of Modeling
When Tarski speaks of the realization of a propositional class, this underlines an aspect that was already implicit in Brill's lecture from 1886—the realization in language.Footnote 99 At roughly the same time as Tarski's statement about realization, Nicolas Rashevsky, one of the pioneers of mathematical biology, also introduced the term 'model' into his work. For Rashevsky, the mathematical formalization of biological phenomena was a central concern.
Rashevsky initially studied theoretical physics at the University of Kyiv in Ukraine, before fleeing to the USA in 1924 and eventually developing the idea of biomathematics at the University of Pittsburgh in the 1930s. His attempt to shed light on the complexity of biological phenomena led him to the study of the cell,Footnote 100 from whose actual appearance he nevertheless abstracted by equating its structure with a simpler geometric entity—a sphere or an ellipsoid. As Maya Shmailov has shown in her 2016 book Intellectual Pursuits of Nicolas Rashevsky,Footnote 101 Rashevsky was able to use this theoretical cell to develop mathematical equations that described the cell's growth and division. He referred to these equations as "pencil and paper models" and attached a higher value to them than to the "actual 'experimental' models" of physics. Already in 1931 he noted:
The use of models is not unfamiliar to the physicist. However the physicist uses models in a somewhat different way. […] [N]o one of them [the physicists] did actually 'build' any such models, nor experiment with them. These models were, if we may call them so, 'paper and pencil models.' […] [A physicist] may satisfy himself by investigating mathematically, whether such a model is possible or not. The value of such 'paper and pencil' models is not only as great as that of actual 'experimental' models, but in certain respects it is even greater. […] It is through the study of models that Maxwell finally arrived at his equations, which are and probably will forever remain one of the cornerstones of physics.Footnote 102
In order to show whether and to what extent Rashevsky adopted and changed the understanding of the model in physics and mathematics, it will be necessary to refer to another example from the field of biology in which it is also a matter of mathematical representation, namely, the Lotka–Volterra model, as it is called today, or the predator–prey model.
Alfred James Lotka was an American mathematician, physicist, and statistician. Vito Volterra was an Italian mathematician and physicist known for his contributions to mathematical biology and integral equations. Both worked out the predator–prey equations independently and at approximately the same time, in 1925–26. Their equations describe the interaction of predator and prey populations, whereby the primary variable is the size of the predator or prey population. Because predator and prey populations interact with each other, their population dynamics are interconnected: whereas the predators reduce the population of the prey by eating them, the prey increase the population of the predators by providing them with food. In the current literature these equations are mostly designated as the Lotka–Volterra model—for example, in Michael Weisberg's 2013 book Simulation and Similarity.Footnote 103 Nevertheless, it is important to recall the actual terms used by Lotka and Volterra themselves. In Lotka's book Elements of Physical Biology, published 1925, for example, the word 'model' (and the corresponding verb 'to model') do not appear. In his preface, however, Lotka expressly notes that the spirit of his work is mathematical systematization:
It is hoped that the mathematical character of certain pages will not deter biologists and others […] from acquiring an interest in other portions of the book. […] I may perhaps confess that I have striven to infuse the mathematical spirit also into those pages on which symbols do not present themselves to the eye.Footnote 104
Similar formulations are found in Volterra's writings from 1926—although Volterra too does not describe his work as modeling or use the term 'model.' He does, however, set out the reasons for constructing a simplified representation, that is, a representation that reduces biological complexity and only provides an "approximate image" ("immagine approssimata") of this:
In order to deal with the question [of predation] mathematically, it is better to start from hypotheses that, even if they distance themselves from reality, give an approximate image of it. Even if the representation will be, at least at first, coarse, […] it will be possible to apply the calculation […]. [Hence it is] advisable […] to schematize the phenomenon by isolating the actions to be examined, assuming that they work alone and neglecting the others.Footnote 105
Volterra addresses the problem of complexity by abstracting from it: the various elements have to be isolated in order to be represented mathematically. This is in keeping with Lotka's appeal to systematization and with Rashevsky's approach—although Rashevsky explicitly defines his activity as modeling.
Whereas, in the 1920s, the term 'model' was only rarely used explicitly for the procedures of the abstraction and mathematical representation of certain well-selected (biological) processes, this situation changed decisively in the 1950s and 1960s. The Proceedings of the Fourteenth Symposium in Applied Mathematics of the American Mathematical Society (1961) is devoted entirely to "Mathematical Problems in the Biological Sciences," and almost all the contributors describe their activity as 'modeling' or explicitly use the term 'model.' A few passages from the Proceedings should make this clear:
(1)

"[…] [one can] show how a particular model is formulated mathematically."Footnote 106

(2)

"In all these respects our model idealizes reality […]. [The drawn] conclusions […] with respect to the model are of physical interest only insofar as they do not depend too grossly on these specific features of the model."Footnote 107

(3)

"One of the great advantages of setting up model biochemical systems is that they can be tested in new situations with little difficulty."Footnote 108
Against the background of this frequent use of model vocabulary, it becomes apparent that the sense of the term 'model' differs considerably depending on whether it appears in a purely mathematical context or in the context of applied mathematics (in physics, biology, or in other disciplines). In the mathematics of the 1930s, the term 'model' was given a particular molding: here, it is defined as the 'theoretical realization' of a formal axiomatic system. Also in physics and biology the term underwent a clarification in the first half of the twentieth century; however, this differs considerably from the mathematical convention: in the natural sciences the mathematical model now designated a local, temporary mathematical abstraction of complex processes. Moreover, the term 'model' no longer appeared alone but as part of a terminological network: it was associated with other terms that already referred to the process of abstraction, such as 'theory,' 'analogy,' 'idealization,' and 'representation.'
V. 1940s: Lévi-Strauss and Mathematical Models in Anthropology
In the twentieth century, this new conception of mathematical modeling—as a 'translation' of carefully selected 'specific features'—was not unique or limited to the discourse of the natural sciences. This is to be seen in the writings of Claude Lévi-Strauss (1908–2009), whose work was essential for the development of structural anthropology. His book Les structures élémentaires de la parenté (The Elementary Structures of Kinship), published in 1949, is considered one of the most important anthropological works on kinship of the period.Footnote 109 In this work Lévi-Strauss draws directly on the help of the mathematician André Weil to grasp the marriage customs of the Murngin of northern Australia as a coherent system of the exchange of women, and thus to decipher the various structures of kinship.Footnote 110 The empiricism of possible and impossible marriage ties seems too complex to be reduced to general laws and thus rules of combination. The ethnologist therefore had to limit himself to writing lists of commandments and prohibitions as well as descriptions of the observed relations, and could at best compile statistics. The mathematician Weil, however, kept himself at a distance as much from the qualitative descriptions of the ethnographer as from the quantitative assessment of social behavior. Instead, he enlisted the concept of the mathematical groupFootnote 111: first, he selected the characteristic permutations of the phenomenon at hand to then classify these in terms of their algebraic properties and deduce the group that enclosed them. Weil remarks:
The most difficult thing for the mathematician, when it comes to applied mathematics, is often to understand what is at issue and to translate the data of the question into his own language. Not without difficulty, I finally saw that it all came down to studying two permutations and the group they generate.Footnote 112
Concretely, he begins with the observation that the Murngin are divided into marriage classes and that each man or each woman can seek his or her marriage partner only in certain classes that correspond to his or her own class. Membership of a class is determined by one's ancestry, so that the alliance of the parents dictates the possible alliances of the son and daughter. Weil assumes four classes and identifies first the four corresponding marriage types of the parents, then the marriage types of the sons and of the daughters derived from these. To these three series, in which the marriage type of the sons and of the daughters is already in a relation of permutation to the marriage type of the parents, he then adds specific conditions, for instance that each man may marry the daughter of his mother's brother. The types and the conditions, or the resulting possible constellations for son and daughter, are translated by Weil into an algebraic description, which in turn is subjected to certain hypotheses and in this way developed further. In the end he obtains two function formulas (one each for son and daughter), which together define the structures of the marriage system, and which should provide an answer with regard to both possible and impossible alliances.Footnote 113 The (utopian) long-term goal of this mathematically processed ethnology is to describe the marriage behavior and the resulting kinship systems of a large number of societies by means of algebraic formulas, and thus to guarantee a formal comparability. The precondition remains, however, that a manageable number of permutations can be identified, and that the added conditions have a broad validity (–neither could be guaranteed for the investigation of modern Western societies, for example).
When Weil describes applying mathematical structures to structural anthropology as a translation into one's own language, he is clearly borrowing or drawing on the common understanding of 'model' in the sciences of the time. This becomes evident in an explicit way when Lévi-Strauss, in the chapter "Social Structure" of his book Structural Anthropology,Footnote 114 complements the concept of structure with the concept of model, whose definition he adopts in the form of a quotation from John von Neumann and Oskar Morgenstern's book Theory of Games and Economic Behaviour (1944):
Such models [as games] are theoretical constructs with a precise, exhaustive and not too complicated definition; and they must be similar to reality in those respects which are essential in the investigation at hand. To recapitulate in detail: The definition must be precise and exhaustive in order to make a mathematical treatment possible. The construct must not be unduly complicated so that the mathematical treatment can be brought beyond the mere formalism to the point where it yields complete numerical results. Similarity to reality is needed to make the operation significant. And this similarity must usually be restricted to a few traits deemed 'essential' pro tempore—since otherwise the above requirements would conflict with each other.Footnote 115
By taking up this model concept from the publication of the mathematician and economist,Footnote 116 Lévi-Strauss succeeds in strengthening his approach in three respects: First he reconciles the formalism and universalism of mathematics with the ongoing ethnographic observation of the richly detailed and changeable empirical phenomena by promoting the selective choice of significant aspects and thereby the transition to abstraction, while nevertheless insisting, with von Neumann and Morgenstern, on a "[s]imilarity to reality."
Second, he is able to do justice, via the legitimation of the game as a model, to the connection between necessity and arbitrariness, for example in his study of kinship systems. That is, he need relinquish neither the rational claim nor the contingency of the cultural phenomena. With the help of the model, the kinship relations become recognizable as a generalizable system made up of independent parts, precisely because this kind of modeling can describe the diverse and processual "form" of reality as an "action of laws which are general but implicit."Footnote 117
Third and finally, the structuralist approach is conceived and legitimized as a strategic intervention of the scientist in the empirical data. In order to obtain an instructive modeling, both the ethnologist and the scientist must select wisely from the diversity of possible aspects. Hence, the object of ethnology is not a concrete family (or a concrete community of families), but the abstract relations between elements of what in the different cultures is recognized as a family.Footnote 118 The social structure is not defined inductively but must be read from the constructed model. While the hypothetical prototype in ethnology aims at an "empirical knowledge of the social phenomena," these are not objectively given but are only inferred with the help of modeling.Footnote 119 To achieve this it is important to limit the case examples and the aspects to be considered in order to obtain the striven for meaningful simplification and to transpose the observations into a systemic context—that is, to a model in which developments can be experimentally played through and universal structures deduced.
VI. Conclusion: The Model in the Twentieth Century: Fictitious, Fragmentary, Temporary
Lévi-Strauss's use of the term 'model' is remarkably similar to the way it was used at the same time in the natural sciences. Moreover, in the quotation from von Neumann and Morgenstern's book cited above, one can observe a terminological plurality that has already been noted: modeling demands "[s]imilarity to reality" and at the same time "formalism," although this similarity is usually "restricted" when choosing the traits to formalize.
To sum up, one can say that the range of meanings associated with the model concept had already been prepared by Maxwell's research and his use of the terms 'analogy' and 'model.' Maxwell emphasized the 'fictitiousness' of the object of his mathematical-physical model and the incomplete (or, for Mach, abstract) similarity that accompanied the physical analogy. In this way, scientific representation is provided with a crucial degree of latitude, which, rather than obstruct its heuristic function, strengthens it. Boltzmann, for his part, remarks that the mathematical models of the nineteenth century are 'tangible representations' that visualize abstract geometric objects—the ontological question is not present here.
For the period between 1850 and 1950, it can be tentatively stated that scientific representation moves away from the ideal of complete similarity in two respects: On the one hand, mathematical discourse distances itself from material mathematical models, and the term 'model' acquires a purely logical meaning that no longer depends on the similarity to a geometric or physical object. One can suppose that this specialization of the meaning was also prepared by Maxwell's understanding and use of the terms 'analogy' and 'model,' inasmuch as it was Maxwell's expansion that led Hilbert to discuss how, qua transformation, different systems could be derived from a theory. Nevertheless, starting in the 1930s, the concept of the model in mathematics becomes increasingly precise, since it was now grasped significantly more restrictively and independently of physical empiricism.
On the other hand, one can note that while in the discourse of the exact sciences the model operated as a shifting mediator between theory and reality, the model itself could be entirely temporary, as Maxwell observed. In the twentieth century this temporary character can be seen in the way the relation of the model to reality was to be understood as fragmentary and local (indeed, as a reduction of complexity). The scientific actors were well aware of this fragmentary, local relation of the model to reality. Here, one can detect a twist in the idea of the mathematical representation of 'reality': the models move away from the obligation to a complete representation of reality to become a productive tool of knowledge that can be readjusted according to the context. It is with this productivity of the model, with its local and fragmented character in mind that the contributions and interviews in this volume should be read.
* * *
The various contributions in this volume explore, from different perspectives, this productivity of the mathematical model and of modeling in mathematics. We start with a historical perspective, presenting both a long durée history and detailed case studies. We then continue in the second part with an examination of the epistemological and conceptual perspectives. Finally, the third part of the volume investigates not only how material mathematical models were produced, but also how they were exhibited.
Part 1: Historical Perspectives and Case Studies starts with the contribution by Frédéric Brechenmacher, which looks back at the early and parallel history of material mathematical models. At the center of Brechenmacher's investigation is the practice of the drawing and construction of mathematical models, a practice that was widespread in France starting in the late eighteenth century and still visible in the 1870s. Many studies on the golden age of material models have focused on the impressive models of higher mathematics from the period starting in 1860; however, in France the drawing of mathematical models of all kinds (i.e., beyond higher mathematics) goes back much further and became a well-established practice for the acquisition of geometric knowledge, particularly at the École polytechnique (which became so important at the end of the eighteenth century), and therefore in the teaching of technicians and engineers. The models of higher mathematics designed by prominent mathematicians partially break with this ideal of a general model-drawing practice, forcing it into the background. Brechenmacher's contribution corrects this by presenting model drawing as part of an important non-textual and practical tradition of (French) mathematics, while also identifying the central protagonists, model builders, and the communities in which the construction and the drawing of models took place. Finally, the author links the tradition of model drawing to the advance of the 'graphical method' and the related successful 'modelization' of empiricism at the end of the nineteenth century.
The following three contributions (by Klaus Volkert, David Rowe, and Tilman Sauer) provide detailed case studies of material mathematical models from the late nineteenth and early twentieth centuries. Klaus Volkert's contribution examines the spectrum and function of mathematical models in polytechnic schools using the example of the ETH Zürich in the second half of the nineteenth century. At the center of this study is the model collection that Wilhelm Fiedler assembled there in the 1860s as a professor of descriptive geometry and geometry of position (Geometrie der Lage). This collection was so highly esteemed by Walther Dyck that he invited Fiedler to describe it for the catalogue of an exhibition planned to accompany the conference of the German Mathematical Society in Nuremberg in 1892 (an invitation that Fiedler turned down). The author examines Fiedler's importance for the teaching with and the research on models. Models were traditionally found in polytechnic schools, where they played an important role in the education of technicians and engineers, and in this case also of teachers. The teaching of descriptive geometry was not based on theorems and demonstrations, but presented problems that were solved by means of drawing or by graphic approximation. Fiedler, however, decisively expanded the existing model collection by acquiring additional models (e.g., a series of teaching models by Jakob Schröder) and by working on the production of models himself. As the author is able to show, this was the case also with regard to models for objects of higher mathematics. Already in 1865 Fiedler designed a model of the Clebsch surface (a cubic surface with 27 straight lines)—hence a few years before Christian Wiener's model was made, which today is considered the first. In doing so, Fiedler made use of relief perspectives: a geometric practice that was closer to the practice of artists and architects than to that of mathematicians. His rod model is only an approximation of the geometric Clebsch surface; nevertheless, it demonstrates the importance of polytechnic schools with respect not only to their use of simple models in teaching but also to their handling of models of higher mathematics.
David E. Rowe's contribution addresses the models of complex surfaces (specifically quartic surfaces) designed by Julius Plücker in the 1860s. At that time these models of higher mathematics represented "the more exotic geometrical knowledge" (Rowe), and were of some interest to mathematicians in England, but also to Plücker's student Felix Klein, as well as to Klein's students—before being forgotten at the beginning of the twentieth century. The author reconstructs the early history of these models and their nameable epistemic function in the mathematics of the late nineteenth century. To this end, he initially examines the interaction between mathematics and optics research using the example of the geometric representation and analysis of rays with the help of line congruences in three-dimensional space. Of central importance in this field is Fresnel's wave surface, a model that arose as a derivation from a quartic equation for a wave front of light passing through biaxial crystals, which led to further research in the 1820s, for example in the work of William R. Hamilton, who developed a general theory of ray systems (as infinitely thin pencils of rays), and, later, in the work of Plücker. The path to Plücker's models passes via Ernst Kummer, who built on Hamilton's theory and developed it in a purely mathematical way for a large class of quartics, also designing thread models for these. The actual goal, however, and not a trivial one, was the general classification of quartic surfaces. This generalization was achieved by, among others, Sophus Liu, and as a result of the rethinking of models by Albert Wenker, Klein, and Klein's student Karl Rohn. Plücker's line geometry and his models of complex surfaces represent an important bridge for this progress in mathematical knowledge: they take up special quartics (that is, surfaces of degree four), which are enveloped by subsets of lines in a quadratic line complex. These central objects of line geometry are a degenerate type of the Kummer surface; but Plücker begins with canonical cases from which he systematically derives all other types. Klein and his student completed Plücker's models, and in this way were able to show the transition (by deformation) from Kummer surfaces to a number of central complex surfaces.
Tilman Sauer's contribution concentrates on a very specific type of model: the plaster models of curved surfaces by the Dutch geometer Jan Arnoldus Schouten. These were used by Schouten to illustrate the novel geometric concept of parallel transport, a concept developed in the framework of differential geometry for manifolds of an arbitrary number of dimensions. Sauer points out that, while this concept arose in a somewhat nonvisual mathematical setting (geometry of higher dimensions, n-dimensional manifolds and their associated curvature), Schouten, in order to assist the geometric Anschauung (intuition), turned to a material model to visualize geodesic transport. This material model was illustrative of a conceptual problem that was still being explored at the time; in that sense, the model's physical properties function epistemically—they not only help understand the abstract concept but may have played an important role for the conceptual development of Schouten's work.
The last three contributions in the first part deal with the transformation undergone by modeling during the later decades of the twentieth century in physics (Arianna Borrelli), 'applied' mathematics (Myfanwy E. Evans), and pure mathematics (Fernando Zalamea). Arianna Borrelli's contribution deals with models and symmetry principles in early particle physics. Borrelli discusses the development of theoretical practices between the 1950s and the early 1960s and presents examples of the complex relationship between mathematics and the conceptualization of physical phenomena. Indeed, a closer look at theoretical practices in this period reveals a tension between the employment of advanced mathematical tools and the 'modeling' of observation, when 'model' is understood as a construction enabling the fitting and predicting of phenomena. Due to this tension, the question arises whether it is even possible to make a general claim about the relationship between mathematics and models. This contribution, then, examines a general tension expressed at the time: an opposition between local mathematical constructs that fit phenomena (such as models) and those expressing the more general (hidden) principles of the constructs' coming-to-be (such as theories or structures).
The interview with Myfanwy E. Evans explores the connections between pure and applied mathematics and the research on materials. More concretely, Evans shows how these fields intersect with material models and animation software. Through a consideration of the tradition of constructing material models of periodic minimal surfaces—a tradition initiated by Hermann Amandus Schwarz and his student Edvard Rudolf Neovius in the last third of the nineteenth century and continued by Alan H. Schoen during the 1960s—Evans shows how these models help to understand the structure of human skin, and how this applied research, in turn, prompts a mathematical theory of entanglement. Accordingly, these models and their twenty-first century digital visualizations can be considered as epistemic objects, both for applied and pure mathematics.
Last but certainly not least, Fernando Zalamea presents in his short but thorough contribution the work of Alexander Grothendieck, who, according to Zalamea, explored the pendulum movement between the abstract and the concrete, the universal and the particular in mathematics. Zalamea stresses two basic directions that Grothendieck examines in the space of transition between archetypes (universal categorical constructions) and types (concrete models): on the one hand, projecting archetypes to types in the 1950s (in his work on the Tôhoku paper and the Riemann–Roch theorem) and, on the other, embedding types into archetypes in the 1980s (in the works Pursuing Stacks and Les Dérivateurs). This pendulum movement between the abstract and the concrete is also seen in Grothendieck's general remarks about models in Récoltes et semailles. Zalamea points out, however, that it is both the abstract and the concrete, the universal and the particular (not the choice between one or the other) that are necessary to nurture the mathematical imagination.
The four contributions in Part 2: Epistemological and Conceptual Perspectives present epistemological perspectives on the model and modeling, while also expanding the discussion to include new terms and conceptions. The first contribution, by Moritz Epple, presents a panoramic view of the history of abstract representation in the sciences of the nineteenth and early twentieth centuries. Here, Epple concentrates on a number of terms that were employed during this period, such as 'analogy,' 'interpretation,' 'image,' 'system,' and, last but not least, 'model.' By focusing on actors' categories and reviewing various protagonists (physicists, mathematicians, and philosophers such as Ludwig Wittgenstein, Heinrich Hertz, James Clerk Maxwell, Hermann von Helmholtz, Eugenio Beltrami, Felix Klein, and Felix Hausdorff), the author delineates the epistemic ruptures, continuities, and symmetries between these various concepts. Hertz, for example, believed in a correspondence between causally structured reality, the activity of the mind, and scientific theory formation; however, this correspondence was based on an epistemic symmetry of the relations in his 'images' and 'models.' On the other hand, at the end of the nineteenth century and, more strongly, at the beginning of the twentieth century, geometry underwent an epistemological rupture, whereby its 'systems' and 'models' no longer necessarily reflected reality as such. As Epple points out, with the rise and development of the various interpretations, systems, and images of non-Euclidean geometry, one was forced to reshape and restructure the relations between inequivalent mathematical representations of physical space.
José Ferreirós's contribution explores a similar theme but from a different perspective by concentrating specifically on mappings and models and their affinity to acts of abstraction and imagination, and on how mathematics contributed to modern thinking at the turn of the nineteenth to the twentieth century. What was the role of the term 'Abbildung' (mapping, representation) in the thought of Bernhard Riemann, Hermann von Helmholtz, or Richard Dedekind? What were the historical vicissitudes of the pictorial terms 'image' and 'representation,' 'Bild' and 'Abbildung' in the mathematics of this period? And how is this history reflected in theoretical physics—in Heinrich Hertz's reflections, for example, or in the conceptual and philosophical difficulties being encountered in physics and mathematics?
The contribution by Axel Gelfert deals with models from a more general perspective. For Gelfert, mathematical actions are mediated by symbol systems, notations, and formalisms, which actively shape mathematical practice. By stressing the role of mathematical practice and by reviewing the philosophies of this practice, this contribution examines the interweaving of notations, formalisms, and models in mathematics. This leads Gelfert to examine epistemic mathematical actions—that is, actions that can be considered as constitutive of mathematical practice. To answer in a concrete way what these epistemic actions in mathematics might be, Gelfert gives three main examples: the use of gestures and symbolic operations, the construction and use of material mathematical models, and the re-proving of mathematical theorems. Returning at the end of his paper to the issue of notation, the question arises whether notation can be considered as a long-term epistemic action. Moreover, while notations and formalisms, in order to function properly, may need to be aided by physical actions and material models, one can certainly ask how material models function in the long run with respect to formalism.
In the last contribution to the second part, Gabriele Gramelsberger describes the decline of Anschauung (intuition) in the nineteenth century and the subsequent declaration of Anschaulichkeit (palpable visuality) as a model in geometry. Gramelsberger surveys the debates on Immanuel Kant's concept of Anschauung, and follows these debates particularly in nineteenth century mathematics and twentieth century physics. Gramelsberger notes that the debate between Werner Heisenberg and Erwin Schrödinger, for example, can be reconstructed as a mismatching debate between Heisenberg's conception of Anschauung and Schrödinger's conception of Anschaulichkeit. While Heisenberg emphasized the loss of spatiotemporal Anschauung in the Kantian notion, Schrödinger ignored this loss in favor of the traditional spatiotemporal concept of (Newtonian) Anschaulichkeit. Moreover, while for a certain period—mainly in the mathematics of the nineteenth century—material models succeeded in replacing Anschauung by Anschaulichkeit, the loss of Anschauung in physics, especially in early quantum theory, was subsequently compensated for by formalism and—as in Gramelsberger's example—matrices. The author hence argues that in early quantum theory, in order to understand all possibilities of reality, one first needed to overcome certain notions inspired by geometric Anschauung.
The last part of this volume, Part 3: From Production Processes to Exhibition Practices, examines with three interviews the before and after of models—that is, how these models were produced (before they became finished models) and how they were presented (once they were ready). We start with an interview with Anja Sattelmacher, which partly continues the themes of the second part of the volume, dealing also with conceptions of Anschauung (intuition). The interview with Sattelmacher concentrates on the materiality of material mathematical models and on their processes of production. The interview has two interconnected foci: first, a consideration of how, during the nineteenth century, conceptions of Anschauung were to be seen as one of the goals of these models, that is, the visualizing of a mathematical formula; second, a detailed discussion of the models' materials and material techniques. At the center of this discussion is the question of how the choice of a material (such as paper, wire, or wax) influenced not only the production processes of the model, but also the epistemic values transmitted through them.
The interview with Ulf Hashagen examines the history of the numerous exhibitions of mathematical models, mainly in the second half of the nineteenth century and the first decades of the twentieth century. 'Exhibition' here refers not only to two exemplary exhibitions—the 1876 exhibition at the South Kensington Museum, London, and the 1893 exhibition at the Technische Hochschule München—but also to collections of models at various universities, such as the collection in Göttingen. How was the act of exhibiting mathematical models understood at the time? How did the manner of exhibiting mathematical material change during these decades? And how were the various agendas of the different disciplines at that time (engineering, mathematics, physics) reflected in and promoted by the use and presentation of models?
The last interview in this volume concerns not only future modes of presenting models, but also the future production of these material models. The interview with Andreas Daniel Matt examines the history of digital mathematical models at the end of the twentieth century. The IMAGINARY project developed by Matt and his team enables, one may claim, real-time mathematics—namely, digital models of surfaces presented within seconds in an interactive manner. The history of this computer program is more convoluted than one might think, however, and it is entangled with the history of the various exhibitions in which these digital models have been presented. If one considers the various exhibitions of material mathematical models during the nineteenth century—as discussed in the interview with Ulf Hashagen—the question arises whether IMAGINARY breaks with this former tradition? Or can one also detect certain continuities and common characteristics?
Translated by Benjamin Carter
Notes
1.

Bernd Mahr, "Modellieren: Beobachtungen und Gedanken zur Geschichte des Modellbegriffs," in Bild, Schrift, Zahl, ed. Sybille Krämer and Horst Bredekamp (Munich: Wilhelm Fink, 2003), 59–86, here 60: "in ähnlicher Weise zum semantischen, kombinatorischen und technischen Fundament unserer Kultur werden [könnten], wie dies die Zahlen durch die Mathematik und die Informationstechnik geworden sind […]." Whereas in the present volume the object area is limited to mathematical models (mainly, if not entirely, between 1850 and 1950), and the authors have mostly chosen a historical approach, the investigations carried out by Mahr, a mathematician and computer scientist, are geared to an epistemology of the model. Mahr takes cultural history as a starting point to develop a generally valid logical-formal description of 'the nature of the model.' See also: Bernd Mahr, "On the Epistemology of Models," in Rethinking Epistemology, vol. 1, ed. Günter Abel and James Conant (Berlin and Boston: de Gruyter, 2011), 301–52.

2.

Mahr, "On the Epistemology of Models," 255–59.

3.

Mahr, "Modellieren," 61: "ein Begriffswort ist, das etwas Abstraktes bezeichnet, das gesetzt ist und nicht vorgefunden wird;" "etwas Konkretes." For the English usage of the word, see the entry "Model" in The Oxford English Dictionary, vol. VI (Oxford: Clarendon Press, 1933), 568–69, as well as "model, n. and adj." in The Oxford English Dictionary, OED Online (Oxford University Press, December 2021): https://www.oed.com/view/Entry/120577?rskey=Hv9gMy&result=1&isAdvanced=false (accessed December 6, 2021).

4.

See: Andres Lepik, Das Architekturmodell in Italien 1335–1550, dissertation, series Römische Studien der Bibliotheca Hertziana, vol. 9 (Worms: Wernersche Verlagsgesellschaft, 1994)—on models in the process of designing and constructing Florence Cathedral, 59–89.

5.

On the history of crystallography, see: John G. Burke, Origins of the Science of Crystals (Berkeley: University of California Press, 1966); Henk Kubbinga, "Crystallography from Haüy to Laue: Controversies on the Molecular and Atomistic Nature of Solids," Acta Crystallographica Section A: Foundations of Crystallography 68, no. 1 (2012): 3–29. See also: Marjorie Senechal, "Brief History of Geometrical Crystallography," in Historical Atlas of Crystallography, ed. José Lima-de-Faria (Dordrecht, Boston, and London: Kluwer Academic Publishers, 1990), 43–59—on the paper models of crystals made by Nicolas Steno in 1669, 55.

6.

Lydie Touret, "Crystal Models: Milestone in the Birth of Crystallography and Mineralogy as Sciences," in Dutch Pioneers of the Earth Sciences, ed. Jacques L. R. Touret and Robert P. W. Visser (Amsterdam: Koninklijke Nederlandse Akademie van Wetenschappen, 2004), 43–58, here 57.

7.

On the historical and current use of models in the sciences, see: Soraya Chadarevian and Nick Hopwood, eds., Models: The Third Dimension of Science (Stanford: Stanford University Press, 2004). On scientific university collections: David Ludwig, Cornelia Weber, and Oliver Zauzig, eds., Das materielle Modell: Objektgeschichten aus der wissenschaftlichen Praxis (Paderborn: Fink, 2014). On science policies in the nineteenth century, see the exemplary study on the mathematician and model builder Walther Dyck in: Ulf Hashagen, Walther von Dyck (1856–1934): Mathematik, Technik und Wissenschaftsorganisation an der TH München (Stuttgart: Steiner, 2003). On the history of material mathematical models in Germany at the end of the nineteenth century, see: Anja Sattelmacher, Anschauen, Anfassen, Auffassen: Eine Wissensgeschichte Mathematischer Modelle (Wiesbaden: Springer, 2021).

8.

Less space is given over in this volume to model practices in England. On these practices, see: June Barrow-Green, "'Knowledge Gained by Experience': Olaus Henrici—Engineer, Geometer and Maker of Mathematical Models," Historia Mathematica 54 (2021): 41–76—especially on the model tradition in Britain, 57–63. It is important to stress that James Clerk Maxwell, whose conception of models and modeling will be dealt with extensively in this introduction, was also interested in material mathematical models. As Barrow-Green notes, the Cambridge Modelling Club, founded in 1873, "[which] had its first meeting in February the following year, was founded 'to promote the making of models, machines and drawings, illustrative of geometry,' and its members included [Arthur] Cayley […] and Maxwell (custodian of the models) […]" (ibid., 59). However, she concludes that "there was considerable interest in models of surfaces in Britain in the half-century between 1860 and 1910. But equally evident is the fact that only a small number of mathematicians were involved in making such models, and those that did so, did so only occasionally." (Ibid., 63).

9.

On material mathematical models, see for example the following exemplary books: Gerd Fischer, ed., Mathematical Models: From the Collections of Universities and Museums, 2 vols. (Braunschweig: Friedrich Vieweg und Sohn, 1986); and more recently: Institut Henri Poincaré, ed., Objets mathématiques (Paris: CNRS Éditions, 2017); Ernst Seidl, Frank Loose, and Edgar Bierende, eds., Mathematik mit Modellen: Alexander von Brill und die Tübinger Modellsammlung (Tübingen: Museum der Universität Tübingen MUT, 2018).

10.

This can be done only in a very cursory way in an introduction—also with regard to the research literature. Apart from the research already mentioned in the footnotes or still to be discussed, we would like to refer here to the following anthologies and individual studies: Hans von Freudenthal, ed., The Concept and Role of the Model in Mathematics and Natural and Social Sciences (Dordrecht: Springer, 1961); Gert Schubring, "Searches for the Origins of the Epistemological Concept of Model in Mathematics," Archive for History of Exact Sciences 71 (2017): 245–78. On the theory and philosophy of the model, see in addition: Mary B. Hesse, Models and Analogies in Science (London: Sheed and Ward Ltd., 1963); Herbert Stachowiak, Allgemeine Modelltheorie (Vienna: Springer, 1973); Klaus Hentschel, "Die Funktion von Analogien in den Naturwissenschaften, auch in Abgrenzung zu Metaphern und Modellen," in Analogien in Naturwissenschaften, Medizin und Technik, series Acta Historica Leopoldina, vol. 56, ed. Klaus Hentschel (Stuttgart: Wissenschaftliche Verlagsgesellschaft, 2010), 13–66; Axel Gelfert, How to Do Science with Models: A Philosophical Primer (Vienna: Springer, 2016); Lorenzo Magnani and Tommaso Bertolotti, eds., Springer Handbook of Model-Based Science (Dordrecht et al.: Springer, 2017). For a comparison between models in the natural sciences and in the arts: Horst Bredekamp, "Modelle der Kunst und der Evolution," in Debatte 2 (2005), issue: Modelle des Denkens, ed. Präsident der Berlin-Brandenburgischen Akademie der Wissenschaften and Sonja Ginnow: 13–20, https://edoc.bbaw.de/opus4-bbaw/frontdoor/index/index/year/2007/docId/498 (accessed December 2, 2021); Reinhard Wendler, Das Modell zwischen Kunst und Wissenschaft (Paderborn: Fink, 2013). For the most recent and extensive review on the role and epistemic function of models in science, see: Roman Frigg and Stephan Hartmann, "Models in Science," in The Stanford Encyclopedia of Philosophy (Spring 2020 Edition), ed. Edward N. Zalta, https://plato.stanford.edu/archives/spr2020/entries/models-science/ (accessed December 2, 2021).

11.

See: Ludwig Boltzmann, "Models," in Encyclopædia Britannica, 10th ed., vol. 30 (Edinburgh and London: Adam & Charles Black, 1902), 788–91. We (M.F./K.K.) presented the following remarks on Boltzmann's encyclopedia article at the conference "Models and Simulations 8" (March 15–18, 2018) at the University of Columbia in Columbia, South Carolina. For a more recent and systematic discussion of Boltzmann's text against the background of Maxwell's understanding of hypothesis, dynamical illustration, and model, see: Giora Hon and Bernard R. Goldstein, "Maxwell's Role in Turning the Concept of Model into the Methodology of Modeling," Studies in the History and Philosophy of Science 88 (2021): 321–33.

12.

Boltzmann, "Models," 788.

13.

We return to the concept of analogy with respect to models and modeling below.

14.

Boltzmann, "Models," 788–91.

15.

Ibid., 788: "Models in the mathematical, physical, and mechanical sciences are of the greatest importance."

16.

17.

Ibid. Here, Boltzmann initially names stationary mathematical models, later adding moving models that "show the origin of geometrical figures from the motion of others," for instance several thread models that show the origin of surfaces in moving lines.

18.

This is not to imply that this tradition began in Germany during the 1870s; one of its beginnings may be located in France as early as the 1800s, with the rise of the géométrie descriptive of Gaspard Monge. Mathematicians in England and Germany followed this tradition; and from the 1870s at the latest, one sees a lively modeling practice and also an ongoing discourse on mathematical models, as this introduction and this volume intend to show.

19.

Boltzmann, "Models," 789. Here is the complete quotation: "When the ordinate intersects the surface but once a single phase only of the body is conceivable, but where there is a multiple intersection various phases are possible, which may be liquid or gaseous. On the boundaries between these regions lie the critical phases, where transition occurs from one type of phase into the other. If for one of the elements a quantity which occurs in calorimetry be chosen—for example, entropy—information is also gained about the behaviour of the body when heat is taken in or abstracted." Here, one can claim that Boltzmann is suggesting making calculations on the model that would be too complex from a purely mathematical point of view.

20.

Moreover, Maxwell was not the first to construct such a model or to suggest this idea. During the 1860s James Thomson worked on data gathered by Thomas Andrews to make three dimensional graphs showing the relationship between the volume, temperature, and pressure of carbon dioxide, whether it was a gas or liquid. Maxwell was aware of their work. See: John Shipley Rowlinson, "The Work of Thomas Andrews and James Thomson on the Liquefaction of Gases," Notes and Records of the Royal Society of London 57, no. 2 (The Royal Society, 2003): 143–59.

21.

Josiah Willard Gibbs, "Graphical Methods in the Thermodynamics of Fluids," Transactions of the Connecticut Academy II (April–May 1873): 309–42; Gibbs, "A Method of Geometrical Representation of the Thermodynamic Properties of Substances by Means of Surfaces," Transactions of the Connecticut Academy II (December 1873): 382–404.

22.

James Clerk Maxwell, "Letter from Maxwell to Thomas Andrews, 15 July 1875," in Maxwell on Heat and Statistical Mechanics: On "Avoiding All Personal Enquiries" of Molecules, ed. Elisabeth Garber, Stephen G. Brush, and C. W. Francis Everitt (Bethlehem and London: Lehigh University Press and Associated University Press, 1995), 247–48, here 248 (emphasis M.F./K.K.).

23.

Boltzmann, "Models," 790. The full quotation is: "Here again it is perfectly clear that these models of wood, metal, and cardboard are really a continuation and integration of our process of thought; for, according to the view in question, physical theory is merely a mental construction of mechanical models, the working of which we make to ourselves by the analogy of mechanisms we hold in our hands, and which have so much in common with natural phenomena as to help our comprehension of the latter."

24.

Pierre Duhem, The Aim and Structure of Physical Theory [French original 1906] (Princeton: Princeton University Press, 1954), 55: "[…] the mind contemplates a whole group of laws; for this group it substitutes a very small number of extremely general judgements, referring to some very abstract ideas; it chooses these primary properties and formulates these fundamental hypotheses in such a way that all the laws belonging to the group studied can be derived by deduction that is very lengthy perhaps, but very sure. This system of hypotheses and deducible consequences, a work of abstraction, generalization and deduction, constitutes a physical theory in our definition." On the devaluation of the model—compared with, for instance, an analogical method, which Duhem recognizes as a heuristic method in the preliminary stages of theorization—see the fourth chapter, "Abstract Theories and Mechanical Models," in ibid.

25.

Boltzmann, "Models," 788.

26.

27.

In our reading of Boltzmann, we emphasize the heuristic function of models also for the scientific process of acquiring knowledge. Hon and Goldstein, on the other hand, understand Boltzmann's statements in the sense of a merely didactic function, also with reference to the term 'visualization' (Veranschaulichung), which Boltzmann uses in his article. We understand the terms Veranschaulichung and Anschauung in the nineteenth century in relation to the philosophy of Immanuel Kant, and hence, in relation to knowledge. Even if Kant's remarks on the role of Anschauung (intuition) for understanding lost their importance precisely as a result of new developments in mathematics in the nineteenth century, the German term Anschauung makes a broader claim in the sciences than the English 'visualization' or 'intuition.' See: Hon and Goldstein, "Maxwell's Role in Turning the Concept of Model into the Methodology of Modeling," 324.

28.

Boltzmann, "Models," 788–91, here 789.

29.

30.

Here, Maxwell is moving within a discussion that took place between the theoretically and hypothetically operating mechanico-molecular school (Pierre-Simon Laplace, Claude Louis Marie Henri Navier, Augustin Cauchy, Siméon Poisson) and the abstract, mathematical approach of an analytical mechanics (Joseph Louis Lagrange, Joseph Fourier). With the appeal to the facts of the experiment, Maxwell is taking up a third position in this conflict, thereby expanding the toolbox of physics. With the proclamation of a heuristic method of analogy as well as the geometric-graphic method, he expands physics once again. See on this: Robert Kargon, "Model and Analogy in Victorian Science: Maxwell's Critique of the French Physicists," Journal of the History of Ideas 30, no. 3 (July–September 1962): 423–36. See also: Mary Hesse, "Maxwell's Logic of Analogy," in The Structure of Scientific Inference (Berkeley: University of California Press, 2020), 259–82.

31.

James Clerk Maxwell, "On Faraday's Lines of Force" [1855/6], in James Clerk Maxwell: The Scientific Papers of James Clerk Maxwell, vol. I, ed. William Davidson Niven (Cambridge: Cambridge University Press, 1890), 156.

32.

Boltzmann, "Model," 790. The full quotation is as follows: "[…] Maxwell propounded certain physical theories which were purely mechanical so far as they proceeded from a conception of purely mechanical processes. But he explicitly stated that he did not believe in the existence in Nature of mechanical agents so constituted, and that he regarded them merely as means by which phenomena could be reproduced, bearing a certain similarity to those actually existing, and which also served to include larger groups of phenomena in a uniform manner and to determine the relations that hold in their case. The question no longer being one of ascertaining the actual internal structure of matter, many mechanical analogies or dynamical illustrations became available […]."

33.

Maxwell, "On Faraday's Lines of Force," 155–229, here 160.

34.

Ibid., 157: "to bring before the mind, in a convenient and manageable form, those mathematical ideas which are necessary to the study of the phenomena of electricity."

35.

36.

37.

Ernst Mach, "Die Ähnlichkeit und die Analogie als Leitmotiv der Forschung," in Annalen der Naturphilosophie 1 (1902), ed. Wilhelm Oswald, 5–14, here 5: "Die Analogie ist jedoch ein besonderer Fall der Aehnlichkeit. Nicht ein einziges unmittelbar wahrnehmbares Merkmal des einen Objectes braucht mit einem Merkmal des anderen Objectes übereinzustimmen, und doch können zwischen den Merkmalen des einen Objectes Beziehungen bestehen, welche zwischen den Merkmalen des anderen Objectes in übereinstimmender, identischer Weise wiedergefunden werden. […] [M]an könnte dieselbe auch eine abstrakte Ähnlichkeit nennen." ["Analogy is, however, a special case of similarity. Not a single immediately perceptible feature of one object need coincide with a feature of another object, and yet relations can exist between the features of one object in exactly the same way as those between the features of the other object. […] [O]ne might also call this an abstract similarity."] (Unless otherwise noted, all translations of quotes by Benjamin Carter.) On Mach's understanding of analogy, see: Susan G. Sterrett, "Mach on Analogy in Science," in Interpreting Mach. Critical Essays, ed. John Preston, (Cambridge: Cambridge University Press, 2021), 67–83.

38.

See: James Clerk Maxwell, "On Physical Lines of Force," in The Scientific Papers of James Clerk Maxwell, vol. I, ed. William Davidson Niven (Cambridge: Cambridge University Press, 1890), 451–513, here 486: "I venture to say that anyone who understands the provisional and temporary character of this hypothesis, will find himself rather helped than hindered by it in his search after the true interpretation of the phenomena." (Emphasis M.F./K.K.).

39.

Maxwell, "On Faraday's Lines of Force," 158.

40.

Analogy can be understood as an aid in the development of a kind of provisional theory that can guide experimentation and mathematical treatment, and subsequently leads to a 'true' theory of electricity. Maxwell writes about the "laws" that he develops on the basis of Michael Faraday's research, the latter's idea of 'lines of force,' and with the help of the analogy of 'tubes,' ibid, 207: "In these six laws I have endeavoured to express the idea which I believe to be the mathematical foundation of the modes of thought indicated in the Experimental Researches. I do not think that it contains even the shadow of a true physical theory; in fact, its chief merit as a temporary instrument of research is that it does not, even in appearance, account for anything. […] Besides, I do not think that we have any right at present to understand the action of electricity, and I hold that the chief merit of a temporary theory is, that it shall guide experiment, without impeding the progress of the true theory when it appears." The physical analogy thus promoted knowledge but did not found knowledge. See on this: Kargon, "Model and Analogy in Victorian Science," 433–34.

41.

On the difference between model and analogy in physics at the turn of the nineteenth to the twentieth century, see: David Hugh Mellor, "Models and Analogies in Science: Duhem versus Campbell?" Isis 59, no. 3 (Autumn 1968): 282–90.

42.

Boltzmann, "Models," 791 (emphasis M.F./K.K.).

43.

John T. Blackmore, ed., Ludwig Boltzmann: His Later Life and Philosophy, 1900–1906. Book One: A Documentary History, series Boston Studies in the Philosophy of Science, vol. 168 (Dordrecht: Springer, 1995), 57.

44.

45.

Ludwig Boltzmann, "Über die Methoden der theoretischen Physik," in Katalog mathematischer und mathematisch-physikalischer Modelle, Apparate und Instrumente, ed. Walther Dyck (Munich: Wolf, 1892) 89–99, here: 90: "die Resultate des Calcüls anschaulich zu machen und zwar nicht blos für die Phantasie, sondern auch sichtbar für das Auge, greifbar für die Hand, mit Gips und Pappe."

46.

Ibid., 90–91: "In der Mathematik und Geometrie war es zunächst unzweifelhaft das Bedürfnis nach Arbeitersparnis, welches von den rein analytischen wieder zu den constructiven Methoden sowie zur Veranschaulichung durch Modelle führte. […] Welche Fülle von Gestalten, Singularitäten, sich aus einander entwickelnder Formen hat der Geometer von heute sich einzuprägen […]."

47.

Boltzmann, "Models," 789.

48.

Herbert Mehrtens has interpreted the so-called foundational crisis of mathematics at the turn of the nineteenth to the twentieth century as a complex interweaving of modernization tendencies and a counter-modern resistance, whereby elements of both directions can be found in part in one and the same mathematician. He considers the appeal to intuition and Anschauung as a sign of counter-modernity, whereas modernity can be described via the reference to language. See: Herbert Mehrtens, Moderne–Sprache–Mathematik: Eine Geschichte des Streits um die Grundlagen der Disziplin und des Subjekts formaler Systeme (Frankfurt am Main: Suhrkamp, 1990). Mehrtens's study is an important and original contribution to the history of nineteenth and twentieth century mathematics; however, it has also met with sharp criticism. The objects of this criticism are the almost exclusive limitation to the history of German mathematics and the strongly meta-mathematical perspective, which neglects the concrete mathematical developments of the period considered. See: Moritz Epple, "Styles of Argumentation in Late 19th Century Geometry and the Structure of Mathematical Modernity," in Analysis and Synthesis in Mathematics: History and Philosophy, ed. Michael Otte and Marco Panza (Dordrecht: Kluwer, 1997), 177–98; Moritz Epple, "Kulturen der Forschung: Mathematik und Modernität am Beginn des 20. Jahrhunderts," in Wissenskulturen: Über die Erzeugung und Weitergabe von Wissen, ed. Johannes Fried and Michael Stolleis (Campus: Frankfurt am Main, 2009), 125–58, Jeremy Gray, Plato's Ghost: The Modernist Transformation of Mathematics (Princeton: Princeton University Press, 2008), 9–12. In the English-speaking world, Gray's book Plato's Ghost describes, though from a broader point of view, also the 'modern' transitions in the late nineteenth century within mathematics and the mathematical sciences.

49.

While Mehrtens, in his book Moderne–Sprache–Mathematik, does not note the existence of material models, in a later article he does consider their multiple functions at the end of the nineteenth century. See: Herbert Mehrtens, "Mathematical Models," in Models: The Third Dimension of Science, ed. Soraya de Chadarevian and Nick Hopwood (Stanford: Stanford University Press, 2004), 276–306.

50.

For a general survey on Felix Klein's conception of visualization in mathematics and the role of three-dimensional models, see: Stefan Halverscheid and Oliver Labs, "Felix Klein's Mathematical Heritage Seen Through 3D Models," in The Legacy of Felix Klein, ed. Hans Georg Weigand, William McCallum, Marta Menghini, Michael Neubrand, and Gert Schubring, series ICME-13 Monographs (Cham: Springer, 2019), 131–52; Renate Tobies, Felix Klein: Visions for Mathematics, Applications, and Education (Cham: Birkhäuser, 2021), Sects. 2.4.3 and 4.1.1.

51.

See: Felix Klein, Vergleichende Betrachtungen über neuere geometrische Forschungen (Erlangen: A. Duchert, 1872), 6. On "Bewegungsgeometrie" see also: Hans Wussing, The Genesis of the Abstract Group Concept [1969] (Cambridge: MIT Press, 1984), 144–45.; Mehrtens, Moderne–Sprache–Mathematik, 60–67.

52.

Klein, Vergleichende Betrachtungen, 7: "Streifen wir jetzt das mathematisch unwesentliche sinnliche Bild ab, und erblicken im Raume nur eine mehrfach ausgedehnte Mannigfaltigkeit, also, indem wir an der gewohnten Vorstellung des Punctes als Raumelement festhalten, eine dreifach ausgedehnte. Nach Analogie mit den räumlichen Transformationen reden wir von Transformationen der Mannigfaltigkeit; auch sie bilden Gruppen."

53.

Mehrtens has pointed out that the abstraction/concretion opposition was in fact posited by the representatives of counter-modernity, such as Klein, whereas the modernizer Riemann does not make a qualitative distinction between purely mathematical products and instrumental constructions tied to empiricism (i.e., between concept and fact). See: Mehrtens, Moderne–Sprache–Mathematik, 66–67.

54.

Klein, Vergleichende Betrachtungen, 42: "Es gibt eine eigentliche Geometrie, die nicht, wie die im Texte besprochene Untersuchungen, nur eine veranschaulichte Form abstrakter Untersuchungen sein will. In ihr gilt es, die räumlichen Figuren nach ihrer vollen gestaltlichen Wirklichkeit aufzufassen, und (was die mathematische Seite ist) die für sie geltenden Beziehungen als evidente Folgen der Grundsätze räumlicher Anschauung zu verstehen." ["There is an essential geometry that does not wish to be only a visualized form of abstract investigations—like the investigations discussed in the text. Its problem is to grasp the spatial figures in their full figurative reality, and (which is the mathematical aspect) to understand the relations valid for them as evident consequences of the principles of spatial intuition."].

55.

Ibid.: "Ein Modell—mag es nun ausgeführt und angeschaut oder nur lebhaft vorgestellt sein—ist für diese Geometrie nicht ein Mittel zum Zwecke sondern die Sache selbst."

56.

Mehrtens, "Mathematical Models," 301: "[…] the models had, for Felix Klein and for a short time, been epistemic things; later he interpreted them as applied mathematics. But by the end of the century mathematicians took the models as imperfect representations of geometrical entities that could be used as an aid in communication about mathematics."

57.

See: Felix Klein, "Über den allgemeinen Fuctionsbegriff und dessen Darstellung durch eine willkürliche Curve," Mathematische Annalen 22 (1883): 249–59. For a discussion of these three methods, see: Klaus Thomas Volkert, Die Krise der Anschauung: Eine Studie zu formalen und heuristischen Verfahren in der Mathematik seit 1850 (Göttingen: Vandenhoeck & Ruprecht, 1986), 228–31.

58.

For the notions "precision mathematics" ["Präzisionsmathematik"] and "approximative mathematics" ["Approximationsmathematik"] and the difference that Klein makes between a mere intellectual study on the one hand and applied mathematics on the other, see: Felix Klein, Elementarmathematik vom höheren Standpunkte aus, vol. I: Arithmetik, Algebra, Analysis [1908], reprint of the 4th slightly revised edition from 1933 (Berlin and Heidelberg: Springer, 1968), 39; and Felix Klein, Elementarmathematik vom höheren Standpunkte aus, vol. III: Präzisions- und Approximationsmathematik [1902], reprint of the 3rd slightly revised edition from 1928 (Berlin and Heidelberg: Springer, 1968).

59.

Alexander Brill, "Über die Modellsammlung des mathematischen Seminars der Universität Tübingen (Vortrag vom 7. November 1886)," Mathematisch naturwissenschaftliche Mitteilungen 2 (1887), 69–80, here 77: "Dem Verfertiger eines Modells stand es frei, eine Abhandlung zu demselben zu schreiben, deren Veröffentlichung […] nicht wenig dazu anreizte, die oft mühsamen Rechnungen und Zeichnungen, welche der praktischen Ausführung zu Grunde lagen, durchzuführen. Öfter veranlaßte umgekehrt das Modell nachträgliche Untersuchungen über Besonderheiten des dargestellten Gebildes."

60.

Klein, Elementarmathematik vom höheren Standpunkt, vol. III, 8: "Da die Gegenstände der abstrakten Geometrie nicht als solche von der räumlichen Anschauung scharf erfaßt werden, kann man einen strengen Beweis in der abstrakten Geometrie nie auf bloße Anschauung gründen, sondern muß auf eine logische Ableitung aus dem als exakt vorausgesetzten Axiomensystem zurückgehen. Trotzdem behält aber auf der anderen Seite die Anschauung auch in der Präzisionsgeometrie ihren großen und durch logische Überlegungen nicht zu ersetzenden Wert. Sie hilft uns die Beweisführung leiten und im Überblick verstehen, sie ist außerdem eine Quelle von Erfindungen und neuen Gedankenverbindungen." ["As the objects of abstract geometry cannot be totally grasped by space intuition, a rigorous proof in abstract geometry can never be based only on intuition, but must be founded on logical deduction from valid and precise axioms. Nevertheless intuition maintains, also in precision geometry, its irreplaceable value that cannot be substituted by logical considerations. Intuition helps us to construct a proof and to gain an overview; it is, moreover, a source of inventions and new mental connections."] On the heuristic, but not knowledge-founding function of Anschauung (intuition) in Klein, see also: Volkert, Die Krise der Anschauung, 238–42.

61.

Other factors were the increasing arithmetization of mathematics and the discovery of monster functions. See: Volkert, Die Krise der Anschauung, 251–59; Michael Friedman, Kant and the Exact Sciences (Cambridge: Harvard University Press, 1992). See also: Michael Friedman, "Kant on Geometry and Spatial Intuition," Synthese 186, no. 1 (2012): 231–55; Christophe Bouriau, Charles Bravermann, and Aude Mertens, eds., Kant et ses grands lecteurs: L'intuition en question (Nancy: Presses Universitaires de Nancy, 2016).

62.

On the experimentalization of visual perception and the consequences of this for the understanding and the practice of the image, see: Jonathan Crary, Techniques of the Observer: On Vision and Modernity in the Nineteenth Century (Cambridge, et al.: MIT Press, 1990).

63.

The link between Anschauung and semiotics is rigorously updated in: Volkert, Die Krise der Anschauung. For a similar argument, but with the additional assumption of a historical change in the conception of Anschauung, see: Johannes Lenhard, "Kants Philosophie der Mathematik und die umstrittene Rolle der Anschauung," Kant-Studien 97 (2006), 301–17.

64.

Felix Klein, "Ueber eine neue Art der Riemannschen Flächen (Erste Mitteilung)," Mathematische Annalen 7 (1874): 558–66, here 559: "ein vollständiges Bild."

65.

Ibid., 558: "Bei der Untersuchung der algebraischen Funktionen y einer Veränderlichen x pflegt man sich zweier verschiedener anschauungsmäßiger Hilfsmittel zu bedienen. Man repräsentiert nämlich entweder y und x gleichmäßig als Koordinaten eines Punktes der Ebene, wo dann die reellen Werte derselben allein in Evidenz treten und das Bild der algebraischen Funktion die algebraische Kurve wird—oder man breitet die komplexen Werte der einen Variabeln x über eine Ebene aus und bezeichnet das Funktionsverhältnis zwischen y und x durch die über der Ebene konstruierte Riemannsche Fläche. Es muß in vielen Beziehungen wünschenswert sein, zwischen den beiden Anschauungsbildern einen Übergang zu besitzen." (Emphasis M.F./K.K.).

66.

The points of the dual curves correspond to the lines that are tangents to the original curves.

67.

Felix Klein, "Ueber eine neue Art der Riemannschen Flächen (Zweite Mitteilung)," Mathematische Annalen 10 (1876): 398–416, here 404.

68.

Felix Klein, "Ueber eine neue Art der Riemannschen Flächen (Erste Mitteilung)," 566: "man [erteilt] der Fläche eine […] ausgehende Verzweigung […], wie sie etwa, in symmetrischer Weise, durch die beigesetzte Zeichnung veranschaulicht ist."

69.

Ludwig Brill, ed., Catalog mathematischer Modelle, 3rd ed. (Darmstadt: Brill, 1885), iv: "[…] so wird es auch künftig das Bestreben der Verlagshandlung sein, denjenigen wissenschaftlichen Kreisen zu dienen, welche in dem Gebrauch von Modellen und Zeichnungen ein Hülfsmittel und eine kräftige Stütze zur Förderung und Belebung mathematischer Studien erblicken." (Emphasis M.F./K.K.).

70.

Walther Dyck, ed., Katalog mathematischer und mathematisch-physikalischer Modelle, Apparate und Instrumente (Munich: Wolf & Sohn, 1892), 176: "Die vorliegende Serie von Modellen ist entstanden im Anschluss an eine einleitende Vorlesung über Functionentheorie. […] Um den Verlauf einer Function einer complexen Veränderlichen in der Umgebung gewisser singulärer Stellen […] durch eine räumliche Darstellung zu veranschaulichen, sind in der bekannten Weise sowohl der reelle als auch der imaginäre Teil der Functionswerte über der Ebene des complexen Argumentes als Ordinaten aufgetragen. So wird jede Function eines complexen Argumentes durch zwei mit R und I bezeichnete Flächen versinnlicht, deren gleichzeitige Betrachtung ein Bild des Functionsverlaufes liefert." (Emphasis M.F./K.K.).

71.

For a detailed study on this, see: W. J. Thomas Mitchell, "What Is an Image," in Iconology (Chicago: Chicago University Press, 1986), 7–46.

72.

Brill, "Über die Modellsammlung des mathematischen Seminars der Universität Tübingen," 71: "[…] diese von den Synthetikern eine Zeit lang mit Vorliebe gepflegte Beschränkung auf das Wort konnte nicht ermangeln, zu einer Unterschätzung des Bildes und der technischen Fertigkeiten, die zu dessen Herstellung erforderlich sind, zu führen."

73.

Felix Klein, The Evanston Colloquium: Lecture on Mathematics (New York: American Mathematical Society, 1911), 109.

74.

Boltzmann, "Models," 789.

75.

See: the quotation introduced above from the end of Boltzmann's article: "It often happens that a series of natural processes […] may be expressed by the same differential equations." (Ibid., 791.) While, according to Hon and Goldstein, the physical understanding of modeling (i.e., the employment of models as a method of acquiring physical knowledge) had already been developed in Maxwell's late texts (esp. A Treatise on Electricity and Magnetism, 1873), this was only properly established by subsequent physicists, especially Oliver Lodge and George Francis Fitzgerrald. See: Hon and Goldstein, "Maxwell's Role in Turning the Concept of Model into the Methodology of Modeling," 327.

76.

Eugenio Beltrami, "Saggio di interpretazione della geometria non-Euclidea," in Opere matematiche di Eugenio Beltrami, vol. 1 (Milan: Mapli, 1868), 374–405.

77.

Henri Poincaré, "Les Géométries non Euclidiennes," Revue générale des sciences 2 (1891), 769–74. The section dealing with models of non-Euclidean geometries is called "Interprétation des géométries non-euclidiennes" (ibid., 771).

78.

Ibid.: "[…] construisons une sorte de dictionnaire, en faisant correspondre chacun à chacun une double suite de termes écrits dans deux colonnes, de la même façon que se correspondent dans les dictionnaires ordinaires les mots de deux langues dont la signification est la même […]. Prenons ensuite les théorèmes de Lowatchewski et traduisons-les à l'aide de ce dictionnaire comme nous traduirions un texte allemand à l'aide d'un dictionnaire allemand-français."

79.

Roberto Bonola, Non-Euclidean Geometry: A Critical and Historical Study of Its Development (Chicago: Open Court Publishing Company, 1912 [1906]), 134. See also: Jeremy Gray, "Anachronism: Bonola and non-Euclidean geometry," in Anachronisms in the History of Mathematics: Essays on the Historical Interpretation of Mathematical Texts, ed. Niccolò Guicciardini (Cambridge: Cambridge University Press, 2021), 281–306.

80.

Hermann Weyl, Raum Zeit Materie—Vorlesungen über Allgemeine Relativitätstheorie [1918], 3rd ed. (Berlin: Springer, 1919), 71–72: "Wir stellen jetzt ein Lexikon auf, durch das die Begriffe der Euklidischen Geometrie in eine fremde Sprache, die 'Nicht-Euklidische' übersetzt werden […]." In this connection, Weyl also quotes Bonola's work, but fails to mention the models of Beltrami.

81.

Alfred Tarski, "Über den Begriff der logischen Folgerung," in Actes du Congrès International de Philosophie Scientifique, VII Logique, Actualités scientifiques et industrielles 394 (Paris: Hermann & Cie, 1936), 1–11, here 8: "Es sei nun L eine beliebige Klasse von Aussagen. Wir ersetzen alle außerlogischen Konstanten, die in den Aussagen der Klasse L auftreten, durch entsprechende Variablen. […] Eine beliebige Folge von Gegenständen, die jede Aussagefunktion der Klasse L' erfüllt, wollen wir als Modell oder Realisierung der Aussageklasse L bezeichnen (in eben diesem Sinne wird üblicherweise vom Modell des Axiomensystems einer deduktiven Theorie gesprochen)."

82.

David Hilbert, Grundlagen der Geometrie (Leipzig: Teubner 1899), 1, 4, and passim—and also: "System von Strecken" ("system of segments") (8, 37), "System von Dingen" ("system of things") (26), "System von Punkten, Geraden und Ebenen" ("system of points, lines, and planes") (39), etc.

83.

Hilbert to Frege in: Gottlob Frege, Gottlob Freges Briefwechsel mit D. Hilbert, E. Husserl, B. Russell, sowie ausgewählte Einzelbriefe Freges (Hamburg: Meiner, 1980), 6: "jede Theorie kann stets auf unendliche viele Systeme von Grundelementen angewandt werden. Man braucht nur eine […] Transformation anzuwenden."

84.

Ibid.: "Wenn ich unter meinen Punkten irgendwelche Systeme von Dingen, z.B. das System: Liebe, Gesetz, Schornsteinfeger…, denke und dann nur meine sämtlichen Axiome als Beziehungen zwischen diesen Dingen annehme, so gelten meine Sätze, z.B. der Pythagoras auch von diesen Dingen."

85.

See: Moritz Epple, "Felix Hausdorffs Erkenntniskritik von Zeit und Raum," in Felix Hausdorff, Gesammelte Werke, vol. VI: Geometrie, Raum und Zeit, ed. Moritz Epple (Berlin: Springer 2021), 1–207, here 119–20.

86.

Felix Hausdorff, "Nichteuklidische Geometrie" in Felix Hausdorff, Gesammelte Werke, vol. VI: Geometrie, Raum und Zahl, ed. Moritz Epple (Berlin: Springer, 2021), 347–90.

87.

88.

Hausdorff makes the problem of space the subject of his inaugural lecture "Das Raumproblem" in Leipzig on July 4, 1903, as well as of the lecture "Zeit und Raum," which he gives the following winter semester. See: Epple, "Felix Hausdorffs Erkenntniskritik von Zeit und Raum," 141–42, and Felix Hausdorff, "Das Raumproblem," in Felix Hausdorff, Gesammelte Werke, vol. VI: Geometrie, Raum und Zahl, ed. Moritz Epple (Berlin: Springer, 2021) 279–304; Felix Hausdorff, "Zeit und Raum," in Felix Hausdorff, Gesammelte Werke, vol. VI: Geometrie, Raum und Zahl, ed. Moritz Epple (Berlin: Springer, 2021), 391–450.

89.

Felix Hausdorff, "Das Raumproblem," in Ostwalds Annalen der Naturphilosophie 3 (1903): 1–23, here 3: "Die Abwesenheit eines Widerspruchs ist durch geeignete Abbildungen der nichteuklidischen Geometrien auf euklidische Modelle und der euklidischen Geometrie auf die reine Arithmetik direkt bewiesen worden."

90.

Epple, "Felix Hausdorffs Erkenntniskritik von Zeit und Raum," 144.

91.

See, for example: Hausdorff, "Das Raumproblem" (1903), 8–9: "[…] man kann sagen: die sphärische Geometrie blieb unentdeckt, weil ihr euklidisches Modell, die Kugel, schon vorhanden war. Dass ein solches Modell auch für die pseudosphärische Ebene später gefunden wurde, in Gestalt der Flächen konstanter negativer Krümmung, erleichterte nicht ihre Erforschung […]." ["[…] one can say: spherical geometry remained undiscovered because its Euclidean model, the sphere, was already available. That such a model was later found also for the pseudospherical plane, in the form of a surface of constant negative curvature, did not make their research any easier […]."].

92.

Hausdorff, "Zeit und Raum," 417: "Man kann dies Abbildungsprincip als eine Art Übersetzung aus einer geometrischen Sprache in die andere veranschaulichen, unter Zugrundelegung eines Lexikons."

93.

Epple, "Felix Hausdorffs Erkenntniskritik von Zeit und Raum," 155.

94.

Hausdorff, "Zeit und Raum," 422: "weil sich für ihn unmittelbar ein euklidisches Modell auffinden lässt. Statt nämlich eine nichteuklidische Geometrie direct aus den zugehörigen Axiomen aufzubauen (wie es Bolyai und Lobatschefski […] gethan haben), wollen wir euklidische Bilder der nichteuklidischen Verhältnisse suchen, d. h. unser Transformationsprincip anwenden oder ein Lexikon ersinnen, vermöge dessen sich euklidische Sätze in nichteuklidische übertragen lassen."

95.

Epple, "Felix Hausdorffs Erkenntniskritik von Zeit und Raum," 155: "Sie bilden zugleich einen sehr frühen Beleg für eine Verwendung, die in Richtung der späteren mathematischen Modelltheorie weist." Epple points out, however, that Hausdorff also continued to use the earlier, material meaning of the term 'model' in his lecture "Zeit und Raum." Therefore, according to Epple, one cannot ultimately be certain "wie viel Gewicht Hausdorff zu diesem Zeitpunkt der abstrakten Rede von den (euklidischen) 'Modellen' beimaß." ["how much weight Hausdorff attached at this point to the abstract discourse of the (Euclidean) 'models.'"] Ibid., 156.

96.

See also: Paolo Mancosu, "Tarski on models and logical consequence," in The Architecture of Modern Mathematics: Essays in History and Philosophy, ed. Jose Ferreirós and Jeremy J. Gray (Oxford and New York: Oxford University Press, 2006), 209–37, esp. 210, footnote 2.

97.

Rudolf Carnap, Untersuchungen zur allgemeinen Axiomatik (Darmstadt: WBG, 2000), 94.

98.

Kurt Gödel, "Über die Vollständigkeit des Logikkalküls," in Kurt Gödel, Collected Works, vol. I: Publications 1929–1936 (Oxford: Oxford University Press 1986), 60–101, here 60.

99.

See: Brill, "Über die Modellsammlung des mathematischen Seminars der Universität Tübingen," 71: "Aber diese […] Beschränkung auf das Wort konnte nicht ermangeln, zu einer Unterschätzung des Bildes […] zu führen." ["[T]his limitation to the word […] could not fail to lead to an underestimation of the image […]."].

100.

…and the fact that no two cells are exactly alike (here, we follow Maya Shmailov, Intellectual Pursuits of Nicolas Rashevsky (Basel: Birkhäuser, 2016), 66ff.). See: Nicolas Rashevsky, "Some Theoretical Aspects of the Biological Applications of Physics of Disperse Systems," in Physics 1, no. 3 (1931): 143–53.

101.

Shmailov, Intellectual Pursuits of Nicolas Rashevsky.

102.

Rashevsky, "Some Theoretical Aspects of the Biological Applications of Physics of Disperse Systems," 144.

103.

Michael Weisberg, Simulation and Similarity (Oxford et al.: Oxford University Press, 2013), 3, 10, 11, 12, and passim.

104.

Alfred J. Lotka, Elements of Physical Biology (Baltimore: Williams and Wilkins, 1925), ix.

105.

Vito Volterra, "Variazioni e fluttuazioni del numero d'individui in specie animali conviventi," in Vito Volterra, Opere Matematiche: Memorie e Note, vol. 5: 1926–1940, (Rome: Accademia Nazionale Dei Lincei, 1962), 1–111, here 1–2: "Per poter trattare la questione matematicamente conviene partire da ipotesi che, pure allontanandosi dalla realtà, ne diano una immagine approssimata. Anche se la rappresentazione sarà, almeno in un primo momento, grossolana, pure, […], vi si potrà applicare il calcolo […]. Quindi conviene, […], schematizzare il fenomeno isolando le azioni che si vogliono esaminare, supponendole funzionare da sole e trascurando le altre."

106.

Herbert D. Landahl, "Mathematical models in the behavior of the central nervous system," in Mathematical Problems in the Biological Sciences (Rhode Island: American Mathematical Society, 1962), 1–16, here 1.

107.

Max Delbrück, "Knotting Problems in Biology," in Mathematical Problems in the Biological Sciences (Rhode Island: American Mathematical Society, 1962), 55–63, here 56.

108.

Arthur B. Pardee, "Biochemistry: Sterile or virgin for mathematicians?" in Mathematical Problems in the Biological Sciences (Rhode Island: American Mathematical Society, 1962), 69–82, here 73.

109.

On the mathematical approach of Lévi-Strauss and his understanding of model, see: Stephan Kammer and Karin Krauthausen, "Für einen strukturalen Realismus: Einleitung," in Make it Real: Für einen strukturalen Realismus, ed. Stephan Kammer and Karin Krauthausen (Diaphanes: Zürich, 2020), 7–79, here 56–64; Mauro W. Barbosa de Almeida, "Symmetry and Entropy: Mathematical Metaphors in the Work of Lévi-Strauss," in Current Anthropology 31, no. 4 (August–October 1990): 367–85; Jack Morava, "On the Canonical Formula of C. Lévi-Strauss," arXiv.org 2003, online: arXiv:math/0306174 (accessed December 2, 2021); Michael Bies, "Das Modell als Vermittler von Struktur und Ereignis: Mechanische, statistische und verkleinerte Modelle bei Claude Lévi-Strauss," in Forum Interdisziplinäre Begriffsgeschichte 5, no. 1 (2016), 43–54, online: https://www.zfl-berlin.org/files/zfl/downloads/publikationen/forum_begriffsgeschichte/ZfL_FIB_5_2016_1_Bies.pdf (accessed December 2, 2021).

110.

See: André Weil, "Appendix to Part One: On the Algebraic Study of Certain Types of Marriage Laws (Murngin System)," in Claude Lévi-Strauss, The Elementary Structures of Kinship (Boston: Beacon Press, 1969), 221–29.

111.

A group is a set of elements A together with an associated action, such that the four following axioms are fulfilled: closure, associativity, the existence of an identity element, and the existence of an inverse. An intuitive example is the set of integer numbers with addition. Weil uses the various characteristics of the permutation group. On the history of group theory in mathematics, see: Wussing: The Genesis of the Abstract Group Concept.

112.

André Weil, Œuvres Scientifiques—Collected Papers, vol. 1, 1926–1951 (New York et al.: Springer, 1979), 563–64, here 563: "Le plus difficile pour le mathématicien, lorsqu'il s'agit de mathématique appliquée, est souvent de comprendre de quoi il s'agit et de traduire dans son propre langage les données de la question. Non sans mal, je finis par voir que tout se ramenait à étudier deux permutations et le groupe qu'elles engendrent." The selection of the decisive permutations from the manifold of the appearances is the first step of the analysis. The process of modeling is then developed further by the precise characterization of the permutations (are they associative or have an inverse?), which basically represent selected conditions of reality (e.g., that a man may marry the daughter of his mother's brother). Weil shows that in the case of the Murngin the two permutations found are interchangeable that is, commute and follow the mathematical definition of an abelian group. In this way, the system of kinship is formalized.

113.

See the confident conclusion in: Weil, "Appendix to Part One: On the Algebraic Study of Certain Types of Marriage Laws (Murngin System)," 226: "By means of these formulas, all the questions relating to this marriage law can easily be submitted to arithmetic examination." The formulas describe the various permutations.

114.

Claude Lévi-Strauss, Structural Anthropology (New York: Basic Books, 1963), 277–323.

115.

John von Neumann and Oskar Morgenstern, Theory of Games and Economic Behaviour (Princeton: Princeton University Press, 1944), 32–33, quoted in Claude Lévi-Strauss, "Social Structure," in Claude Lévi-Strauss, Structural Anthropology (New York: Basic Books, 1963), 277–323, here 316, footnote 3. The interpolation in brackets is by Lévi-Strauss.

116.

On the history and philosophy of the use of models in economics, see: Mary S. Morgan, The World in the Model: How Economists Work and Think (Cambridge: Cambridge University Press, 2012).

117.

Claude Lévi-Strauss, "Structural Analysis in Linguistics and in Anthropology," in Claude Lévi-Strauss, Structural Anthropology (New York: Basic Books, 1963), 31–54, here 34.

118.

For the ethnologist, the family is not a biological but a social fact and should be described in terms of the functional relations that constitute it. See: ibid., 51: "Thus, it is not the families (isolated terms) which are truly 'elementary,' but, rather, the relations between those terms." Accordingly, kinship systems are "symbolic systems" (ibid.).

119.

Ibid., 31. See also: Lévi-Strauss, "Social Structure," 280: For Lévi-Strauss, it continues to hold that "there is a direct relationship between the detail and concreteness of ethnographical description and the validity and generality of the model which is constructed after it." Finally, the model should make the facts "immediately intelligible" (ibid.).
Acknowledgements
The authors acknowledge the support of the Cluster of Excellence "Matters of Activity. Image Space Material" funded by the Deutsche Forschungsgemeinschaft (DFG, German Research Foundation) under Germany's Excellence Strategy—EXC 2025-390648296.
We would like to thank our authors and interview partners for their wonderful contributions and for their patience. We thank also warmly Benjamin Carter for his careful copyediting and translations and Julian Kutsche and Elisabeth Rädler for their extremely helpful support during the last stages of preparing the manuscript.
Last but not least, we would like to remember a dear colleague and wonderful scholar who wrote for many years on the theory of models and who was the inspiration behind the idea for this volume: Bernd Mahr (1945–2015), a mathematician and professor for theoretical computer science at Technische Universität Berlin as well as (among many other things) the project leader of the research group "Models in Gestaltung" at the Cluster of Excellence "Image Knowledge Gestaltung. An Interdisciplinary Laboratory."
Rights and permissions
Open Access This chapter is licensed under the terms of the Creative Commons Attribution 4.0 International License (http://creativecommons.org/licenses/by/4.0/), which permits use, sharing, adaptation, distribution and reproduction in any medium or format, as long as you give appropriate credit to the original author(s) and the source, provide a link to the Creative Commons license and indicate if changes were made.
The images or other third party material in this chapter are included in the chapter's Creative Commons license, unless indicated otherwise in a credit line to the material. If material is not included in the chapter's Creative Commons license and your intended use is not permitted by statutory regulation or exceeds the permitted use, you will need to obtain permission directly from the copyright holder.
About this chapter
Cite this chapter
Friedman, M., Krauthausen, K. (2022). How to Grasp an Abstraction: Mathematical Models and Their Vicissitudes Between 1850 and 1950. Introduction. In: Friedman, M., Krauthausen, K. (eds) Model and Mathematics: From the 19th to the 21st Century. Trends in the History of Science. Birkhäuser, Cham. https://doi.org/10.1007/978-3-030-97833-4_1