Abstract
The definition of the narrow-neck aneurysm in the literature is described. As the easiest to be treated endovascularly among all eight types of aneurysms, the narrow-neck aneurysm is introduced along with a discussion of the most basic principles and techniques for aneurysm embolization. The topics of interest include access establishment, pre-embolization angiogram imaging, embolization view determination, microcrater selection, catheterization of the aneurysms, coil selection, and deployment. Some of the new techniques, such as 3D printing techniques, are also discussed.
Other than the procedural techniques, assessment of the embolization result is also an important topic discussed. The most commonly used Raymond-Roy occlusion classification and its relationship with the long-term embolization outcome are reviewed in detail. The predictors of long-term outcomes of embolization reported in the literature are introduced.
Keywords
Narrowed neck

Basic principles

Access

Coils

Microcatheter

3D printing techniques

Raymond-Roy classification

Outcome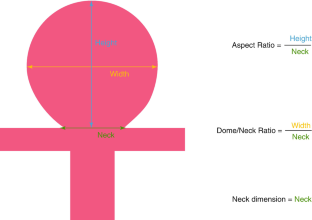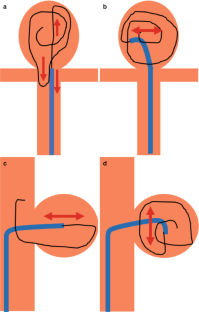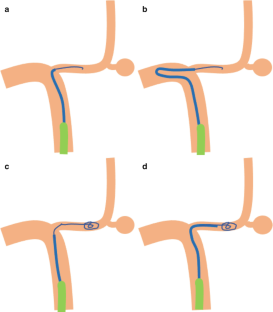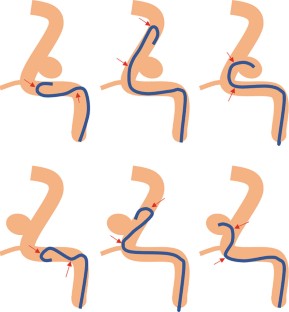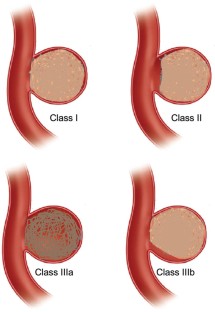 References
Ohshima T, Miyachi S, Matsuo N, Kawaguchi R, Maejima R, Takayasu M. A novel approach involving a microcatheter tip during aneurysmal coil embolization: the gamma (gamma) tip method. Interv Neuroradiol. 2019;25(6):681–4.

Ohshima T, Shamim Ul Haq S, Miyachi S, et al. Usefulness of modified pigtail-shaped microguidewire guidance for microcatheter navigation in difficult vasculatures during neuroendovascular interventions. Nagoya J Med Sci. 2018;80(4):551–7.

Cho YD, Rhim JK, Park JJ, et al. Microcatheter looping to facilitate aneurysm selection in coil embolization of Paraclinoid aneurysms. Korean J Radiol. 2015;16(4):899–905.

Xiaoxi Z, Jing C, Qinghai H, Jianmin L, Bo H, Dongwei D. Microcatheter looping technique facilitates the embolization of complex intracranial aneurysms with an acute angle branch incorporated into the sac. World Neurosurg. 2017;100:56–61.

Xu Y, Tian W, Wei Z, et al. Microcatheter shaping using three-dimensional printed models for intracranial aneurysm coiling. J Neurointerv Surg. 2020;12(3):308–10.

Namba K, Higaki A, Kaneko N, Nemoto S, Kawai K. Precision microcatheter shaping in vertebrobasilar aneurysm coiling. Interv Neuroradiol. 2019;25(4):423–9.

Wu YF, Yang PF, Shen J, et al. A comparison of the hemodynamic effects of flow diverters on wide-necked and narrow-necked cerebral aneurysms. J Clin Neurosci. 2012;19(11):1520–4.

Pierot L, Biondi A, Narata AP, et al. Should indications for WEB aneurysm treatment be enlarged? Report of a series of 20 patients with aneurysms in "atypical" locations for WEB treatment. J Neuroradiol. 2017;44(3):203–9.

Mascitelli JR, Moyle H, Oermann EK, et al. An update to the Raymond-Roy occlusion classification of intracranial aneurysms treated with coil embolization. J Neurointerv Surg. 2015;7(7):496–502.

Stapleton CJ, Torok CM, Rabinov JD, et al. Validation of the modified Raymond-Roy classification for intracranial aneurysms treated with coil embolization. J Neurointerv Surg. 2016;8(9):927–33.

Mendenhall SK, Sahlein DH, Wilson CD, et al. The natural history of coiled cerebral aneurysms stratified by modified Raymond-Roy occlusion classification. World Neurosurg. 2019;128:e417–26.

Sluzewski M, van Rooij WJ, Slob MJ, Bescos JO, Slump CH, Wijnalda D. Relation between aneurysm volume, packing, and compaction in 145 cerebral aneurysms treated with coils. Radiology. 2004;231(3):653–8.

Murayama Y, Nien YL, Duckwiler G, et al. Guglielmi detachable coil embolization of cerebral aneurysms: 11 years' experience. J Neurosurg. 2003;98(5):959–66.

Chalouhi N, Dumont AS, Hasan D, et al. Is packing density important in stent-assisted coiling? Neurosurgery. 2012;71(2):381–6. discussion 386–7

Griessenauer CJ, Adeeb N, Foreman PM, et al. Impact of coil packing density and coiling technique on occlusion rates for aneurysms treated with stent-assisted coil embolization. World Neurosurg. 2016;94:157–66.

Sousa EB, Brandao LFS, Tavares CB, Brito J, Kessler IM. Importance of the first coil in the embolization of intracranial aneurysms : a case control study. Clin Neuroradiol. 2019;29(4):733–40.

Misaki K, Uchiyama N, Nambu I, et al. Optimizing the volume of the initial framing coil to facilitate tight packing of intracranial aneurysms. World Neurosurg. 2016;90:397–402.

Ishida W, Sato M, Amano T, Matsumaru Y. The significant impact of framing coils on long-term outcomes in endovascular coiling for intracranial aneurysms: how to select an appropriate framing coil. J Neurosurg. 2016;125(3):705–12.

Greve T, Sukopp M, Wostrack M, Burian E, Zimmer C, Friedrich B. Initial Raymond-Roy occlusion classification but not packing density defines risk for recurrence after aneurysm coiling. Clin Neuroradiol. 2021;31(2):391–9.
Case Illustration
Case Illustration
Case 8.1 Basic Steps for Primary Coiling Embolization
Case Pearls
1.

3D angiogram is needed to identify the good working trajectories for embolization.

2.

The working (embolization) views need to show the aneurysm neck and its relationship with parent vessels clearly to avoid hidden/unrecognized coil/device malposition.

3.

Correct coil size selection is pivotal for good outcome.

4.

Good neck framing is important to prevent neck residual and coil migration/protrusion.

5.

The greater the framing coil percentage, the more stable the framing structure.

6.

Usually, there is no need for any antiplatelet treatment given the small exposure of the coil to lumen.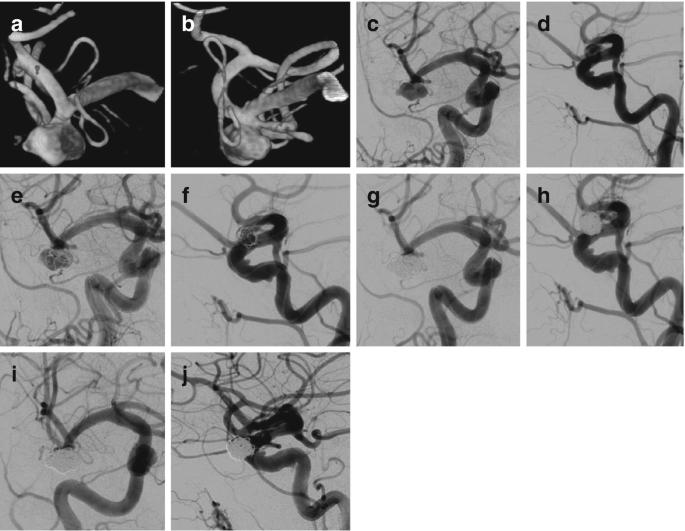 Case 8.2 Good Neck Coverage Is the Priority of Primary Coiling
Case Pearls
1.

Narrow neck is relatively easy to get good neck coverage and dense coil filling.

2.

Primary coiling is often the first choice for narrow-neck aneurysm embolization.

3.

Size of the framing coil dictates the neck coverage.

4.

The tip of the microcatheter should be deep enough if the aneurysm size allows, even loop back to avoid microcatheter kickback/herniation and increase the chance of filling all different compartments if needed.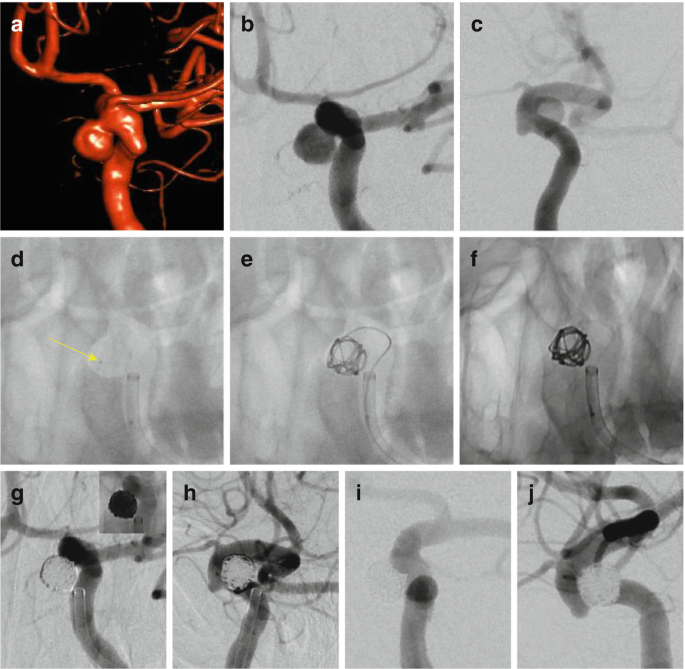 Case 8.3 Treatment of Ruptured Multiple Aneurysms
Case Pearls
1.

Individualize the plan for each case of multiple aneurysms based on SAH pattern, aneurysm morphology, available treatment techniques, and procedure-associated risk profiles.

2.

Quickly secure the culprit aneurysm, and avoid perfect radiographic result. Time of the procedure is directly associated with clinical outcome.

3.

It is acceptable to treat the culprit aneurysm only if it is convinced.

4.

Surgical clipping is preferred by author for ruptured MCA aneurysm if SAC or FD is needed given the respective risk profiles.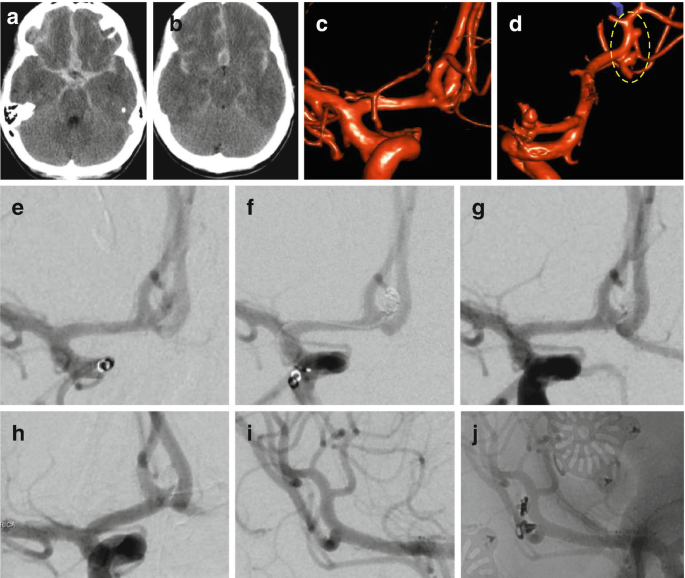 Case 8.4 Primary Coiling of Very Distal Callosomarginal Artery Aneurysm
Case Pearls
1.

More superficial intracranial aneurysms, such as MCA and ACA/pericallosal/callosomarginal aneurysms, are appropriate for surgical clipping given the risk profile of different treatments.

2.

Primary coiling for narrow-neck distal aneurysm is also a good option with low risks.

3.

Technological advancement made other options, such as FD, a good choice for distal wide-neck aneurysms.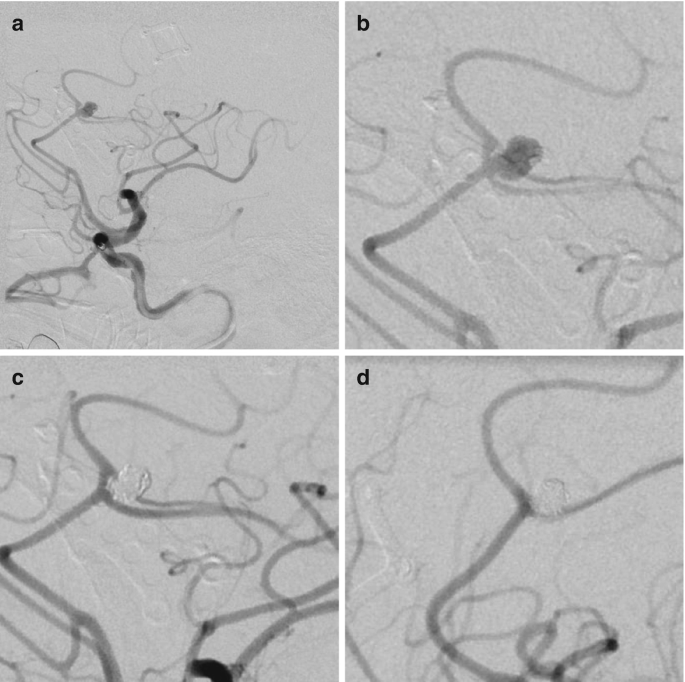 Case 8.5 Narrow-Neck Aneurysm Treated with Flow Diverter
Case Pearls
1.

FD stent placement is easier than primary coiling technically in some situations; it may be a better option for narrow-neck aneurysm if it is available.

2.

Less procedure time and radiation with FD device placement than primary coiling for some cases.

3.

Primary coiling is preferred over FD device for ruptured aneurysm given the risks associated with DAPT.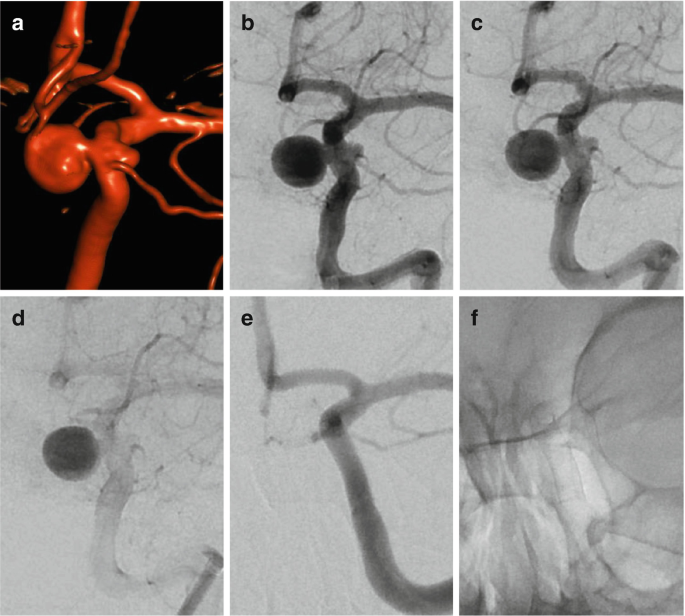 Case 8.6 Intrasaccular Flow Diverter for a Narrow-Neck Aneurysm
Case Pearls
1.

ISFD embolization is simpler than primary coiling with less time and radiation in some situations.

2.

It may be a better option for bifurcation narrow-neck aneurysm (off-label use) than primary coiling.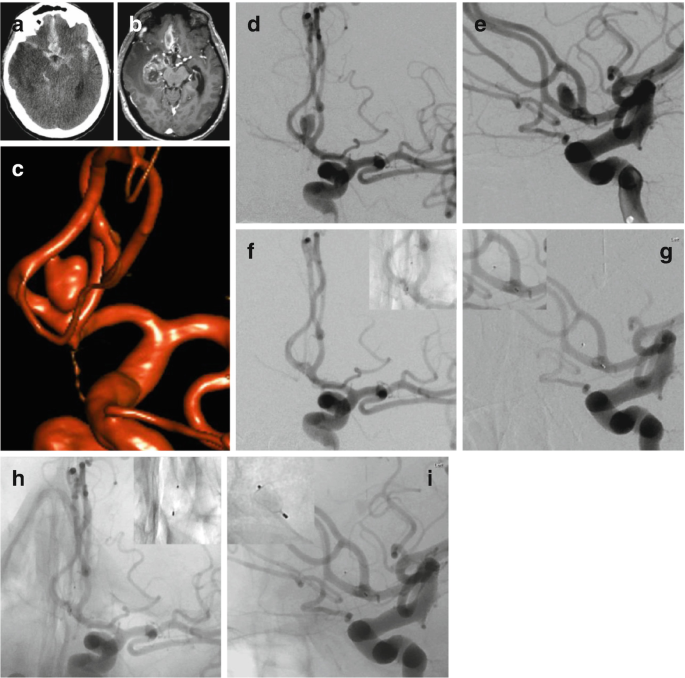 Copyright information
© 2022 The Author(s), under exclusive license to Springer Nature Switzerland AG
About this chapter
Cite this chapter
Ren, Z. (2022). Narrow-Neck Aneurysms. In: Eight Aneurysms. Springer, Cham. https://doi.org/10.1007/978-3-030-97216-5_8
DOI: https://doi.org/10.1007/978-3-030-97216-5_8

Published:

Publisher Name: Springer, Cham

Print ISBN: 978-3-030-97215-8

Online ISBN: 978-3-030-97216-5

eBook Packages: MedicineMedicine (R0)