Abstract
All research aims to find, challenge, investigate, or push limits within a given field of knowledge. But what happens if, rather than viewing limits as inherent premises or side-effects of a research process, one activates them as tools? This chapter exemplifies a conceptual experiment with the methodological affordances of limits, through the classical Spinozian approach to affect. After introducing some relationships between limits and affects, it explores how one may actively use these types of affective occurrences within the specifics of an ethnography of Danish gangs. In particular it proposes three different modes of relation as focal points: outside-out, outside-in, and inside-out. In this context these modes correspond with an act of criminalisation, a process of censorship, and an intervention in social mobility, respectively. It concludes that the method of tracing one's encounters with limits allows for the construction of an archive of one's ways of relating to the field of study, as well as one's own processes of knowledge formation. This method facilitates the tracing of where and how one affects and is affected, making it easier to keep track of moments of discovery and more difficult to forget one's positionality. Thereby, it affords the potential for more ethical research practices.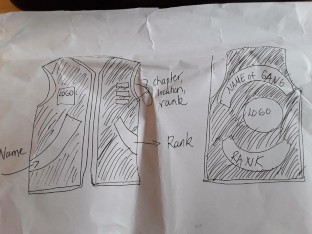 Notes
1.

Fifty-nine witnesses and many audience members.

2.

Although the "outside" world and our "inner" worlds are inextricably linked, and thus cannot be seen as isolated or impermeable vacuums, I find that marking the analytical distinction between what you and what something that is not you moves in the world to be beneficial for thinking about methodological questions such as agency, causality, positionality, scale, and dependency.

3.

These themes were also flamboyantly explored by the Australian new-wave/rock band INXS.

4.

I am grateful to Ceren Özselçuk for bringing this to my attention.

5.

6.

"Rockers" is an emic term for members of OMCs.

7.

As if I wasn't already intervening!
References
Ahmed, S. (2003). Affective economies. Social Text 79, 22(2), 117–139.

Bataille, G. (1988). Inner experience (L.A. Boldt, Trans.). State University of New York Press. (Original work published 1944).

Bataille, G. (2001). Eroticism (M. Dalwood, Trans.) Penguin Books. (Original work published 1957).

Becker, H. S. (1963). Outsiders: Studies in the sociology of deviance. Free Press Glencoe.

Büscher, M., Urry, J., & Witchger, K. (Eds.). (2011). Mobile methods. Routledge.

Deleuze, G., & Guattari, F. (1987). A thousand plateaus: Capitalism and schizophrenia (B. Massumi, Trans.). University of Minnesota Press. (Original work published 1980).

Deleuze, G. (1988). Spinoza: Practical philosophy (R. Hurley, Trans.). City Lights Books.

Det Kriminal Preventiv Råd (DKR). (2021). Bander og rockere i tal. Retrieved January 17, 2021, from https://dkr.dk/ungdomskriminalitet/bander/bander-i-tal/

Durkheim, E. (1895). Criminalité et santé sociale. Revue Philosophique, 39, 148–162.

Foucault, M. (1991). How an 'experience-book' is born. In Remarks on Marx: Conversations with Duccio Trombadori (R. J. Goldstein & J. Cascaito, Trans.) (p. 27). Cited in Jay, M. (1995). The limits of limit-experience: Bataille and Foucault. Constellations, 2(2), 155–174.

Jay, M. (1995). The limits of limit-experience: Bataille and Foucault. Constellations, 2(2), 155–174.

Jerne, C. (forthcoming). The diversity of solidarity economies: Transactions and property in Danish minority gangs. Economy and Society.

Knudsen, B. T., & Stage, C. (2015). Introduction: Affective methodologies. In B. T. Knudsen & C. Stage (Eds.), Affective methodologies: Developing cultural research strategies for the study of affect (pp. 1–22). Palgrave Macmillan.

Kuldova, T. (2019). How outlaws win friends and influence people. Palgrave Macmillan.

Lacan, J. (1954). Réponse aux commentaires de Jean Hyppolite sur la "Verneinung" de Freud. In J. Lacan. (1966). Écrits (pp. 381–399). Seuil. Cited in Evans, D. (1996). An introductory dictionary of Lacanian psychoanalysis (p. 18). Routledge.

Latour, B. (2004). How to talk about the body? The normative dimensions of Science Studies. Body & Society, 10(2–3), 205–229.

Marcus, G. E. (2010). Contemporary fieldwork aesthetics in art and anthropology: Experiments in collaboration and intervention. Visual Anthropology, 23(4), 263–277.

Malinowski B. (1926). Crime and custom in savage society. Rowman & Littlefield.

McIntosh, A.J., & Zahra, A. (2007). A cultural encounter through volunteer tourism: Towards the ideals of sustainable tourism? Journal of Sustainable Tourism, 15(5), 541–556.

Nielsen J. J. (2008). Sjakal Manifestet. Hells Angels MC Danmark. Retrieved May 28, 2020, from https://hells-angels.dk/en/sjakal-manifestet-2008/

Reed, A. (2003). Papua New Guinea's last place: Experiences of constraint in postcolonial prisons. Berghahn Books.

Regeringen. (2018). Ét Danmark uden parallelsamfund: Ingen ghettoer i 2030. Retrieved June 6, 2020 from https://www.stm.dk/multimedia/2018__t_Danmark_uden_parallelsamfund.pdf

Riley, M., & Holton, M. (2016). Place-based interviewing: Creating and conducting walking interviews. In SAGE research methods cases. https://doi.org/10.4135/978144627305015595386

Robinson, B., & Kutner, M. (2019). Spinoza and the affective turn: A return to the philosophical origins of affect. Qualitative Inquiry, 25(2), 111–117.

Roepstorff, A. (2011). Eksperimentel antropologi. Tidsskriftet Antropologi, 63, 137–152.

Sausdal, D., & Vigh, H. (2019). Anthropological criminology 2.0: Ethnographies of global crime and criminalisation. Focaal: Journal of Global and Historical Anthropology, 85, 1–14.

Spinoza, B. (2001). Ethics (W.H. White & A.H. Stirling, Trans.). Wordsworth. (Original work published 1677).

Standing, A. (2006). Organised crime: A study from the Cape Flats. Institute for Security Studies.

Tarde, G. (1890). Penal philosophy (R. Howell, Trans.). Transaction Publishers.

Tonkonoff, S. (2014). Crime as the limit of culture. Human Studies, 37(4), 529–544.

Wacquant, L. (2008). Urban Outcasts: A Comparative Sociology of Advanced Marginality. Polity Press.
Acknowledgements
This project has benefitted from the support of Carlsberg Foundation (Grant number CF17_0871) and the European Research Council (Grant agreement ID: 725194). I am grateful for the feedback received from colleagues from the Centre for Global Criminology and the editors of this volume on earlier drafts of this chapter.
Copyright information
© 2022 The Author(s), under exclusive license to Springer Nature Switzerland AG
About this chapter
Cite this chapter
Jerne, C. (2022). Activating Limit as Method: An Affective Experiment in Ethnographic Criminology. In: Timm Knudsen, B., Krogh, M., Stage, C. (eds) Methodologies of Affective Experimentation. Palgrave Macmillan, Cham. https://doi.org/10.1007/978-3-030-96272-2_14
DOI: https://doi.org/10.1007/978-3-030-96272-2_14

Published:

Publisher Name: Palgrave Macmillan, Cham

Print ISBN: 978-3-030-96271-5

Online ISBN: 978-3-030-96272-2