Abstract

Many cooking tasks rely on physically interacting with and sensing soft objects. One widely performed assessment is identifying when a vegetable is cooked. Commonly, we may interact with the food item and use tactile feedback to estimate if the food is cooked or not. This is also a task performed at scale in food supply chains. To address this, we have developed a general-purpose model for modelling the kinetics and thermal properties of vegetable cooking. We show that by identifying the size, and stiffness of the vegetable at two points in the cooking process the time for the vegetable to cook can be identified. With this in mind, we have developed a compliant tactile testing device that includes a tactile force sensor that can be used for measuring stiffness, and a proprioceptive sensing method which can be used to measure the size. The mechanism is robust and high torque, in addition to being simple and low cost in terms of fabrication. Using this model and device we demonstrate the accuracy in predicting the cooking time for potatoes of various sizes, and benchmark this in comparison to when used a fixed cooking time. We demonstrate that the model-based approach significantly improves the estimation and outcome of the cooking process. Whilst we demonstrate this approach on potatoes, the hardware, and model to other vegetable cooking processes.
Keywords
Robotic kitchen

Tactile sensing

Flexible grippers

Food modelling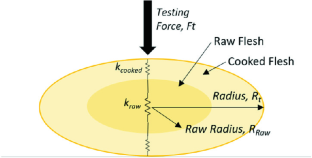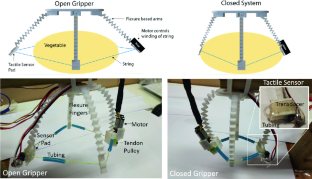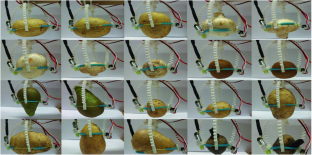 References
Carpenter, R.P., Lyon, D.H., Hasdell, T.A.: Guidelines for Sensory Analysis in Food Product Development and Quality Control. Springer, Boston (2012)

Watts, B.M., Ylimaki, G., Jeffery, L., Elias, L.G.: Basic Sensory Methods for Food Evaluation. IDRC, Ottawa (1989)

Ciui, B., et al.: Chemical sensing at the robot fingertips: toward automated taste discrimination in food samples. ACS Sens. 3(11), 2375–2384 (2018)

Ishida, H., Nakayama, G., Nakamoto, T., Moriizumi, T.: Controlling a gas/odor plume-tracking robot based on transient responses of gas sensors. IEEE Sens. J. 5(3), 537–545 (2005)

Bach, V., Mikkelsen, L., Kidmose, U., Edelenbos, M.: Culinary preparation of beetroot (beta vulgaris l.): the impact on sensory quality and appropriateness. J. Sci. Food Agric. 95(9), 1852–1859 (2015)

Herzig, N., Maiolino, P., Iida, F., Nanayakkara, T.: A variable stiffness robotic probe for soft tissue palpation. IEEE Trans. Robot. 3(2), 1168–1175 (2018)

Culha, U., Nurzaman, S.G., Clemens, F., Iida, F.: Svas3: strain vector aided sensorization of soft structures. Sensors 14(7), 12748–12770 (2014)

Pfeifer, R., Iida, F., Lungarella, M.: Cognition from the bottom up: on biological inspiration, body morphology, and soft materials. Trends Cogn. Sci. 18(8), 404–413 (2014)

Scimeca, L., Maiolino, P., Iida, F.: Soft morphological processing of tactile stimuli for autonomous category formation. In: 2018 IEEE International Conference on Soft Robotics (RoboSoft), IEEE (2018)

Macrelli, E., Romani, A., Paganelli, R.P., Sangiorgi, E., Tartagni, M.: Piezoelectric transducers for real-time evaluation of fruit firmness. part i: theory and development of acoustic techniques. Sens. Actuators A Phys. 201, 487–496 (2013)

Scimeca, L., Maiolino, P., Cardin-Catalan, D., del Pobil, A.P., Morales, A., Iida, F.: Non-destructive robotic assessment of mango ripeness via multi-point soft haptics. In: 2019 International Conference on Robotics and Automation (ICRA), pp. 1821–1826. IEEE (2019)

Nonaka, M.: The textural quality of cooked potatoes. i. the relationship of cooking time to the separation and rupture of potato cells. Am. Potato J. 57(4), 141 (1980)

Nguyen Do Trong, N., Tsuta, M., Nicolaï, B., De Baerdemaeker, J., Saeys, W.: Prediction of optimal cooking time for boiled potatoes by hyperspectral imaging. J. Food Eng. 105(4), 617–624 (2011). http://www.sciencedirect.com/science/article/pii/S0260877411001774

Cengel, Y.A.: Heat Transfer : a Practical Approach. McGraw-Hill, New York (1998)

Hughes, J., Li, S., Rus, D.: Sensorization of a continuum body gripper for high force and delicate object grasping. In: 2020 IEEE International Conference on Robotics and Automation (ICRA), pp. 6913–6919. IEEE (2020)
Acknowledgements

We are grateful for the support from Beko plc and Engineering and Physical Sciences Research Council (EPSRC) Agriforwards CDT Project [EP/S023917/1] who made this work possible.
Copyright information

© 2022 The Author(s), under exclusive license to Springer Nature Switzerland AG
About this paper
Cite this paper
Sochacki, G., Hughes, J., Iida, F. (2022). Sensorized Compliant Robot Gripper for Estimating the Cooking Time of Boil-Cooked Vegetables. In: Ang Jr, M.H., Asama, H., Lin, W., Foong, S. (eds) Intelligent Autonomous Systems 16. IAS 2021. Lecture Notes in Networks and Systems, vol 412. Springer, Cham. https://doi.org/10.1007/978-3-030-95892-3_17
DOI: https://doi.org/10.1007/978-3-030-95892-3_17

Published:

Publisher Name: Springer, Cham

Print ISBN: 978-3-030-95891-6

Online ISBN: 978-3-030-95892-3