Abstract

With the growth in civilization and industrialization, there is a rise in the release of organic dyes into water systems, which is causing serious public concern. Although adsorption using biopolymer-based hydrogels has proven to be an ideal technique for treating these dye contaminants from aqueous solutions, these hydrogels suffer from a lack of mechanical stability and recoverability compared to synthetic polymers. Herein, we review the low-cost synthesis of hybrid hydrogel nanocomposites to improve the mechanical stability and separation of the hydrogel in removing dyes from an aqueous solution. The literature reports hydrogels and their nanocomposites as noble adsorbents well-known for addressing water pollution issues. In adsorption technology, hydrogel nanocomposites act as absorbents, prominent to improve the performance of removal efficiency. This current chapter pays particular attention to some recent breakthrough development in water remediation based on hydrogels as efficient adsorbents. In-depth discussions on adsorption and various methods for the synthesis of hydrogels have been devoted to applications of these nanocomposites and are compared in this contribution to the removal efficiency of organic dyes from wastewater.
Keywords
Adsorbents

Hydrogel nanocomposites

Organic dyes

Wastewater remediation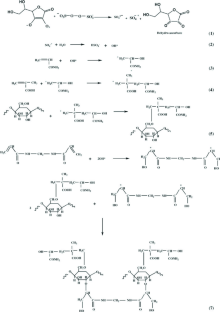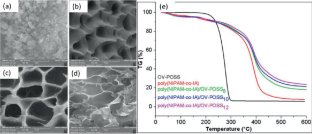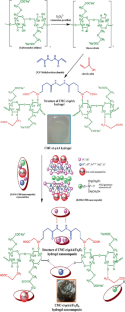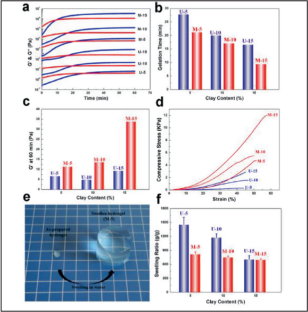 References
A.S. Abreu, M. Oliveira, A.V. Machado, Effect of clay mineral addition on properties of bio-based polymer blends. Appl. Clay Sci. 104, 277–285 (2015)

K.A. Adegoke, O.S. Bello, Dye sequestration using agricultural wastes as adsorbents. Water Resour. Ind. 12, 8–24 (2015)

M. Ahmad, Y. Shi, A. Nisar, H. Sun, W. Shen, M. Wei, J. Zhu, Synthesis of hierarchical flower-ZnO nanostructures and their functionalization by Au nanoparticles for improved photocatalytic and high-performance Li-ion battery anodes. J. Meter. Chem. 21, 7723–7729 (2011)

A. Aqel, K.M. Abou El-Nour, R.A. Ammar, A. Al-Warthan, Carbon nanotubes, science and technology part (I) structure, synthesis and characterisation. Arab. J. Chem. 5(1), 1–23 (2012)

M. Arami, N.Y. Limaee, N.M. Mahmoodi, N.S. Tabrizi, Equilibrium and kinetics studies for the adsorption of direct and acid dyes from aqueous solution by soy meal hull. J. Hazard. Mater. 135(1–3), 171–179 (2006)

S. Asadi, S. Eris, S. Azizian, alginate-based hydrogel beads as a biocompatible and efficient adsorbent for dye removal from aqueous solutions. ACS Omega 3(11), 15140–15148 (2018)

A. Atta, M.A. Akl, A.M. Youssef, M.A. Ibraheim, Superparamagnetic core-shell polymeric nanocomposites for efficient removal of methylene blue from aqueous solutions. Adsorp. Sci. Technol. 31(5), 397–419 (2013)

H. Bai, C. Li, G. Shi, A pH-sensitive graphene oxide composite hydrogel. Commun. Chem. 46, 2376–2378 (2010)

P.S. Basavarajappa, S.B. Patil, N. Ganganagappa, K.R. Reddy, A.V. Raghu, C.V. Reddy, Recent progress in metal-doped TiO2, non-metal doped/codoped TiO2 and TiO2 nanostructured hybrids for enhanced photocatalysis. Int. J. Hydrog. Energy. 45(13), 7764–7778 (2020)

A. Bée, L. Obeid, R. Mbolantenaina, M. Welschbillig, D. Talbot, Magnetic chitosan/clay beads: a magsorbent for the removal of cationic dye from water. J. Magn. Magn. 421, 59–64 (2017)

S. Biswas, T.K. Sen, A.M. Yeneneh, B.C. Meikap, Synthesis and characterization of a novel Ca-alginate-biochar composite as efficient zinc (Zn2+) adsorbent: Thermodynamics, process design, mass transfer and isotherm modelling. Sep. Sci. Technol. 54(7), 1106–1124 (2019)

M. Bodzek, Membrane technologies for the removal of micropollutants in water treatment, in Advances in Membrane Technologies for Water Treatment. Woodhead Publishing (2015), pp. 465–517

Braun D (2009) Origins and development of initiation of free radical polymerization processes. Int J Polym Sci. 2009: 893234.

S.K. Burley, G.A. Petsko, Weakly polar interactions in proteins. Adv. Protein Chem. 39, 125–189 (1988)

F. Cadena, R. Rizvi, R.W. Peters, Feasibility studies for the removal of heavy metal from solution using tailored bentonite (Hazard. Ind. Waste), in Proceedings of the 22nd Mid-Atlantic Industrial Waste Conference (1990), pp. 77–94

N. Çankaya, Synthesis of graft copolymers onto starch and its semiconducting properties. Results Phys. 6, 538–542 (2016)

S. Chatterjee, M.W. Lee, S.H. Woo, Adsorption of Congo red by chitosan hydrogel beads impregnated with carbon nanotubes. Bioresour. Technol. 101(6), 1800–1806 (2010)

M. Chen, M. Zhong, J.A. Johnson, Light-controlled radical polymerization: mechanisms, methods, and applications. Chem. Rev. 116, 10167–11021 (2016)

Q. Chen, L. Zhu, L. Huang, H. Chen, K. Xu, Y. Tan, P. Wang, J. Zheng, Fracture of the physically crosslinked first network in hybrid double network hydrogels. Macromolecules 47(6), 2140–2148 (2014)

J.P. Cook, G.W. Goodall, O.V. Khutoryanskaya, V.V. Khutoryanskiy, Microwave-assisted hydrogel synthesis: a new method for crosslinking polymers in aqueous solutions. Macromol. Rapid Commun. 33(4), 332–336 (2012)

T. Coradin, K. Wang, T. Law, L. Trichet, Type I collagen-fibrin mixed hydrogels: preparation, properties and biomedical applications. Gels 6, 36 (2020)

C. Dannert, B.T. Stokke, R.S. Dias, Nanoparticle-hydrogel composites: from molecular interactions to macroscopic behavior. Polymers 11(2), 275 (2019)

S. Dawood, T.K. Sen, Review on dye removal from its aqueous solution into alternative cost effective and non-conventional adsorbents. J. Chem. Process. Eng. 1(1), 1–11 (2014)

B.G. Demczyk, Y.M. Wang, J. Cumings, M. Hetman, W. Han, A. Zettl, R.O. Ritchie, Direct mechanical measurement of the tensile strength and elastic modulus of multiwalled carbon nanotubes. Mater. Sci. Eng. 334, 173–178 (2002)

M.I. Din, R. Khalid, Z. Hussain, Recent research on development and modification of nontoxic semiconductor for environmental application. Sep. Purif. Rev. 1–18 (2020)

O. Duman, T.G. Polat, C.Ö. Diker, S. Tunç, Agar/κ-carrageenan composite hydrogel adsorbent for the removal of methylene blue from water. Int. J. Biol. Macromol. 160, 823–835 (2020)

B. Eftekhari-sis, V. Rahimkhoei, A. Akbari, H.Y. Araghi, Cubic polyhedral oligomeric silsesquioxane nano-cross-linked hybrid hydrogels: Synthesis, characterization, swelling and dye adsorption properties. React. Funct. Polym. 128, 47–57 (2018)

E.A. Kamoun, X. Chen, M.S.M. Eldin, E.R.S. Kenawy, Crosslinked poly(vinyl alcohol) hydrogels for wound dressing applications: a review of remarkably blended polymers. Arab. J. Chem. 8(1), 1–14 (2015)

A.M.A. Elhissi, W. Ahmed, I.U. Hassan, V.R. Dhanak, A.D. Emanuele, Carbon nanotubes in cancer therapy and drug delivery carbon nanotubes in cancer therapy and drug delivery. J. Drug Deliv. (2012)

M. Farrokhi, S.C. Hosseini, J.K. Yang, M. Shirzad-Siboni, Application of ZnO–Fe3O4 nanocomposite on the removal of azo dye from aqueous solutions: kinetics and equilibrium studies. Water Air Soil Pollut. 225, 1–12 (2014)

S. Fazil, M. Bangesh, W. Rehman, K. Liaqat, S. Saeed, M. Sajid, I. Bibi, Mechanical, thermal, and dielectric properties of functionalized graphene oxide/polyimide nanocomposite films anomater. Nanotechnology 9, 1–8 (2019)

R.A. Frimpong, J.Z. Hilt, Poly (n-isopropylacrylamide)-based hydrogel coatings on magnetite nanoparticles via atom transfer radical polymerization. Nanotechnology. 19(17), 175101 (2008)

S. Garg, A. Garg, Hydrogel: Classification, properties, preparation and technical features. Asian J. Biomater. Res. 2(6), 163–170 (2016)

S. Glass, B. Trinklein, B. Abel, A. Schulze, TiO2 as photosensitizer and photoinitiator for synthesis of photoactive TiO2-PEGDA hydrogel without organic photoinitiator. Front. Chem. 6, 340 (2018)

V. Gómez, M.S. Larrechi, M.P. Callao, Kinetic and adsorption study of acid dye removal using activated carbon. Chemosphere 69, 1151–1158 (2007)

K. Gopal, S. Sen, Adsorption of a few heavy metals on natural and modified kaolinite and montmorillonite: A review. Adv. Colloid Interface Sci. 140, 114–131 (2008)

I.S. Grover, S. Singh, B. Pal, The preparation, surface structure, zeta potential, surface charge density and photocatalytic activity of TiO2 nanostructures of different shapes. Appl. Surf. Sci. 280, 366–372 (2013)

J. Guanghui, L. Wang, H. Yu, W.A. Amer, L. Zhang, Recent progress on study of hybrid hydrogels for water treatment. Colloids Surf. A: Physicochem. Eng. Asp. 416, 86–94 (2013)

M.R. Guilherme, F.A. Aouada, A.R. Fajardo, A.F. Martins, A.T. Paulino, M.F.T. Davi, A.F. Rubira, E.C. Muniz, Superabsorbent hydrogels based on polysaccharides for application in agriculture as soil conditioner and nutrient carrier: a review. Eur. Polym. J. 72, 365–385 (2015)

V.K. Gupta, I. Ali, T.A. Saleh, A. Nayak, S. Agarwal, Chemical treatment technologies for wastewater recycling—an overview. Rsc Adv. 2(16), 6380–6388 (2012)

H. Hosseini, M. Mashaykhi, New chitosan/silica/zinc oxide nanocomposite as adsorbent for dye removal. Int. J. Biol. Macromol. 131, 520–526 (2019)

H. Hosseinzadeh, N. Khoshnood, Removal of cationic dyes by poly (AA-co-AMPS)/montmorillonite nanocomposite hydrogel. Desalin. Water Treat. 57(14), 6372–6383 (2016)

H. Hosseinzadeh, Synthesis of carrageenan/multiwalled carbon nanotube hybrid hydrogel nanocomposite for adsorption of crystal violet from aqueous solution. Pol. J. Chem. Technol. 17(2), 70–76 (2015)

H. Ismail, M. Irani, Z. Ahmad, Starch-based hydrogels: present status and applications. Int J Polym Mater. 62(7), 411–420 (2013)

A.H. Jawad, A. Abdulhameed, M.S. Mastuli, Mesoporous crosslinked chitosan-activated charcoal composite for the removal of thionine cationic dye: Comprehensive adsorption and mechanism study. J. Polym. Environ. 28, 1095–1105 (2020)

E.A. Kamoun, A.M. Omer, S.N. Khattab, H.M. Ahmed, A.A. Elbardan, In-situ UV-photopolymerized PVA-g-GMA hydrogels for biomedical applications: I. Synthesis, characterizations and grafting optimization. J. Appl. Pharm. Sci. 8(1), 034–042 (2018)

W. Kangwansupamonkon, N. Klaikaew, S. Kiatkamjornwong, Green synthesis of titanium dioxide/acrylamide-based hydrogel composite, self -degradation and environmental applications. Eur. Polym. J. 107, 118–131 (2018)

V. Katheresan, J. Kansedo, S.Y. Lau, Efficiency of various recent wastewater dye removal methods: a review. J. Environ. Chem. Eng. 6(4), 4676–4697 (2018)

T.A. Khan, M. Nazir, I. Ali, A. Kumar, Removal of Chromium (VI) from aqueous solution using guar gum–nano zinc oxide biocomposite adsorbent. Arab. J. Chem. 10(2), S2388–S2398 (2017)

M.C. Koetting, J.T. Peters, S.D. Steichen, N.A. Peppas, Stimulus-responsive hydrogels: Theory, modern advances, and applications. Mater. Sci. Eng. R Rep. 93, 1–49 (2016)

T. Kumar, A. Thakur, A. Alexander, H. Badwaik, D.K. Tripathi, Modified chitosan hydrogels as drug delivery and tissue engineering systems: present status and applications. Acta Pharm. Sin. B. 2(5), 439–449 (2012)

L. Largitte, R. Pasquier, A review of the kinetics adsorption models and their application to the adsorption of lead by an activated carbon. Chem. Eng. Res. Des. 109, 495–504 (2016)

D.L. Leslie-pelecky, R.D. Rieke, Magnetic properties of nanostructured materials. Chem. Mater. 8(8), 1770–1783 (1996)

J. Li, L. Fang, W.R. Tait, L. Sun, Preparation of conductive composite hydrogels from carboxymethyl cellulose and polyaniline with a nontoxic crosslinking agent. RSC Adv. 7(86), 54823–54828 (2017)

Y. Liang, X. Zhao, P.X. Ma, B. Guo, Y. Du, X. Han, pH-responsive injectable hydrogels with mucosal adhesiveness based on chitosan-grafted-dihydrocaffeic acid and oxidized pullulan for localized drug delivery. J. Colloid Interface Sci. 536, 224–234 (2019)

C. Liu, A.M. Omer, X. Ouyang, Adsorptive removal of cationic methylene blue dye using carboxymethyl cellulose/k-carrageenan/activated montmorillonite composite beads: Isotherm and kinetic studies. Int. J. Biol. Macromol. 106, 823–833 (2018)

L. Liu, Q. Gao, X. Lu, H. Zhou, In situ forming hydrogels based on chitosan for drug delivery and tissue regeneration. Asian J. Pharm. Sci. 11(6), 673–683 (2016)

G. Lytras, C. Lytras, D. Argyropoulou, N. Dimopoulos, G. Malavetas, A novel two-phase bioreactor for microbial hexavalent chromium removal from wastewater. J. Hazard. Mater. 336, 41–51 (2017)

P. Majewski, B. Thierry, Functionalized magnetite nanoparticles—Synthesis, properties, and bio-applications. Crit. Rev. Solid State Mater. Sci. 32(3–4), 203–215 (2007)

E. Makhado, M.J. Hato, Preparation and characterization of sodium alginate-based oxidized multi-walled carbon nanotubes hydrogel nanocomposite and its adsorption behaviour for methylene blue dye. Front Chem, 9, 576913 (2021)

E. Makhado, S. Pandey, J. Ramontja, Microwave-assisted synthesis of xanthan gum-cl-poly (acrylic acid) based-reduced graphene oxide hydrogel composite for adsorption of methylene blue and methyl violet from aqueous solution. Int. J. Biol. Macromol. 119, 255–269 (2018)

E. Makhado, S. Pandey, P.N. Nomngongo, J. Ramontja, Preparation and characterization of xanthan gum-cl-poly (acrylic acid)/ o-MWCNTs hydrogel nanocomposite as highly effective re-usable adsorbent for removal of methylene blue from aqueous solutions. J. Colloid Interface Sci. 513, 700–714 (2018)

E. Makhado, S. Pandey, K.D. Modibane, M. Kang, M.J. Hato, Sequestration of methylene blue dye using sodium alginate poly (acrylic acid)@ ZnO hydrogel nanocomposite: kinetic, isotherm, and thermodynamic investigations. Int. J. Biol. Macromol. 162, 60–73 (2020)

E. Makhado, S. Pandey, P.N. Nomngongo, J. Ramontja, 'Xanthan gum-cl-poly (acrylic acid)/reduced graphene oxide hydrogel nanocomposite as adsorbent for dye removal', in International Conference on Advances in Science, Engineering and Waste Management (Asetwm-171 ) (2017), pp.59–164

N. Malatji, E. Makhado, K.E. Ramohlola, K.D. Modibane, T.C. Maponya, G.R. Monama, M.J. Hato, Synthesis and characterisation of magnetic clay-based carboxymethyl cellulose-acrylic acid hydrogel nanocomposite for methylene blue dye removal from aqueous solution. Environ. Sci. Pollut. Res. 27(35), 44089–44105 (2020)

N.M. Malatji, E, Modibane KD, Ramohlola KE, Maponya TC, Monama GR, Hato MJ, Removal of methylene blue from wastewater using hydrogel nanocomposites: a review. Nanomater. Nanotechnol. 11, 18479804211039424 (2021)

H. Markides, M. Rotherham, A.J. El Haj, Biocompatibility and toxicity of magnetic nanoparticles in regenerative medicine. J. Nanomater. 13, 13 (2012)

S. Mishra, G.U. Rani, G. Sen, Microwave initiated synthesis and application of polyacrylic acid grafted carboxymethyl cellulose. Carbohydr. Polym. 87, 2255–2262 (2012)

H. Mittal, R. Jindal, B. Kaith, A. Maity, S.S. Ray, Flocculation and adsorption properties of biodegradable gum-ghatti-grafted poly (acrylamide-co-methacrylic acid) hydrogels. Carbohydr. Polym. 115, 617–628 (2015)

H. Mittal, S.S. Ray, A study on the adsorption of methylene blue onto gum ghatti/TiO2 nanoparticles-based hydrogel nanocomposite. Int. J. Biol. Macromol. 88, 66–80 (2016)

A.Y. Moreno-lópez, M.E. González-lópez, R. Manríquez-gonzález, J.R. Robledo-ortíz, Evaluation of the Cr (VI) adsorption performance of xanthate polysaccharides supported onto agave fiber-LDPE foamed composites. Water Air Soil Pollut. 230(6), 1–21 (2019)

M. Muller, Understanding the origins of Cape Town's water crisis, (June 2017) (2018)

M.Y. Nassar, A.A. Ali, A.S. Amin, A facile Pechini sol–el synthesis of TiO2/Zn2TiO2/ZnO/C nanocomposite: an efficient catalyst for the photocatalytic degradation of orange G textile dye. RSC Adv. 7(48), 30411–30421 (2017)

R. Nekooie, T. Shamspur, A. Mostafavi, Novel CuO/TiO2/PANI nanocomposite: preparation and photocatalytic investigation for chlorpyrifos degradation in water under visible light irradiation. J. Photochem. Photobiol. 407, 113038 (2020)

M.N. Ngoepe, M.J. Hato, K.D. Modibane, N.C. Hintsho-Mbita, Biogenic Synthesis of Metal Oxide Nanoparticle Semiconductors for Wastewater Treatment (Scrivener Publishing LLC, 2020), pp. 1–31

P. Nyamukamba, O. Okoh, L. Tichagwa, C. Greyling, Preparation of titanium dioxide nanoparticles immobilized on polyacrylonitrile nanofibres for the photodegradation of methyl orange. Int. J. Photoenergy. 2, 1–9 (2016)

G. Ohemeng-Boahen, D.D. Sewu, S.H. Woo, Preparation and characterization of alginate-kelp biochar composite hydrogel bead for dye removal. Environ. Sci. Pollut. Res. 26(32), 33030–33042 (2019)

P.M. Pakdel, S.J. Peighambardoust, A review on acrylic based hydrogels and their applications in wastewater treatment. J. Environ. Manag. 217, 123–143 (2018)

Y. Park, G.A. Ayoko, R.L. Frost, Application of organoclays for the adsorption of recalcitrant organic molecules from aqueous media. J. Colloid Interface Sci. 354(1), 292–305 (2011)

D. Pasqui, A. Atrei, G. Giani, M. De Cagna, R. Barbucci, Metal oxide nanoparticles as cross-linkers in polymeric hybrid hydrogels. Mater. Lett. 65(2), 392–395 (2011)

N. Peng, D. Hu, J. Zeng, Y. Li, L. Liang, C. Chang, Superabsorbent Cellulose−clay nanocomposite hydrogels for highly efficient removal of dye in water. ACS Sustain. Chem. Eng. 4, 7217–7224 (2016)

M. Pooresmaeil, Y. Mansoori, M. Mirzaeinejad, A.L.I. Khodayari, Efficient removal of methylene blue by novel magnetic hydrogel nanocomposites of poly (acrylic acid). Adv. Polym. Technol. 37(1), 262–274 (2015)

Z. Rahmani, R. Sahraei, M. Ghaemy, Preparation of spherical porous hydrogel beads based on ion-crosslinked gum tragacanth and graphene oxide: study of drug delivery behavior. Adv. Polym. Technol. 194, 34–42 (2018)

N. Ranganathan, J.R. Bensingh, A.M. Kader, S.K. Nayak, Synthesis and Properties of Hydrogels Prepared by Various Polymerization Reaction Systems (Springer International Publishing, Cham, Switzerland, 2018), pp. 1–25

K.G. Rao, C.H. Ashok, K.V. Rao, C.H.S. Chakra, Structural properties of MgO nanoparticles: synthesized by coprecipitation technique. Int. J. Sci. Res. 8–9 (2014)

D.A. Rivani, I. Retnosari, T.E. Saraswati, Influence of TiO2 addition on the magnetic properties of carbon-based iron oxide nanocomposites synthesized using submerged arc-discharge. IOP Conf. Ser.: Mater. Sci. Eng. 509, 012034 (2019)

C. Saikia, A. Hussain, A. Ramteke, H.K. Sharma, T.K. Maji, Crosslinked thiolated starch coated Fe3O4 magnetic nanoparticles: effect of montmorillonite and crosslinking density on drug delivery properties. Starke 66(7–8), 760–771 (2014)

M.A.M. Salleh, D.K. Mahmoud, W.A. Karim, A. Idris, Cationic and anionic dye adsorption by agricultural solid wastes: a comprehensive review. Desalination 280(1–3), 1–13 (2011)

A. Science, Adsorption of cationic dyes on activated carbon obtained from waste Elaeagnus stone. Adsorp. Sci. Technol. 34(9–10), 512–525 (2016)

F. Shakib, A.D. Koohi, A.K. Pirzaman, Adsorption of methylene blue by using novel chitosan-g-itaconic acid/bentonite nanocomposite – equilibrium and kinetic study. Water Sci. Technol. 75(8), 1932–1943 (2017)

C. Shen, Y. Shen, Y. Wen, H. Wang, W. Liu, Fast and highly efficient removal of dyes under alkaline conditions using magnetic chitosan-Fe(III) hydrogel. Water Res. 45(16), 5200–5210 (2011)

S.R. Shirsath, A.P. Patil, R. Patil, J.B. Naik, P.R. Gogate, S.H. Sonawane, Removal of brilliant green from wastewater using conventional and ultrasonically prepared poly (acrylic acid hydrogel loaded with kaolin clay: a comparative study. Ultrason Sonochem. 20(3), 914–923 (2014)

R.A. Shmeis, water chemistry and microbiology. Compr. Anal. Chem. 81, 1–56 (2018)

V. Singh, P. Kumar, R. Sanghi, Progress in polymer science use of microwave irradiation in the grafting modification of the polysaccharides – A review. Prog. Polym. Sci. 37(2), 340–364 (2012)

S.C. Smith, D.F. Rodrigues, Carbon-based nanomaterials for removal of chemical and biological contaminants from water: a review of mechanisms and applications. Carbon 91, 122–143 (2015)

L. Song, M. Zhu, Y. Chen, K. Haraguchi, Temperature-and pH-sensitive nanocomposite gels with semi-interpenetrating organic/inorganic networks. Macromol Chem Phys. 209(15), 1564–1575 (2008)

S. Stankic, S. Suman, F. Haque, J. Vidic, Pure and multi-metal oxide nanoparticles: synthesis, antibacterial and cytotoxic properties. J. Nanobiotechnology. 14(1), 1–20 (2016)

I. Stefaniuk, B. Cieniek, I. Rogalska, I.S. Virt, A. Kosciak, Magnetic properties of ZnO: Co layers obtained by pulsed laser deposition method. Mater. Sci.-Pol. 36(3), 439–444 (2017)

A.A. Subhi, V.M. Kiamahalleh, M. Firouzi, F. Yousefi, H.H. Kyaw, A.M. Abri, A. Firouzi, V.M. Kiamahalleh, Self-assembled graphene hydrogel composites for selective dye removal. Adv. Sustain. Syst. 4(9), 2000055 (2020)

M. Tally, Y. Atassi, Optimized synthesis and swelling properties of a pH-sensitive semi-IPN superabsorbent polymer-based on sodium alginate-g-poly (acrylic acid-co-acrylamide) and polyvinylpyrrolidone and obtained via microwave irradiation. J. Polym. Res. 22(9), 181 (2015)

S. Thakur, O. Arotiba, Synthesis, characterization and adsorption studies of an acrylic acid-grafted sodium alginate-based TiO2 hydrogel nanocomposite. Adsorp. Sci. Technol. 36(1–2), 458–477 (2018)

S. Thakur, S. Pandey, O.A. Arotiba, Development of a sodium alginate-based organic/inorganic superabsorbent composite hydrogel for adsorption of methylene blue. Carbohydr. Polym. 153, 34–46 (2016)

S. Vahidhabanu, D. Karuppasamy, I. Adeogun, Impregnation of zinc oxide modified clay over alginate beads: a novel material for the effective removal of Congo red from wastewater. RSC Adv. 7(10), 5669–5678 (2017)

K. Varaprasad, T. Jayaramudu, E. Rotimi, Removal of dye by carboxymethyl cellulose, acrylamide and graphene oxide via a free radical polymerization process. Carbohydr. Polym. 164, 186–194 (2017)

C. Vasile, D. Pamfil, E. Stoleru, M. Baican, New developments in medical applications of hybrid hydrogels containing natural polymers. Molecules 25(7), 1539 (2020)

S. Wang, Y. Boyjoo, A. Choueib, A comparative study of dye removal using fly ash treated by different methods. Chemosphere 60(10), 1401–1407 (2005)

X. Wang, X. Liu, H. Yuan, H. Liu, C. Liu, T. Li, Z. Guo, Non-covalently functionalized graphene strengthened poly (vinyl alcohol). Mater. Des. 139, 372–379 (2018)

H. Xu, F.K. Shi, X.Y. Liu, M. Zhong, X.M. Xie, How can multi-bond network hydrogels dissipate energy more effectively: an investigation on the relationship between network structure and properties. Soft Matter 16(18), 4407–4413 (2020)

J. Xu, X. Liu, X. Ren, G. Gao, The role of chemical and physical crosslinking in different deformation stages of hybrid hydrogels. Eur. Polym. J. 100, 86–95 (2018)

M.T. Yagub, T.K. Sen, S. Afroze, H.M. Ang, Dye and its removal from aqueous solution by adsorption: A review. Adv. Colloid Interface Sci. 209, 172–184 (2014)

J.Z. Yi, L.M. Zhang, Removal of methylene blue dye from aqueous solution by adsorption onto sodium humate/polyacrylamide/clay hybrid hydrogels. Bioresour. Technol. 99(7), 2182–2186 (2008)

S.J. Young, W.L. Tang, Wireless zinc oxide based pH sensor system. J. Electrochem. Soc. 166(9), B3047 (2019)

G. Yuan, B.K.G. Theng, P. North, N. Zealand, J. Churchman, W.P. Gates, Clays and clay minerals for pollution control. Dev. Clay Sci. 5, 587–644 (2013)

M. Zhang, L. Chang, Y. Zhao, Z. Yu, Fabrication of zinc oxide / polypyrrole nanocomposites for brilliant green removal from aqueous phase. Arab. J. Sci. Eng. 44(1), 111–121 (2019)

Q. Zhang, T. Zhang, T. He, L. Chen, Removal of crystal violet by clay/PNIPAm nanocomposite hydrogels with various clay contents. Appl. Clay Sci. 90, 1–5 (2014)

Y. Zheng, J. Monty, R.J. Linhardt, Polysaccharide-based nanocomposites and their applications. Carbohydr. Res. 405, 23–32 (2015)

Y. Zhou, L. Tang, G. Zeng, J. Chen, Y. Cai, Y. Zhang, G. Yang, Y. Liu, C. Zhang, W. Tang, Mesoporous carbon nitride-based biosensor for highly sensitive and selective analysis of phenol and catechol in compost bioremediation. Biosens. Bioelectron. 61, 519–525 (2014)

M. Zhu, L. Xiong, T. Wang, X. Liu, C. Wang, Z. Tong, High tensibility and pH-responsive swelling of nanocomposite hydrogels containing the positively chargeable 2-(dimethylamino) ethyl methacrylate monomer. React. Funct. Polym. 70(5), 267–271 (2010)

M. Zia, A.R. Phull, J.S. Ali, Challenges of iron oxide nanoparticles. Nanotechnol. Sci. Appl. 9, 49–67 (2016)

M. Zirak, A. Abdollahiyan, B. Eftekhari-sis, M. Saraei, Carboxymethyl cellulose coated Fe3O4@SiO2 core-shell magnetic nanoparticles for methylene blue removal: equilibrium, kinetic, and thermodynamic studies. Cellulose 25(1), 503–515 (2017)
Acknowledgements

This research was supported by the National Research Foundation (NRF) under the Thuthuka programme (UID. 117727), and the University of Limpopo (R202, R232, R355), South Africa.
Ethics declarations

There are no conflicts of interest to declare.
Copyright information

© 2022 The Author(s), under exclusive license to Springer Nature Switzerland AG
About this chapter
Cite this chapter
Malatji, N., Makhado, E., Modibane, K.D., Pandey, S., Hato, M.J. (2022). Sequestration of Organic Dyes from Wastewater Using Hydrogel Nanocomposites. In: Hato, M.J., Sinha Ray, S. (eds) Functional Polymer Nanocomposites for Wastewater Treatment. Springer Series in Materials Science, vol 323. Springer, Cham. https://doi.org/10.1007/978-3-030-94995-2_7
DOI: https://doi.org/10.1007/978-3-030-94995-2_7

Published:

Publisher Name: Springer, Cham

Print ISBN: 978-3-030-94994-5

Online ISBN: 978-3-030-94995-2