Summary

Biosimilar development is one of the extraordinary changes sweeping through the pharmaceutical industry, providing an opportunity for incremental innovation in the health bioeconomy domain. The dawn of the New Biology, global knowledge diffusion that inspires reverse innovation, and an increased political commitment to the real subsumption of nature through the bioeconomy characterize biosimilar development. These advancements come in the backdrop of high health-care costs and an ambition to achieve universal health care for all. This chapter argues that considerations of the multi-level perspective are necessary for a health bioeconomy transformation. Emerging borderless themes for biosimilar development include transdisciplinarity, harmonization, value chain diversifications, intellectual property, and knowledge diffusion. We describe the landscape of biosimilar development across different economic regions and present case examples of health research development and the place of incremental innovations. We elaborate on how regulation and public innovation policies become part of a multi-level governance system, especially in coordinated market economies. Presented themes for multi-level systems and transitions towards a health bioeconomy through biosimilar development involve different pathways leading to transformation, de-alignment, realignment, technological substitution, or reconfiguration. Dynamic interactions between the landscape, regime, and niche level ecosystems alongside the varieties of innovation contribute to this transformation. Finally, we recognize the role of regulatory harmonization in health preparedness and universal coverage. Biosimilars development has emerged as a strategic niche for unlocking the biophysical characteristics of nature. Learnings from complex multi-level systems can allow firms, governments, and individuals to invest in the biosimilar value chain innovatively.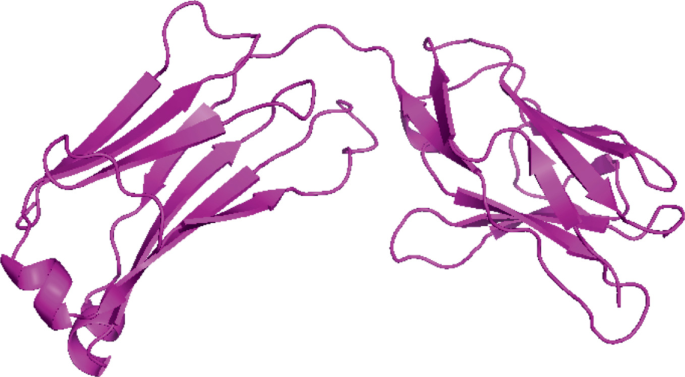 3D art representation of adalimumab (C6428H9912N1694O1987S46). The crystal structure for adalimumab rendered on Predicted on CHpred and rendered on PyMol.
(Adapted with permission from Shadrack Odikara).
The code of this chapter is 01000010 01101001 01101111 01110011 01101001 01101101 01101001 01101100 01100001 01110010 01110011.
Keywords
Bioeconomy

Biosimilars

Borderless

Health

Innovation

Multi-level perspectives
We see extraordinary changes sweeping through the pharmaceutical industry. There is a well-established pattern by which these changes arise. They always have loomed as threats to some, and opportunities to others—and whether it is one or the other is a choice.

Clayton M. Christensen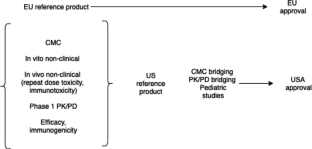 References
Pyka A, Buchmann T, Vermeulen B (2017) Biosimilars in Germany: the emergence of a new industry in the light of the varieties of capitalism approach. Technol Anal Strateg Manage 29:276–289. https://doi.org/10.1080/09537325.2016.1262022

GaBI Journal Editor (2019) Patent expiry dates for biologicals: 2018 update. Generics Biosimilars Initiative J 8:24–31. https://doi.org/10.5639/gabij.2019.0801.003

EvaluatePharma (2014) World preview 2014, Outlook to 2020

Toomey AH, Markusson N, Adams E, Brockett B (2015) Inter-and Trans-disciplinary research: a critical perspective

Lowe D (2018) A new look at clinical success rates. In: The Pipeline. Science Translational Medicine

Mittra J (2016) Regulation, policy, and governance of advanced therapies. In: The new health bioeconomy. Palgrave Macmillan, US, pp 121–156

Declerck P, Danesi R, Petersel D, Jacobs I (2017) The language of biosimilars: clarification, definitions, and regulatory aspects. Drugs 77:671–677

Dolan C (2018) Opportunities and challenges in biosimilar uptake in oncology. Am J Manag Care 24:S237–S243

International Advisory Council of the Global Bioeconomy Summit 2018—IAC-GBC (2018) Global bioeconomy summit conference report. In: Innovation in the global bioeconomy for sustainable and inclusive transformation and wellbeing. 108

Mittra J, Zoukas G (2019) Unpacking the concept of bioeconomy. In: Problems of definition, measurement, and the attribution of 'value'

Global Bioeconomy Summit (2018) Global Bioeconomy summit communiqué 2018. In: Innovation in the global bioeconomy for sustainable and inclusive transformation and wellbeing, pp 1–24

Birch K, Levidow L, Papaioannou T (2010) Sustainable capital? The neoliberalization of nature and Knowledge in the European "knowledge-based bio-economy." Sustainability 2:2898–2918. https://doi.org/10.3390/su2092898

Pugatch Consilium (2014) Building the bioeconomy. Examine national biotechnology industry development strategies

World Intellectual Property Organization (2019) Global Innovation Index 2019: summary

Ruffini P-B, Ruffini P-B (2017) Science in the vanguard of diplomacy. In: Science and diplomacy. Springer International Publishing, pp 85–104

McKinsey Global Institute (2020) Driving a new generation of biological technologies|McKinsey. https://www.mckinsey.com/business-functions/mckinsey-digital/our-insights/how-the-bio-revolution-could-transform-the-competitive-landscape?cid=other-eml-alt-mcq-mck&hlkid=d107120850ce4db9ba56e79be18506dc&hctky=2845898&hdpid=fd6b86ea-3273-47a2-a275-428c882. Accessed 20 Jun 2020

Mittra J (2015) The new health bioeconomy R&D policy and innovation for the twenty-first century

McKinsey Global Institute (2020) The bio revolution, innovations transforming economies, societies, and our lives

Rémuzat C, Dorey J, Cristeau O et al (2017) Key drivers for market penetration of biosimilars in Europe. J Market Access Health Policy 5:1272308. https://doi.org/10.1080/20016689.2016.1272308

Pharmaceutical Technology (2018) Cipla biosimilars manufacturing facility, Durban—pharmaceutical technology. https://www.pharmaceutical-technology.com/projects/cipla-biosimilars-manufacturing-facility-durban/. Accessed 22 Jun 2020

Defo BK (2014) Demographic, epidemiological, and health transitions: are they relevant to population health patterns in Africa? Glob Health Action 7. https://doi.org/10.3402/gha.v7.22443

Hein L, Mohr K, Bieger D (2005) Color atlas of pharmacology. In: Lullmann H (ed) 3rd edn. Thieme

CHMP (2014) Committee for medicinal products for human use (CHMP) guideline on similar biological medicinal products

Pategou J (2020) Africa's biosimilar landscape outlook current challenges

Vandermeulen V, Van der Steen M, Stevens CV, Van Huylenbroeck G (2012) Industry expectations regarding the transition toward a biobased economy. Biofuels, Bioprod Biorefin 6:453–464. https://doi.org/10.1002/bbb.1333

Loiseau E, Saikku L, Antikainen R et al (2019) Technology and institutions in Neo-Schumpeterian and original institutional thinking. Res Policy 53:1689–1699

Arbeitsgemeinschaft proBiosimilars (2017) Handbuch Biosimilars

Ahen F, Salo-Ahen OMH (2018) Governing pharmaceutical innovations in Africa: inclusive models for accelerating access to quality medicines. Cogent Med 5. https://doi.org/10.1080/2331205x.2018.1500196

Sachs JD, Ban K (2016) The age of sustainable development

Vernon R (1966) International investment and international trade in the product life cycle. Quart J Econ 80:190–207

Hussler C, Burger Helmchen T (2019) Opening the reverse innovation black box to pinpoint its drivers and barriers in Western MNCs. Euro J Int Manage 1:1. https://doi.org/10.1504/ejim.2019.10016818

Govindarajan V, Ramamurti R (2011) Reverse innovation, emerging markets, and global strategy. Glob Strateg J. https://doi.org/10.1002/gsj.23

Burger-Helmchen T (2019) Reverse innovation in health care. J Innov Econ. https://doi.org/10.3917/jie.029.0217

Govindarajan V, Ramamurti R (2018) Reverse innovation in health care: how to make value-based delivery work
Copyright information

© 2022 The Author(s), under exclusive license to Springer Nature Switzerland AG
About this chapter
Cite this chapter
Oriama, R., Mudida, R., Burger-Helmchen, T. (2022). A Multi-level Perspective to Biosimilars Development: Pathways Towards Incremental Innovation in the Health Bioeconomy. In: Rezaei, N. (eds) Transdisciplinarity. Integrated Science, vol 5. Springer, Cham. https://doi.org/10.1007/978-3-030-94651-7_12