Abstract

The aim of this chapter is to describe the process that has been carried out for the adaptation of the housing for the elderly model to the Spanish context. Under the perspective of architectural design, new solutions have been implemented for defining an alternative to institutional models. The interest of Lugaritz lifetime homes lies in its innovative approach, which works from two different perspectives, home care and design, both with a common purpose: ageing in place. It is also important to highlight its aim to create knowledge that makes this project a replicable and scalable example from a perspective based on participation, inclusion and design for change.
Keywords
Senior housing

Lifetime homes for the elderly

Active ageing

Home care

Design for change

Inclusive design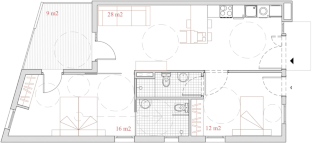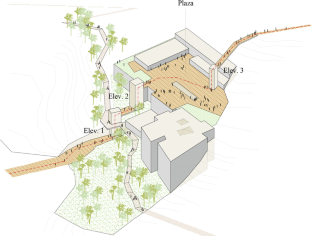 References
Abellán, A., Aceituno, M., Ramiro, D., & Castillo, A. (2021). Residence statistics: Distribution of centres and residential places by province. Data from September 2020. Envejecimiento en red reports, 27.

Alemán, M. (1993). A perspective of social services in Spain. Alternativas. Social Work Notebooks, 2, 195–205.

Baltes, P., & an Baltes,. M. (1990). Psychological perspectives on successful aging: The model of selective optimization with compensation. In Successful aging. perspectives from the behavioral sciences (pp. 1–34). Cambridge University Press.

Croucher, K., Hicks, L., & Jackson, K. (2006). Housing with care for later life: A literature review. York.

Danish Ministry of Housing, Urban and Rural Affairs. (2010). Fact Sheet on Danish Housing for the elderly.

Fernández-Ballesteros, R., Robine, J. M., Walker, A., & Kalache, A. (2012). Active aging: A global goal. Current Gerontology and Geriatrics Research, 2013, 1–4.

Fernández-Carro, C., & Evandrou, M. (2014). Growing old at home: Housing preference or lack of alternatives? An analysis of the European context. In C. Heriberto & F. Lucila (Eds.), Crisis and change. Proposals from sociology (Vol. II, pp. 694–704). Actas del XI Congreso Español de Sociología.

García, H., & Soler, A. (2015). Universal accessibility: Housing for life. Aenor, revista de la normalización y la certificación, 297, 28–33.

Gottschalk, G. (1993). Danish case study: Modernization and adaptation of pensioners flats in Copenhagen. In SBI town and planning 68. Better housing and living conditions for older people. Case studies from six European cities. Danish Building Research Institute.

Gottschalk, G. (1995). Housing and supportive services for frail elders in Denmark. In J. Pynoos & P. Liebig (Eds.), Housing frail elders: International policies, perspectives and prospects. The Johns Hopkins University Press.

Hanson, J. (2001). From sheltered housing to lifetime homes: An inclusive approach to housing. In Lifetime housing in Europe: Proceedings of the European seminar and colloquium living tomorrow starts today, Leuven, Belgium, 4–5. December 2000.

Houben, P. (1997). Challenges in the modernisation of Dutch housing and care for the elderly. Housing Studies, 12(3), 355–366.

Houben, P. (2001). Changing housing for elderly people and coordination issues in Europe. Housing Studies, 16(5), 651–673.

Lawton, P., & Nahemow, L. (1973). Ecology and the aging process. The psychology of adult development and aging. In L. Eisdorfer (Ed.), The psychology of adult development and aging (pp. 619–674). American Psychological Association.

Lindstrøm, B. (1997). Housing and service for the elderly in Denmark. Ageing International, 23(3–4), 115–132.

Rowe, J., & Kahn, R. (1987). Human aging: Usual and successful. Science, 237, 143–149.

Sancho, M., & Rodríguez, P. (2001). Envejecimiento y protección social de la dependencia en España. Twenty years of history and a look into the future. Intervención Psicosocial, 10(3), 259–275.

Sancho, M., & Martínez, T. (2021). The future of long-term care in the face of the Covid-19 crisis. In Informe España 2021 (in press).

World Health Organization. (2002). Active ageing, a policy framework. Ageing and the life course. WHO Press.
Copyright information

© 2022 The Author(s), under exclusive license to Springer Nature Switzerland AG
About this chapter
Cite this chapter
García-Lantarón, H., Sancho Castiello, M., Azurmendi Ormazabal, M. (2022). Housing for an Active Ageing: Learning and Outcomes from the Danish Paradigm and the Application to the Spanish Context Lugaritz Lifetime Homes in Donostia – San Sebastián. In: Pozo Menéndez, E., Higueras García, E. (eds) Urban Design and Planning for Age-Friendly Environments Across Europe: North and South. Future City, vol 19. Springer, Cham. https://doi.org/10.1007/978-3-030-93875-8_9