Abstract
"Psychologies of perception" refers in this chapter to a strand of art-historical debate that recruits empirically derived observations about the nature of the human perceptual system to the exploration of philosophical problems regarding the interpretation of pictorial images. The first half presents an overview of this tradition beginning with Ernst Kris and Ernst Gombrich's work on caricature and taking in contributions from Rudolf Arnheim, Richard Wollheim and Kendall Walton. Each of these writers is characterised as engaged in a balancing act between the competing aims of making falsifiable claims about perceptual processes and evoking the pleasures of engaging with artworks.
The relevance of these debates to Comics Studies is framed primarily with respect to the attention they pay to the effects of drawing style on the recognition of pictorial images. This argument is developed in the second half, which introduces recent developments including the influence of Arnheim's work on contemporary metaphor theory and Simon Grennan's recent theorisation of narrative drawing, both of which inform the author's autobiographical comics presented in this section. The chapter concludes by suggesting that comics scholarship's focus on the narrative effects of depiction offers to art historians a novel way of exploring artists' representational choices.
Keywords
Psychology

Drawing style

Caricature

Depiction

Seeing-in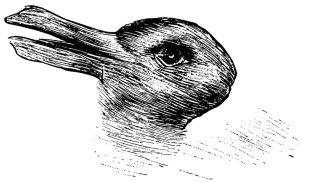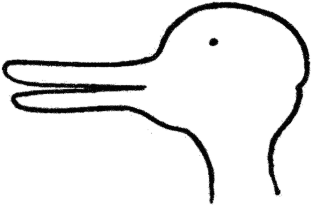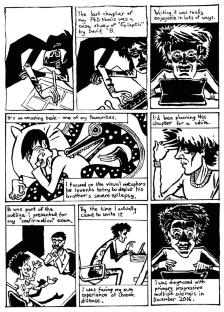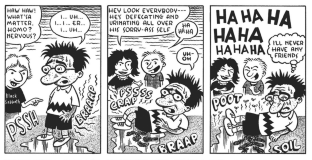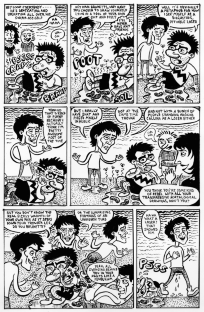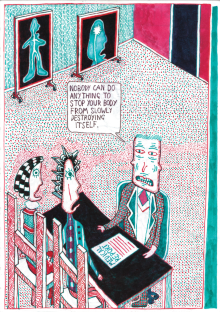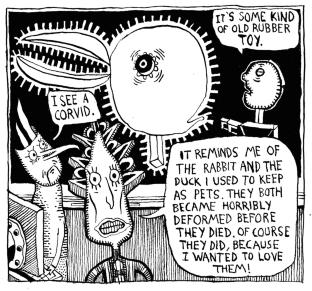 Notes
1.

Narratological analyses of style in comics include Pascal Lefèvre's (2011a, 2011b, 2016) emphasis on graphic style's ability to create fictive worlds; Simon Grennan's (Grennan 2012, 2017) conceptualisation of graphic style as the realisation of intersubjective relationships; Eszter Szép's (2020, pp. 109–134) analysis of the ethics of style as an element of interpersonal engagement; and Elisabeth El Refaie's theorisation of "stylistic metaphors" (2019, pp. 109–117)

2.

3.

4.

5.

6.

7.

Beyer began self-publishing in 1975 and is best known for comic strips starring his luckless characters Amy and Jordan. During the 1980s and 90s his work appeared in a variety of underground and alternative periodicals including the influential anthology RAW, and has been reprinted in Amy and Jordan (Beyer 2004) and Agony (Beyer 2016).

8.

An anthropomorphic elephant who starred in seven children's books authored by Brunhoff between 1931 and 1937.
References
Aldrich, Virgil C. 1971. Form in the Visual Arts. The British Journal of Aesthetics. 11:3, pp. 215–226. https://doi.org/10.1093/bjaesthetics/11.3.215.

Arnheim, Rudolf. 1952. Agenda for the Psychology of Art. The Journal of Aesthetics and Art Criticism. 10:4, pp. 310–314. https://doi.org/10.2307/426060.

Arnheim, Rudolf. 1974. Art and Visual Perception: A Psychology of the Creative Eye. 2nd Revised Edition. Berkeley, CA; London: University of California Press.

B, David. 2006. Epileptic. London: Jonathan Cape.

Baetens, Jan. 2001. Revealing traces: A new theory of graphic enunciation. In The Language of Comics: Word and Image eds. Robin Varnum and Christina T. Gibbons. Jackson: University Press of Mississippi, pp. 145–155.

Beyer, Mark. 2004. Amy and Jordan. New York: Pantheon Books.

Beyer, Mark (2016) Agony. New York Review Comics.

Brennan, Susan E. 1985. Caricature generator: The dynamic exaggeration of faces by computer. Leonardo. 18:3, pp. 170–178.

Brunetti, Ivan. 1994. Schizo. Fantagraphics 1.

Cabe, Patrick A. 1999. Superportraits: Caricatures and Recognition (Book Review), Metaphor and Symbol. 14:2, pp. 149–157. https://doi.org/10.1207/s15327868ms1402_5.

Chute, Hillary. 2011. Comics form and narrating lives. Profession. 2011, 1, pp. 107–117.

Cutting, James E. and Massironi, Manfredo (1998) Pictures and their special status in perceptual and cognitive inquiry. In Perception and Cognition at Century's End: History, Philosophy, and Theory ed. Julian Hochberg. San Diego, CA: Academic Press, pp. 137–168.

El Refaie, Elisabeth. 2019. Visual Metaphor and Embodiment in Graphic Illness Narratives. New York, NY: Oxford University Press.

Forceville, Charles. 1996. Pictorial metaphor in advertising. New York: Routledge.

Forceville, Charles. 2020. Book review of: Elisabeth El Refaie, Visual Metaphor and Embodiment in Graphic Illness Narratives (Oxford University Press, New York, 2019, ISBN 9780190678173). Journal of Pragmatics, 155, pp. 352–354. https://doi.org/10.1016/j.pragma/2019/09/007.

Freud, Sigmund. 1913. The Interpretation of Dreams. Translated by A. A. Brill. New York: Macmillan.

Gombrich, Ernst. 1963. The Cartoonist's Armory. In Meditations on a Hobby Horse, and Other Essays on the Theory of Art. London: Phaidon, pp. 127–142.

Gombrich, Ernst. 2002. Art and Illusion: A Study in the Psychology of Pictorial Representation. 6th edn. London; New York, NY: Phaidon Press.

Green, Jon D. 1985. Picasso's Visual Metaphors. Journal of Aesthetic Education 19:4, pp. 61–76. https://doi.org/10.2307/3332299.

Grennan, Simon. 2012. Demonstrating discours: Two comic strip projects in self-constraint. Studies in Comics. 2:2. pp. 295–316. https://doi.org/10.1386/stic.2.2.295_1.

Grennan, Simon (2017) A Theory of Narrative Drawing. New York: Palgrave Macmillan.

Jastrow, Joseph (1899) The Mind's Eye. Popular Science Monthly. 54, pp. 299–312.

Johnson, Mark. 1987. The Body in the Mind: The Bodily Basis Of Meaning, Imagination, And Reason. Chicago, IL: University of Chicago Press.

Kennedy, John M. 1993. Drawing and the Blind: Pictures to Touch. New Haven: Yale University Press.

Kris, Ernst and Gombrich, Ernst. 1938. The Principles of Caricature. British Journal of Medical Psychology. 17:3–4, pp. 319–342. https://doi.org/10.1111/j.2044-8341.1938.tb00301.x.

Lakoff, George and Johnson, Mark. 2003. Metaphors We Live By. 2nd edn. Chicago: University of Chicago Press.

Lefèvre, Pascal. 2011a. Mise en scène and Framing: Visual Storytelling in Lone Wolf and Cub. In Critical Approaches to Comics: Theories and Methods eds. Matthew J. Smith and Randy Duncan. New York and Abingdon: Routledge, pp. 71–83.

Lefèvre, Pascal. 2011b. Some Medium-Specific Qualities of Graphic Sequences. SubStance. 40:1, pp. 14–33.

Lefèvre, Pascal. 2016. No Content without Form. Graphic Style as the Primary Entrance to a Story. In The Visual Narrative Reader ed. Neil Cohn. London and New York: Bloomsbury Academic, pp. 67–88.

Lefèvre, Pascal and Meesters, Gert. 2018. The interpretation of an evolving line drawing. In Empirical Comics Research. Routledge, pp. 197–214.

Mautner, Chris. 2016. Agony (review), The Comics Journal. Available at: http://www.tcj.com/reviews/agony/ (Accessed: 11 December 2020).

Maynard, Patrick. 2005. Drawing distinctions: the varieties of graphic expression. Ithaca, N.Y.: Cornell University Press.

Medway, Jim. 2007. Teen Witch. Buxton: Paw Quality Comics.

Miers, John. 2017. Visual Metaphor and Drawn Narratives. PhD thesis. Central Saint Martins, University of the Arts London.

Miers, John. 2019. So I Guess My Body Pretty Much Hates Me Now. Self-published.

Mignola, Mike. 1998. The Chained Coffin and others. Milwaukee: Dark Horse Books.

Mitchell, William J. T. 1987. Iconology: image, text, ideology. Chicago, IL: University of Chicago Press.

Rawson, Phillip. 1969. Drawing. Oxford: Oxford University Press.

Rhodes, Gillian. 1997. Superportraits: Caricatures and Recognition. 1st edition. Hove, East Sussex, UK: Psychology Press.

Schier, Flint. 1986. Deeper Into Pictures: An Essay on Pictorial Representation. Cambridge: Cambridge University Press.

Szép, Eszter. 2020. Comics and the Body: Drawing, Reading, and Vulnerability. Ohio State University Press.

Töpffer, Rodolphe. 1845. Essai de physiognomonie. Schmidt.

Walton, Kendall L. 1973. Pictures and make-believe. The Philosophical Review. 82:3, pp. 283–319.

Walton, Kendall L. 1987. Style and the Products and Processes of Art. In The Concept of Style ed. Berel Lang. Revised and expanded edition. Ithaca and London: Cornell University Press, pp. 72–103.

Walton, Kendall L. 1990. Mimesis as Make-Believe: on the Foundations of the Representational Arts. Cambridge, MA: Harvard University Press.

Walton, Kendall L. 1991. Reply to Reviewers. Philosophy and Phenomenological Research, 51:2, pp. 413–431. https://doi.org/10.2307/2108140.

Wittgenstein, Ludwig. 2009. Philosophical Investigations. John Wiley & Sons.

Wolk, Douglas. 2007. Reading Comics: How Graphic Novels Work and What They Mean. Cambridge, MA: Da Capo Press.

Wollheim, Richard. 1987. Painting, metaphor, and the body: Titian, Bellini, De Kooning, etc. In Painting as an Art. Princeton, N.J.: Princeton University Press, pp. 305–57.

Wollheim, Richard. 2015. Art and its Objects. ebook. Cambridge University Press.
Copyright information
© 2022 The Author(s), under exclusive license to Springer Nature Switzerland AG
About this chapter
Cite this chapter
Miers, J. (2022). Psychologies of Perception: Stories of Depiction. In: Gray, M., Horton, I. (eds) Seeing Comics through Art History. Palgrave Studies in Comics and Graphic Novels. Palgrave Macmillan, Cham. https://doi.org/10.1007/978-3-030-93507-8_5
DOI: https://doi.org/10.1007/978-3-030-93507-8_5

Published:

Publisher Name: Palgrave Macmillan, Cham

Print ISBN: 978-3-030-93506-1

Online ISBN: 978-3-030-93507-8