Abstract

Many previous studies on epidemic processes assume that most infected nodes that contribute to the spread of infection can be identified and accounted for. But, in some cases, this assumption may be invalid and many infection cases may go undetected. For example, the operators of subsystems in complex systems may be unaware that their systems are compromised by malware or a virus, which may go undetected for a long period. Similarly, an infectious disease can cause widely varying symptoms and some infected individuals may exhibit little to no symptoms. In these scenarios, it would be difficult to identify all infected systems or individuals, which can play a critical role in spreading the infection by malware, virus or disease. For this reason, it is of interest to devise a means of quickly determining the presence of such undetected infection cases in a network. We propose a simple optimization-based approach that can be used to determine whether or not a significant fraction of infection cases are undetected and thus are missing in reported statistics. We present numerical results obtained in a case study using publicly available COVID-19 data from four countries.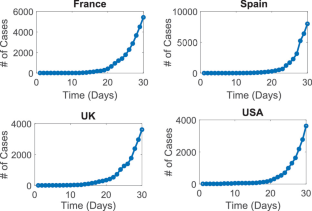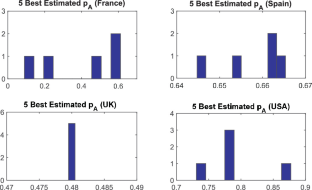 Notes
1.

Once widespread public health measures are in place, the spread dynamics are likely to change significantly with different parameters. For this reason, we considered the infection numbers in early stages.

2.

Any mention of commercial products in this paper is for information only and is not intended for an endorsement or recommendation by NIST.

3.

This estimate is for the period of February 2020 through May 2021.
References
Berger, N., Borgs, C., Chayes, J.T., Saberi, A.: On the spread of viruses on the internet. In: The Proceedings of the 16th Annual ACM-SIAM Symposium on Discrete Algorithms (SODA) (2005)

Bilge, L., Dumitras, T.: Before we knew it: an empirical study of zero-day attacks in the real world. In: The Proceedings of ACM Conference on Computer and Communications Security, pp. 833–844 (2012)

Fraser, C., Riley, S., Anderson, R.M., Ferguson, N.M.: Factors that make an infectious disease outbreak controllable. Proc. Natl. Acad. Sci. United States Am. (PNAS) 101(16), 6146–6151 (2004)

Iribarren, J.L., Moro, E.: Branching dynamics of viral information spreading. Phys. Rev. E 84, 046116 (2011)

La, R.J.: Cascading failures in interdependent systems: impact of degree variability and dependence. IEEE Trans. Netw. Sci. Eng. 5(2), 127–140 (2018)

Linhart, H., Zucchini, W.: Model Selection, Wiley Series in Probability and Statistics. Wiley (1986)

Oran, D.P., Topol, E.J.: Prevalence of asymptomatic SARS-CoV-2 infection: a narrative review. Ann. Internal Med., M20–3012 (2020)

Subramanian, R., He, Q., Pascual, M.: Quantify asymptomatic infection and transmission of COVID-19 in New York City using observed cases, serology, and testing capacity. Proc. Natl. Acad. Sci. United States Am. 67, 026126 (2021)
Copyright information

© 2022 The Author(s), under exclusive license to Springer Nature Switzerland AG
About this paper
Cite this paper
Mai, V.S., La, R.J. (2022). Story of Two Populations in Epidemics: Is Every Infection Counted?. In: Benito, R.M., Cherifi, C., Cherifi, H., Moro, E., Rocha, L.M., Sales-Pardo, M. (eds) Complex Networks & Their Applications X. COMPLEX NETWORKS 2021. Studies in Computational Intelligence, vol 1016. Springer, Cham. https://doi.org/10.1007/978-3-030-93413-2_20
DOI: https://doi.org/10.1007/978-3-030-93413-2_20

Published:

Publisher Name: Springer, Cham

Print ISBN: 978-3-030-93412-5

Online ISBN: 978-3-030-93413-2

eBook Packages: EngineeringEngineering (R0)