Abstract

COVID-19 has caused strain on healthcare systems worldwide and concern within the population over this strain and the chances of becoming infected has reduced the likelihood of people seeking medical treatment for other health events. Stroke is a medical emergency and swift treatment can make a difference in outcomes. Understanding how concern over the COVID-19 pandemic impacts the time delay in seeking treatment after a stroke can help understand both the long-term cost implications and how to target individuals to remind them of the importance of seeking treatment. We present an agent-based model to simulate the delay in seeking treatment for stroke due to concerns over COVID-19 and show that small changes in behaviour impact the average delay in seeking treatment. We find that introducing control measures and having multiple smaller peaks of the pandemic results in less delay in seeking treatment compared to a scenario with one large peak.
Keywords
Agent-based model

Hybrid model

Stroke

COVID-19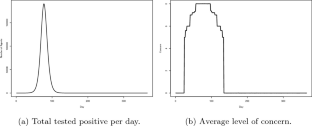 Notes
1.

Those age 50 and older make up approximately 30.4\(\%\) of the Irish population.
Ethics declarations

This project received funding from the EU's Horizon 2020 research and innovation programme under grant agreement No. 777107, and by the ADAPT Centre for Digital Content Technology funded under the SFI Research Centres Programme (Grant 13/RC/2106_P2) and co-funded under the European Regional Development Funds.
Copyright information

© 2022 The Author(s), under exclusive license to Springer Nature Switzerland AG
About this paper
Cite this paper
Hunter, E., McGarry, B.L., Kelleher, J.D. (2022). Simulating Delay in Seeking Treatment for Stroke Due to COVID-19 Concerns with a Hybrid Agent-Based and Equation-Based Model. In: Czupryna, M., Kamiński, B. (eds) Advances in Social Simulation. Springer Proceedings in Complexity. Springer, Cham. https://doi.org/10.1007/978-3-030-92843-8_29