Abstract

Branching narratives are interactive storytelling formats that present players with moments of decisions that create ramifications within the narrative. However, it is after delivering the consequences that they get a chance to reflect upon them. Through 'actions' and 'inactions', feelings of regret are created within the player, which makes them want to replay the game. Based on the Psychology of regret, this study tests the possibility of conveying more replay value to an interactive storytelling game by providing feedback to those irreversible 'inactions'. To evaluate our approach, we asked 64 participants to play one of two game versions (with the feedback system or without) and report their experience. Results show the feedback of inaction had a positive impact on the players' affective reaction, encouraging players who would not usually do so to replay the game at the expense of players finding it less challenging. Overall, highlighting the path not taken improved the game experience without provoking remorse by hinting at what could have happened and increased the replay value.
Keywords
Regret

Inaction

Replayability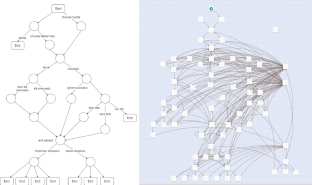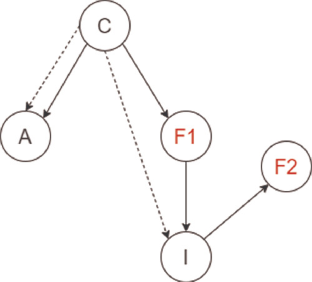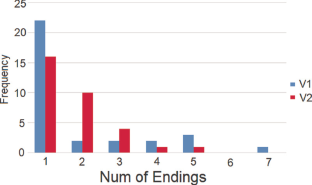 Notes
1.

2.

Independent t-tests were used when comparing distributions that both passed the Shapiro-Wilk normality test and a Mann-Whitney U test were used when one of the distribution did not. The test were performed with IBM SPSS 26.
References
Albarracin, D., Hepler, J., Tannenbaum, M.: General action and inaction goals. Curr. Direct. Psychol. Sci. 20, 119–123 (2011). https://doi.org/10.1177/0963721411402666

Baron, J., Ritov, I.: Omission bias, individual differences, and normality. Organ. Behav. Human Decis. Process. 94, 74–85 (2004). https://doi.org/10.1016/j.obhdp.2004.03.003

Bohner, G., Dickel, N.: Attitudes and attitude change. Ann. Rev. Psychol. 62, 391–417 (2011). https://doi.org/10.1146/annurev.psych.121208.131609

Connolly, T., Reb, J.: Regret in health-related decisions. Health Psychol.: Off. J. Divis. Health Psychol. Am. Psychol. Assoc. 24, S29–S34 (2005). https://doi.org/10.1037/0278-6133.24.4.S29

Connolly, T., Zeelenberg, M.: Regret in decision making. Curr. Dir. Psychol. Sci. 11(6), 212–216 (2002). https://doi.org/10.1111/1467-8721.00203

David, B.: Regret in decision making under uncertainty. Oper. Res. 30, 961–981 (1982). https://doi.org/10.1287/opre.30.5.961

Diefendorff, J., Hall, R., Lord, R., Strean, M.: Action-state orientation: construct validity of a revised measure and its relationship to work-related variables. J. Appl. Psychol. 85, 250–63 (2000). https://doi.org/10.1037/0021-9010.85.2.250

Gamito, S.: Highlight the path not taken to add replay value to a storytelling video game. Master's thesis, Instituto Superior Técnico, University of Lisbon (2021)

IJsselsteijn, W., de Kort, Y., Poels, K.: The game experience questionnaire. Technische Universiteit Eindhoven (2013)

Inman, J., Dyer, J., Jia, J.: A generalized utility model of disappointment and regret effects on post-choice valuation. Mark. Sci. 16, 97–111 (2000). https://doi.org/10.1287/mksc.16.2.97

Kahneman, D., Tversky, A.: The psychology of preferences. Sci. Am. 246, 160–173 (1982). https://doi.org/10.1038/scientificamerican0182-160

Kutscher, L., Feldman, G.: The impact of past behavior normality on regret: replication and extension of three experiments of the exceptionality effect. Cogn. Emot. 33, 901–914 (2019). https://doi.org/10.1080/02699931.2018.1504747

Loomes, G., Sugden, R.: Regret theory: an alternative theory of rational choice under uncertainty. Econ. J. 92, 805–824 (1982). https://doi.org/10.1287/opre.30.5.961

Marcatto, F., Ferrante, D.: The regret/disappointment scale: an instrument for assessing regret and disappointment in decision making. Judgm. Decis. Mak. 3, 87–99 (2008)

Pieters, R., Zeelenberg, M.: A theory of regret regulation 1.1. J. Consum. Psychol. 17, 29–35 (2007). https://doi.org/10.1207/s15327663jcp1701_6

Roese, N.J.: Counterfactual thinking. Psychol. Bull. 121, 133–148 (1997). https://doi.org/10.1037/0033-2909.121.1.133

Spranca, M., Minsk, E., Baron, J.: Omission and commission in judgment and choice. J. Exp. Soc. Psychol. 27, 76–105 (1991). https://doi.org/10.1016/0022-1031(91)90011-T

Zeelenberg, M.: Anticipated regret, expected feedback and behavioral decision-making. Other publications tisem, Tilburg University, School of Economics and Management (1999). https://EconPapers.repec.org/RePEc:tiu:tiutis:38371d1b-31fd-45b0-860f-b83a4e416fbf

Zeelenberg, M., van den Bos, K., Dijk, E., Pieters, R.: The inaction effect in the psychology of regret. J. Pers. Soc. Psychol. 82, 314 (2002). https://doi.org/10.1037/0022-3514.82.3.314
Acknowledgment

This work was supported by national funds through Fundação para a Ciência e a Tecnologia (FCT) with reference UIDB/50021/2020.
Copyright information

© 2021 Springer Nature Switzerland AG
About this paper
Cite this paper
Gamito, S., Martinho, C. (2021). Highlight the Path Not Taken to Add Replay Value to Digital Storytelling Games. In: Mitchell, A., Vosmeer, M. (eds) Interactive Storytelling. ICIDS 2021. Lecture Notes in Computer Science(), vol 13138. Springer, Cham. https://doi.org/10.1007/978-3-030-92300-6_6
DOI: https://doi.org/10.1007/978-3-030-92300-6_6

Published:

Publisher Name: Springer, Cham

Print ISBN: 978-3-030-92299-3

Online ISBN: 978-3-030-92300-6

eBook Packages: Computer ScienceComputer Science (R0)