Abstract
Where was the board? This is the cry that emerges each time a company disastrously collapses or becomes enmeshed in a scandal. The board of directors are, in principle, the guardians of the company, the people who ensure it is well-managed, financially secure and operates in the best interests of its shareholders and other stakeholders. Yet when companies come crashing to the ground, it emerges that the board has failed in its fiduciary duty to the organization to ensure it is managed responsibly and sustainably, and to all stakeholders including shareholders to ensure their interests are not harmed. This chapter argues why board failure should be getting greater attention than it has—including that it has been with us for 300 years, across the world, and that the causes of these failures are both predictable and preventable if all concerned paid greater attention to board and organizational culture.
Keywords
Culture

Corporate disaster

Board failure

Business scandals

Board governance

Non-executive directors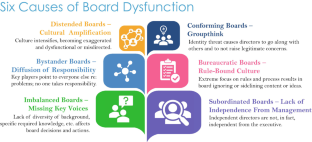 Notes
1.

Lawrence LeShan and Henry Margenau, Einstein's Space and Van Gogh's Sky, New York: Macmillan, 1982; Norman Dixon, On the Psychology of Military Incompetence, London: Cape, 1976.

2.

Charles Mackay, Extraordinary Popular Delusions and the Madness of Crowds, London: Bentley, 1852, pp. 55, 60–2.

3.

Helen Paul, The South Sea Bubble: An Economic History of its Origins and Consequences, London: Routledge, 2013.

4.

Mark Casson, The World's First Railway System: Enterprise, Competition and Regulation on the Railway Network in Victorian Britain, Oxford: Oxford University Press, 2009.

5.

C. Peter Magrath, Yazoo: Law and Politics in the New Republic, New York: W.W. Norton, 1967.

6.

Geoffrey Elliott, The Mystery of Overend & Gurney: A Financial Scandal in Victorian London, London: Methuen, 2007.

7.

Richard White, Railroaded: The Transcontinentals and the Making of Modern America, New York: W.W. Norton, 2012.

8.

J. Leonard Bates, The Origins of Teapot Dome: Progressives, Parties and Petroleum, 1909–1921, Urbana: University of Illinois Press, 1963.

9.

Chris Swinson, Share Trading, Fraud and the Crash of 1929: A Biography of Clarence Hatry, London: Routledge, 2019.

10.

11.

12.

13.

14.

15.

Philip Inman and Richard Partington, 'Business View', The Guardian 9 July 2020.

16.

Financial Times, 8 July 2020.

17.

18.

Gerry Brown, Andrew Kakabadse and Filipe Morais, The Independent Director in Society, Basingstoke: Palgrave Macmillan, 2020.

19.

20.

21.

Gerry Brown, The Independent Director: The Non-Executive Director's Guide to Effective Board Presence, Basingstoke: Palgrave Macmillan, 2015; Brown et al., 2020.

22.

Randall S. Peterson, D. Brent Smith, Paul V. Martorana and Pamela D. Owens, 'The Impact of Chief Executive Officer Personality on Top Management Team Dynamics: One Mechanism by Which Leadership Affects Organizational Performance', Journal of Applied Psychology 88 (3), 2003; Robert Hogan and Robert B. Kaiser, 'What We Know About Leadership', Review of General Psychology 9 (2), 2005.

23.

Hogan and Kaiser, p. 176.

24.

25.

26.

Steven Boivie, Michael K, Bednar, Ruth V. Aguilera and Joel L. Andrus, 'Are Boards Designed to Fail? The Implausibility of Effective Board Monitoring', Academy of Management Annals, February 2016.
Copyright information
© 2022 The Author(s), under exclusive license to Springer Nature Switzerland AG
About this chapter
Cite this chapter
Brown, G., Peterson, R.S. (2022). Where Was the Board?. In: Disaster in the Boardroom. Palgrave Macmillan, Cham. https://doi.org/10.1007/978-3-030-91658-9_1