Abstract

Dams and power plants in areas of high mountains may present different conditions from projects at lower elevations. On the one hand, the higher the location of such a site the smaller the catchment area will be, which means comparatively small amounts of water, water which in addition in most cases will show a very marked seasonal flow pattern. On the other hand, the topography will often be suitable for forming reservoirs with a small surface, but a large storage volume, when deep and narrow valleys can be used, and they have the potential to offer high head which can be used by means of suitable headrace structures. In this chapter, two projects are presented, Mauvoisin in Switzerland and Pamir 1 in Tajikistan. The first one, in addition to presenting options for enhancement of an existing project, also serves as a case study emphasising the issue of entering discussions with an NGO which is opposing the project.
«Au grand barrage

On reprend la saison qui crache dans les bétonnières

Au milieu des grues métalliques pendues dans le vide à 3000»

"Le grand barrage", Jean Pierre Huser,

D'un millénaire à l'autre, 2007

At the big dam

They resume the season that spits in the concrete plants

Amidst the metal cranes suspended in the void at 3000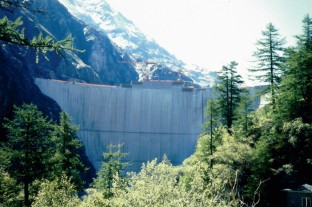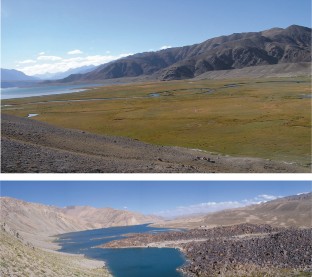 References
Alford, D., S.F. Cunha, & J.D. Ives. 2000. Lake Sarez, Pamir Mountains, Tajikistan: Mountain hazards and development assistance. Mountain Research and Development 20 (l): 20–23.

Breu, T., H. Hurni, and A. Wirth Stucki (eds.). 2003. The Tajik Pamirs: Challenges of sustainable development in an isolated mountains region, 80 pp. Centre for Environment and Development (CDE), University of Berne.

Ecotec and Ecosens. 1993. Projet d'aménagement hydroélectrique de Mauvoisin II: Augmentation de la puissance de 550 MW. Rapport d'imapct sur l'environnement. Forces Motrices de Mauvoisin.

EWE. 2001. Evaluation of the GBAO electric networks and assistance in project preparation. Vol. 3: Environmental and social measures. International Finance Corporation and Government of Tajikistan.

EWI. 1987. Projet de surélévation du barrage de Mauvoisin. Analyse des effets sur l'environnement. Forces Motrices de Mauvoisin.

FMM. n.d. Mauvoisin II—augmentation de la puissance, 20 p. Sion: Forces Motrices de Mauvoisin S.A.

Zwahlen, R. 2006. The value of talking to NGOs: A case study. In Proceedings, Asia 2006, international symposium on water resources and renewable energy development, Bangkok, 30 Nov and 1 Dec 2006.
Copyright information

© 2022 The Author(s), under exclusive license to Springer Nature Switzerland AG
About this chapter
Cite this chapter
Zwahlen, R. (2022). HPPs in High Mountain Areas. In: Assessing the Environmental Impacts of Hydropower Projects. Environmental Earth Sciences. Springer, Cham. https://doi.org/10.1007/978-3-030-91185-0_25
DOI: https://doi.org/10.1007/978-3-030-91185-0_25

Published:

Publisher Name: Springer, Cham

Print ISBN: 978-3-030-91184-3

Online ISBN: 978-3-030-91185-0