Abstract

The Gallegos is the southernmost river of continental Patagonia. It has the smallest drainage basin of all the main rivers in the region. Moderate atmospheric precipitations (~500 mm y−1 in the uppermost catchments) determine discharge maxima in austral winter (rainfall/snowfall) and spring (snowmelt), delivering ~0.573 km3 y−1 of freshwater (i.e. ~57 L m2 y−1) into an ample estuary in the SW Atlantic Ocean. The Gallegos stands out among the remaining Patagonian rivers for its connection (~18-month significant squared coherency) with the Southern Annular Mode, and due to its biogeochemistry, which appears affected by groundwater and debris, both associated to some degree with Eocene bituminous coal beds. The relevant factors seem to be: (a) the marked prevalence of NO3−–N among nutrients (N:P = 50:1–60:1); (b) the mean DOC concentration (~500 µmol L−1), higher than all remaining Patagonian rivers (mean of ~300 µmol L−1), and linked to river discharge; (c) high DIC, correlated with high pCO2 (probably groundwater-supplied); (d) mean POC/PN molar ratio of ~8:1 (the highest in Patagonia's rivers), leading to infer a terrigenous source with some planktonic contribution. High DOC concentrations (~1000 µmol L−1) are associated with low δ13CDIC (~−11 per mil), probably controlled by carbonate dissolution. Mean TOC in the Gallegos River is ~700 µmol L−1, 70% of which is accounted for by DOC.
Keywords
Hydrology

Biogeochemistry

Organic components

Nutrients

DOC

River sediments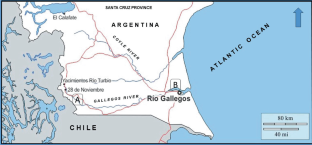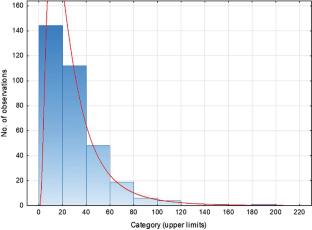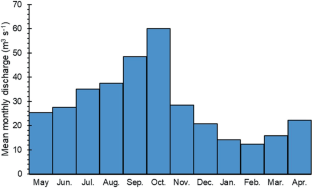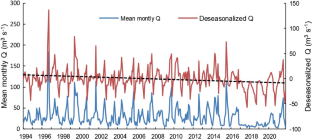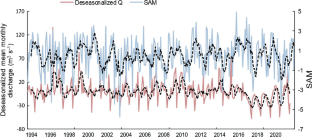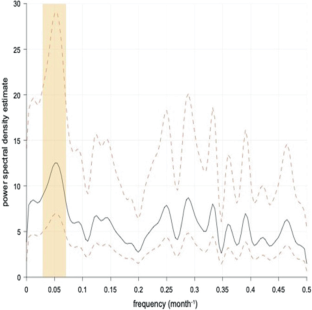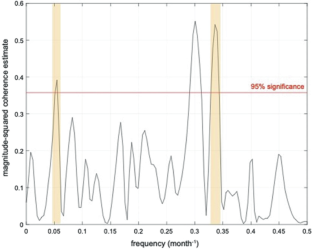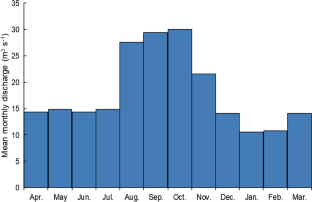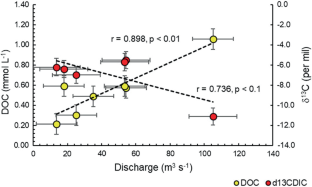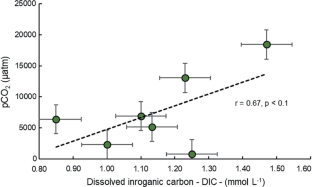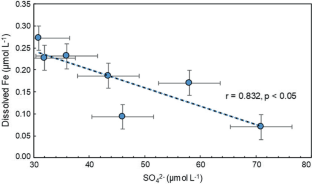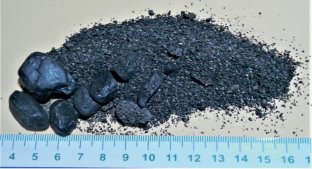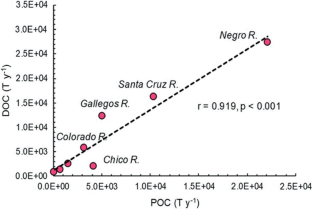 Notes
1.

2.

3.

Also known as overland flow.

4.

SAM is also known as the Antarctic Oscillation (AAO). It is defined as a low-pressure belt surrounding Antarctica.

5.

6.

Río Turbio subbituminous-bituminous coal (geometric) mean composition on a dry, ash-free basis, is ~56.6% carbon, ~0.97% nitrogen, ~0.68% sulphur, and ~0.02% phosphorous (Brooks et al. 2006).
References
Barth JAC, Veizer J (1999) Carbon cycle in the St Lawrence aquatic ecosystem at Cornwall (Ontario), Canada: seasonal and spatial variations. Chem Geol 159:107–128

Blackman RB, Tukey JW (1958) The measurement of power spectra from the point of view of communications engineering–part I. Bell Syst Tech J 37:185–282

Brooks WE, Finkelman RB, Willett JC, Torres IE (2006) World quality inventory: Argentina. In: Karlsen AW, Tewalt SJ, Bragg LJ, Finkelman RB (eds) World coal quality inventory: South America. US Geological Survey, Washington DC, pp 27–47

Brunet F, Gaiero D, Probst J-L, Depetris PJ, Gauthier, Lafaye F, Stille P (2005) ™13C tracing of dissolved inorganic carbon sources in Patagonian rivers (Argentina). Hydrol Proc 19:3321–3344

Campos Dos Santos E, De Mendonça Silva JC, Anderson Duarte H (2016) Pyrite oxidation mechanism by oxygen in aqueous medium. J Phys Chem C 120(5):2760–2768

Carson MA, Kirkby NJ (1972) Hillslope form and processes. University Press, Cambridge

Depetris PJ, Gaiero DM, Probst J-L, Hartmann J, Kempe S (2005) Biogeochemical output and typology of rivers draining Patagonia's Atlantic seaboard. J Coast Res 21(4):835–844

Díaz B, Monserrat MC, Tiberi PE, Mardewald G, Hofmann C, Caparrós L, Mattenet F, Zerpa D, Billoni SL, Martínez L (2016) Surface–water hydrology of the Río Gallegos watershed (South of Santa Cruz province, Argentina). Techn Report-UNPA 8(3):136–161 (in Spanish)

Gillett NP, Kell TD, Jones PD (2006) Regional climate impacts of the Southern Annular Mode. Geophys Res Lett 33:1–4

Hendon HH, Thompson DWJ, Wheeler MC (2007) Australian rainfall and surface temperature variations associated with the Southern Hemisphere Annular Mode. J Clim 20:2452–2467

Lee B, Han Y, Huh Y, Lundstrom C, Siame LL, Lee JI, Park B-K, Aster, team. (2013) Chemical and physical weathering in south Patagonia rivers: a combined Sr-U-Be isotope approach. Geochim Cosmochim Acta 101:173–190

Marshall GJ (2003) Trends in the Southern Annular Mode from observations and reanalyzes. J Clim 16:4134–4143

Meybeck M (2005) Global occurrence of major elements in rivers. In: Drever JI (ed) Surface and groundwater, weathering and soils. Elsevier, Amsterdam, pp 207–223

Perdue EM, Ritchie JD (2005) Dissolved organic matter in freshwaters. In: Drever JI (ed) Surface and groundwater, weathering and soils. Elsevier, Amsterdam, pp 273–318

SSRH (2002) Acta digital de los recursos hídricos superficiales de la República Argentina, CD-Rom, Buenos Aires (in Spanish)

Stumm W, Morgan JJ (1996) Aquatic chemistry. Chemical equilibria and rates in natural waters. Wiley-Interscience, New York

Tranter M (2005) Geochemical weathering in glacial and proglacial environments. In: Drever JI (ed) Surface and groundwater, weathering and soils. Elsevier, Amsterdam, pp 189–205

Welch P (1967) The use of fast Fourier transform for the estimation of power spectra: a method based on time averaging over short, modified periodograms. IEEE Trans Audio Electroacoust 15(2):70–73

Yang S, Li Z, Yu J-Y, Hu X, Dong W, He S (2018) El Niño-Southern Oscillation and its impact in the changing climate. Ntl Sci Rev 5(6):840–857
Copyright information

© 2021 The Author(s), under exclusive license to Springer Nature Switzerland AG
About this chapter
Cite this chapter
Depetris, P.J., Gaiero, D.M., Cosentino, N.J. (2021). A Hydrological and Biogeochemical Appraisal of Patagonia's Río Gallegos. In: Torres, A.I., Campodonico, V.A. (eds) Environmental Assessment of Patagonia's Water Resources. Environmental Earth Sciences. Springer, Cham. https://doi.org/10.1007/978-3-030-89676-8_11
DOI: https://doi.org/10.1007/978-3-030-89676-8_11

Published:

Publisher Name: Springer, Cham

Print ISBN: 978-3-030-89675-1

Online ISBN: 978-3-030-89676-8