Abstract

Degree of urbanization varies spatiotemporally in India, and so also the levels of urban poverty. Taking examples of two states in India i.e. Bihar (less urbanized with a higher incidence of urban poverty) and Maharashtra (more urbanized with a lesser proportion of urban poverty), this paper aims to examine whether housing policies for the urban poor should only be geared towards slums, which are often considered as the spatial manifestation of urban poverty. Relying broadly on  data drawn from Census of India (2011) and India Human Development Survey (2011–12), this paper attempts to put forward a point that town-level household asset data, along with the data on slums, could bring better insights in understanding the spatial manifestation of urban poverty, thereby making a case of policy attention and financial allocation not only for slums but for non-slum areas as well, both in large cities and small and medium towns. A critical review of recent urban housing programmes like IHSDP and PMAY HFA reveals that several associated issues like definition and identification of slums, individual's possession of BPL card and land ownership need to be readdressed, to provide a safe and secure shelter to inhabitants, living both in slums and non-slum areas across different size-categories of urban centres.
Keywords
Urbanization

Urban Poverty

Asset

Slum

Housing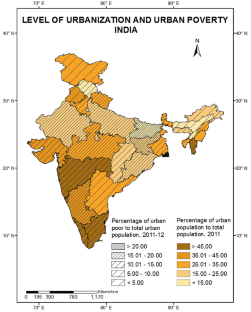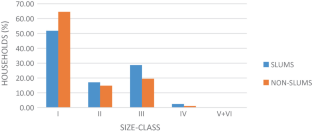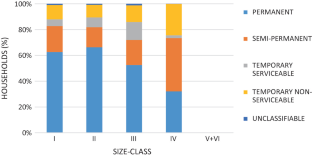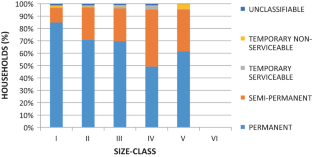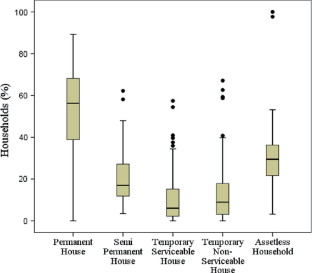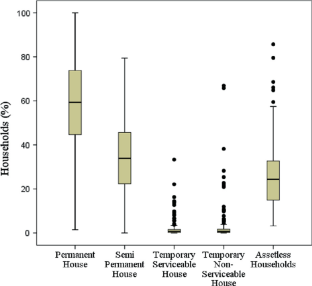 Notes
1.

Mahajanapadas refer to 'large territorial units', total 16 in number, mostly came up in Gangetic valley during Century 600 BCE (see Roy and Lorge: Chinese and Indian Warfare–From the Classical Age to 1870 Routledge: 2014:34).

2.

http://governancetoday.co.in/the-challenge-of-urbanizing-bihar, accessed on 14.12.2016—this web article highlights that the weak economic base, very limited efforts on poverty reduction strategies, legislative bottlenecks, governance hindrances are the root causes behind lower levels of urbanization in Bihar.

3.

Dilapidated census houses are those which show 'signs of decay or those breaking down and required major repairs and are far from being in condition that can be restored or repaired'.

4.

NSSO does not conduct household surveys in slums, and that is why it reports information on majority of the houses present in slums.
References
Baker, J. L. & McClain, K. (2009). Private sector initiatives in slum upgrading. World Bank, Working paper, 48928. Retrieved from https://documents1.worldbank.org/curated/en/926321468158372627/pdf/489280NWP0Box338934B01PUBLIC10UP18.pdf.

Bhan, G., & Jana, A. (2013). Of slums or poverty: Notes of caution from Census 2011. Economic and Political Weekly, 48(18), 13–16.

Chandran, D. (2010). An appraisal of Jawaharlal Nehru National Urban Renewal Mission (JNNURM): Case Studies of Thiruvananthapuram and Kochi. M.Phil Dissertation submitted in Centre for the Study of Regional Development, Jawaharlal Nehru University, New Delhi, India.

Dupont, V. (2008). Slum demolitions in Delhi since the 1990s: An appraisal. Economic and Political Weekly, 43(28), 79–87.

Gandhi, S. (2012). Economics of affordable housing in Indian cities: The case of Mumbai. Environment and Urbanization Asia, 3(1), 221–235.

Kumar, R., & Punia, M. (2014). Urbanisation in Bihar: Need to break stigma. Journal of Asian Network for GIS-Based Historical Studies, 2, 32–42.

Kundu, D., & Samanta, D. (2011). Redefining the inclusive urban agenda in India. Economic and Political Weekly, 46(5), 55–63.

Mahadevia, D. (2006). NURM and the poor in globalising mega cities. Economic and Political Weekly, 41(31), 3399–3403.

Ministry of Housing, & Urban Poverty Alleviation. (2008). Report of the High Level Task Force on Affordable Housing for All. Retrieved from http://www.naredco.in/pdfs/report-high-level-task.pdf.

Mukhopadhay, P. (2006). Whither urban renewal? Economic and Political Weekly, 41(10), 879–884.

National Sample Survey Organisation (2013). Key Indicators of Urban Slums in India, 69th Round July-December 2012. Retrieved from http://www.icssrdataservice.in/datarepository/index.php/catalog/94/related_materials.

Patel, S. B. (2011). Inclusionary housing. Economic and Political Weekly, 46(43), 13–14.

Planning Commission of India. (2014). Report of the expert group to review the methodology for measurement of poverty. Retrieved from https://niti.gov.in/planningcommission.gov.in/docs/reports/genrep/pov_rep0707.pdf.

Shaw, A. (1996). urban policy in post-independent India: An appraisal. Economic and Political Weekly, 31(4), 224–228.

Sidhwani, P. (2015). Spatial inequality in big Indian cities. Economic & Political Weekly, 50(22), 55–62.
Acknowledgement

An earlier version of this book chapter was presented at the National Conference on 'Making Cities Resilient: Post Habitat III', organized by Department of Geography, Shaheed Bhagat Singh College, University of Delhi, 3-4 February, 2017. We are thankful to the participants for their comments.
Copyright information

© 2022 The Author(s), under exclusive license to Springer Nature Switzerland AG
About this chapter
Cite this chapter
Mondal, D., Saha, J. (2022). Sheltering Urban Poor: Looking for a New Approach. In: Kundu, A., Ponce Dentinho, T., Magsi, H., Basu, K., Bandyopadhyay, S. (eds) Accessible Housing for South Asia. Springer, Cham. https://doi.org/10.1007/978-3-030-88881-7_8