Abstract

This paper presents a design method for gravity compensation of articulated robots. The method is realized by installing spring four-bar mechanisms onto the robot to eliminate the gravity effect on its joints. This elimination allows reducing the actuation torque and energy consumption of the robot during operation. The design of the spring mechanisms is obtained by solving an optimization problem for minimizing the actuation torque of the robot. A numerical example is provided to demonstrate the proposed design method, by which a significant reduction in the actuation torque over the robot workspace is received. A simulation-based validation showed that the actuation torque of the robot could be reduced by approximately 90% when the design method is applied.
Keywords
Gravity compensation

Static balancing

Planar four-bar linkage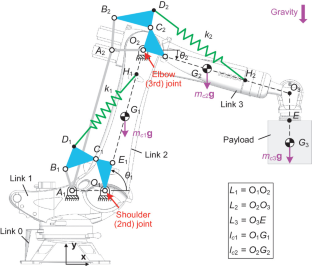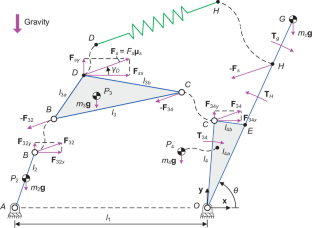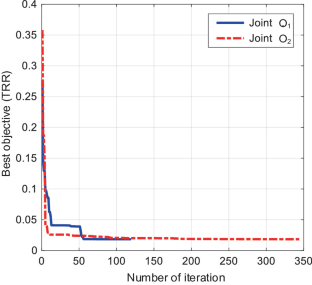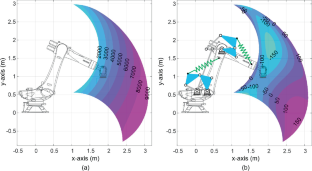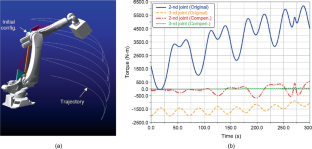 References
Brossog, M., Bornschlegl, M., Franke, J.: Reducing the energy consumption of industrial robots in manufacturing systems. Int. J. Adv. Manuf. Technol. 78(5–8), 1315–1328 (2015)

Richiedei, D., Trevisani, A.: Optimization of the energy consumption through spring balancing of servo-actuated mechanisms. ASME J. Mech. Design 142(1), 012301 (2020)

Arakelian, V.: Gravity compensation in robotics. Adv. Robot. 30(2), 79–96 (2016)

Carricato, M., Gosselin, C.: A statically balanced Gough/Stewart-type platform: conception, design, and simulation. ASME J. Mech. Robot. 1(3), 031005 (2009)

Van der Wijk, V.: Design and analysis of closed-chain principal vector linkages for dynamic balance with a new method for mass equivalent modeling. Mech. Mach. Theory 107, 283–304 (2017)

Kuo, C.-H., Nguyen, V.L., Robertson, D., Chou, L.-T., Herder, J.L.: Statically balancing a reconfigurable mechanism by using one passive energy element only: a case study. ASME J. Mech. Robot. 13(4), 040904 (2021)

Herder, J.L.: Energy-free systems: theory, conception and design of statically balanced spring mechanisms. Ph.D. thesis, Delft University of Technology, Delft, The Netherlands (2001)

Nguyen, V.L., Lin, C.-Y., Kuo, C.-H.: Gravity compensation design of Delta parallel robots using gear-spring modules. Mech. Mach. Theory 154, 104046 (2020)

Essomba, T.: Design of a five-degrees of freedom statically balanced mechanism with multi-directional functionality. Robotics 10(1), 11 (2021)

Lacasse, M.-A., Lachance, G., Boisclair, J., Ouellet, J., Gosselin, C.: On the design of a statically balanced serial robot using remote counterweights. IEEE International Conference on Robotics and Automation (ICRA), Karlsruhe, Germany, pp. 4189–4194 (2013)

Kim, H.-S., Min, J.-K., Song, J.-B.: Multiple-degree-of-freedom counterbalance robot arm based on slider-crank mechanism and bevel gear units. IEEE Trans. Rob. 32(1), 230–235 (2016)

Nguyen, V.L., Lin, C.-Y., Kuo, C.-H.: Gravity compensation design of planar articulated robotic arms using the gear-spring modules. ASME J. Mech. Robot. 12(3), 031014 (2020)

Lee, D., Seo, T.: Lightweight multi-DOF manipulator with wire-driven gravity compensation mechanism. IEEE/ASME Trans. Mechatron. 22(3), 1308–1314 (2017)

KUKA Robotics: The KR QUANTEC series, KR 210 R3100. KUKA Industrial Robotics-High Payloads (2016)
Acknowledgments

This paper was supported by the Ministry of Science and Technology (MOST), Taiwan (grant number MOST 110-2222-E-167-004).
Copyright information

© 2022 The Author(s), under exclusive license to Springer Nature Switzerland AG
About this paper
Cite this paper
Nguyen, V.L. (2022). Gravity Compensation of Articulated Robots Using Spring Four-Bar Mechanisms. In: Pucheta, M., Cardona, A., Preidikman, S., Hecker, R. (eds) Multibody Mechatronic Systems. MuSMe 2021. Mechanisms and Machine Science, vol 110. Springer, Cham. https://doi.org/10.1007/978-3-030-88751-3_21
DOI: https://doi.org/10.1007/978-3-030-88751-3_21

Published:

Publisher Name: Springer, Cham

Print ISBN: 978-3-030-88750-6

Online ISBN: 978-3-030-88751-3