Abstract

Aortic valve stenosis (AS) is the narrowing of the heart's aortic valve opening, which restricts blood flow from the left ventricle to the aorta. Accurate diagnosis and timely intervention of AS are crucial since the mortality rate of this condition rapidly increases as symptoms begin to develop. Automated AS estimation in echocardiography faces several challenges, including generalization from diverse medical data, access to high-quality Doppler imaging, and noisy training labels. In this paper, we propose a method for automatic Aortic Stenosis assessment in echocardiography, which is, to the best of our knowledge, the first deep learning pipeline to automate the identification and grading of AS using cardiac ultrasound. Trained and evaluated on a large dataset of 9,117 echocardiograms obtained from 2,247 patients, our method achieves a mean \(F_1\) score of 96.5% for the identification of AS and a mean \(F_1\) score of 73% for grading AS. We use a multi-task training scheme to predict AS severity and key parameters used in clinical AS assessment along with their aleatoric uncertainties. Compared to a baseline that only predicts AS severity, our results show that our multi-task uncertainty-aware inference method achieves comparable classification performance while improving the ability to detect out-of-distribution examples. This is crucial for the clinical deployment of our method in point-of-care settings, where ultrasound operators have less experience in acquiring high-quality echocardiograms.
Keywords
Deep learning

Echocardiography

Ultrasound

Uncertainty estimation

Multi-task learning

Point-of-care
T. Ginsberg, R. Tal and M. Tsang—Joint first authors.
P. Abolmaesumi and T. Tsang—Joint senior authors.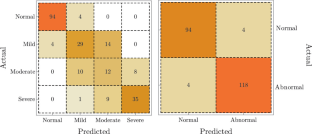 References
Bertasius, G., Wang, H., Torresani, L.: Is space-time attention all you need for video understanding? (2021)

Brown, M.L., et al.: The benefits of early valve replacement in asymptomatic patients with severe aortic stenosis. J. Thorac. Cardiovasc. Surg. 135(2), 308–315 (2008)

Carabello, B.A., Paulus, W.J.: Aortic stenosis. Lancet 373(9667), 956–966 (2009)

Caruana, R.: Multitask learning. Learning to Learn, pp. 95–133 (1998)

Chen, C., et al.: Deep learning for cardiac image segmentation: a review. Front. Cardiovasc. Med. 7, 25 (2020)

Clavel, M.A., et al.: The complex nature of discordant severe calcified aortic valve disease grading: new insights from combined doppler echocardiographic and computed tomographic study. J. Am. Coll. Cardiol. 62(24), 2329–2338 (2013)

Crawshaw, M.: Multi-task learning with deep neural networks: a survey (2020)

Czarnecki, A., et al.: Trends in the incidence and outcomes of patients with aortic stenosis hospitalization. Am. Heart J. 199, 144–149 (2018)

Dezaki, F.T., et al.: Echo-SyncNet: self-supervised cardiac view synchronization in echocardiography. IEEE Trans. Med. Imag. 40, 2092–2104 (2021). https://doi.org/10.1109/TMI.2021.3071951

Kazemi Esfeh, M.M., Luong, C., Behnami, D., Tsang, T., Abolmaesumi, P.: A deep Bayesian video analysis framework: towards a more robust estimation of ejection fraction. In: Martel, A.L., et al. (eds.) MICCAI 2020. LNCS, vol. 12262, pp. 582–590. Springer, Cham (2020). https://doi.org/10.1007/978-3-030-59713-9_56

Fort, S., Hu, H., Lakshminarayanan, B.: Deep ensembles: a loss landscape perspective (2020)

Gal, Y., Ghahramani, Z.: Dropout as a Bayesian approximation: representing model uncertainty in deep learning (2016)

Jafari, M.H., et al.: U-LanD: uncertainty-driven video landmark detection (2021)

Kendall, A., Gal, Y.: What uncertainties do we need in Bayesian deep learning for computer vision? CoRR abs/1703.04977 (2017)

Liao, Z., et al.: On modelling label uncertainty in deep neural networks: automatic estimation of intra-observer variability in 2d echocardiography quality assessment (2019)

Mitros, J., Namee, B.M.: On the validity of Bayesian neural networks for uncertainty estimation (2019)

Ouyang, D., et al.: Video-based AI for beat-to-beat assessment of cardiac function. Nature 580(7802), 252–256 (2020)

Ruder, S.: An overview of multi-task learning in deep neural networks (2017)

Strange, G., et al.: Poor long-term survival in patients with moderate aortic stenosis. J. Am. Coll. Cardiol. 74(15), 1851–1863 (2019)

Tran, D., Wang, H., Torresani, L., Ray, J., LeCun, Y., Paluri, M.: A closer look at spatiotemporal convolutions for action recognition (2018)

Wang, G., Li, W., Aertsen, M., Deprest, J., Ourselin, S., Vercauteren, T.: Aleatoric uncertainty estimation with test-time augmentation for medical image segmentation with convolutional neural networks. Neurocomputing 338, 34–45 (2019)

Wang, X., Girshick, R., Gupta, A., He, K.: Non-local neural networks (2018)

Wu, S., Zhang, H.R., Ré, C.: Understanding and improving information transfer in multi-task learning. arXiv e-prints arXiv:2005.00944, May 2020

Zamir, A., Sax, A., Shen, W., Guibas, L., Malik, J., Savarese, S.: Taskonomy: disentangling task transfer learning (2018)

Zamzmi, G., Rajaraman, S., Antani, S.: UMS-Rep: unified modality-specific representation for efficient medical image analysis. Inform. Med. Unlocked 24, 100571 (2021). https://doi.org/10.1016/j.imu.2021.100571. https://www.sciencedirect.com/science/article/pii/S2352914821000617
Copyright information

© 2021 Springer Nature Switzerland AG
About this paper
Cite this paper
Ginsberg, T. et al. (2021). Deep Video Networks for Automatic Assessment of Aortic Stenosis in Echocardiography. In: Noble, J.A., Aylward, S., Grimwood, A., Min, Z., Lee, SL., Hu, Y. (eds) Simplifying Medical Ultrasound. ASMUS 2021. Lecture Notes in Computer Science(), vol 12967. Springer, Cham. https://doi.org/10.1007/978-3-030-87583-1_20
DOI: https://doi.org/10.1007/978-3-030-87583-1_20

Published:

Publisher Name: Springer, Cham

Print ISBN: 978-3-030-87582-4

Online ISBN: 978-3-030-87583-1

eBook Packages: Computer ScienceComputer Science (R0)