Abstract

The trend of digitization at universities has increased as a result of the Corona pandemic. Universities and teachers were forced to undertake a digital restructuring in a short period of time. Teaching had to be digitized, so interest in digital educational materials continued to grow. Open Educational Resources (OER) offer great potential in this context due to their digital format and usability across universities. When using as well as creating such free educational materials, lecturers have to check the quality of the OER due to individual quality requirements. For this reason, special attention should be paid to how quality assurance can be measured. There are already numerous models for quality assurance, which differ in terms of their complexity and level of detail. Zawacki-Richter and Mayrberger have conducted a comparison of these models and developed an adapted model based on their findings. By including lecturers, as a relevant stakeholder group, this model will be verified. Lecturers can be seen as exporters or importers of OER. Whether something is high quality depends on the needs of each user, their tasks and processes, so quality requirements can vary with the respective role. The aim is to investigate which quality criteria lecturers think OER should fulfill in order to be of high quality. For this purpose, an embedded mixed method (EMM) survey of lecturers was conducted, in which the different roles of a lecturer were also distinguished.
Keywords
Open Educational Resources

Quality criteria

Quality measurement

Higher education

Digitalization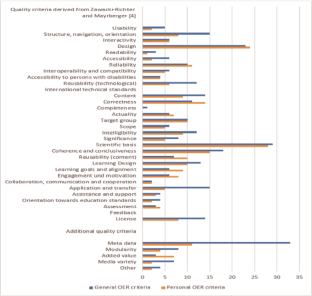 Notes
1.

Learning Object Review (LORI), MERLOT Rubric, Framework for Assessing Fitness for Purpose in OER, OER Rubric (Achieve Organization), Learning Object Evaluation Instrument (LOEI), Learning Objects Quality Evaluation Model (eQNet), Rubric to Evaluate Learner Generated Content (LGC), Rubric for Selecting Inquiry-Based Activities.
References
Gulati, S.: Technology-enhanced learning in developing nations: a review. Int. Rev. Res. Open Dist. Learn. 9(1), 346 (2008)

Ebner, M., Köpf, E., Muuß-Merholz, J., Schön, M., Schön, S., Weichert, N.: Ist-Analyse zu freien Bildungsmaterialien (OER) – Die Situation von freien Bildungsmaterialien in Deutschland in den Bildungsbereichen Schule, Hochschule, berufliche Bildung und Weiterbildung, Book on Demand, Norderstedt (2015)

UNESCO-Kommission: Pariser Erklärung zu OER, Weltkongress zu Open Educational Resources, UNESCO, Paris (2012). https://www.unesco.de/sites/default/files/2018-05/Pariser%20Erkl%C3%A4rung_DUK%20%C3%9Cbersetzung.pdf. Accessed 20 May 2021

Butcher, N., Malina, B., Neumann, J.: Was sind Open Educational Resources? und andere häufig gestellte Fragen zu OER. UNESCO, Bonn (2013)

Zawacki-Richter, O., Mayrberger, K.: Qualität von OER, Sonderband zum Fachmagazin Synergie (2017)

Yuan, L., MacNeill, S., Kraan, W.: Open Educational Resources – Opportunities and Challenges for Higher Education, JISC CETIS (2008)

OECD: Giving Knowledge for Free. The Emergence of Open Educational Resources, Centre for Educational Research and Innovation, pp. 30–31 (2007)

Butcher, N., Kanwar, A., Uvalić-Trumbić, S.: A basic guide to open educational resources (OER), vol. 2: Commonwealth of Learning; UNESCO, Section for Higher Education Verlag, Vancouver, Paris (2015)

Deimann, M., Neumann, J., Muuß-Merholz, J.: Open Educational Resources (OER) an Hochschulen in Deutschland – Bestandsaufnahme und Potenziale 2015, Whitepaper, open-educationale-resources.de (2015)

Ehlers, U.-D.: Extending the territory: from open educational resources to open educational practices. J. Open Flexible Dist. Learn. 15(2), 1–10 (2011)

Brüggemann, H., Bremer, P.: Grundlagen Qualitätsmanagement. Von den Werkzeugen über Methoden zum TQM, Springer Vieweg, Wiesbaden (2020). https://doi.org/10.1007/978-3-658-28780-1

DIN EN ISO 9000: Quality management systems - Fundamentals and vocabulary (ISO 9000:2015), German and English version EN ISO 9000 (2015)

Lin, C., Wa, C.: Managing knowledge contributed by ISO 9001:2000. Int. J. Qual. Reliab. Manag. 22, 968–985 (2005)

O´Mahony, K., Garavan, T.N.: Implementing a quality management framework in a higher education organization. A case study. Qual. Assurance Educ. 20(2), 184–200 (2012)

Owlia, M.S., Aspinwall, E.M.: TQM in higher education – a review (1997)

Yuan, M., Recker, M.: Not all rubrics are equal: a review of rubrics for evaluating the quality of open educational resoruces. Int. Rev. Res. Open Distrib. Learn. 16(5), 16–31 (2015)

Yu, X., Khazanchi, D.: Using embedded mixed methods in studying IS Phenomena: risks and practical remedies with an illustration. Commun. Assoc. Inf. Syst. 34, 555–595 (2017)

Dhanapati, S.: Explanatory sequential mixed method design as the third research community of knowledge claim. Am. J. Educ. Res. 4(7), 570 (2016)

Chyung, S.Y., Roberts, K., Swanson, I., et al.: Evidence-based survey design: the use of a midpoint on the Likert scale. Perform. Improv. 56(10), 15–23 (2017)

Mayring, P.: Qualitative content analysis: theoretical foundation, basic procedures and software solution. SSOAR, Klagenfurt (2014)
Copyright information

© 2021 Springer Nature Switzerland AG
About this paper
Cite this paper
Reinken, C., Greiff, P., Draxler-Weber, N., Hoppe, U. (2021). Quality of OER from the Perspective of Lecturers – Online Survey of Quality Criteria for Quality Assurance. In: Buchmann, R.A., Polini, A., Johansson, B., Karagiannis, D. (eds) Perspectives in Business Informatics Research. BIR 2021. Lecture Notes in Business Information Processing, vol 430. Springer, Cham. https://doi.org/10.1007/978-3-030-87205-2_3
DOI: https://doi.org/10.1007/978-3-030-87205-2_3

Published:

Publisher Name: Springer, Cham

Print ISBN: 978-3-030-87204-5

Online ISBN: 978-3-030-87205-2

eBook Packages: Computer ScienceComputer Science (R0)