Abstract
Modern medicine is witnessing an epochal change due, on the one hand, to the unprecedented technological advancement of these recent decades. On the other hand, in the western world the need for hyper-specialized and "infallible" physicians is continuously growing, whereas a large part of the less developed world struggles for having basics cures. The quest for capillary, affordable, and high-level training in medicine is as much as ever actual, and neurosurgery, with its complicated and demanding training path, is one of the most involved by these necessities. Traditionally, training relies on a large theoretical knowledge acquisition and on a steep practical learning curve, which is basically built on cadaver dissection (when available) and practice on patients. For these reasons and similarly to other domains, simulation has undoubtedly gained a huge interest in all the fields of medicine. Simulation can potentially fill the gap between theory and practice by helping the learner to get to real world with a more robust background of cognitive and psychomotor training.
In this chapter we retrace the story of UpSurgeOn, a start-up founded by two Italian neurosurgeons focused on the creation of a novel hybrid educational platform provided by digital and physical hi-tech and low-cost technologies to support mental and manual training. This strategy reduces the costs, in line with the global need of innovative instruments capable to provide additional support to neurosurgical training even for settings with limited facilities, e.g., LMIC (low- to middle-income countries).
Keywords
Surgery

Brain

Simulation

Training

Virtual reality

Augmented reality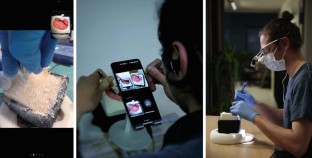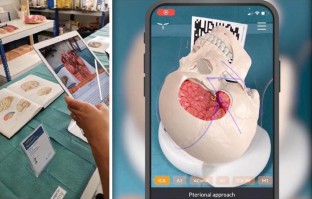 References
Sedney CL, Spirou E, Voelker JL, Rosen CL. More learning in less time: optimizing the resident educational experience with limited clinical and educational work hours. World Neurosurg. 2017;107:881–7. https://doi.org/10.1016/j.wneu.2017.08.082. Epub 2017 Aug 24

Gnanakumar S, Abou El Ela Bourquin B, Robertson FC, Solla DJF, et al. The world Federation of Neurosurgical Societies Young Neurosurgeons Survey (part I): demographics, resources, and education. World Neurosurg X. 2020;8:100083.

Robertson FC, Gnanakumar S, Karekezi C, Vaughan K, Garcia RM, et al. The World Federation of Neurosurgical Societies Young Neurosurgeons Survey (Part II): barriers to professional development and service delivery in neurosurgery. World Neurosurg X. 2020;8:100084.

Nicolosi F, Rossini Z, Zaed I, Kolias AG, Fornari M, Servadei F. Neurosurgical digital teaching in low-middle income countries: beyond the frontiers of traditional education. Neurosurg Focus. 2018;45(4):E17.

Servadei F, Rossini Z, Nicolosi F, Morselli C, Park KB. The role of neurosurgery in countries with limited facilities: facts and challenges. World Neurosurg. 2018;112:315–21.

Nicolosi F, Spena G. Three-dimensional virtual intraoperative reconstruction: a novel method to explore a virtual neurosurgical field. World Neurosurg. 2020;137:e189–93.

Fontanella MM, Zanin L, Fiorindi A, Spena G, Nicolosi F, Belotti F, Panciani P, Cornali C, Doglietto F. Surgical management of brain cavernous malformations. Methods Mol Biol. 2020;2152:109–28. https://doi.org/10.1007/978-1-0716-0640-7_9.

Mattogno PP, Guerrini F, Nicolosi F, Panciani PP, Olivi A, Fontanella M, Spena G. Minimally invasive subfrontal approach (MISFA): how to make it safe and effective from the olfactory groove to the mesial temporal lobe. Skull Base accepted manuscript (CEN-2020-06-TN-2786).
Copyright information
© 2022 The Author(s), under exclusive license to Springer Nature Switzerland AG
About this chapter
Cite this chapter
Nicolosi, F., Raimondo, P., Spena, G. (2022). Digital Technology in Neurosurgery: A Successful Entrepreneurship Story. In: Germano, I.M. (eds) Neurosurgery and Global Health. Springer, Cham. https://doi.org/10.1007/978-3-030-86656-3_21
DOI: https://doi.org/10.1007/978-3-030-86656-3_21

Published:

Publisher Name: Springer, Cham

Print ISBN: 978-3-030-86655-6

Online ISBN: 978-3-030-86656-3

eBook Packages: MedicineMedicine (R0)