Abstract

Is Esperanto, the 'universal language of peace', still spoken? Where, how and why do people learn and speak it? Esperanto Revolutionaries and Geeks begins to address these questions by reassessing the idea that 'nobody speaks Esperanto anymore'. Esperanto was originally designed by a single man in the late nineteenth century who envisaged it to be a nationalism-free language for international communication. Supported since its early days by the bourgeoisie, intellectuals and left-wing activists, Esperanto currently draws the attention of young polyglots and geeks. Outlining the particularities that set Esperanto apart from other languages, this chapter unpacks language politics, digital media use and community-building among Esperanto speakers to understand how a language with no native speakers and a dispersed speech community can find stability and endurance.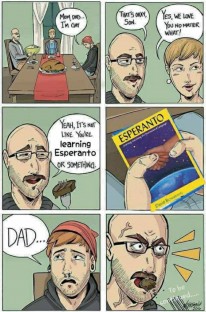 Notes
1.

All the personal names in this book are pseudonyms in order to preserve the identity of my interlocutors. These pseudonyms are based on popular names according to my interlocutors' nationality, age and sex. The exceptions are historical and public figures, to which I refer by name and surname.

2.

Unless otherwise indicated, the conversations referred to concern linguistic exchanges originally carried out in Esperanto translated into English by myself. Throughout the book, direct transcriptions and quotes that were originally in a language other than Esperanto will be indicated.

3.

Esperanto has been comprehensively presented in both descriptive and prescriptive grammars. For my purposes here, I only approach its core linguistic features, partly based on Wells (2006).

4.

Such claims of internationality are frequently questioned by those who argue that Esperanto is not equidistant from all existing languages (Van Parijs 2011: 40–42) and that its European typology makes it less accessible to speakers of non-European languages (see Parkvall 2010). It is worth keeping in mind that Esperanto was created in a specific place and time and Zamenhof had more access to European languages than to any others, which accounts for the European weight in Esperanto's phonology, grammar and vocabulary.

5.

The 'from-birth person', as in de 'from', nask 'birth', ul 'person', o 'noun'.

6.

Sign languages are excluded from this principle.

7.
References
Anderson, Benedict. 2006. Imagined Communities: Reflections on the Origin and Spread of Nationalism. London and New York: Verso.

Baneth-Nouailhetas, Émilienne. 2010. Anglophonie - Francophonie: Un rapport postcolonial? Langue Française 167 (3): 73–94. https://doi.org/10.3917/lf.167.0073.

Botella, Antonio Marco. 1996. Laboristaj Kronikoj pri la Hispana Esperanto-Movado. Beauville: Sennacieca Asocio Tutmonda.

Boulet, Paul. 1905. Unua Universala Kongreso de Esperanto en Boulogne-sur-Mer: Kongresa Libro. Boulogne: Hamain.

Boyer, Dominic. 2012. From Media Anthropology to the Anthropology of Mediation. In The SAGE Handbook of Social Anthropology, ed. Richard Fardon, Olivia Harris, Trevor H.J. Marchand, Mark Nuttall, Cris Shore, Veronica Strang, and Richard A. Wilson. London: Sage.

Burghelea, Manuela. 2018. On Not Being Lost in Translation: Creative Strategies to Approach Multiculturalism in Esperanto. Język. Komunikacja. Informacja 13: 159–174. https://doi.org/10.14746/jki.2018.13.11.

Candea, Matei. 2010. Corsican Fragments: Difference, Knowledge, and Fieldwork. Bloomington and Indianapolis: Indiana University Press.

Candea, Matei. 2011. 'Our Division of the Universe': Making a Space for the Non-political in the Anthropology of Politics. Current Anthropology 52 (3): 309–334. https://doi.org/10.1086/659748.

Chomsky, Noam. 2006. Language and Mind. Cambridge: Cambridge University Press.

Clastres, Pierre. 1989. Society Against the State: Essays in Political Anthropology. New York: Zone Books.

Culbert, Sidney S. 1989. Letter to David Wolff About Survey Methods and the Number of Esperantists in the World. Available online at http://www.panix.com/~dwolff/docs/culbert-methods.html. Accessed 10 April 2019.

Duranti, Alessandro. 1997. Linguistic Anthropology. Cambridge: Cambridge University Press.

Eckert, Penelope. 2006. Communities of Practice. In Encyclopedia of Language and Linguistics, ed. Keith Brown. Oxford: Elsevier.

Escudé, Pierre. 2013. Histoire de l'éducation, imposition du français, résistance et emploi des langues régionales en milieu scolaire. In Histoire Sociale des Langues de France, ed. Georg Kremnitz. Rennes: Presses Universitaires de Rennes.

Evans-Pritchard, Edward E. 1940. The Nuer: A Description of the Modes of Livelihood and Political Institutions of a Nilotic People. Oxford: Clarendon Press.

Fiedler, Sabine. 2006. Standardization and Self-Regulation in an International Speech Community: The Case of Esperanto. International Journal of the Sociology of Language 177: 67–90. https://doi.org/10.1515/IJSL.2006.005.

Fiedler, Sabine. 2012. The Esperanto Denaskulo: The Status of the Native Speaker of Esperanto Within and Beyond the Planned Language Community. Language Problems and Language Planning 36 (1): 69–84. https://doi.org/10.1075/lplp.36.1.04fie.

Fishman, Joshua A. 1965. Who Speaks What Language to Whom and When? La Linguistique 1 (2): 67–88.

Forster, Peter G. 1982. The Esperanto Movement: Contributions to the Sociology of Language. The Hague: Mouton.

Garvía, Roberto. 2015. Esperanto and Its Rivals: The Struggle for an International Language. Philadelphia: University of Pennsylvania Press.

Gazzola, Michele. 2006. Managing Multilingualism in the European Union: Language Policy Evaluation for the European Parliament. Language Policy 5: 393–417. https://doi.org/10.1007/s10993-006-9032-5.

Gobbo, Federico. 2021. The Language Ideology of Esperanto: From the World Language Problem to Balanced Multilingualism. In Contested Languages: The Hidden Multilingualism of Europe, ed. Mauro Tosco and Marco Tamburelli. Amsterdam: John Benjamins.

Grillo, Ralph. 1985. Ideologies and Institutions in Urban France: The Representation of Immigrants. Cambridge: Cambridge University Press.

Heller, Monica. 2011. Paths to Post-Nationalism: A Critical Ethnography of Language and Identity. Oxford: Oxford University Press.

Jaffe, Alexandra. 1996. The Second Annual Corsican Spelling Contest: Orthography and Ideology. American Ethnologist 23 (4): 816–835. https://doi.org/10.1525/ae.1996.23.4.02a00080.

Jaffe, Alexandra. 1999. Ideologies in Action: Language Politics on Corsica. Berlin and New York: Mouton De Gruyter.

Jordheim, Helge. 2014. Introduction: Multiple Times and the Work of Synchronization. History and Theory 53: 498–518. https://doi.org/10.1111/hith.10728.

Jordheim, Helge. 2018, June. Emergent Geo-Generational Lifetimes. Paper Presented at the International Conference The Social Life of Time: Power, Discrimination and Transformation, University of Edinburgh, Scotland.

Kelty, Christopher. 2008. Two Bits: The Cultural Significance of Free Software. Durham and London: Duke University Press.

Latour, Bruno. 1996. On Interobjectivity. Mind, Culture, and Activity 3 (4): 228–245. https://doi.org/10.1207/s15327884mca0304_2.

Latour, Bruno. 2005. Reassembling the Social: An Introduction to Actor-Network Theory. Oxford: Oxford University Press.

Lins, Ulrich. 2016. Dangerous Language: Esperanto under Hitler and Stalin. London: Palgrave Macmillan.

Lins, Ulrich. 2017. Dangerous Language: Esperanto and the Decline of Stalinism. London: Palgrave Macmillan.

Lyons, John. 1968. Introduction to Theoretical Linguistics. Cambridge: Cambridge University Press.

Marcellesi, Jean-Baptiste. 1975. Basque, breton, catalan, corse, flamand, germanique d'Alsace, occitan: L'enseignement des 'langues régionales.' Langue Française 25: 3–11. https://doi.org/10.3406/lfr.1975.6052.

McDonald, Maryon. 1989. 'We Are Not French!' Language, Culture and Identity in Brittany. London and New York: Routledge.

Miner, Ken. 2011. The Impossibility of an Esperanto Linguistics. Inkoj, Interlingvistikaj Kajeroj 2 (1): 26–51. https://doi.org/10.13130/2037-4550/838.

Mortensen, Janus. 2017. Transient Multilingual Communities as a Field of Investigation: Challenges and Opportunities. Journal of Linguistic Anthropology 27 (3): 271–288. https://doi.org/10.1111/jola.12170.

Parkvall, Mikael. 2010. How European Is Esperanto? A Typological Study. Language Problems and Language Planning 34 (1): 63–79. https://doi.org/10.1075/lplp.34.1.04par.

Rašić, Nikola. 1994. La Rondo Familia: Sociologiaj Esploroj en Esperantio. Pisa: Edistudio.

Schor, Esther. 2016. Bridge of Words: Esperanto and the Dream of a Universal Language. New York: Metropolitan Books/Henry Holt and Company.

Stria, Ida. 2015. Esperanto Speakers: An Unclassifiable Community? In Challenging Ideas and Innovative Approaches in Theoretical Linguistics, ed. Wojciech Malec, Marietta Rusinek, and Anna Sadowska. Lublin: John Paul II Catholic University of Lublin.

Urla, Jacqueline. 1988. Ethnic Protest and Social Planning: A Look at Basque Language Revival. Cultural Anthropology 3 (4): 379–394. https://doi.org/10.1525/can.1988.3.4.02a00030.

Urla, Jacqueline. 1993. Cultural Politics in an Age of Statistics: Numbers, Nations, and the Making of Basque Identity. American Ethnologist 20 (4): 818–843. https://doi.org/10.1525/ae.1993.20.4.02a00080.

Van Parijs, Philippe. 2011. Linguistic Justice for Europe and for the World. Oxford: Oxford University Press.

Wall, James, and Timothy Dunne. 2012. Mediation Research: A Current Review. Negotiation Journal 28 (2): 217–244. https://doi.org/10.1111/j.1571-9979.2012.00336.x.

Wandel, Amri. 2015. How Many People Speak Esperanto? or: Esperanto on the Web. Interdisciplinary Description of Complex Systems 13 (2): 318–322. https://doi.org/10.7906/INDECS.13.2.9.

Wells, John C. 2006. Esperanto. In Encyclopedia of Language and Linguistics, ed. Keith Brown, vol. 4. New York: Elsevier.

Wenger, Étienne. 1998. Communities of Practice: Learning, Meaning, and Identity. Cambridge: Cambridge University Press.

Zamenhof, Ludwig Lazar. 1929. Paroladoj: Tria Kongreso 1907 en Cambridge. In Originala Verkaro de L. L. Zamenhof, ed. Johannes Dietterle. Leipzig: Ferdinand Hirt & Sohn.
Copyright information

© 2021 The Editor(s) (if applicable) and The Author(s), under exclusive licence to Springer Nature Switzerland AG
About this chapter
Cite this chapter
Fians, G. (2021). In the Beginning Was the Word. In: Esperanto Revolutionaries and Geeks. Palgrave Macmillan, Cham. https://doi.org/10.1007/978-3-030-84230-7_1
DOI: https://doi.org/10.1007/978-3-030-84230-7_1

Published:

Publisher Name: Palgrave Macmillan, Cham

Print ISBN: 978-3-030-84229-1

Online ISBN: 978-3-030-84230-7

eBook Packages: Social SciencesSocial Sciences (R0)