Abstract

Spatial segregation is one of the main consequences of building gated communities. They are typically walled or fenced, with private security and surveillance devices. Gated communities have been spreading rapidly in Latin America as they are seen as 'shelters' against crime; paradoxically, they might be catalysing the fear of crime towards the neighbouring public spaces, fuelling a vicious circle of fear. The way they are fortified represents more than a physical barrier; it contributes to rising tensions between those on different sides of the wall. This essay explores the perception of non-gated residents from eight case studies with different levels of poverty within the Greater Metropolitan Area of Costa Rica. Those views were gathered mainly through walks tracked with a GPS and focus groups; the qualitative data from the walks were codified and visualised through 'Talk's track maps'. The essay addresses how gated communities' edges exacerbate the exclusion feelings in adjacent neighbourhoods and how those reactions are linked to fear of crime.
Keywords
Fear-crime

Gated communities

Residential segregation

Costa Rica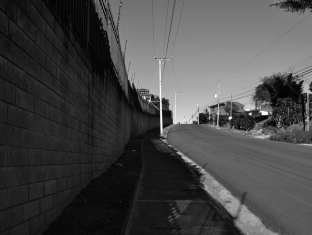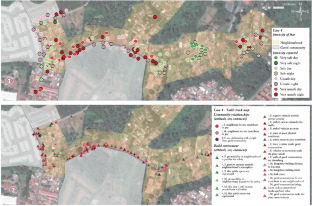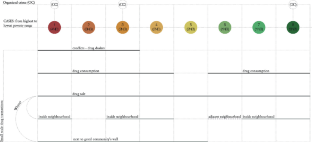 Notes
1.

The unfulfilled needs known as NBI by its acronym in Spanish [Necesidades Básicas Insatisfechas] is a Costa Rican poverty indicator elaborated by the National Institute of Statistics and Census (INEC).
References
Barrantes-Chaves K (2019) Barrios 'conviviendo' con comunidades cerradas: entre el miedo y la segregación. Caso de la GAM-Costa Rica. REVISTARQUIS 8(2):66–76

Blakely E, Snyder M (1997) Fortress America: gated communities in the United States. Brookings Institution Press, Washington D.C

Caldeira TPdoR (2000) City of walls: crime, segregation, and citizenship in São Paulo. Teresa P.R. Caldeira Berkeley, University of California Press, London

Carpiano R (2009) Come take a walk with me: the "go-along" interview as a novel method for studying the implications of place for health and well-being. Health Place 15(1):263–272

Carrión F (2008) Violencia urbana: un asunto de ciudad. Revista Eure XXXIV(103):111–130

Castells M (1999) La era de la información. Siglo XXI, Barcelona

Chioda L (2016) Fin a la violencia en América Latina: una mirada a la prevención desde la infancia a la edad adulta. Sinopsis. Banco Mundial, Washington, DC. Licencia: Creative Commons Attribution CC BY 3.0 IGO

Clarke R (1983) Situational crime prevention: its theoretical basis and practical scope. Crime Justice 4:225–256

Coy M (2006) Gated communities and urban fragmentation in Latin America: the Brazilian experience. GeoJournal 66(1/2):121–132

Coy M, Pöhler M (2002) Gated communities in Latin American megacities: case studies in Brazil and Argentina. Environ Plann B: Plann Des 29(3):355–370

Crawford A (1998) Crime prevention and community safety: politics, policies and practices. Longman, London

Evans J, Jones P (2011) The walking interview: methodology, mobility and place. Appl Geogr 31:849–858

Ferraro K, LaGrange R (1987) The measurements of fear of crime. Sociol Inq 57:70–97

Franklin TW, Franklin CA, Fearn NE (2008) A multilevel analysis of the vulnerability, disorder, and social integration models of fear of crime. Soc Justice Res 21(2):204–227

Gray E, Jackson J, Farrall S (2011) Feelings and functions in the fear of crime: applying a new approach to victimisation insecurity. Br J Criminol 51(1):75–94

Huhn S (2017) Punitive populism and fear of crime in Central America. In: The Routledge international handbook on fear of crime, pp 388–402

INEC (2015) La Victimización en Costa Rica al año 2014: Resultados de los Módulos de la Encuesta Nacional de Hogares (1989, 1992. 1994, 1997, 2008, 2010 y 2014). Instituto Nacional de Estadística y Censos, San José

Jacobs J (1961) The death and life of great American cities. Modern Library, New York

Low S (2004) Behind the gates: life, security, and the pursuit of happiness in fortress America. Routledge, New York and London

Minton A (2009) Ground control: fear and happiness in the twenty-first-century city. Penguin, London

Newman O (1973) Defensible space: crime prevention through urban design. Collier Books, New York

ONU-Habitat (2013) Estrategias locales de prevención de violencia y promoción de la convivencia. Imprenta Hermanos Segura, San José. Available from: https://unhabitat.org/estrategias-locales-de-prevencion-de-la-violencia-y-promocion-de-la-convivencia. Accesed 3 Feb 2018

Palma-Campos C (2018) Me puse a jugar de narco: mujeres, tráfico de drogas y cárcel en Costa Rica. Editorial UCR Costa Rica

PNUD (2005) Summary. Overcoming fear: citizen (In) security and human development in Costa Rica. National human development report 2005. Programa de Naciones Unidas para el Desarrollo, San José, Costa Rica

Programa Estado de la Nación (2018) Informe estado de la nación en desarrollo humano sostenible. Programa Estado de la Nación, San José, Costa Rica

Pujol R, Sánchez L, Pérez E (2011) La segregación social como determinante del desarrollo urbano. Ciencias Económicas 29:445–477

Roitman S (2010) Gated communities: definitions, causes and consequences. In: Proceedings of the institution of civil engineers. Urban Des Plann 163(1):31–38

Roitman S, Phelps N (2011) Do Gates negate the city? Gated communities' contribution to the urbanisation of suburbia in Pilar, Argentina. Urban Stud 48(16):3487–3509

Sandoval García C (2015) No más muros: exclusión y migración forzada en Centroamérica. Editorial UCR, San José

Sennett R (2018) Building and dwelling. Ethics for the city. Penguin, London

Vieno A, Roccato M, Russo S (2013) Is fear of crime mainly social and economic insecurity in disguise? A multilevel multinational analysis. J Community Appl Soc Psychol 23(6):519–535

Wilkinson R, Pickett K (2009) The spirit level: why more equal societies almost always do better. Allen Lane, London

Yin R (2014) Case study research: design and methods, 5th edn. SAGE, Los Angeles and London
Acknowledgements

My deep gratitude to the communities involved in this project and the University of Costa Rica for funding the research.
Copyright information

© 2021 The Author(s), under exclusive license to Springer Nature Switzerland AG
About this chapter
Cite this chapter
Barrantes Chaves, K. (2021). Fear and Segregation: Anxiety Beyond Gated Communities. The Costa Rican Case. In: Vassallo, I., Cerruti But, M., Setti, G., Kercuku, A. (eds) Spatial Tensions in Urban Design. The Urban Book Series. Springer, Cham. https://doi.org/10.1007/978-3-030-84083-9_5
DOI: https://doi.org/10.1007/978-3-030-84083-9_5

Published:

Publisher Name: Springer, Cham

Print ISBN: 978-3-030-84082-2

Online ISBN: 978-3-030-84083-9

eBook Packages: Social SciencesSocial Sciences (R0)