Abstract

Most scrotal dermatological pathologies are discovered by the patient and are initially attributed to be a venereal diseases, usually evaluated by a thorough physical examination and few investigations. The clinician facing a patient with scrotal dermatosis must consider a wide differential diagnosis based on the diverse range of etiologies. Urologists are often the first point of contact for patients with such disorders, but many patients may be referred to dermatologists. Scrotal dermatosis may be an isolated genital conditions or a manifestations of a more widespread general cutaneous disease. In general, genital dermatoses can be classified as physiologic variants, inflammatory, immunological, or infectious lesions. Infections diseases are quite common in the genital area due to several factors. With a two body orifices being anatomically located in close relation, and the anatomical microstructure of genital skin which differs in its architecture and elasticity from skin of other body sites these keeping the scrotum more vulnerable to a wide range of dermatosis. Genetically the androgen and estrogen receptors are highly expressed in genital skin. So genital wound repair benefits from hormonal responsiveness and increased presence of sex steroid hormones due to intracrine production by skin cells. Chronic inflammatory conditions caused by autoimmune disorders, infections, or foreign material can lead to severe tissue fibrosis followed by shrinkage and destruction of the outer genitalia. Without appropriate treatment, scrotal skin may develops scaring or even fistulas with recurrent infections and subsequent scarring of its wrinkles. Several skin diseases with autoimmune background can affect the outer genitalia with chronic inflammation leading to tissue shrinkage and atrophy. The genital skin has to master many challenges, for example, the fast volume changes during sexual activity, sex steroid sensitivity with permanent hormonal changes, the presence of several body openings with constant commensal microbial presence, and infectious threats derived from sexual contacts. In that context, it is breathtaking to understand the extraordinary adaption of the genital skin to its multiple tasks. In this chapter, some common dermatological diseases affecting the scrotum and their influence on genitalia will be elucidated. Specific pathologies like scrotal calcinosis, lymphedema and other vascular malformations are discussed separately in allocated chapters, also scrotal involvement by other specific sexually transmitted diseases are beyond the scope of this book.
Keywords
Dermatosis

Intertrigo

Fournier's gangrene

Paget's disease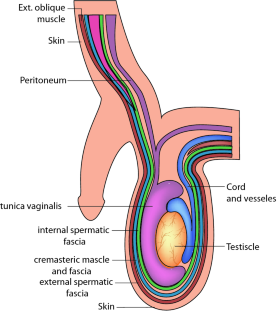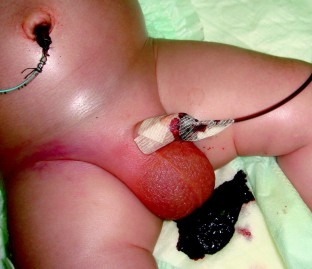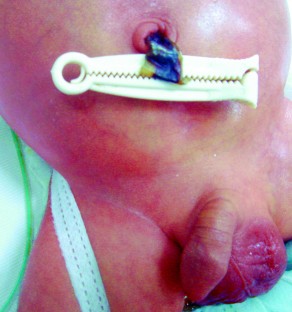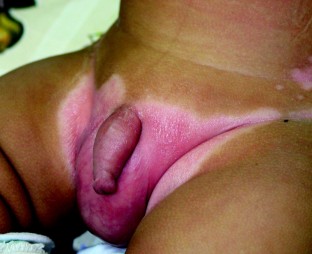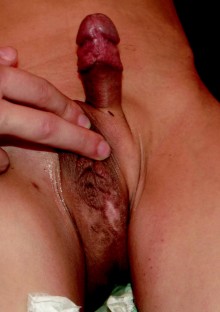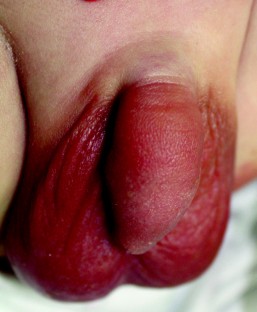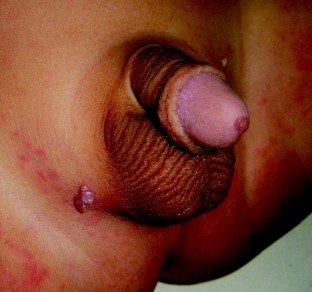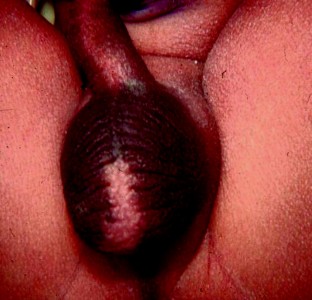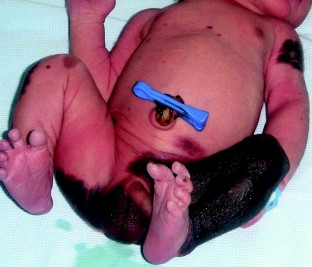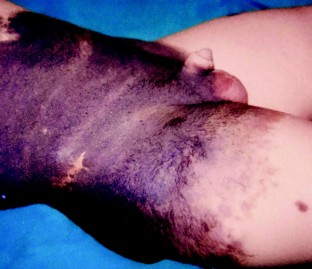 Abbreviations
AR:

Androgen receptor

ER:

Estrogen receptor

PD:

Paget's disease

HPV:

Human papillomavirus

LSC:

lichen sclerosis

LP:

lichen planus

BXO:

Balanitis xerotica obliterans
References
Hewan-Lowe K, Moreland A, Finnerty DP. Penis and scrotum. In: Someren AE, editor. Urologic pathology with clinical and radiologic correlations. MacMillan Publishing Co.; 1989. p. 613.

Zouboulis CC, Chen WC, Thornton MJ, Qin K, Rosenfield R. Sexual hormones in human skin. Horm Metab Res. 2007;39:85–95.

Mirastschijski U. Genital scars. In: Téot L, Mustoe TA, Middelkoop E, Gauglitz GG, editors. Textbook on scar management. Cham: Springer; 2020. https://doi.org/10.1007/978-3-030-44766-3_47.

Mirhashemi S, Soori M, Faghih G, Peyvandi H, Shafagh O. Scrotal abscess: a rare presentation of complicated necrotizing pancreatitis. Arch Iran Med. 2017;20(2):0–0.

Bahadur A, Singh N, Kashmira M, Shukla A, Gupta V, Jain S. Fecal scrotal abscess secondary to spontaneous retroperitoneal perforation of ascending colon. Case Rep Med. 2021.

Aldohuky W, Mohammed AA. Scrotal abscess as a manifestation of posterior duodenal perforation; a very rare presentation. Urol Case Rep. 2019;27:101010.

Magalhaes BM, Veasey JV, Mayor SAS, Lellis RF. Donovanosis in a child victim of sexual abuse: response to doxycycline treatment. An Bras Dermatol. 2018;93(4):592–4.

Purwoko MIH, Devi M, Nugroho SA. Granuloma inguinale. Biosci Med J Biomed Transl Res. 2021;5(3):659–68.

Medeiros‐Fonseca B, Mestre VF, Estêvão D, Sánchez DF, Cañete‐Portillo S, Fernández‐Nestosa MJ, Casaca F, et al. HPV16 induces penile intraepithelial neoplasia and squamous cell carcinoma in transgenic mice: first mouse model for HPV‐related penile cancer. J Pathol. 2020;251(4):411–9.

Passos MRL. Infection with human papillomavirus (HPV). In: Atlas of sexually transmitted diseases. Cham: Springer; 2018. p. 239–319.

Mohsin SK, Lee MW, Amin MB, Stoler MH, Eyzaguirre E, Ma CK, Zarbo RJ. Cutaneous verruciform xanthoma: a report of five cases investigating the etiology and nature of xanthomatous cells. Am J Surg Pathol. 1998;22(4):479–87.

Surani A, Marfatia Y, Bavariya R. Multiple pruritic plaques on scrotum-what is your diagnosis? Indian J Sex Trans Dis AIDS. 2018; 39(2):141–2. https://doi.org/10.4103/ijstd.IJSTD_82_18.

Clouston D, Hall A, Lawrentschuk N. Penile lichen sclerosus (balanitis xerotica obliterans). BJU Int. 2011;108(Suppl 2):14–9.

Singh I, Ansari MS. Extensive balanitis xerotica obliterans (BXO) involving the anterior urethra and scrotum. Int Urol Nephrol. 2006;38(3):505–6. https://doi.org/10.1007/s11255-006-0100-8.

Kumar S, Nagappa B, Ganesamoniv R. Extensive balanitis xerotica obliterans of urethrocutaneous fistula presenting as mass in scrotum. Urology. 2010;76(2):332–3.

Herschorn S, Colapinto V. Balanitis xerotica obliterans involving anterior urethra. Urology. 1979;14(6):592–6.

Saccucci M, Di Carlo G, Bossu M, Giovarruscio F, Salucci A, Polimeni A. Autoimmune diseases and their manifestations on oral cavity: diagnosis and clinical management. J Immunol Res. 2018;2018:6061825.

Hoekx L, Wyndaele J. Angiokeratoma: a cause of scrotal bleeding. Acta Urol Belg. 1998;66:27–8.

Hollander JB, Begun FP, Lee RD. Scrotal fat necrosis. J Urol. 1985;134(1):150–1. https://doi.org/10.1016/s0022-5347(17)47035-2.

Peterson LJ, Whitlock NW, Odom RB, Ramirez RE, Stutzman RE, Mcaninch JW. Bilateral fat necrosis of the scrotum. J Urol. 1976;116(6):825–6. https://doi.org/10.1016/s0022-5347(17)59033-3.

Thwalni A, Kumar R, Shergill I. Ganglioneuromas in the adult scrotum. J R Soc Med. 2005;98(6):295–295.

Maclennan GT, Cheng L. Penis and scrotum. In: Atlas of genitourinary pathology. London: Springer; 2010. https://doi.org/10.1007/978-1-84882-395-2_8.

Al Hajjaj SA, Rünger TM, Chung HJ. Flesh-colored papules on the scrotum. Cutis. 2019;104(3):E23–5.

McLaughlin SS, Linquist AM, Burnett JW. Cutaneous sarcoidosis of the scrotum: a rare manifestation of systemic disease. Acta Derm Venereol. 2002;82:216–7.

Kanitakis J. Mammary and extramammary Paget's disease. J Eur Acad Dermatol Venereol. 2007;21:581–90.

Elder DE, Massi D, Scolyer RA, Willemze R, editors. WHO classification of skin tumours, 4th ed. Lyon, France: IARC; 2018. p. 66–71. World Health Organization Classification of Tumours; vol. 11.

Taieb A, Picardo M. Vitiligo. N Engl J Med. 2009;360:2160–9.

Friedman RJ, Ackerman AB. Difficulties in the histologic diagnosis of melanocytic nevi on the vulvae of premenopausal women. In: Pathology of malignant melanoma. New York: Masson; 1981. p. 119.

Wyatt AJ, Hansen RC. Pediatric skin tumors. Pediatr Clin North Am. 2000;47(4):937–63.

Ruiz-Maldonado R, Tamayo L, Laterza AM, Durán C. Giant pigmented nevi: clinical, histopathologic, and therapeutic considerations. J Pediatr. 1992;120(6):906–11.

Elkiran YM, Abdelmaksoud MA, Abdelgawwad MS, Elsaadany NA, Elshafei AM. Giant scrotal swelling in association with a congenital giant melanocytic nevus: a case report. JPRAS Open. 2020;26:80–5.

Baky Fahmy MA, Mazy A. The feasibility of tissue expanders in reconstruction of giant congenital melanocytic nevi in children. Surg Innov. 2010;17(3):189–94. https://doi.org/10.1177/1553350610371627.
Copyright information

© 2022 The Author(s), under exclusive license to Springer Nature Switzerland AG
About this chapter
Cite this chapter
Fahmy, M.A.B. (2022). Dermatological Diseases Specific to Scrotum. In: Fahmy, M.A.B. (eds) Normal and Abnormal Scrotum. Springer, Cham. https://doi.org/10.1007/978-3-030-83305-3_26
DOI: https://doi.org/10.1007/978-3-030-83305-3_26

Published:

Publisher Name: Springer, Cham

Print ISBN: 978-3-030-83304-6

Online ISBN: 978-3-030-83305-3

eBook Packages: MedicineMedicine (R0)