Abstract

The world is ageing fast and the need of efficient digital solution enabling elderlies to age at home is getting urgent. Unfortunately there is so far no such a solution which is sufficiently efficient, customizable, secure and reliable. This paper presents a solution called Ageing@home which is efficient, easy to deploy, privacy preserving, unobtrusive and customizable by making use of millimeter wave sensors, 5G network slicing and open unifying IoT platform. The paper provides a detailed description of the advantageous use of the millimeter wave sensors and present the proposed 5G network slicing alternative. An open unifying IoT platform capable of bridging diverse heterogeneous IoT devices from different vendors is also introduced.
Keywords
5G mobile networks

5G network slicing

mmWave sensors

Unifying IoT platforms

Assisted living

Elderly care

Home based elderly care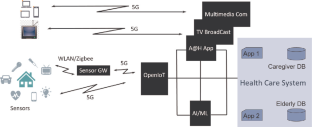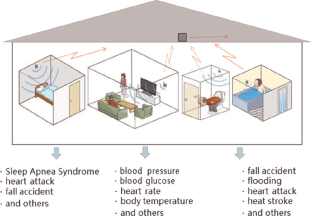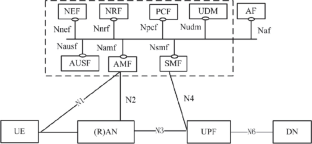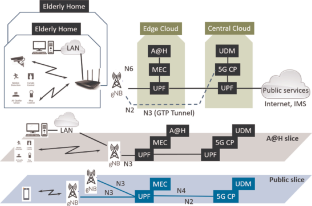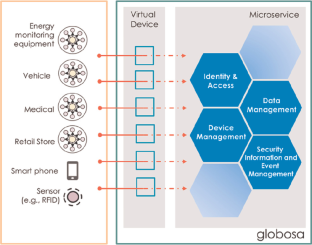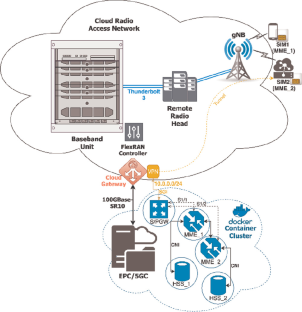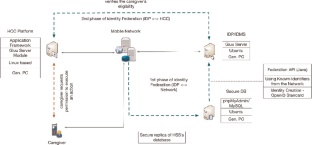 References
United Nations, Department of Economic and Social Affairs, Population Division (2017). World Population Ageing 2017 (ST/ESA/SER.A/408)

Velferdsteknologi. https://www.helsedirektoratet.no/rapporter/implementering-av-velferdsteknologi-i-de-kommunale-helse-og-omsorgstjenestene-2013-2030/Implementering%20av%20velferdsteknologi%20i%20de%20kommunale%20helse-og%20omsorgstjenestene%202013-2030.pdf/_/attachment/inline/cf340308-0cb8-4a88-a6d7-4754ef126db9:6f3a196c2d353a9ef04c772f7cc0a2cb9d955087/Implementering%20av%20velferdsteknologi%20i%20de%20kommunale%20helse-og%20omsorgstjenestene%202013-2030.pdf

Memon, M., Wagner, S.R., Pedersen, C.F., Beevi, F.H.A., Hansen, F.O.: Ambient assisted living healthcare frameworks, platforms, standards, and quality attributes. Sensors (Basel) 14(3), 4312–4341 (2014). https://doi.org/10.3390/s140304312

van Heek, J.O., Ziefle, M.: They don't care about us! Care personnel's perspectives on ambient assisted living technology usage: scenario-based survey study. JMIR Rehabil. Assist. Technol. 5(2), e10424 (2018). https://doi.org/10.2196/10424

Muñoz, D., Gutierrez, F.J., Ochoa, S.F.: Introducing ambient assisted living technology at the home of the elderly: challenges and lessons learned. In: Cleland, I., Guerrero, L., Bravo, J. (eds.) IWAAL 2015. LNCS, vol. 9455, pp. 125–136. Springer, Cham (2015). https://doi.org/10.1007/978-3-319-26410-3_12

Morimatsu, A., Matsuguma, S., Kajiwara, A.: Heart rate estimation of a moving person using 79GHz-Band UWB radar. In: 2019 IEEE Sensors Applications Symposium (SAS), Sophia Antipolis, France, pp. 1–5 (2019). https://doi.org/10.1109/SAS.2019.8706073

Tsuchiyama, K., Kajiwara, A.: Accident detection and health-monitoring UWB sensor in toilet. In: 2019 IEEE Topical Conference on Wireless Sensors and Sensor Networks (WiSNet), Orlando, FL, USA, pp. 1–4 (2019). https://doi.org/10.1109/WISNET.2019.8711812

Kashima, K., Nakamura, R., Kajiwara, A.: Bathroom movements monitoring UWB sensor with feature extraction algorithm. In: 2013 IEEE Sensors Applications Symposium Proceedings, pp. 118–122 (2013)

5G Infrastructure Public Private Partnership (5G PPP): View on 5G Architecture (Version 2.0), 5G PPP Architecture Working Group, 18 July 2017

ETSI: GS NFV 002 Network Functions Virtualization (NFV); Architectural Framework, v.1.1.1, October 2013

Dzogovic, B., Santos, B., Noll, J., Do, V.T., Feng, B., Van Do, T.: Enabling smart home with 5G network slicing. In: Proceedings of the 2019 IEEE 4th International Conference on Computer and Communication Systems ICCCS 2019, IEEE Catalog Number CFP19D48-USB, Conference, Chair Yang Xiao, Singapore, 23–25 February 2019, pp. 543–548 (2019). ISBN 978-1-7281-1321-0

Santos, B., Do, V.T., Feng, B., van Do, T.: Identity federation for cellular Internet of Things. In: Proceedings of the 2018 7th International Conference on Software and Computer Applications - ICSCA 2018, pp. 223–228 (2018)

OpenAirInterface Software Alliance (OSA): a non-profit consortium fostering a community of industrial as well as research contributors for open source software and hardware development for the core network (EPC), access network and user equipment (EUTRAN) of 3GPP cellular networks. https://www.openairinterface.org/

Santos, B., Do, V.T., Feng, B., van Do, T.: Towards a standardized identity federation for Internet of Things in 5G networks. In: 2018 IEEE SmartWorld 2018 Proceedings, pp. 2082–2088 (2018)

Gluu Server. https://www.gluu.org/. Accessed May 2019

Lawton, M.P., Brody, E.M.: Assessment of older people: self-maintaining and instrumental activities of daily living. Gerontologist 9(3), 179–186 (1969)
Acknowledgement

This paper is a result of the H2020 CONCORDIA project (https://www.concordia-h2020.eu) which has received funding from the EU H2020 programme under grant agreement No 830927. The CONCORDIA consortium includes 23 partners from industry and other organizations such as Telenor, Telefonica, Telecom Italia, Ericsson, Siemens, Airbus, etc. and 23 partners from academia such as CODE, university of Twente, OsloMet, etc.
Copyright information

© 2021 Springer Nature Switzerland AG
About this paper
Cite this paper
Feng, B. et al. (2021). A Secure 5G Eldercare Solution Using Millimeterwave Sensors. In: Bentahar, J., Awan, I., Younas, M., Grønli, TM. (eds) Mobile Web and Intelligent Information Systems. MobiWIS 2021. Lecture Notes in Computer Science(), vol 12814. Springer, Cham. https://doi.org/10.1007/978-3-030-83164-6_1
DOI: https://doi.org/10.1007/978-3-030-83164-6_1

Published:

Publisher Name: Springer, Cham

Print ISBN: 978-3-030-83163-9

Online ISBN: 978-3-030-83164-6

eBook Packages: Computer ScienceComputer Science (R0)