Abstract

Beneficial collaborations are necessary for research outcomes targeting global impacts. In the sciences (science, technology, engineering, mathematics and medicine (STEMM) subjects), exchanges, linkages and networks have resulted in notable discoveries, inventions and innovations that have improved life on earth. To achieve the UN SDGs, science must play a leading role to ensure that evidence-based findings are beneficially utilized in combating global threats to man and his environment. For women in science, the story has not been without challenges owing to societal barriers, stereotypes and the dynamics of the modern workplace. In view of these setbacks, women scientists globally are currently evolving into a formidable group of excellent achievers who have generated ground-breaking footprints in scientific research. Recently, in the 2020 Nobel Prize awards and the development of various vaccines for the COVID-19 pandemic, great women scientists are now recognized and rewarded for their outstanding discoveries in different areas of science. This chapter brings to the fore the role, resources, beneficial pathways of research collaborations in career enhancement and visibility of women scientists. It is expected that these key points will help build the research capacity and outputs of women scientists for sustainable development. All six authors came to know one another through some, if not all, of the avenues shared in this chapter.
Keywords
Research collaboration

Professional societies

Women scientists

Web resources

Mentorship

Career enhancement and visibility

UN SDGs

COVID-19 impacts

Barriers in research collaboration

Networking

Career in STEMM

Gender equity

Data sharing

ICT

Virtual platforms for research management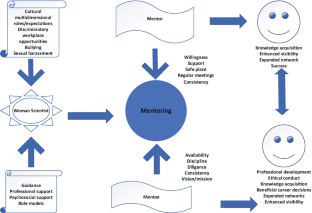 References
Abramo, G., D'Angelo, A. C., & Murgia, G. (2017). The relationship among research productivity, research collaboration, and their determinants. Journal of Informetrics, 11, 1016–1030.

Akyavuz, E. K., & Asıcı, E. (2021). The effect of volunteer management mentoring program on mentors' entrepreneurship tendency and leadership self-efficacy. Participatory Educational Research, 8(2), 1–16. https://doi.org/10.17275/per.21.26.8.2

Ansmann, L., Flickinger, T. E., Barello, S., Kunnemand, M., Mantwill, S., Quilligan, S., Zanini, C., & Aelbrecht, K. (2014). Career development for early career academics: Benefits of networking and the role of professional societies. Patient Education and Counseling, 97, 132–134.

ArauÂjo, E. B., Araujo, N. A. M., Moreira, A. A., Herrmann, H. J., & Andrade, J. S., Jr. (2017). Gender differences in scientific collaborations: Women are more egalitarian than men. https://doi.org/10.1371/journal.pone.0176791

Aresi, G., Pozzi, M., & Marta, E. (2021). Programme and school predictors of mentoring relationship quality and the role of mentors' satisfaction in volunteer retention. Journal of Community and Applied Social Psychology, 31(2), 171–183. https://doi.org/10.1002/casp.2495

Álvarez-Bornstein, M., & Bordons, M. (2021). Is funding related to higher research impact? Exploring its relationship and the mediating role of collaboration in several disciplines. Journal of Informetrics, 15, 101102.

Baltic gender https://www.baltic-gender.eu/outcomes;jsessionid=93D217F9FBBCBD75A4A9BDA029837F06. Best practices.

Bell, G. R., & Rosowsky, D. V. (2021). On the importance of mentorship and great mentors. Structural Safety, 91. https://doi.org/10.1016/j.strusafe.2021.102076

Bickel, J. (2007). The role of professional societies in career development in academic medicine. Academic Psychiatry, 31, 91–94.

Botham, C. M., et al. (2021). Biosciences Proposal Bootcamp: Structured peer and faculty feedback improves trainees' proposals and grantsmanship self-efficacy. PLoS One, 15(12 December). https://doi.org/10.1371/journal.pone.0243973

Bredella, M. A., et al. (2021). Radiology mentoring program for early career faculty—Implementation and outcomes. Journal of the American College of Radiology, 18(3), 451–456. https://doi.org/10.1016/j.jacr.2020.09.025

Butts, A., Wilber, J., & Rose, S. (2019). Help wanted!: A researcher's guide to utility-university collaborations. The Electricity Journal, 32, 106680. https://doi.org/10.1016/j.tej.2019.106680

Egbetokun, A., & Olofinyehun, A. (2021). Dataset on the production, dissemination and uptake of social science research in Nigeria. Data in Brief, 35. https://doi.org/10.1016/j.dib.2021.106932

Gaillard, J., Gaillard, A. M., & Arvanitis, R. (2014). Determining factors of international collaboration in science and technology: Results of a questionnaire survey. In G. Jacques & A. Rigas (Eds.), Research collaboration between Europe and Latin America : Mapping and understanding partnership (pp. 107–156). Ed. des Archives Contemporaines. ISBN 978-2-8130-0124-5.

Glǎveanu, V. P., & de Saint, L. C. (2021). Social Media Responses to the Pandemic: What Makes a Coronavirus Meme Creative. Frontiers in Psychology, 12, 569987. https://doi.org/10.3389/fpsyg.2021.569987

Gazni, A., & Didegah, F. (2011). Investigating different types of research collaboration and citation impact: A casestudy of Harvard University's publications. Scientometrics, 87(2), 251–265.

Hansen, D. S. (2020). Identifying barriers to career progression for women in science: Is COVID-19 creating new challenges? Trends in Parasitology, 36(10), 799–801.

Iba, T., Levy, J. H., Connors, J. M., et al. (2020). The unique characteristics of COVID-19 coagulopathy. Critical Care, 24, 360. https://doi.org/10.1186/s13054-020-03077-0

International Science Council. (2021). Strengthening Science Systems. https://council.science/publications/strengthening-science-systems/

Jablon, E. M., & Lyons, M. D. (2021). Dyadic report of relationship quality in school-based mentoring: Effects on academic and behavioral outcomes. Journal of Community Psychology, 49(2), 533–546. https://doi.org/10.1002/jcop.22477

Jefford, E., et al. (2021). What matters, what is valued and what is important in mentorship through the Appreciative Inquiry process of co-created knowledge. Nurse Education Today, 99. https://doi.org/10.1016/j.nedt.2021.104791

Katz, S. J., & Martini, B. R. (1997). What is research collaboration? Research Policy, 26, 1–18.

Korbel, J. O., & Stegle, O. (2020). Effects of the COVID-19 pandemic on life scientists. Genome Biol, 21, 113. https://doi.org/10.1186/s13059-020-02031-1

Lee, S., & Bozeman, B. (2005). The impact of research collaboration on scientific productivity. Social Studies of Science, 35(5), 673–702.

Metcalfe, A. S., & Blanco, G. L. (2021). "Love is calling": Academic friendship and international research collaboration amid a global pandemic. Emotion, Space and Society, 38, 100763.

Moodley, K., & Gouws, A. (2020). How women in academia are feeling the brunt of COVID-19. The Conversation Africa. Funded by National Research Foundation (NRF) South Africa in collaboration with eight Universities in South Africa. www.theconversation.com. Accessed 14 Jan 2021.

Nüßer, L., Saunders, D., & Lynch, J. (2019). Gender bias and equal opportunity in scientific research. GLOBE, Session Summaries, 20(9). SETAC.

NAP. (1993). National Collaboratories: Applying Information Technology for Scientific Research. https://www.nap.edu/read/2109/chapter/2.

Opeolu, B., Arts, G. H. P., & Sabo-Attwood, T. (2018). SETAC Africa Women's Event – Calabar 2017. Globe, 19(2)., SETAC.

Pfund, C., et al. (2021). Reassess-Realign-Reimagine: A guide for mentors pivoting to remote research mentoring. CBE Life Sciences Education, 20(1), es2. https://doi.org/10.1187/cbe.20-07-0147

Pryce, J., et al. (2021). Understanding youth mentoring relationships: Advancing the field with direct observational methods. Adolescent Research Review, 6(1), 45–56. https://doi.org/10.1007/s40894-019-00131-z

Quadrio-Curzio, A., Blowers, T., & Thomson, J. (2020). Women, science and development: The leading role of OWSD. Economia Politica, 37, 1–12. https://doi.org/10.1007/s40888-020-00173-w

Radecki, J., & Schonfeld, R. C. (2020). The impacts of COVID-19 on the research enterprise: A landscape review. https://doi.org/10.18665/sr.314247

Richard, A. R., Liu, W., & Mukherjee, S. (2020). The COVID-19 pandemic: A wake-up call for better cooperation at the science-policy-society interface, Policy Brief, United Nations Department of Economic and Social Affairs, April 2020. https://www.un.org/development/desa/dpad/wpcontent/uploads/sites/45/publication/PB_62.pdf

Roehrl, R. A., Liu, W., & Mukherjee, S. (2020). UN/DESA Policy Brief #62: The COVID-19 pandemic: a wake-up call forbetter cooperation at the science–policy–society interface. https://www.un.org/development/desa/dpad/publication/un-desa-policy-brief-62-the-covid-19-pandemic-a-wake-upcall-for-better-cooperation-at-the-science-policy-society-interface/

Scopus. (2021). Scopus® Expertly curated abstract & citation database. Retrieved March 25, 2021, https://www.elsevier.com/solutions/scopus?dgcid=RN_AGCM_Sourced_300005030

SETAC. (2021). SETAC Journals: Environmental quality through Science. Available at setac.onlinelibrary.wiley.com. Assessed 28 Mar 2021.

Singh, R. P., Javaid, M., Kataria, R., Tyagi, M., Haleem, A., & Suman, R. (2020). Significant applications of virtual reality for COVID-19 pandemic. Diabetes and Metabolic Syndrome: Clinical Research and Reviews, 14(4), 661–664.

Smith, A. B., et al. (2021). Development and preliminary testing of the collaboration for leadership and innovation in mentoring survey: An instrument of nursing PhD mentorship quality. Nurse Education Today, 98. https://doi.org/10.1016/j.nedt.2021.104747

Sylverken, A. A., El-Duah, P., Owusu, M., et al. (2021). Transmission of SARS-CoV-2 in northern Ghana: Insights from whole-genome sequencing. Archives of Virology. https://doi.org/10.1007/s00705-021-04986-3

Xu, Y. J., & Martin, C. L. (2011). Gender differences in STEM disciplines: From the aspects of informal professional networking and faculty career development. Gender Issues, 28, 134. https://doi.org/10.1007/s12147-011-9104-5

Zhang, M., Zhang, G., Liu, Y., Zhai, X., & Han, X. (2020). Scientists' genders and international academic collaboration: An empirical study of Chinese Universities and Research Institutes. Journal of Informetrics, 14, 101068.
Copyright information

© 2022 The Author(s), under exclusive license to Springer Nature Switzerland AG
About this chapter
Cite this chapter
Chikere, C.B., Tekere, M., Opeolu, B.O., Arts, G., Ofori, L.A., Odu, N.N. (2022). Research Collaborations for Enhanced Performance and Visibility of Women Scientists. In: Nwaichi, E.O. (eds) Science by Women. Women in Engineering and Science. Springer, Cham. https://doi.org/10.1007/978-3-030-83032-8_4
DOI: https://doi.org/10.1007/978-3-030-83032-8_4

Published:

Publisher Name: Springer, Cham

Print ISBN: 978-3-030-83031-1

Online ISBN: 978-3-030-83032-8

eBook Packages: EngineeringEngineering (R0)