Abstract

In this chapter, I examine the modes and practices of urban planning and governance in the city of Ranchi, the capital of Jharkhand state, with special reference to the new capital township of Greater Ranchi being built on the outskirts of the city. The tribes, the original people of Jharkhand, have historically remained either outside or on the margins of urban development despite constitutional and legal protective provisions. This has led to conflict and contestation between tribes and non-tribes. Hence, there is a need for a reimagination of urban planning attuned to inclusive development. The chapter explores how the protective provisions in the constitution and legal safeguards meant for tribes—as well as the ethos and values of tribal people, such as egalitarian and cooperative living on the one hand and the cultural orientation of respect for nature and environment on the other—could be incorporated into the state's urban planning.
Keywords
Urban development

Fifth schedule

Greater Ranchi

Indigenous perspective

Tribes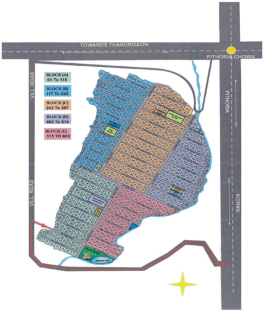 Notes
1.

The First Scheduled Areas and Scheduled Tribes Commission, also known as the Dhebar Commission (1960–1)—appointed by the then-President of India, Dr. Rajendra Prasad, on 28 April 1960, pursuant to Article 339 of the Constitution of India—in its report of 14 October 1961 stated that 'as these groups are presumed to form the oldest ethnological sector of the Indian population, the term Adivasi ('Adi' = Original and 'Vasi' = Inhabitant) has become current among the tribal population.' See also 'First Citizens' (Radhakrishna, 2016) and 'Status of Austro-Asiatic groups in the peopling of India: An exploratory study based on the available prehistoric, linguistic and biological evidences' (Kumar, 2003, pp. 507–522) for a broader theoretical discussion of the same.

2.

3.

The Chota Nagpur Plateau located in eastern India, covers much of Jharkhand state as well as adjacent parts of Odisha, West Bengal and Chhattisgarh; it measures approximately 65,000 square kilometres in area.

4.

This is discussed in detail later in the chapter.

5.

Interview conducted on 7 February 2019 in Ranchi.

6.

7.

This Draft Master Plan of Greater Ranchi, 'was prepared by Syed Mobin Ahmed, Town Planner, Ranchi Improvement Trust. The consulting associates were R. L. Bawa (Chief Town Planner, Bihar) and A. K. Srivastava (Assistant Town Planner, Bihar). Interestingly enough, this draft plan did not fix any target range of time, whether it is for 20 or 25 years, nor does it have its date of publication. Normally these two are planning prerequisites of a Master Plan or Draft Master Plan' (Thakur et al., 2005).

8.

A finer distinction needs to be made between PESA and P-PESA. The Act of 1996 was the extension of the provisions of the panchayat and not an extension of the existing panchayat. Hence, P-PESA is a better acronym for the Act.

9.

The Constitution of India originally provided for the right to property (which includes land) under Articles 19 and 31. Article 19 guaranteed that all citizens had the right to acquire, hold and dispose of property; Article 31 stated that 'no person shall be deprived of his property save by authority of law.' It also indicated that compensation would be paid to a person whose property had been taken for public purposes (often subject to wide range of meaning). The Forty-Fourth Amendment of 1978 deleted the right to property from the list of fundamental rights with the introduction of a new provision, Article 300-A, which provided that 'no person shall be deprived of his property save by authority of law' (44th Amendment of the Constitution, with effect from 10 June 1979). The amendment ensured that the right to property is no longer a fundamental right but rather a constitutional/legal right as a statutory right and in the event of breach, the remedy available to an aggrieved person is through the High Court under Article 226 of the Indian Constitution and not the Supreme Court under Article 32 of the Constitution. The state must pay compensation at the market value for the land, building or structure acquired—provision inserted by the Constitution (Seventeenth Amendment) Act 1964.

10.

This is the most important and critical clause of the 1894 Act.

11.

12.

Interview conducted on 23 March 2019 in Ranchi.
References
Béteille, A. (1977). The definition of Tribe. In R. Thapar (Ed.), Tribe, Caste and Religion in India (pp. 7–14). Macmillan India Limited.

Burman, B. K. R. (1993). Tribal population: Interface of historical ecology and political economy. In M. Miri (Ed.), Continuity and change in Tribal society (pp. 175–216). Indian Institute of Advanced Study.

Ekka, A. (2007). Indigenous people and development in India. In J. M. Kujur & S. Minz (Eds.), Indigenous peoples of India: Problems and prospects (pp. 262–284). Indian Social Institute.

Farmer, P. E., Nizeye, B., Stulac, S., & Keshavjee, S. (2006). Structural violence and clinical medicine. PLoS Med, 3(10), 1686–1691. https://doi.org/10.1371/journal.pmed.0030449. Accessed 15 April 2021.

Fernandes, W. (1993). Forests and Tribals: Informal economy, dependence and management traditions. In M. Miri (Ed.), Continuity and change in Tribal society (pp. 48–69). Indian Institute of Advanced Study.

Galanter, M. (1989). Law and society in modern India (Edited and with an Introduction by Rajeev Dhavan). Oxford University Press.

Griffiths, J. (1986). What is legal pluralism? Journal of Legal Pluralism and Unofficial Law, 32(24), 1–55.

Jackson, S. A. (2005). Legal pluralism between Islam and the Nation-State: Romantic medievalism or pragmatic modernity? Fordham International Law Journal, 30(1), 158–176.

Kumar, N. (1970). Ranchi District Gazette. State Editor, Gazetteers Branch, Revenue Department, Government of Bihar.

Kumar, V., & Reddy, B. Mohan. (2003). Status of Austro-Asiatic groups in the peopling of India: An exploratory study based on the available prehistoric, linguistic and biological evidences. Journal of Biosciences, 28, 507–522.

Lakra, C. (1999). The new home of Tribals. Om Publications.

Quinn, J. A. (1955). Urban sociology. American Book Company.

Radhakrishna, M. (Ed.). (2016). First citizens. Oxford University Press.

Roy, S. C. (1912). The Mundas and their country. The Kuntaline Press.

Thakur, B., Sharma, H. S., Misra, S., Chattopadhyay, S., & Singh, S. (Eds.). (2005). Urban and regional development in India, Vol. 1. 5 vols. Concept Publishing Company.

Vidyarthi, L. P. (1969). Cultural configuration of Ranchi: Survey of an emerging industrial city of Tribal India (1960–62). Research Programmes Committee, Planning Commission, Government of India.

Vidyarthi, L. P. (1970). Socio-cultural implications of industrialisation in India: A case study of Tribal Bihar. Research Programmes Committee, Planning Commission, Government of India.

Xaxa, V. (1998). Cultural dimension of ecology: A case study of the Oraons. In B. Saraswati (Ed.), The cultural dimension of ecology (pp. 125–128). Indira Gandhi National Centre for the Arts.

Xaxa, V. (1999). Tribes as indigenous people of India. Economic and Political Weekly, 34(51), 3589–3595.

Xaxa, V. (2008). State, society and Tribes: Issues in post-colonial India. Pearson.
Acknowledgements

This chapter is drawn from my Ph.D. work. I thank my field respondents for their insights. I thank my supervisor, Professor Ritambhara Hebbar, and my Doctoral Advisory Committee members, Professor Bipin Jojo and Professor Mahuya Bandyopadhyay, for their comments on the text upon which it is based. I thank Dr. Anjali Karol Mohan and Professor Sony Pellissery from the National Law School University of India, Bengaluru, the editors of this book and also Ian, the copy-editor, for their insightful comments on an earlier draft of the chapter, which vastly improved it. This research was made possible by the Doctoral Scholarship of the Indian Council of Social Science Research (ICSSR). Any error in it is mine.
Copyright information

© 2021 The Author(s), under exclusive license to Springer Nature Switzerland AG
About this chapter
Cite this chapter
Xaxa, A. (2021). Reimagining Urban Development in a Tribal Region: Readings on a Fifth Schedule Area of India. In: Mohan, A.K., Pellissery, S., Gómez Aristizábal, J. (eds) Theorising Urban Development From the Global South. Palgrave Macmillan, Cham. https://doi.org/10.1007/978-3-030-82475-4_4
DOI: https://doi.org/10.1007/978-3-030-82475-4_4

Published:

Publisher Name: Palgrave Macmillan, Cham

Print ISBN: 978-3-030-82474-7

Online ISBN: 978-3-030-82475-4

eBook Packages: Social SciencesSocial Sciences (R0)