Abstract
The 2018 US Census reports an increasingly diverse population in the United States. Along with this diversification reflected in today's college student population is increased activism regarding environments devoid of equity and inclusion. Many national organizations and institutions of higher education have developed and implemented programming to address inclusion and equity needs at their institutions. At Iowa State University, a series of training opportunities help guide faculty and academic leaders to adopt best practices for teaching inclusively to enhance students' learning environments, learning experiences, and learning outcomes. In this chapter, we report and share the Inclusive Classroom resources developed and key outcomes of a university-wide program at this large, Midwestern, research-extensive land grant institution.
Notes
1.

This term is adapted from and used in the context outlined by Dowd and Bensimon "certain groups acquire minority status through the beliefs and social processes enacted by other groups who place them in a position of the "minority," or other" (Dowd & Bensimon, 2015, p. 8).
References
Ambrose, S. A., Bridges, M. W., & DiPietro, M. (2010). Why do student development and course climate matter for student learning? In S. A. Ambrose, M. W. Bridges, & M. DiPietro (Eds.), How learning works: Seven research-based principles for smart teaching (1st ed., pp. 150–187). Jossey-Bass.

Andersen, E. L. (2003). Changing US demographics and American higher education. New Directions for Higher Education, 2003(121), 3–12.

Barnett, P. (2013). Unpacking teachers' invisible knapsacks. Liberal Education, 99(3). https://www.aacu.org/publications-research/periodicals/unpacking-teachers-invisible-knapsacks-social-identity-and.

Braun, H. I., Wang, A., Jenkins, F., & Weinbaum, E. (2006). The Black-White achievement gap: Do state policies matter? Education Policy Analysis Archives/Archivos Analíticos De Políticas Educativas, 14, 1–110.

Brookfield, S. (2007). The power of critical theory for adult learning and teaching. New York, NY: McGraw-Hill International.

Brown, L. I. (2004). Diversity: The challenge for higher education. Race Ethnicity and Education, 7(1), 21–34.

Campus Climate, Community Engagement & Transformation. (n.d.). Retrieved April 17, 2020, from https://campusclimate.berkeley.edu/faculty/our-programs-and-services/faculty-dialogue-serie.

Carnevale, A. P., & Strohl, J. (2013). Separate & unequal how higher education reinforces the intergenerational reproduction of white racial privilege.

Columbia University Center for Teaching & learning, A. M. Jungels, C. Patel, & A. Irvin (2020, April 17). Inclusive teaching: Supporting all students in the college classroom [web class https://www.edx.org/course/inclusive-teaching-supporting-all-students-in-the.

Dowd, A. C., & Bensimon, E. M. (2015). Engaging the "race question": Accountability and equity in US higher education. Teachers College Press.

Greenwald, A. G., McGhee, D. E., & Schwartz, J. L. K. (1998). Measuring individual differences in implicit cognition: The implicit association test. Journal of Personality and Social Psychology, 74(6), 1464–1480.

Harper, S. R., Patton, L. D., & Wooden, O. S. (2009). Access and equity for African American students in higher education: A critical race historical analysis of policy efforts. The Journal of Higher Education, 80(4), 389–414.

Higher Learning Commission. (2017). https://www.hlcommission.org/.

Hurtado, S. (2007). Linking diversity with the educational and civic missions of higher education. The Review of Higher Education, 30(2), 185–196.

ISU Accreditation and Program Review. (2017). http://www.provost.iastate.edu/academic-programs/accreditation.

ISU Campus Climate. (2017). https://www.campusclimate.iastate.edu/survey/faq.

ISU Fact Book.(2018–2019). https://www.ir.iastate.edu/factbook/2018-2019.

ISU Faculty Senate Resolution. (2016, November 8). http://www.facsen.iastate.edu/sites/default/files/uploads/19-20%20Docket%20Calendar/19-e8%20Resolution%20Opposition%20to%20Racist%20Incident%20at%20ISU.pdf.

ISU Policy Library. (2017). https://www.policy.iastate.edu/.

ISU Strategic Plan. (2017). http://strategicplan.iastate.edu/.

Johnson, A. (2019, November 20). Students against racism fight discrimination on campus. Iowa State Daily.

Lawrie, G., Marquis, E., Fuller, E., Newman, T., Qiu, M., Nomikoudis, M., & Van Dam, L. (2017). Moving towards inclusive learning and teaching: A synthesis of recent literature. Teaching & Learning Inquiry, 5(1), 1–13.

Logel, C., Walton, G. M., Spencer, S. J., Iserman, E. C., von Hippel, W., & Bell, A. E. (2009). Interacting with sexist men triggers social identity threat among female engineers. Journal of Personality and Social Psychology, 96(6), 1089.

Melguizo, T., & Kosiewicz, H. (2013). The role of race, income, and funding on student success: An institutional level analysis of California community colleges. Bridging the higher education divide: Strengthening community colleges and restoring the American dream, 137–155.

Oullette, M. L., & Ivanchicova, M. (2020, April 17). Teaching & learning in the diverse classroom. https://www.edx.org/course/teaching-learning-in-the-diverse-classroom.

O'Keeffe, P. (2013). A sense of belonging: Improving student retention. College Student Journal, 47(4), 605–613.

Perna, L. W., Finney, J. E., & Callan, P. M. (2014). The attainment agenda: State policy leadership in higher education. JHU Press.

Renn, K. A. (2010). LGBT and queer research in higher education: The state and status of the field. Educational Researcher, 39(2), 132–141.

Sherman, D. K., Hartson, K. A., Binning, K. R., Purdie-Vaughns, V., Garcia, J., Taborsky-Barba, S., & Cohen, G. L. (2013). Deflecting the trajectory and changing the narrative: How self-affirmation affects academic performance and motivation under identity threat. Journal of Personality and Social Psychology, 104(4), 591.

Shyman, E. (2015). Toward a globally sensitive definition of inclusive education based in social justice. International Journal of Disability, Development and Education, 62(4), 351–362.

Smith, W. A., Hung, M., & Franklin, J. D. (2011). Racial battle fatigue and the miseducation of Black men: Racial microaggressions, societal problems, and environmental stress. The Journal of Negro Education, 63–82.

Taylor, V. J., & Walton, G. M. (2011). Stereotype threat undermines academic learning. Personality and Social Psychology Bulletin, 37(8), 1055–1067.

Thomas, L. (2016). Developing inclusive learning to improve the engagement, belonging, retention, and success of students from diverse groups. In Widening Higher Education Participation (pp. 135–159). Chandos Publishing.

U.S. Department of Planning, Evaluation and Policy Development. (2016). Advancing diversity and inclusion in higher education: Key data highlights focusing on race and ethnicity and promising practices. US Department of Education.

Walton, G. M., & Cohen, G. L. (2011). A brief social-belonging intervention improves academic and health outcomes of minority students. Science, 331(6023), 1447–1451.

Winkelmes, M. A., Bernacki, M., Butler, J., Zochowski, M., Golanics, J., & Weavil, K. H. (2016). A teaching intervention that increases underserved college students' success. Peer Review, 18(1/2), 31–36.

Yosso, T., Smith, W., Ceja, M., & Solórzano, D. (2009). Critical race theory, racial microaggressions, and campus racial climate for Latina/o undergraduates. Harvard Educational Review, 79(4), 659–691.
Appendices
Appendix A
Individual Action Plan for an Inclusive Classroom
Opportunities to Promote Inclusion in My Course:
(i.e., include University Religious Accommodation Policy in my syllabus, discuss student accessibility services throughout the semester and not just on the first day, promote The Green Dot project, etc.)
Barriers and Strategies
In the first column, share the potential barriers towards promoting inclusion in your classroom. In the second column, list the strategies to overcome those barriers.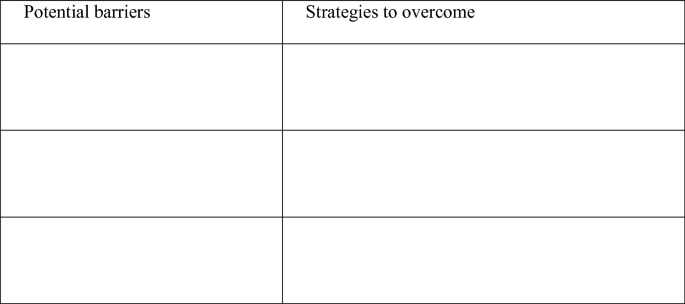 Action Plan
Set a few achievable objectives to start. In the first column, share your planned implementation of inclusion in your course/lab/discussion group. Then, share resources needed in the second column. Finally, determine your timeline in the last column.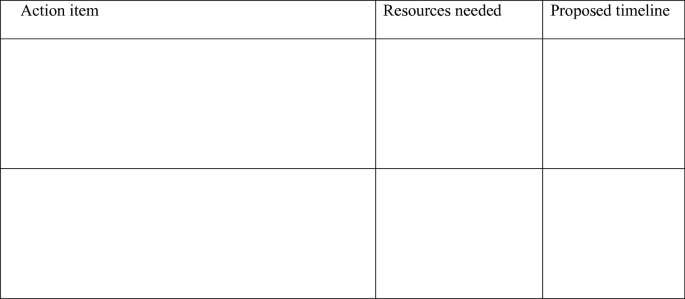 My Support Team/Colleagues(s):
Who will help support my efforts to promote inclusion? How will you share your plan with them?

Individual Action Plan: Inclusive Classroom by Center for Excellence in Learning and Teaching (CELT), Iowa State University, used under BY-NC-SA. This work is licensed under a Creative Commons Attribution-NonCommercial-ShareAlike 4.0 International License.
Appendix B
Mindful and Learner-Centered Syllabus Checklist
Use the checklist to determine whether your course syllabus includes these learner-centered components.
Overall Syllabus
Use positive, welcoming, inviting and inclusive language in your syllabus. Examples: "Late work is eligible for 60% of the original points," or "Attendance will benefit you in several ways," or "You have what it takes to succeed in this course without engaging in academic misconduct. Do not jeopardize the hard work you've put into this course."

Follow steps to an accessible document using resources on CELT's Accessify Your Course webpage (http://bit.ly/celt-accessify).
Course Information
Course Title, Course Abbreviation and Number

Semester and Year (Start Date to End Date)

Number of Credit Hours

When and where the course will meet (campus learning space, online, etc.)
Instructor Information
If an instructor has teaching assistant(s) or co-teacher(s) please include similar information.
Name

Office Address

Student Hours (Consider using "Student Hours" instead of "Office Hours" to promote that these times are set aside specifically for students in case they need help outside class). Provide student hours via multiple means of access (your office, phone, e-mail, virtually using webcasting software). Example: Student Hours—T & R 8:30–9:30 a.m. in my office or via Zoom. Individual assistance is always available by appointment. I look forward to seeing you during student hours.

Telephone Number

Email Address

Other Contact Information
Departmental Information
Name of Department and location of Departmental Office

Preferred Contact Information for the Department
Course Goals, Learning Outcomes, and Learning Objectives
To give a basic background and starting point for course design use CELT's Basic Course Design: Aligning Course Objectives with Class Assignments and Your Teaching Approach webpage (http://bit.ly/1TqBeW3).

Share with students how the course fits into the overall curriculum and what they will leave the course being able to do. Answering the question, "Why is this course useful?" Also, orient students to the discipline if it's an introductory course.

List 4–5 broad-based learning outcomes that reflect what the students will learn and skills they will develop by successfully completing the course. Provide rationales for assignments, activities, methods, policies, and procedures tied to these learning outcomes.

Visit CELT's Tips on Writing Course Goals/Learning Outcomes and Measurable Learning Objectives webpage (http://bit.ly/1QvTjzt) as a resource for developing your course.
Describe Course Format
Specify textbooks and readings by author and editions. When possible, explain connections to the course goals and how the text and readings address them.

Explain expectations to have completed readings before class sessions and the degree of understanding that you expect (e.g., successfully complete pop quizzes, can discuss concepts, or apply reading information to problem-solving scenarios).

Describe other course components such as teaching approach, group assignments, individualized consultation, etc.

Share information from ISU's Library Instructor webpage (http://bit.ly/isulibinstruct) if readings are on course reserves.

Identify where students can obtain additional equipment, resources, or materials.
Assignments (Papers, Quizzes, Exams, Projects, Etc.)
Connect multiple means of assessment (exams, quizzes, exercises, projects, papers, etc.) directly to learning outcomes.

Consider using the Transparency in Learning and Teaching (TiLT) framework by providing the following for each assignment:

Purpose: practice skills, expand content knowledge, and benefits for life-long learning.

Tasks: clarify steps on what to do and how to do it.

Criteria: how to be successful (e.g., checklist, rubric); as well as, examples and strategies for students to improve their work.
How Will Students Be Evaluated?
Explain clearly how students will be evaluated, and grades assigned. Include components of final grade, weights assigned to each component, grading on a curve or scale, etc.

Use both summative and formative evaluations (e.g., oral presentations, group work, self-evaluation, peer evaluation).

Employ periodic feedback mechanisms to monitor learning (e.g., graded and non-graded quizzes, tests, lecture-response systems, tests, reflection papers).

Provide ways that students can easily calculate or find their grades at any point in the course.
Course Policies
State your policies clearly in the syllabus and discuss them throughout the semester regarding:
Expectations for attendance, assignments, late assignments, make-up options, extra credit, and examinations.

Steps to report illness via ISU's Thielen Student Health Center's Class Excuse webpage (http://bit.ly/isu-class-excuse).

Cheating and plagiarism, learn more from ISU's Office of Student Conduct's webpage (http://bit.ly/isu-academic-misconduct).

List grading policies regarding incomplete marks, visit the ISU Catalog website (http://catalog.iastate.edu/).

Make clear a student's course obligations and your obligations to teaching the course.

Share expected classroom behaviors (examples available on the last page of this checklist).
Course Calendar
Use the Interfaith Calendar website (http://www.interfaith-calendar.org/) when scheduling projects, presentations, and exams to consider any potential conflicts.

Provide a course calendar that outlines topics to be covered, reading requirements, assignment due dates, etc. If necessary, revise it and be sure students get an updated version.

List important dates (or include a link to the ISU Academic Calendar) such as last drop date, registration dates for the next semester, etc. Visit the ISU Academic Calendar website (http://www.registrar.iastate.edu/calendar) for detailed information.

Note dates and times of any exams scheduled outside of class time. If needed, visit ISU's Online Testing Center website (http://www.testcenter.iastate.edu/).

Include the date and time of the final exam. Locate the information on the Office of the Registrar's webpage (https://www.registrar.iastate.edu/students/exams).
Additional Learner-Centered Information
Recommended Iowa State University Syllabus Statements from Faculty Senate.
Statement on Academic Integrity: To promote integrity and deter dishonest academic work, it may be useful to consider including a statement of expectations and consequences related to academic misconduct in your course syllabus. For statement examples visit the Student Conduct's Academic Misconduct webpage (http://bit.ly/isu-academic-misconduct)

Accessibility Statement: Iowa State University is committed to assuring that all educational activities are free from discrimination and harassment based on disability status. Students requesting accommodations for a documented disability are required to work directly with staff in Student Accessibility Services (SAS) to establish eligibility and learn about related processes before accommodations will be identified. After eligibility is established, SAS staff will create and issue a Notification Letter for each course listing approved reasonable accommodations. This document will be made available to the student and instructor either electronically or in hard-copy every semester. Students and instructors are encouraged to review contents of the Notification Letters as early in the semester as possible to identify a specific, timely plan to deliver/receive the indicated accommodations. Reasonable accommodations are not retroactive in nature and are not intended to be an unfair advantage. Additional information or assistance is available online at www.sas.dso.iastate.edu, by contacting SAS staff by email at accessibility@iastate.edu, or by calling 515-294-7220. Student Accessibility Services is a unit in the Dean of Students Office located at 1076 Student Services Building.

Discrimination and Harassment: Iowa State University does not discriminate on the basis of race, color, age, ethnicity, religion, national origin, pregnancy, sexual orientation, gender identity, genetic information, sex, marital status, disability, or status as a U.S. Veteran. Inquiries regarding non-discrimination policies may be directed to Office of Equal Opportunity, 3410 Beardshear Hall, 515 Morrill Road, Ames, Iowa 50,011, Tel. 515-294-7612, Hotline 515-294-1222, email eooffice@iastate.edu

Religious Accommodations: Iowa State University welcomes diversity of religious beliefs and practices, recognizing the contributions differing experiences and viewpoints can bring to the community. There may be times when an academic requirement conflicts with religious observances and practices. If that happens, students may request reasonable accommodation for religious practices. In all cases, you must put your request in writing. The instructor will review the situation in an effort to provide a reasonable accommodation when possible to do so without fundamentally altering a course. For students, you should first discuss the conflict and your requested accommodation with your professor at the earliest possible time. You or your instructor may also seek assistance from the Dean of Students Office, website (http://dso.iastate.edu) or via phone 515-294-1020 or the Office of Equal Opportunity, website (https://www.eoc.iastate.edu) or via phone 515-294-7612.

Statement on Prep Week: This class follows the Iowa State University Dead Week policy as noted the ISU Policy Library; as well as Sect. 10.6.4 of the Faculty Handbook. Visit the ISU Policy Library website (http://www.policy.iastate.edu/) for policy wording.
Consider Including These Examples of Inclusive, Professionalism, and Mutual Respect Statements
Related to ISU's Principles of Community, "Students are responsible for living the tenets established in ISU's Principles of Community: Respect, Purpose, Cooperation, Richness of Diversity, Freedom from discrimination, and the Honest and respectful expression of ideas. Visit ISU's Principles of Community webpage (http://bit.ly/isuprinciple).

Regarding name, gender identity and/or gender expression, "Class rosters are provided to the instructor with the student's legal name. I will gladly honor your request to address you by an alternate name or gender pronoun. Please advise me of this preference early in the semester so that I may make appropriate changes to my records."

Promoting student health and wellness, "Iowa State University is committed to proactively facilitating the well-being of all students. We welcome and encourage students to contact the following on-campus services for assistance regarding their physical, intellectual, occupational, spiritual, environmental, financial, social, and/or emotional needs:

Student Wellness call 515-294-1099 or via website (http://studentwellness.iastate.edu);

Thielen Student Health Center call 515-294-5801 (24/7 Medical Advice) or via website (http://www.cyclonehealth.org);

Student Counseling Services call 515-294-5056 or via website (https://counseling.iastate.edu);

Recreation Services call 515-294-4980 or via website (http://recservices.iastate.edu).

Students dealing with heightened feelings of sadness or hopelessness, thoughts of harm or suicide, or increased anxiety may contact the ISU Crisis Text Line (Text ISU to 741–741) or contact the ISU Police Department 515-294-4428."

Fostering a safe community, "Green Dot Project: A green dot is any choice, behavior, word, or attitude that promotes safety for everyone and communicates utter intolerance for power-based personal violence in our Iowa State University community. A green dot is anything you do to make our community safer. What is your Green Dot? Visit the Green Dot—Student Wellness website (http://www.studentwellness.iastate.edu/greendot/)."

About mutual respect and professionalism, "You are expected to treat your instructor and all other participants in the course with courtesy and respect. Your comments to others should be factual, constructive, and free from harassing statements. You are encouraged to disagree with other students, but such disagreements need to be based upon facts and documentation (rather than prejudices and personalities). It is the instructor's goal to promote an atmosphere of mutual respect in the classroom. Please contact the instructor if you have suggestions for improving the classroom environment. It is preferable if students discuss issues directly with the instructor, however, students may also leave a note in the instructor's mailbox."

Relevant to the ISU Inclusive Language policy stating, "All university publications and communication, whether oral or written, shall use inclusive language and illustrations. Inclusive language refers to language that makes every attempt to include comprehensively all groups in the community. Whenever possible, selection of academic materials will also reflect efforts to uphold this university policy." Visit the Policy Library's Inclusive Language website (http://www.policy.iastate.edu/policy/language).

Related to usability, disability, and design, "I am committed to creating a course that is inclusive in its design. If you encounter barriers, please let me know immediately so that we can determine if there is a design adjustment that can be made or if an accommodation might be needed to overcome the limitations of the design. I am always happy to consider creative solutions as long as they do not compromise the intent of the assessment or learning activity. You are also welcome to contact the Student Accessibility Services via phone 515-294-7220 to begin this conversation or to establish accommodations for this or other courses. I welcome feedback that will assist me in improving the usability and experience for all students."

Related to University policies, "Students in this course are responsible for being familiar with the University's student rules and policies. Visit the ISU Policy Library website (http://www.policy.iastate.edu/)."
Making Your Syllabus Matter
1.

Where will students access your syllabus? How do students know where to locate it within Canvas?
2.

What do students see first on your syllabus? How do they know what to do next? Can they follow your instructions?
3.

How can students obtain the resources they need to be successful in your course?
4.

How do you project an inclusive learning environment?
5.

How can your syllabus be used by students with visual, auditory, physical, speech, cognitive, and/or neurological disabilities?
6.

How will you know if students have reviewed the syllabus? A low-stakes quiz or assignment? Or, did you hide "hidden gems" in the syllabi as a way to gauge how many students have read your syllabus?
7.

How will you make your syllabus matter throughout the course? If you dump the document on students and rarely (or never) refer to it again, you're telling them it doesn't contain any information vital to their success. If you don't treat your syllabus as important, why should they?

Mindful and Learner-Centered Syllabus Checklist by Center for Excellence in Learning and Teaching (CELT), Iowa State University is licensed under a Creative Commons Attribution-NonCommercial-ShareAlike 4.0 International License.
Appendix C
Strategies to Create an Inclusive Classroom
Inclusive teaching includes course design, teaching strategies, and evaluation practices that cultivate a learning environment where all are treated equitably, have equal access to learning, and feel supported in their learning. Instructors can implement the strategies in the manner that best suits them, their disciplines, and their students.
Setting Guidelines to Establish a Positive Climate for Learning
The Iowa State University Principles of Community (http://www.iastate.edu/principles) can serve as guidelines to facilitate engagement, to promote inclusivity, and to establish a positive climate for learning.
Respect: We seek to foster an open-minded understanding among individuals, organizations, and groups. We support this understanding through outreach, increasing opportunities for collaboration, formal education programs, and strategies for resolving the disagreement.

Purpose: We are encouraged to be engaged in the university community. Thus, we strive to build a genuine community that promotes the advancement of knowledge, cooperation, and leadership.

Cooperation: We recognize that the mission of the university is enhanced when we work together to achieve the goals of the university. Therefore, we value each member of the Iowa State University community for their insights and efforts, collective and individual, to enhance the quality of campus life.

Richness of diversity: We recognize and cherish the richness of diversity in our university experience. Furthermore, we strive to increase the diversity of ideas, cultures, and experiences throughout the university community.

Freedom from discrimination: We recognize that we must strive to overcome historical and divisive biases in our society. Therefore, we commit ourselves to create and maintain a community in which all can work together in an atmosphere free from discrimination, and to respond appropriately to all acts of discrimination.

Honest and respectful expression of ideas: We affirm the right to and the importance of a free exchange of ideas at Iowa State University within the bounds of courtesy, sensitivity, and respect. We work together to promote awareness of various ideas through education and constructive strategies to consider and engage in honest disagreements.
Opportunities to Promote Inclusion in My Classroom

Self-Reflect on Your Teaching
Reflection is a process that blends experiences with theoretical and practical learning to form new knowledge and create new behaviors and insights. By considering our teaching practices and examining our personal biases, we can build a context for teaching and learning that elevates successful, inclusive practices, and avoids counterproductive practices.
Before the Semester Begins
Do you reflect on the sources, texts, examples, and metaphors that you will use in the class, ensuring that they are not exclusive to a dominant culture or a certain cultural frame of reference (i.e., all male authors, exclusively popular culture references, etc.)?

Have you prepared yourself to address diversity issues in class discussions? (Don't assume your discipline is exempt).

Do you strive to be sensitive and mindful of your students' preferences?
During the Semester
Do you incorporate diverse student voices/perspectives/examples without stereotyping, spotlighting or tokenizing?

Do you provide diverse ways of learning the material with formative and summative evaluation?

Do you use language that promotes a growth mindset? For example, rather than stating, "This course has supplemental instruction (SI) because I know women struggle with math," consider focusing on actions that would help every student, "I invite you all to attend the SI for more practice."

Do you avoid phrases such as, "It's easy to see…" or "I'm sure the answer is obvious to all…"? Phrases like these can implicitly discourage students who do not understand from asking questions.

Do you emphasize high standards with verbal assurances that each student can achieve success?

Do you discuss what support is in place to help each student meet these high standards?

Do you seek feedback from your students to gain an understanding of their successes and difficulties in your class?

Do you set expectations, encourage, and hold students accountable for treating each other with respect?
Following the Semester
Do you think about how to utilize student feedback in the future?

Do you consider ways to further engage students with the class content, with one another, and with you?
Opportunities to Promote Inclusion in My Classroom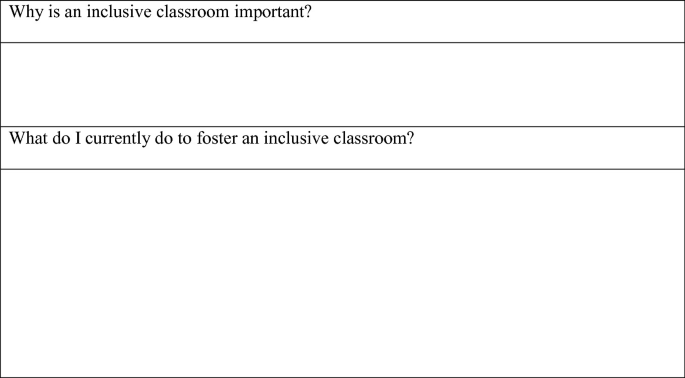 Course Design
It is critical to examine not just the way we teach, but also our prep work before our classes begin. Consider how your learning objectives, activities, and assessments map onto the goals of your course. To give a starting point, use CELT's Basic Course Design page (http://bit.ly/coursealignment).
Syllabus
Download and consider the use of CELT's Mindful and Learner-Centered Syllabus (PDF) (http://bit.ly/celtsyllabust).

Review the Interfaith Calendar website (http://www.interfaith-calendar.org/) for world religion sacred dates when scheduling major projects, presentations, exams, and course events. Example: Students fasting for Ramadan may choose not to participate in end-of-spring-semester celebrations involving food.
Textbooks, Resources, and Presenting Content
Choose texts from authors of diverse backgrounds. Select content that engages a diversity of ideas and perspectives.

Discuss contributions made to the field by historically underrepresented groups. Acknowledge the historical and contemporary absences of women and People of Color when applicable.

Ensure images and illustrations are representative of diverse appearances (e.g., genders, abilities, ages, etc.).

Examples that come easily to us are often those that come from our own experiences. Avoid assuming your students share that experience. Notice if any of your examples are based on regional knowledge, hobbies favored by one gender, etc.

Provide access to supporting materials, such as illustrations, glossaries, and necessary background information based on prerequisites required for the course.

Avoid highly idiomatic language and jargon. While the expressions may add interest, many students may miss an important concept if the phrase is unfamiliar (e.g., "once in a blue moon," "between a rock and a hard place").

Carefully consider how you use humor in your classes to ensure it degrades no one. Draw on humor and anecdotes that are relevant to the subject and sensitive to the social and cultural diversity of our campus.
Opportunities to Promote Inclusion in My Classroom
In the first column, share your action item related to course design. List your next steps in the second column. Finally, consider sharing your efforts with a colleague, mentor, and/or your department chair/unit leadership.

Teaching Strategies
Inclusive teaching strategies refer to approaches that support meaningful and accessible learning for all students, promoting a sense of belonging, and thus encouraging student success.
Building Community
Consider finding out more about your students using prompts, index cards, or an online survey. Potential questions:

Ask their names according to the office of the registrar and if they wish to share preferred alternate names or gender pronouns. Update your attendance and other records with these preferences.

Ask how to pronounce students' names phonetically. Work hard to pronounce each correctly. Read the Cult of Pedagogy's "How We Pronounce Student Names, and Why it Matters" web post (http://bit.ly/2NM1r5n).

Ask the reasons why they signed up for the course and what they are most looking forward to learning.

Ask what their goals are after graduation and how will this course help them achieve their goals.

Ask fun questions to help you get to know students. Example: "If a song played when you entered the room, what would that song be?" Be ready when they ask you for your answers to the same questions.
Effective Practice: Instructors who teach large classes have used the data to call on students. This helps instructors build the classroom community by ensuring a broad base of participation and can encourage engagement.
Encourage Active Learning
Chunk class time into segments, such as 10-min lecture, 10–15 min of students engaged with active learning (discussion, problem-solving, low-stakes assessments), another 10-min lecture, and 5 min of student reflection to enhance engagement. When students feel engaged with the instructor, fellow students, and the subject are more likely to participate in class, feel valued, included, and respected as individuals.

Encourage full participation while being aware of differences that may influence students' responsiveness. Some students' silence may have been learned in response to negative experiences with participation (e.g., being interrupted) or in some cultures, asking questions is considered a rude interruption of class time. Example: Consider asking students to write their responses rather than verbally report them, consider asking students to share their ideas with a classmate, increase your wait time.

Invite students to complete projects on self-selected topics to draw on personal interests and relevance. Increase options for assignment format to allow students choice such as oral presentation, research paper, design project.

Invite students to co-design elements of classroom activities, for example, contribute to exam study guides.

Treat students as individuals whose identities are complex and unique. Example: Ask open-ended questions to solicit students' reports of their experiences without calling on a single student to speak for their race, gender, culture, etc.
Group Work
Intentionally create groups, asking students to join together on non-visible characteristics, i.e., birth month.

When assigning group projects, ask students to rotate roles. The roles should be non-gender specific and of equal contribution. Example: Ensure those female group members are not always given secretarial/note-taking roles.

Provide multiple checkpoints to present opportunities for individual learning, accountability, and reflection.
Opportunities to Promote Inclusion in My Classroom
In the first column, share your action item related to teaching strategies. List your next steps in the second column. Finally, consider sharing your efforts with a colleague, mentor, and/or your department chair/unit leadership.

Evaluation Practices
All students need clear standards and evaluation criteria, straightforward comments on their work delivered with tact and empathy, and frequent feedback so that they can change their learning strategies or seek additional help.
Provide frequent opportunities for informal assessment and feedback on progress.

Share tools such as grading rubrics, in addition to assignment descriptions and criteria to help a diverse community of learners clarify the requirements of an assignment.

Consider whether the grading system you employ (for example, giving only a couple of high-stakes assignments) might be demotivating for students. Offer multiple lower-stakes opportunities to demonstrate knowledge and encourage students to develop growth mindsets (the belief that they can improve).

Provide specific, actionable, and timely feedback to help students gauge their progress in the class.
Opportunities to Promote Inclusion in My Classroom
In the first column, share your action item related to evaluation practices. List your next steps in the second column. Finally, consider sharing your efforts with a colleague, mentor, and/or your department chair/unit leadership.

Student Feedback
Establish processes to receive anonymous feedback on the course climate and student learning. Make sure to review comments and report back to students at the next class session to validate their perspectives and make improvements to the course to enhance student learning. Helpful tips on CELT's Plus/Delta webpage (http://bit.ly/isu-plusdelta).
The Plus/Delta is usually conducted in the first quarter of the class and includes four open-ended questions:
What is helping me to learn in this class?

What changes are needed in this course to improve learning?

What am I doing to improve my learning in the course?

What do I need to do to improve my learning in this course?
The Critical Incident Questionnaire (Brookfield, 2007) is done periodically and has five questions:
At what moment in class did you feel most engaged with what was happening?

At what moment in the class were you most distanced from what was happening?

What action that anyone (teacher or student) took this week did you find most affirming or helpful?

What action that anyone took this week did you find most puzzling or confusing?

What about the class this week surprised you the most? (This could be about your reactions to what went on, something that someone did, or anything else that occurs).

Strategies to Create an Inclusive Course by Center for Excellence in Learning and Teaching (CELT), Iowa State University (http://www.celt.iastate.edu) is licensed under a Creative Commons Attribution-NonCommercial-ShareAlike 4.0 International License (http://creativecommons.org/licenses/by-nc-sa/4.0/).
Copyright information
© 2021 The Author(s), under exclusive license to Springer Nature Switzerland AG
About this chapter
Cite this chapter
Bestler, L., VanDerZanden, A.M., Gwebu, K.K.B., Couves, K., Marcketti, S. (2021). An Inclusive Classroom: Ongoing Programs to Develop Faculty Awareness and Knowledge of Teaching Strategies. In: Parson, L., Ozaki, C.C. (eds) Teaching and Learning for Social Justice and Equity in Higher Education. Palgrave Macmillan, Cham. https://doi.org/10.1007/978-3-030-81143-3_9
DOI: https://doi.org/10.1007/978-3-030-81143-3_9

Published:

Publisher Name: Palgrave Macmillan, Cham

Print ISBN: 978-3-030-81142-6

Online ISBN: 978-3-030-81143-3

eBook Packages: EducationEducation (R0)